Metalcore is rapidly growing in the United States, even more so in the South. What started months ago as an online project has turned into what may be the most promising metalcore act in a crowded scene. Today, on August 7th, Burn Absolute makes their mark with their debut EP, Cartharis. I got to sit down with their vocalist and songwriter, Robby Anttila, and learn why Burn Absolute may be the next big name in the scene.
---
Burn Absolute consists of Robby Anttila on vocals, Ryan Earley and Micky Branez on guitar, and Anthony Marrujo on drums. They consider themselves a "southern" band, with members across the United States and one even in Bolivia. This is why Burn Absolute consists solely of short runs, to make members traveling worth it.
Their first show is their EP release on August 18th at Oscura in Bradenton, FL. This show happens to be the first on a DIY run with Catcher and the Rye and The Pine Drape. Burn Absolute also has a weekend run planned in November with Omenkiller--who are making a name for themselves in the Atlanta hardcore scene. Robby warns that he and the rest of the band are energetic and physical performers; you will be touched if you are close to the stage.
Burn Absolute hopes to tour at least once every quarter, having signed with a touring agency to help give the band resources and guidance when booking shows. They dream of playing at venues like Chain Reaction, the Palladium, Whiskey-A-Go-Go, and O'Malley's in Ocala. Some dream bands that Robby would like to perform with include The Acacia Strain, For the Fallen Dreams, and Kingdom of Giants.
Robby is most excited for listeners to hear "In Nightmares" from Cartharis. Although it is the shortest song on the EP, it has a ton of energy and is the most fun for him to perform. He has never had so much fun performing songs with a band and is glad he found such a perfect fit.
Their goal is to connect emotionally with the listener. Robby Anttila has made a career in the psychological thriller genre and wants to use that knowledge to create thought-provoking songs. These songs on Cartharis are retrospective and come from the lessons Robby has learned during his ten-year hiatus from music. Although Robby writes the lyrics, he states that the writing process is collaborative regarding composition, production, and melodies.
Robby hopes Burn Absolute will provide that old-school touch with a modern vibe, a mix of early-Architects and Norma Jean. He states that the band is predominantly influenced by 2000s metalcore. Robby's influences include Bring Me The Horizon, The Acacia Strain, and Job For A Cowboy--from which he learned to scream.
---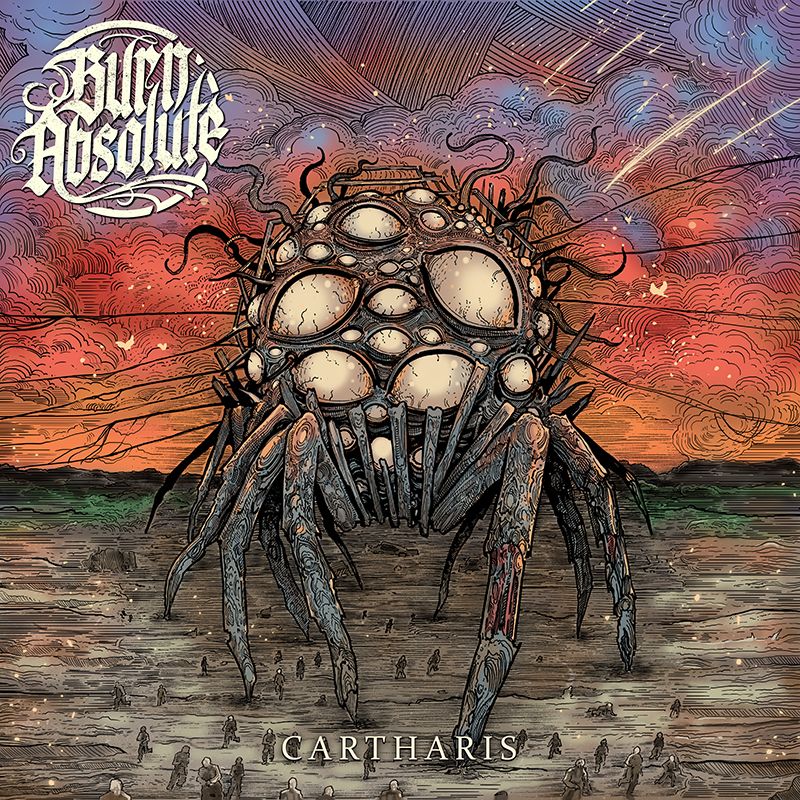 Cartharis Review
"I don't know how many times I can let you ruin my life." These are stinging lyrics describing a toxic relationship; Burn Absolute's debut EP, Cartharis, deals with healing and retrospection. It is lyrics like these that showcase the band's potential. Vocalist Robby Anttila delivers a superb vocal and writing performance while his bandmates lift the tracks to another stratosphere.
The vocal performances by Robby Anttila and Shawn Spann (of SoulKiller) on the EP are something to behold. They shine brightest on "In Nightmares." However, they provide an interesting dynamic throughout the EP. At times, the mix of Robby's screams and growls with the chugging guitars sounds almost like a deathcore track, and then Shawn's singing arrives and elevates it into a proper metalcore track. Nobody is blurring the lines between metalcore and deathcore better than Burn Absolute.
My favorite track on the EP is the title track, "Cartharis." The lyrics shine bright, describing the feeling of being shackled by anxiety. The guitars and drums shift tempo multiple times in the track and strengthen the impact of the vocals. The riffs and beats are fun but nasty. The ambiance is the cherry on top of the production of this track as well, making the track feel like a thriller. You will want to fight and mosh to this track.
The album's production by Jacob Lizotte of Dark Cabin Studios is solid. There are some moments when sounds are muddy, or vocals could be more robust. Regardless his production shines, especially on "Groundskeeper," it feels like an old-school track with a modern touch. The song's latter half is a grand finale to a strong debut effort.
During our interview, Robby told me his goal is to thrill listeners and make them think. He accomplished his goal with Cartharis. The lyrics are complex yet catchy, while the instrumental tracks are danceable yet brutal. Whether drowning in anxiety or escaping a toxic relationship, Burn Absolute's unique take on metalcore has something for you.
---
You can stream Cartharis below:
Follow Burn Absolute on Social Media:
---
Catch Burn Absolute in a City Near You: