by Dylan Wallace
The weekend where, "inside kids and outside kids can commune," teased Michelle Zauner, lead singer of Japanese Breakfast, referring to the variety of bands taking stages surrounding her set. A weekend where Joey Valence and Brae can get Dave Matthews Band fans to leap into the air while pumping their fists, or where Marcus Mumford can mellow out the same crowd that Pitbull riled up the day before. Somewhere between the kids that sit on their parent's shoulders to see Tai Verdes over the crowds, and the couples daydreaming on blankets, staring at clouds, to the captivating vibe of Faye Webster, stood Innings Festival. A weekend of music, baseball, and new friends that was held on March 18th and 19th 2023.
---
Day One
Joey Valence and Brae treated the main Home Plate stage to one of the highest energy performances of the weekend. Their Beastie Boys' style hip-hop/rap had the crowd jumping as they too spent more time in the air than they did on stage. Halfway through the set Brae mentioned how much he wanted a corn dog from one of the many vendors of the festival, Corndog Inc. This would prompt the crowd to start raising corn dogs in the air in place of waving hands, and in fact, so many did that both Joey and Brae would mess up verses of the next song performed because they were laughing so hard. A corndog would then be launched on stage prompting Joey to say to Brae, "You know what you have to do, but do you have the strength to do it," followed by a hesitant bite of corndog from Brae and cries of disgust and excitement from the crowd. The cathartic chaos of it all left it being one of my favorite performances of the weekend.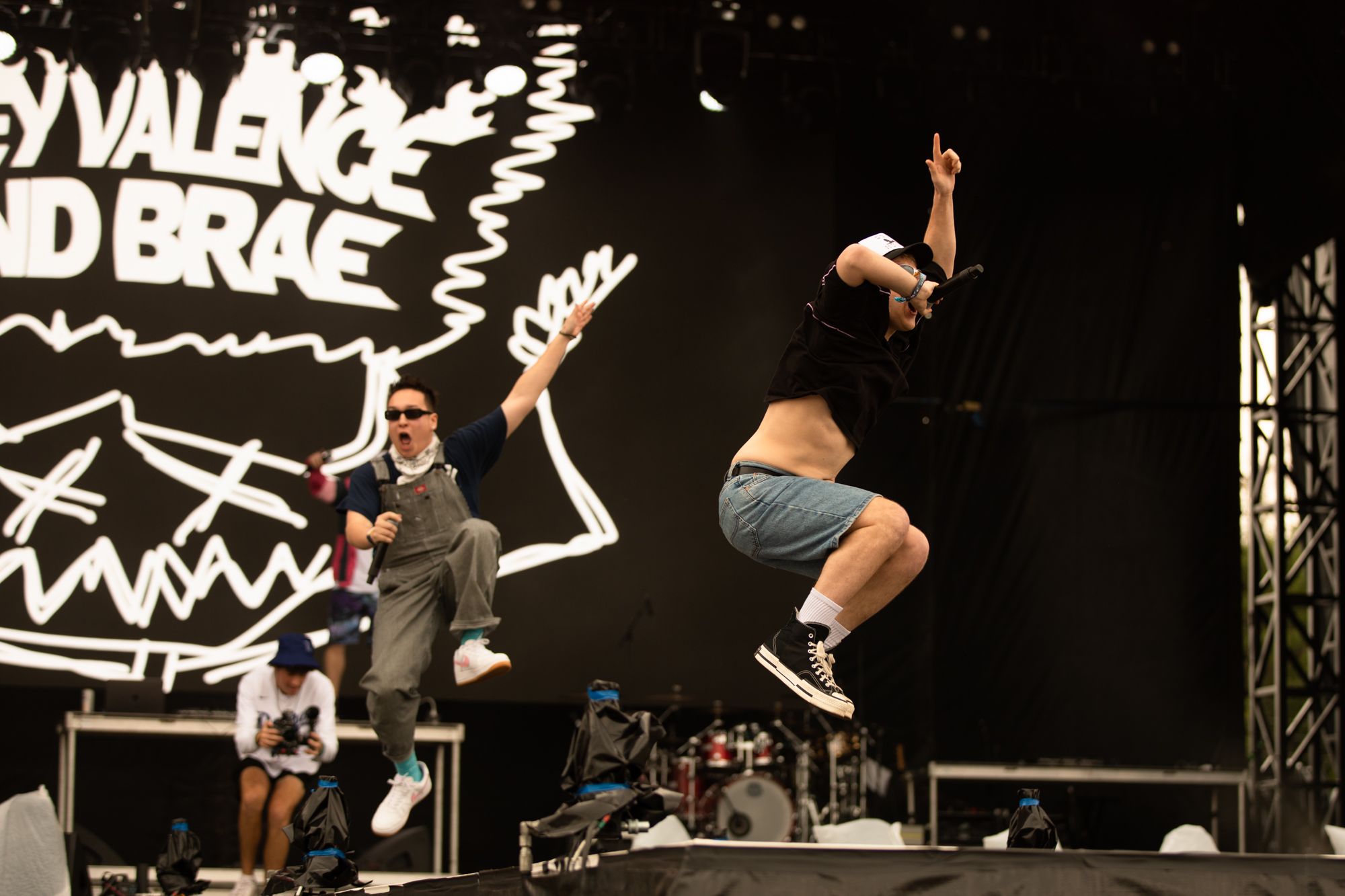 Following the duo on the stage was Japanese Breakfast, who was a bit of a change of pace too much slower and atmospheric music. Between the dreamy alt-pop vocals and experimental backing tracks, Zauner and her band would play her hits like Be Sweet and Paprika but also the longer droning tracks that she not only sprinkles her albums with, but that she also wrote for the soundtrack to the indie video game Sable.It had been around four years since the band was last in Florida, and they made quite an impression upon their return with an absolutely fantastic performance that brought the crowd into her space with utter fascination and full attention.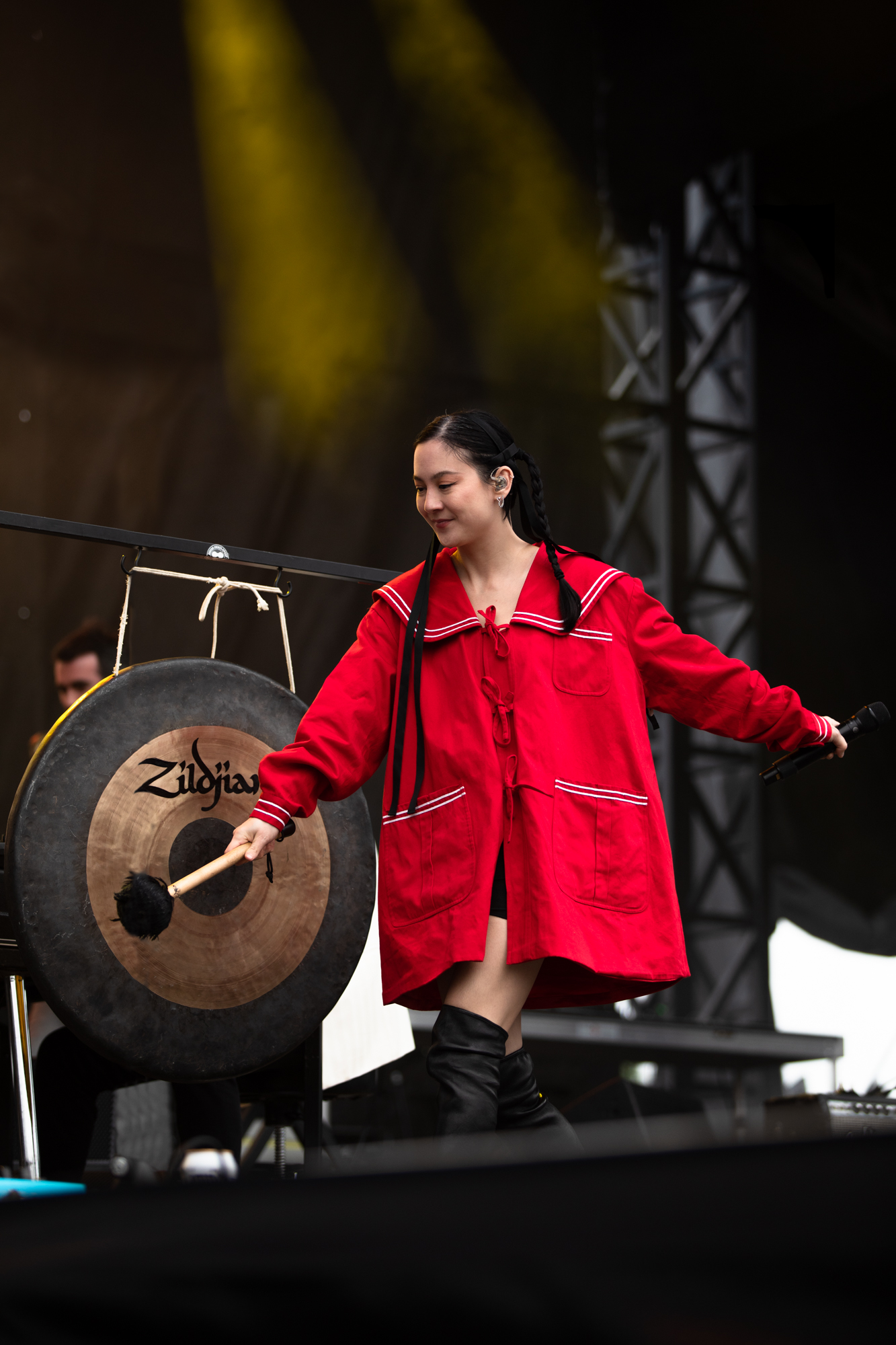 Waiting for Grouplove to take their place up on stage is where I met fans Tyler and Brittney. With tattoos for the band that match its members, this would be their 23rd time seeing them perform. When the band would take the stage, Tyler, Brittney and Grouplove's members would recognize each other with excited smiles and pointed callouts of approval. That many concerts are for good reason, Grouplove will always be one of my favorite bands to see live. The chemistry on stage not only between married lead singers Hannah Hooper and Christian Zucconi, but between the entire band is untouchable. They will never not command the stage they find themselves on and send those radiant vibes undulating through the crowd from barricades to parking lots. Throwing guitars into the air, chants they promised their seven-year-old daughter they'd make the crowd echo, and two new songs by the names of Cheese and Hello alongside classics like Tongue Tied and Raspberry were all highs of the set.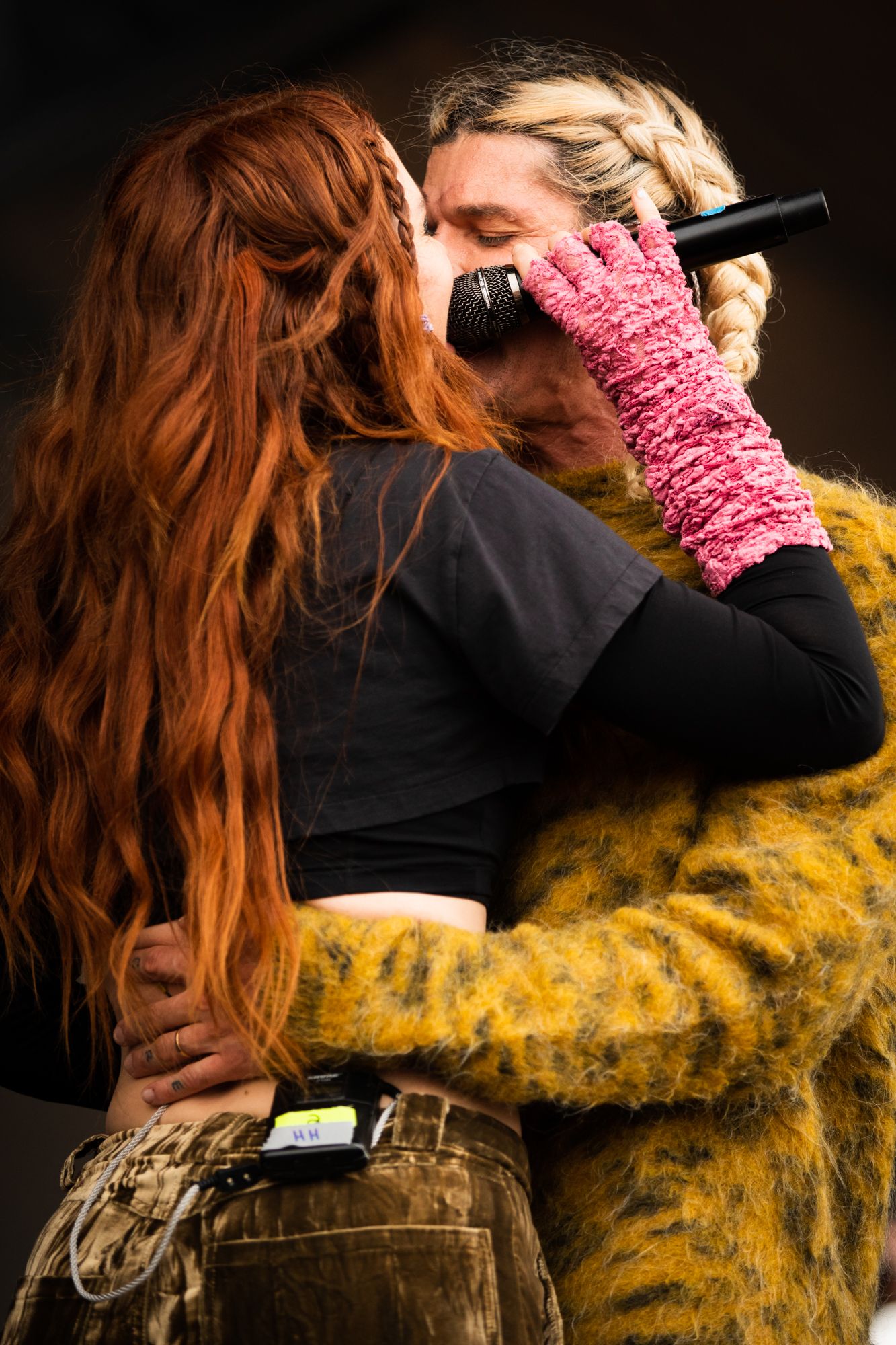 The crowd members would not have a second to let their adrenaline dissipate as Grouplove finished their set and Pitbull was just beginning his. With what felt like the largest crowd of the festival gathered, Mr. Worldwide would perform to audience members dressed as Mini-Pitbulls, or decked out in Pitbull themed clothes and jewelry. It was clear no matter who you came for this weekend, you were not going to miss Mr. 305. The Miami born and branded performer would tell the audience, "if you ain't from Florida and you're just here visiting, well f*ck it you are now," before leading into a medley of just about every song you can think of. Hotel Room Service, Don't Stop the Party, On The Floor, and Fireball were only a small part of the massive discography he was able to squeeze into his hour set. From the first step to the last, the crowd was treated to the nonstop action and party Pitbull is known for.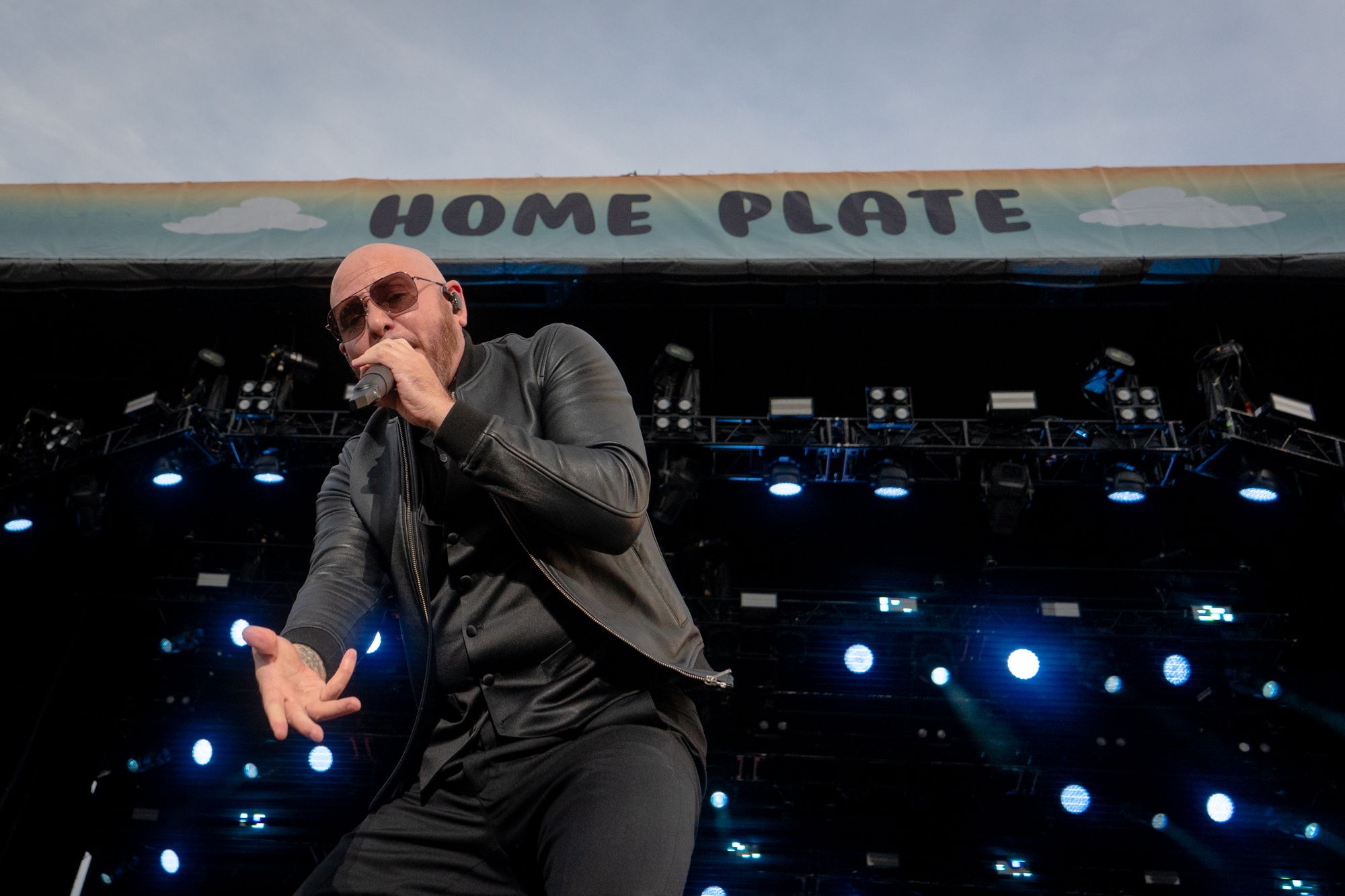 Weezer would of course be another fan favorite, treating the crowd to classic hits such as El Scorcho, Say It Ain't So and Island In The Sun. I'm pleased to report they remain the band they've always been, sounding no different from the original recordings of their masterclass albums, and absolutely killing their time on stage.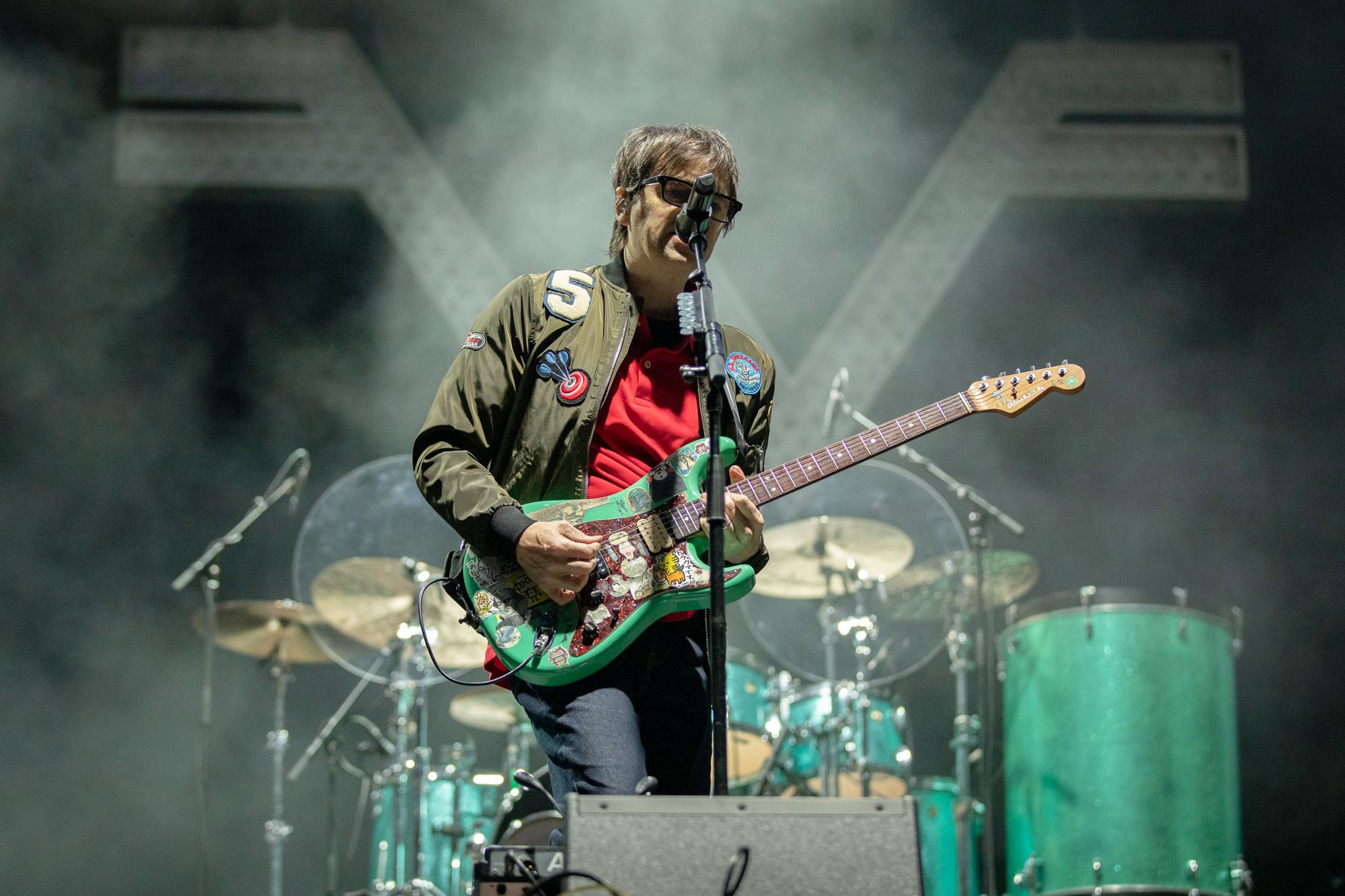 To close out day one was the massive powerhouse that goes by Imagine Dragons. Rivaling Brittney and Tyler for number one fan of the weekend was Rachel, who was anxiously awaiting her 26th Imagine Dragons performance to start. She too had tattoos of the lead singer, Dan Reynolds', handwriting on her back of lyrics from their song It's Time. The barricade was also scattered with signs telling the band that fans' lives were saved through the music about to be performed, but it wasn't just the crowd that would detail these troubles of life. Imagine Dragon's performance was astoundingly artistic and vulnerable. Structured in sections outlined by narrated videos, and separated by plumes of smoke, crackling sparklers, bursts of fire, and balloons released into the crowd, Reynolds would detail the hardest times of his life on stage to the crowd. From stories of losing loved ones who took their lives, to the troubling depression that he wouldn't allow himself to seek help with for so many years, he would plead with the crowd to stay alive and stay with us as his voice began to crack into the mic and over waves of thousands of fans hanging off every word. Spectacular performances aside, it would be these snippets of true life that would leave the biggest impression with the crowd. Performing in Lululemon shorts, Reynolds' would tell the crowd it's okay to be weird because it means you're doing something right, prompting a young girl in the crowd next to me to turn toward her father saying, "Daddy I'm so weird just like him." The emotional performances of hits like Demons and On Top of the World would just leave a sense of unity and strength with the crowd as they prepared for day two of the festival.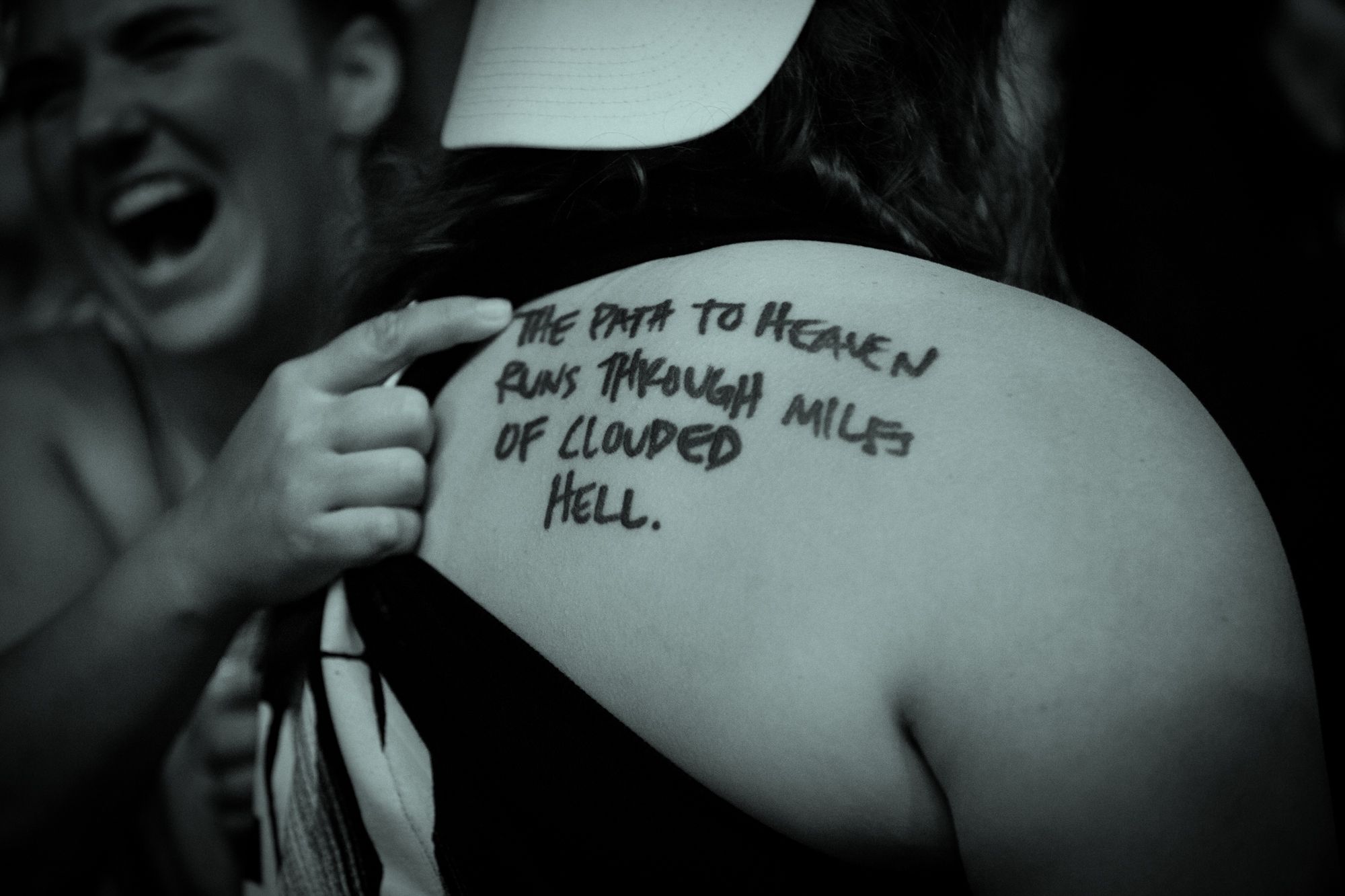 ---

Day Two
After the emotional end of day one, The Ries Brothers of the Tampa area would help set the mood for the start of day two. The jam duo would rock their performance with tight solos and an impressive lead singer who doubled as their drummer, never once losing time. With catchy songs such as Corner Store, using bottles as guitar slides, and sending inflatable baseballs through the crowd, the band would be the perfect start to the last day of great music for the weekend.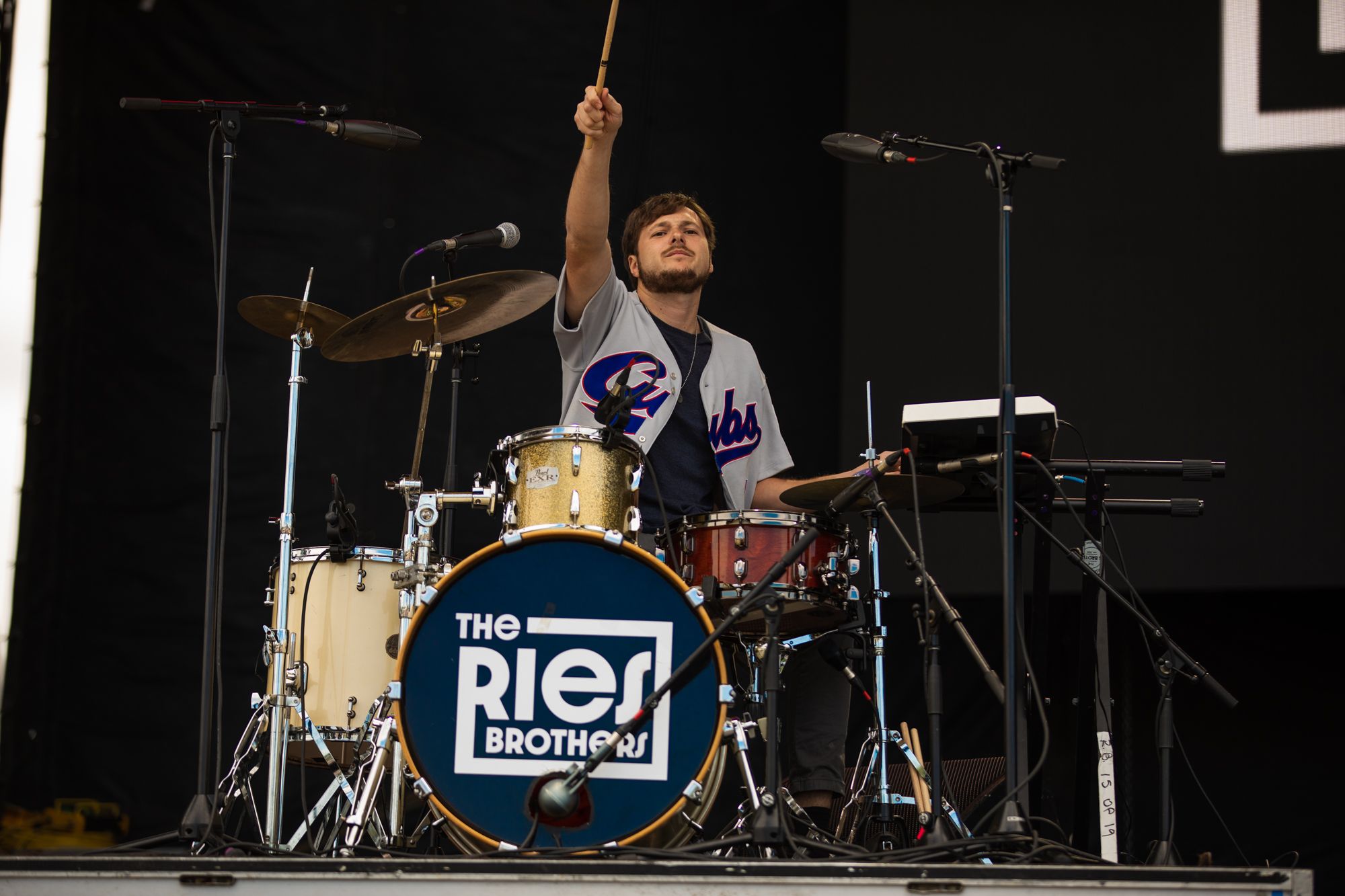 The Heavy Heavy performed in Florida for the first time in their careers, and with that brought the crowd back to the time of psychedelic blues with a sixties Mamas and Papas flair that had all ages grooving. The weather throughout the weekend was a bit touch and go, yet their sunshine pop brought just that, the brightest and warmest weather to bask in while getting whisked away through the timeless vocals and mesmerizing concoction of sounds the UK based duo has cooked up for us. Unmissable moments were performances of Man of the Hills and All My Dreams.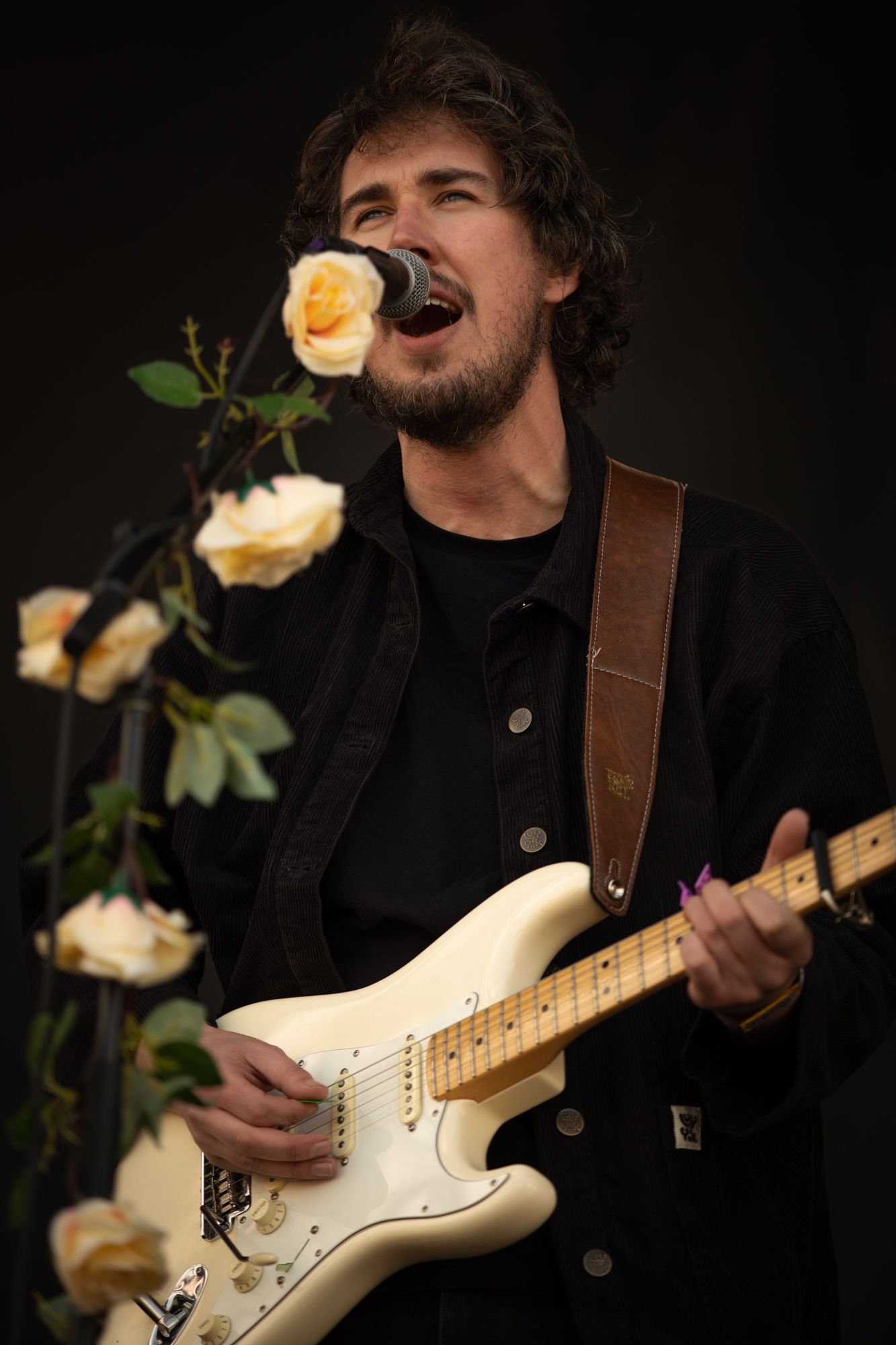 Faye Webster's performance was similar to Japanese Breakfast's the day prior in the sense that it let the audience breathe in and out, and appreciate the moment they found themselves in. Webster has a euphoric voice that just feels good to hear. Right Side of My Neck and In A Good Way had the crowd swaying back and forth while she lulled them through the next hour that would pass by in what felt like minutes.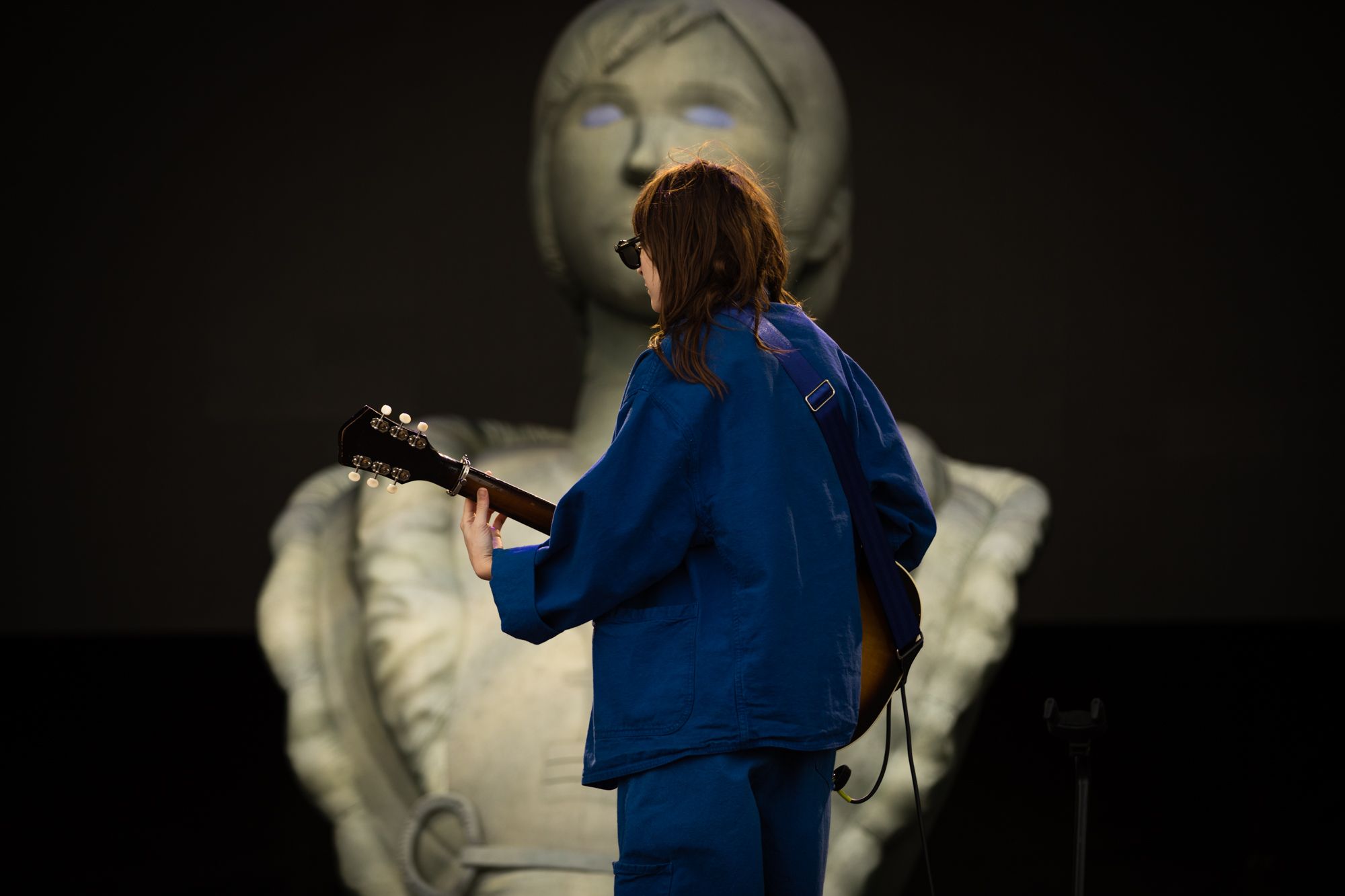 True to the rest of the weekend, the next band on Home Plate stage would swap the vibe again, this time to a more grunge rock sound. Third Eye Blind has always been a fantastic act, and they continue to carry on that legacy. For fans like Mike, who couldn't wait to get his own band's merch into one of his heroes' hands, they were the most anticipated of the day. Mike did get his hat to the band's front man, Stephan Jenkins, who would wear it for almost half the set before allowing it to fall off while lost in his performance. Some great throwbacks to the late 90's like Semi-Charmed Life and How's It Going to Be really made this one of the more special sets of the weekend in my heart.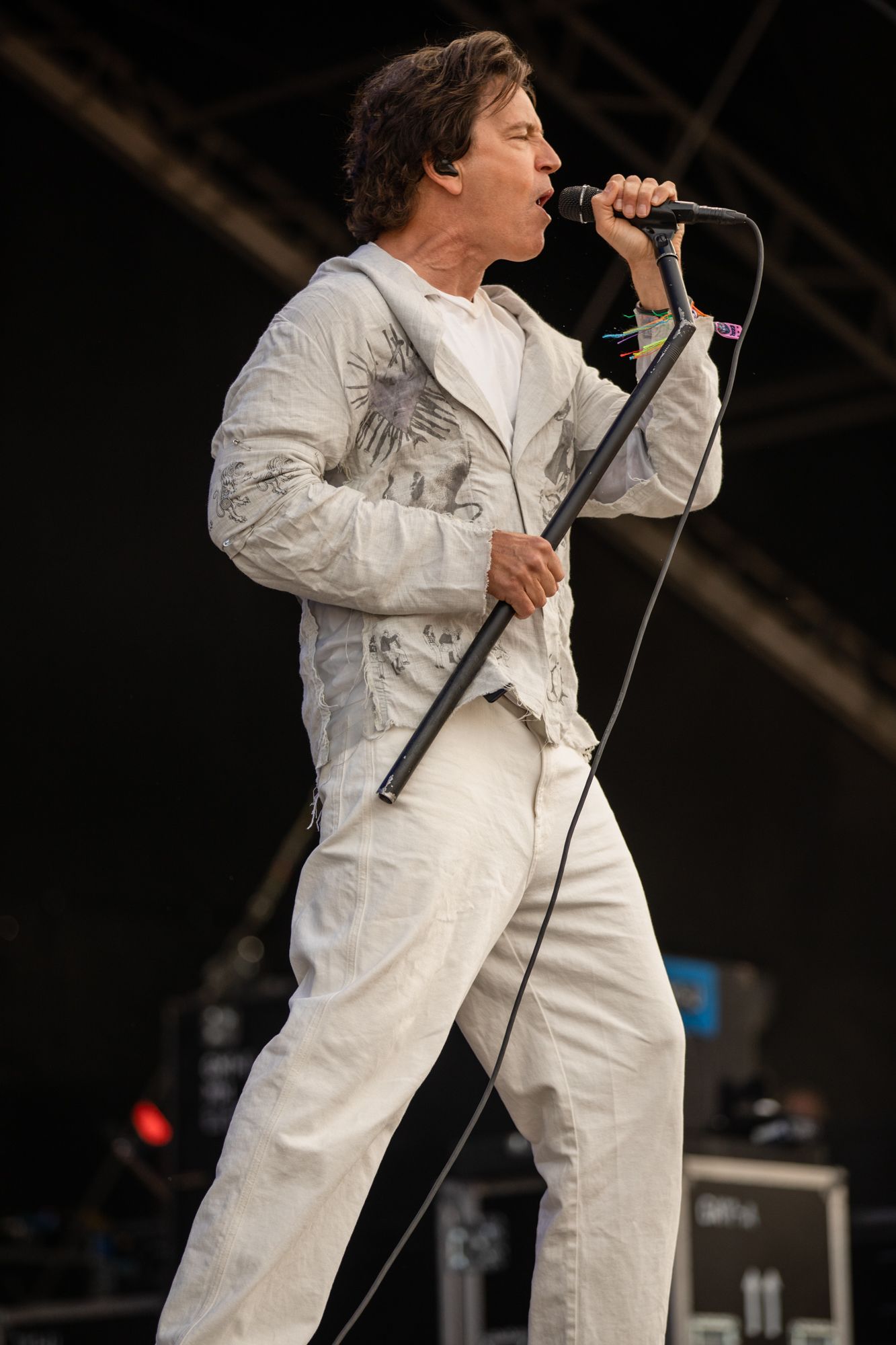 If you've never seen The Revivalists live, there's one easy way to describe their shows. For a second, think of how it'd feel to be in the center of Bourbon Street, in New Orleans, on Mardi Gras. Lead Singer, David Shaw, always brings that much energy to his music, which helps plunge the audience into a sense of wonder as he bounces on and off the stage during smashing hits like All My Friends or Wish I Knew You. Shaw is a performer that loves to really feel the audience's energy bouncing off of his in a sort of positive feedback loop of excitement. To pull this off, he spends seemingly just as much time off stage, standing on barricades, walking up and down the pits, and being in fans' faces, as he does on the actual stage. The Revivalists are artists I will always recommend rushing the barricades and holding you spot for.

Marcus Mumford would begin his performance poking fun at his solo setup which seemed to dwarf him on the main stage. "I don't know what you were expecting, it's just me," he would tease as he would later introduce his imaginary band as, "Gandalf on the guitar, Hermione on the keys, and Frodo couldn't be here so we have Bilbo filling in on the drums," while pointing to the emptiness surrounding him. While it is a light-hearted start to the set, it takes an immensely strong performer to work such a large scale stage for an hour set armed with nothing other than his voice and his guitar, yet I had tears in my eyes while trying to keep a clear viewfinder to photograph him. He would play some of my personal favorites off of his solo EP like Go In Light which would be followed by funny thoughts plaguing his head while performing, like awkward people in the crowd he saw who didn't know whether they should be dancing to the music or not. While his bubbly and hilarious personality between songs shined, he would hold the audience's emotions in their throats as he'd adapt some of Mumford and Sons most iconic songs like The Cave and I Will Wait to a slower and more emotional acoustic performance. With an audience in the thousands, even at the back of the crowd, he cultivated this intimate environment that I almost couldn't leave to catch the next band. He was simply incredible.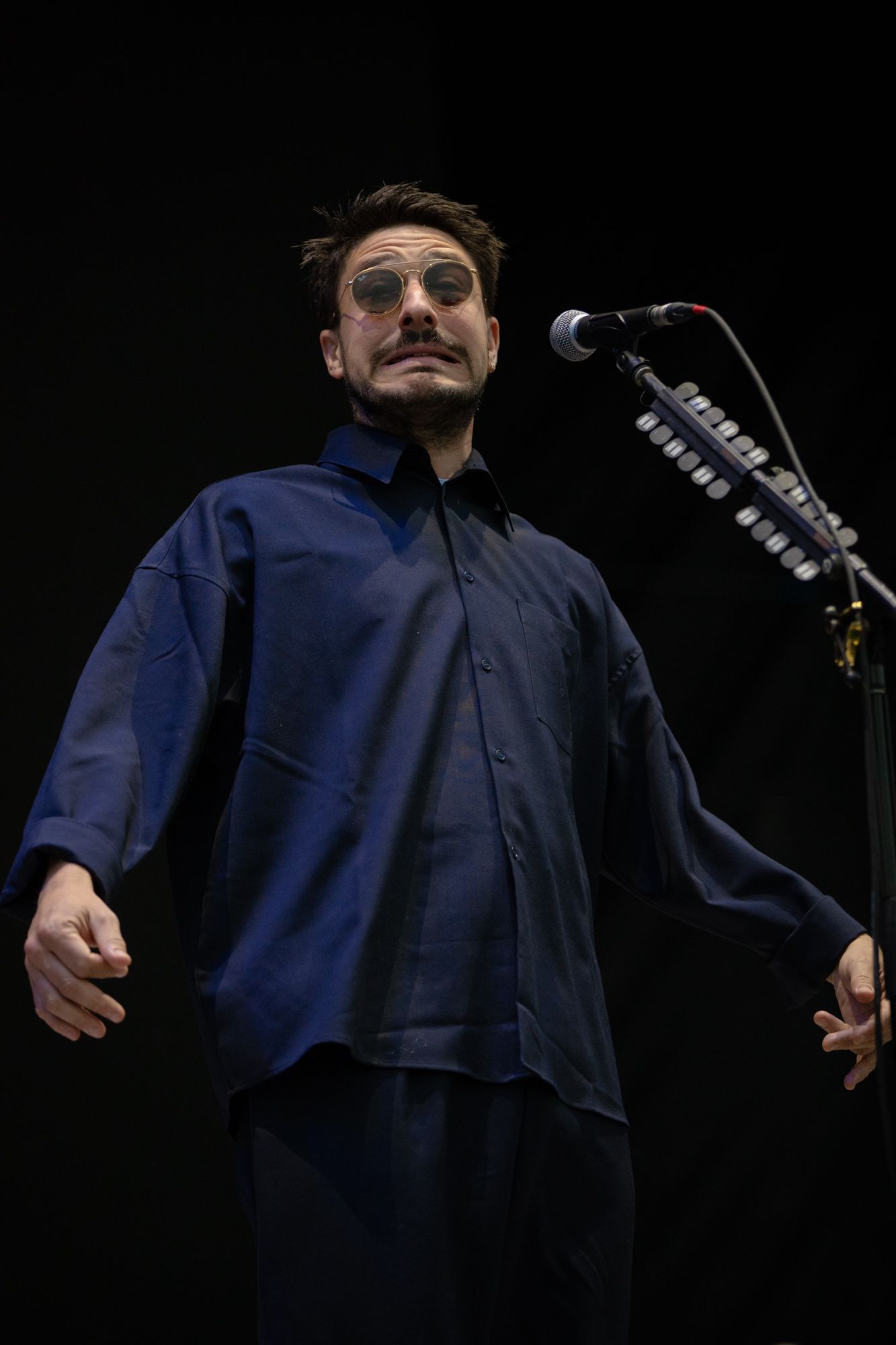 Closing out Sunday night, and in turn Innings Festival 2023, was the Dave Matthews Band. Hobbling onto stage in a large jacket and scarf as the temperature dropped lower throughout the night, another photographer in the pit told me she'd photographed Matthews many times, and this was the first time she'd seen him in anything other than a black t-shirt, though it was probably underneath his jacket. The packed audience, warmed up by each other, would laugh until they kicked it off with One Sweet World followed by When the World Ends. It was a lovely surprise to also hear the band play some covers, one of which was Led Zeppelin's Fool in the Rain which just so happens to be a favorite of mine. Though the band is categorized as "rock," it was refreshing to hear the influence of music from all over the world popping up from song to song, with solos from fiddles, trumpets, flutes, and clarinets all making appearances. Sending the audience home with Ants Marching was a choice that left the crowd screaming long after the music had ceased.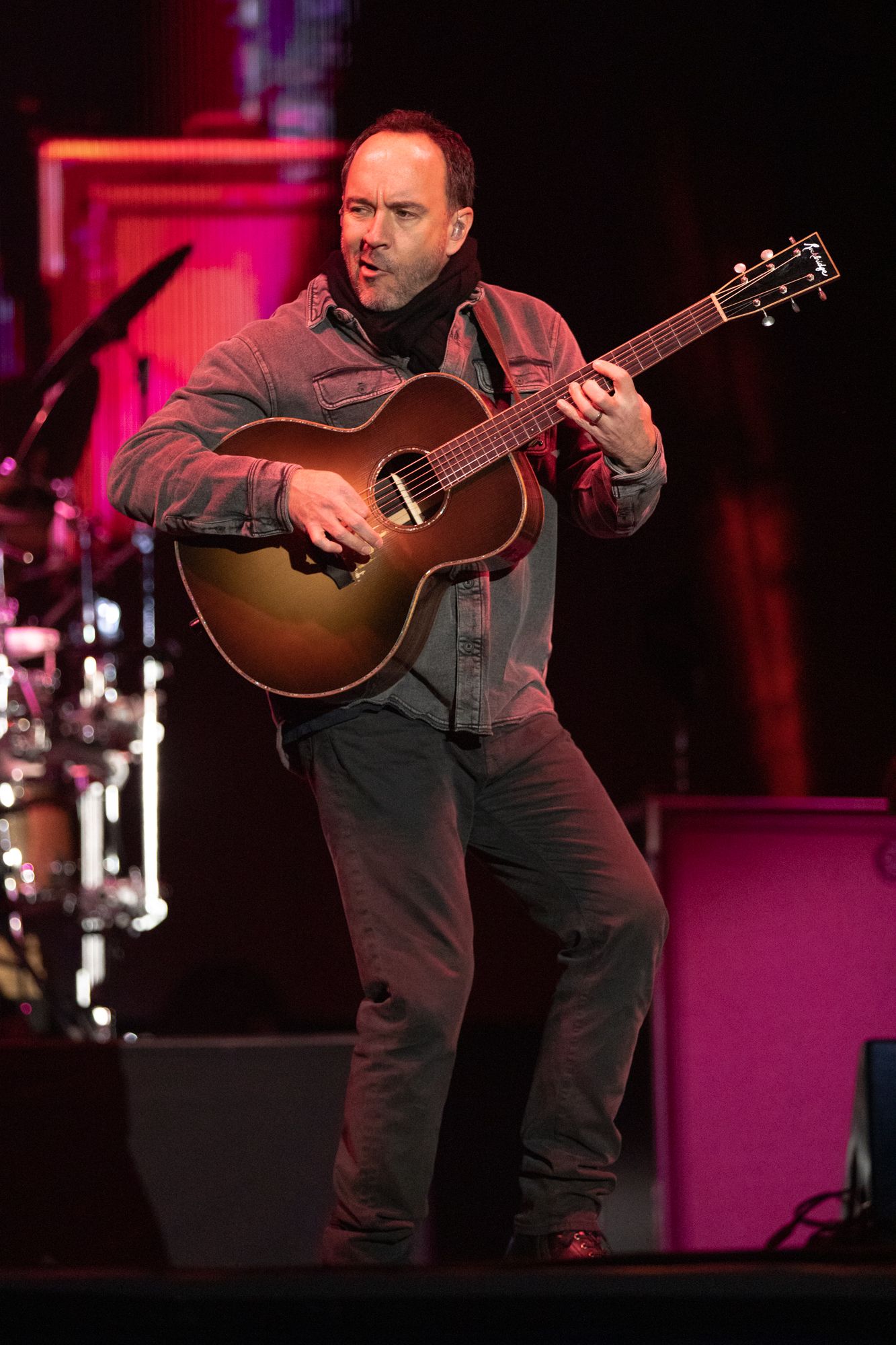 ---

Spring Training Activities
On par with the festival's spring training and baseball theme, throughout the day fans had access to both batting cages and speed pitch stations where guests can test their skills for the sport. In the same way musical acts were rotating stages over the course of the weekend, MLB stars were rotating through both these areas for meet-n-greets, signings, and pictures with any fans that would like to meet them. These players included Goose Gossage, a 2008 Hall of Fame pitcher who played for 22 seasons in the MLB for teams such as the New York Yankees and San Diego Padres, as well as Edwin Encarnacion, a ball player who retired in 2020 with a career total of 424 home runs and 1,261 RBI's. Alongside these meet-n-greets were interviews on stage conducted by Ryan Dempster, another former MLB pitcher, hosting guests such as the current New York Yankees field manager Aaron Boone.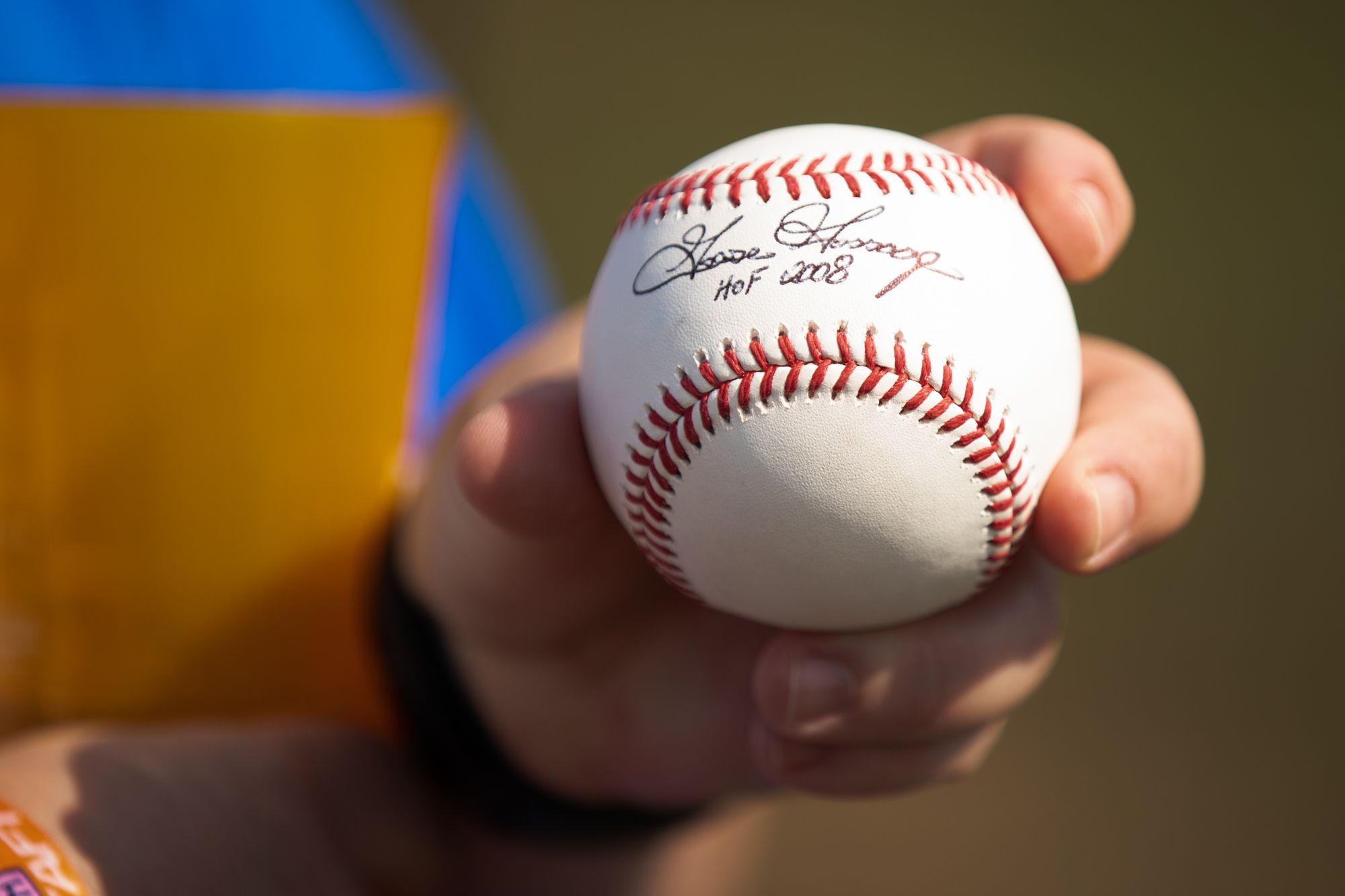 Music, activities, and food aside, what really made the festival special was the wonderful people making up the crowd. For instance, during Joey Valence and Brae's set, a man would be shown on the side stage screens who's big Hawaiian shirts caught the two performers' eyes. Upon request to put him back on the screen, the man who they'd find out was named Richard would lose his mind, jumping up and down to their songs he had never heard before. He was on barricades and so I saw him each time I went back into the pit, and by the end of the night and the last time I'd enter the pit, he'd be calling out for me by name, welcoming me back one final time. Jacquie was another lovely soul who helped me out right before Grouplove's set. You see it absolutely down poured for all of fifteen minutes and in that time I was unable to get my rain gear, forcing me to stand in the rain and find Jacquie who would lend me the corner of her rain poncho to protect all my gear and tell stories with her husband of their honeymoon. Beyond these two I was shown kindness all weekend with compliments to my clothes and jewelry, and watched as security would entertain crowds by starting waves bouncing back and forth through the venue or handing out waters when it was getting too hot in the sun. It felt like there was a sense of community throughout the weekend that we were all grateful to be a part of and it only made the performances that much better when the artists would feel this excitement too.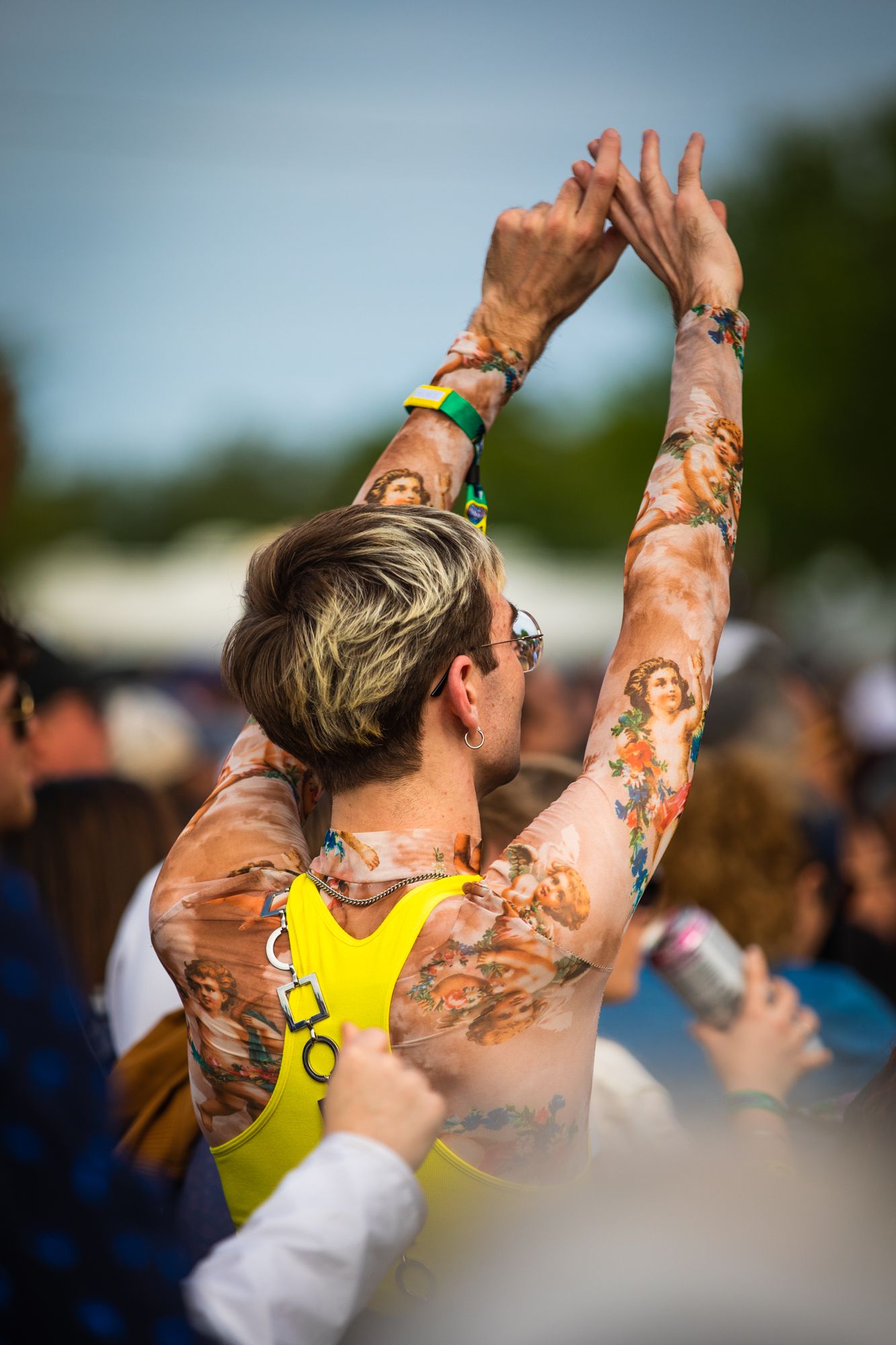 Innings Festival is truly a special festival for any music or baseball lover. With only its second year in Tampa, it's established a strong sense of self and community that I hope scales with the size of the festival as the years go on.