by Sean Maciejewski
When two legendary bands combine for a tour, it's bound to be an epic show. On this mid August evening, those in attendance witnessed just that! Earth Wind & Fire and Santana both debuted in 1969. To be touring 53 years later is an amazing feat. What surprised me was the range of fans from their twenties to their seventies. The show was held at St. Joseph's Health Amphitheater at Lakeview in Syracuse, NY on August 17th, 2022. The venue, which is nicknamed Lakeview Amphitheater, is set on a natural hill with a beautiful view of Onondaga Lake as the backdrop. This view can be truly spectacular, especially at sunset. There was a threat of storms for entire day but luckily everything cleared up just before the 7:15 pm start.
---
Earth Wind & Fire
Earth Wind & Fire (EWF) started the show at 7:25. Right from the beginning, to the last note played, the band was on fire. EWF has an impressive twelve piece band. The core(original) members of Philip Bailey(vocals), Verdine White(bass) and Ralph Johnson(vocals/percussion) stated that they have been friends for over 50 years! With the remaining nine band members, most have been with the band at least twenty years. The bond they have plays out on stage and they share a high energy musical connection. Opening the set with the mega hit "Shining Star" they played an impressive 18 song set. Most songs flowed seamlessly into the next without stopping for a break. It seemed at times that the entire audience was in the band, singing along word for word and dancing to the beat. A few of my favorites were "Boogie Wonderland", "Let's Groove" and "September". Throughout the show, Philip Bailey's vocals were ageless, hitting all the high notes effortlessly. Verdine White was laying down that famous funky bass groove all the while dancing around the stage. Ralph Johnson showed that his voice and percussion skills have not aged as well. EWF played for 75 minutes and did not disappoint. If you get the chance to see them you will understand why they are six time Grammy winners and have been inducted into the Rock-n-Roll Hall of Fame!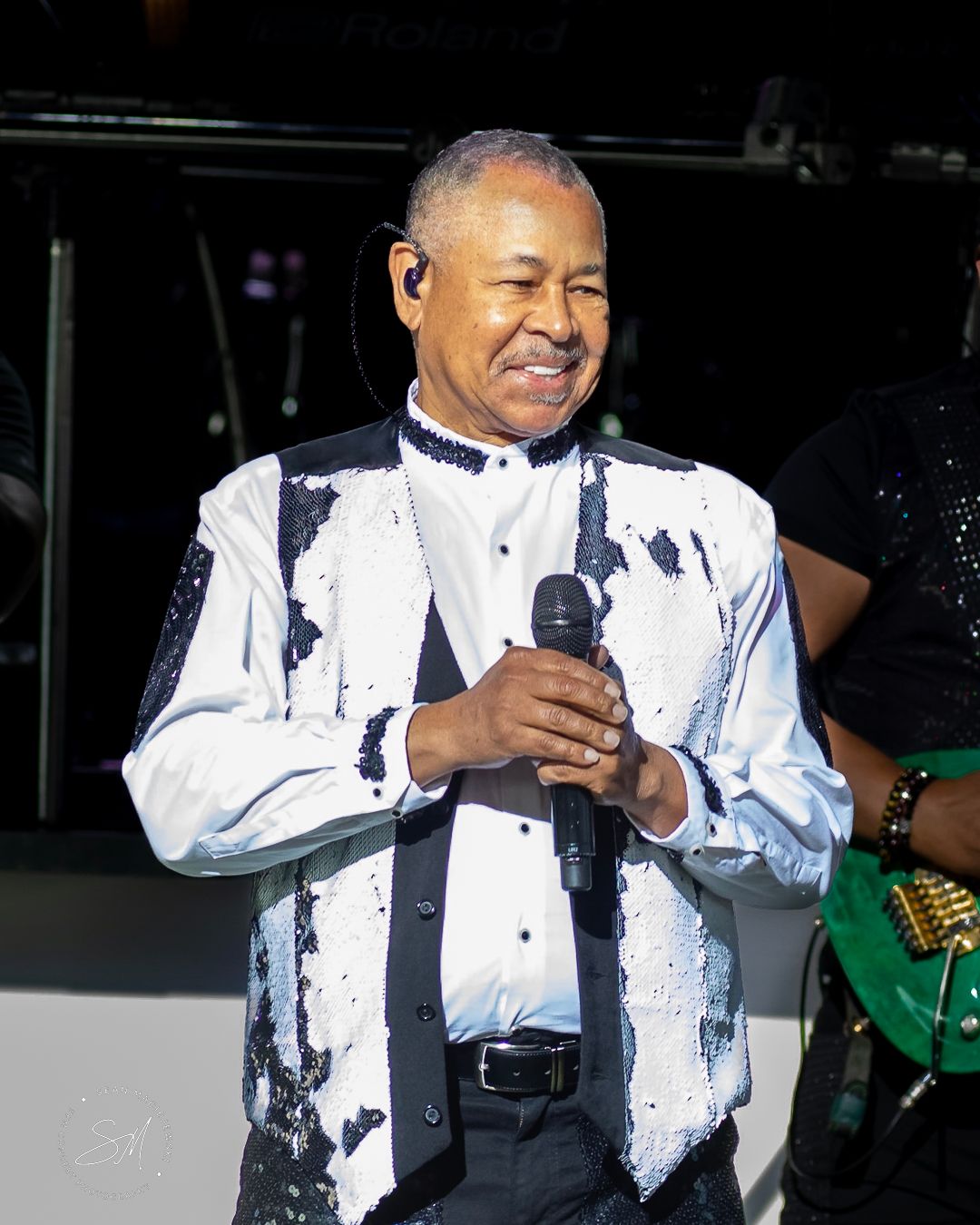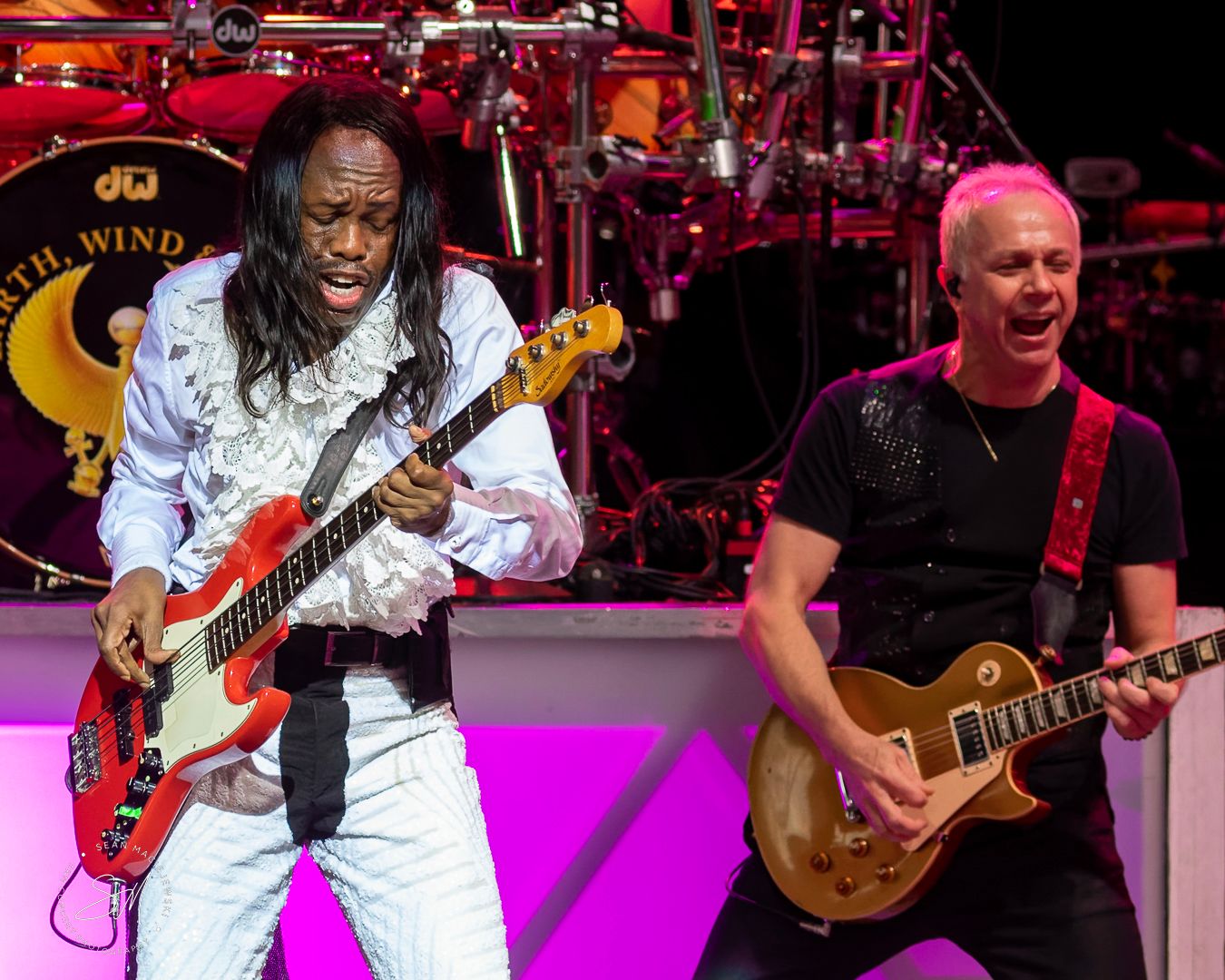 EWF is; Philip Bailey – vocals, Verdine White -bass, Ralph Johnson -vocals & percussion, B. David Whiteworth – Percussion & vocals, Myron McKinley – keyboards, John Paris – drums, Philip Bailey Jr. – vocals & percussion, Morris O'Conner – lead guitar & vocals, Serg Dimitrijevic – rhythm guitar & vocals, Bobby Burns Jr. – trumpet, Reggie Young – trombone and Gary Bias – saxophone
Set list; Shining Star, Let Your Feelings Show, Mighty Mighty/Celebrate, Getaway, Serpentine Fire, Sing A Song, Got To Get You Into My Life (Beatles cover), Keep Your Head To The Sky, Devotion, Reasons, That's They Way Of The World, After The Love Is Gone (David Foster cover), Rock That!, Fantasy, Boogie Wonderland, Let's Groove, September, In The Stone
---
Santana
Santana took the stage and started at 9:15 pm. Santana played an 18 song set that featured hits throughout his career. What I found really cool is the opening song was "Soul Sacrifice". Playing on a large screen overhead was original footage from the 1969 Woodstock performance of that same song. An interesting fact is that Santana played Woodstock on August 16, 1969 and he played Syracuse 53 years and 1 day later! He has achieved a lot in those 53 years including, being inducted in 1998 to the Rock-n-Roll Hall of Fame and winning 10 Grammy awards. Rolling Stone magazine has named him #15 of the 100 Greatest Guitarists of All Time. He is indeed a legend! He played his signature guitar style flawlessly. Oddly, you could feel his emotion come through his guitar even though he spoke only a few words. Much of the performance was instrumental, show casing his wife Cindy Blackman Santana on drums and percussionist's, Karl Perazzo and Paoli Mejias. Andy Vargas and Ray Green traded vocals on "Evil Ways" , "Black Magic Woman" and "Maria Maria". Tommy Anthony played in the background on rhythm guitar but was in the spot light when Carlos played Happy Birthday to him. Rounding out the signature sound was Benny Rietveld on bass and David K. Mathews on keyboards. I honestly can't pinpoint a favorite song as I enjoyed the entire performance. Santana played an hour-and-45-minute set. Closing out the night with three big songs "Smooth", The Doors "Roadhouse Blues" and "Love, Peace and Happiness" which were also his final spoken words to the audience. This was a truly memorable concert and I wish everyone could see these legendary bands perform!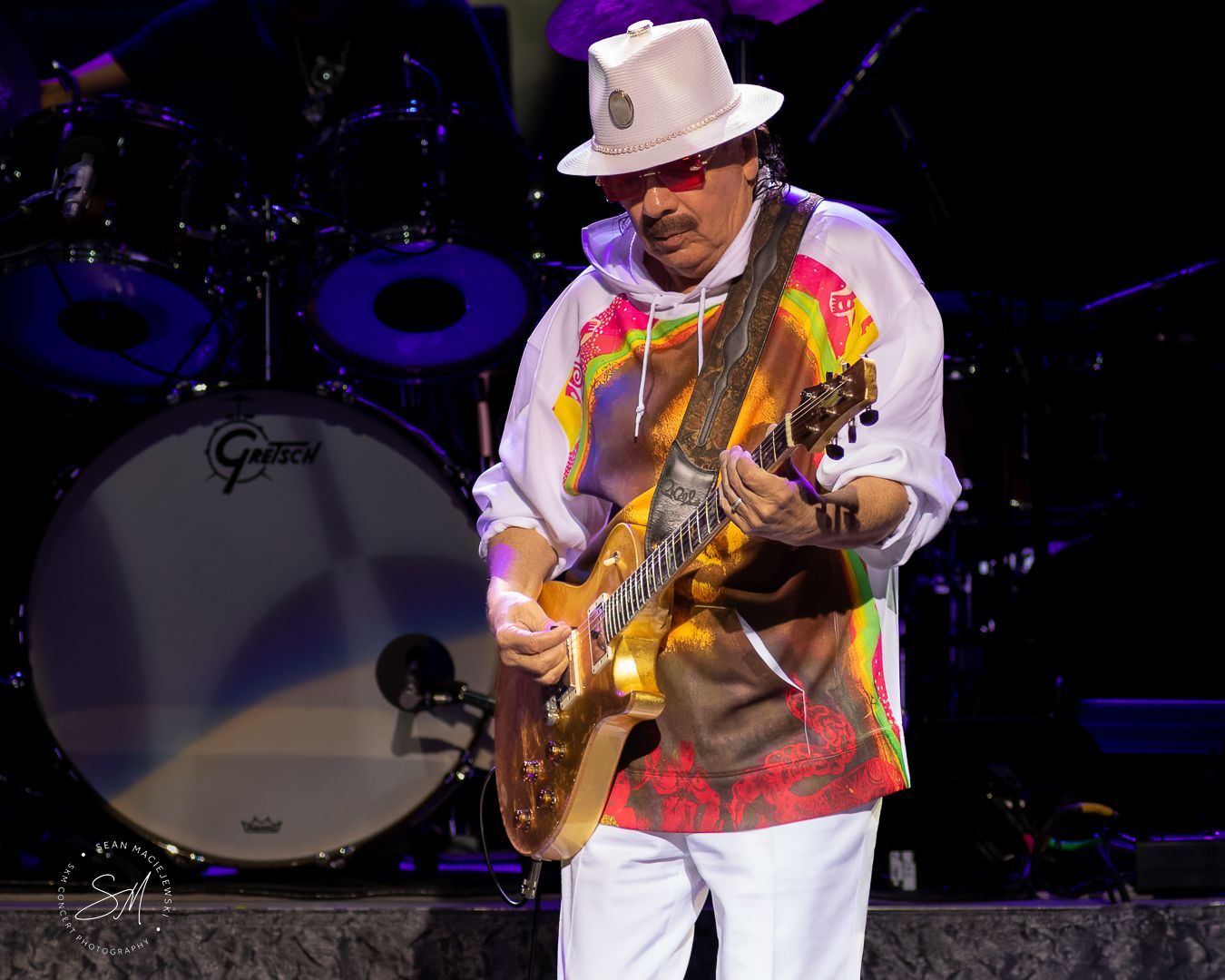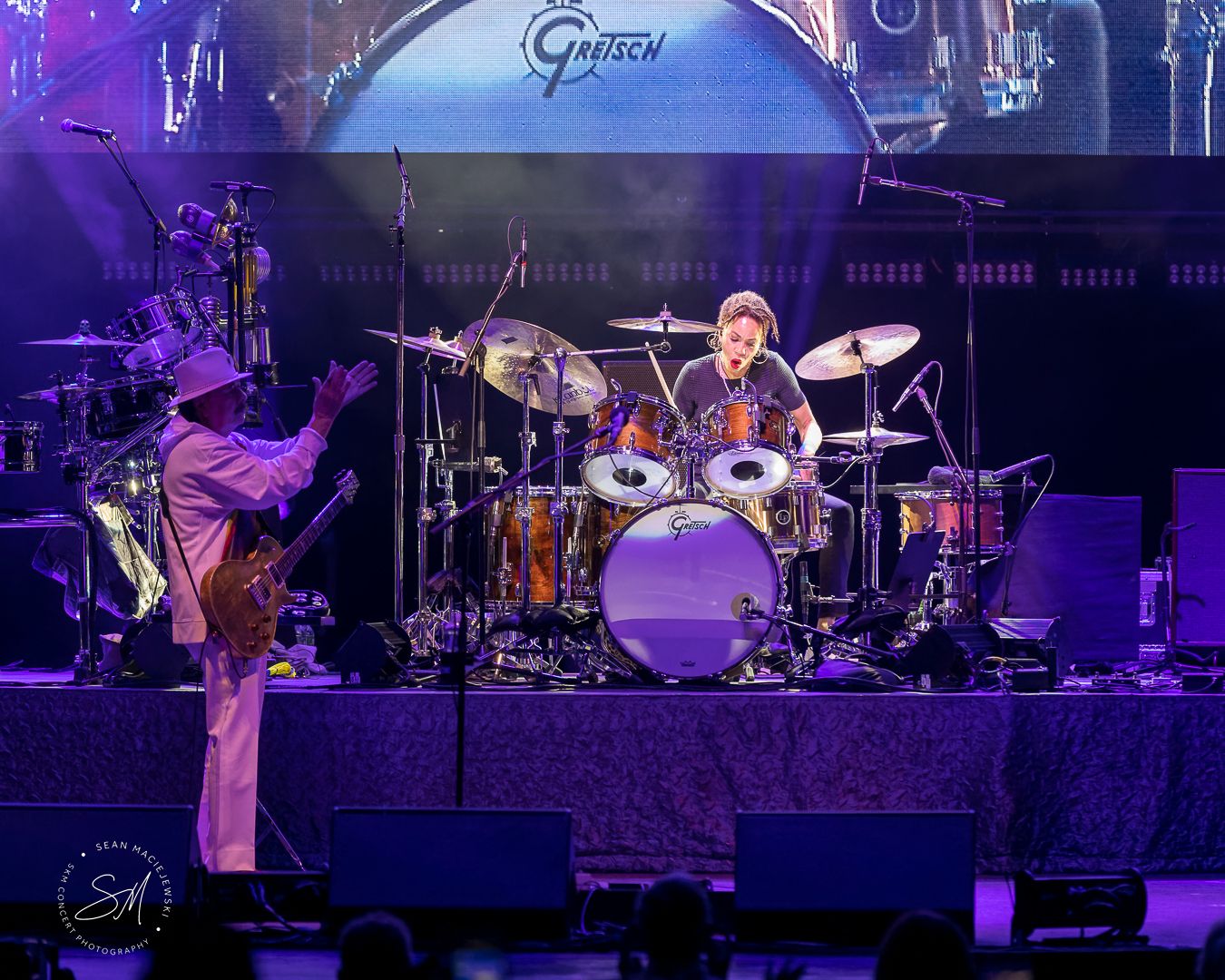 Santana is; Carlos Santana – guitars, Cindy Blackman Santana – drums, Andy Vargas – vocals, Benny Rietveld – bass, David K Mathews – keyboards, Karl Perazzo – percussion, Paoli Mejias – percussion, Ray Greene – vocals, Tommy Anthony – guitars & vocals
Set list; Soul Sacrifice, Jin-go-lo-ba(Babatunde Olantunji cover),Evil Ways(Willie Bobo cover), Black Magic Woman(Fleetwood Mac cover)/Gypsy Queen, Oye como va(Tito Puente cover), Happy Birth Day To You(for guitarist Tommy Anthony), Samba pa ti, (Da Le) Yaleo, Put Tour Lights On, Joy, Life Is For Living, Corazon espinado, Maria Maria, Foo Foo, Encore; Toussaint L'Ouverture, Hang'em High(Dominic Frontiere cover),Smooth, Roadhouse Blues(Doors cover)/Love, Peace and Happiness (The Chambers Brothers cover)