"What kind of music is Viagra Boys? What audience is their music for?"
"For...me?"
This was part of a brief exchange my wife and I had as I packed up to head out to see the band in question last Friday night. That wasn't a clever way to make myself seem cool, just that it's hard to describe Viagra Boys to someone using anything but their music. So I had to use a unit of measurement my better half would be familiar with: my weirdness. If I described myself as 'a little weird' that would seem like an understatement, but I definitely wouldn't describe myself as a 'full blown weirdo'. I definitely fall somewhere in between the two, as you can probably already tell considering we're about 4 sentences into this thing and I've already gone off on a weird tangent. See? There's that word again.
The same can be said of pretty much everything about the Viagra Boys. Everything about them is...weird. Odd. Potentially confusing. From their name to the subject matter of their songs to the origin story of the band itself, there's a wild and ridiculous element to the band where you're not sure which parts to take seriously and which should make you potentially scared for your life.
In town to play a Saturday set at Chicago's legendary Riot Fest, the Boys wormed their way into Chicago's Metro for a Friday night aftershow with support from Enola Gay hoping to turn the place into their own personal shrimp shack.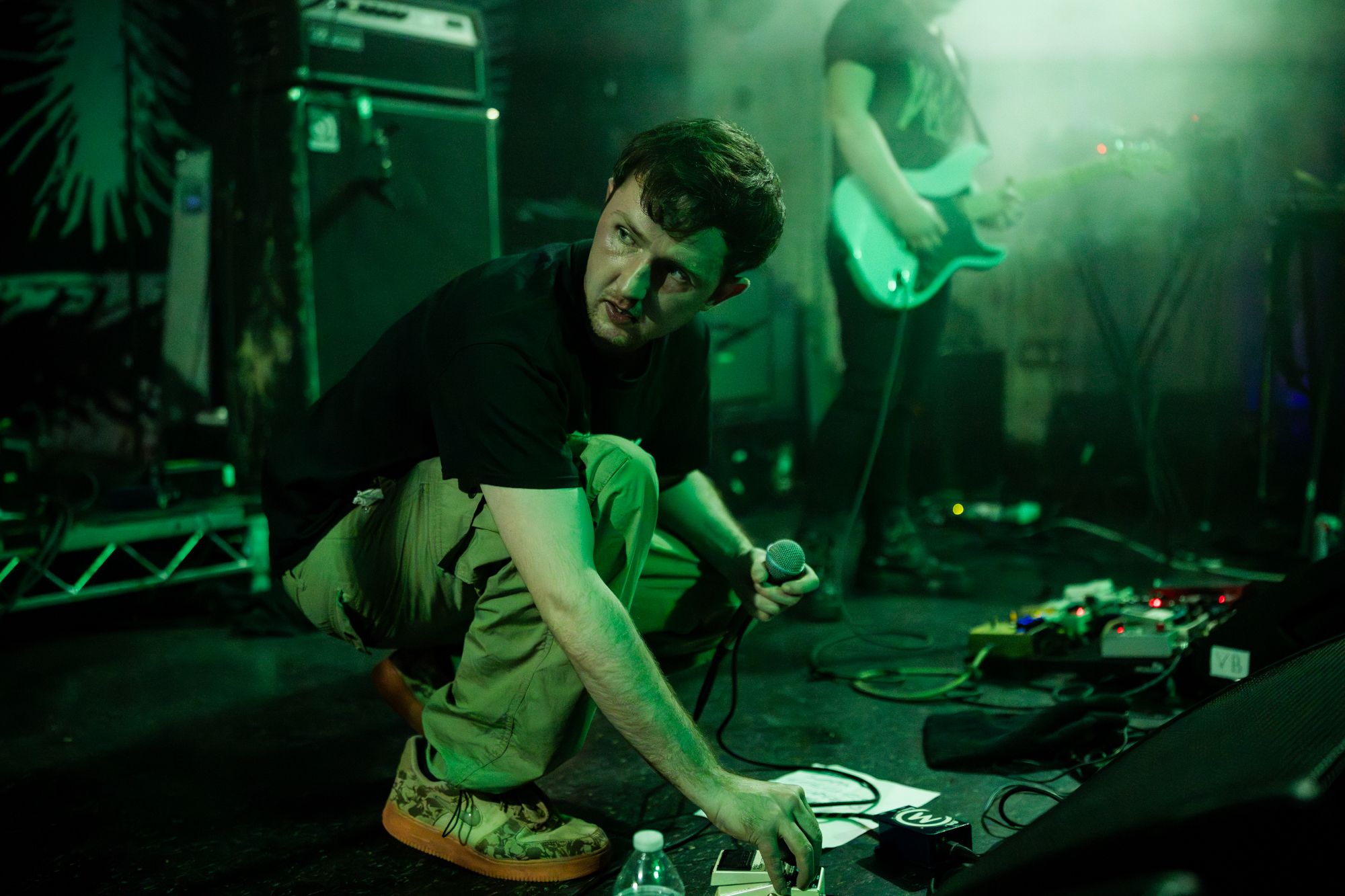 History buffs/Oppenheimer fans will know the name Enola Gay as the Boeing superfortress bomber that dropped the first atomic bomb in 1945. It's a bold name to choose with the expectations that it sets. From the first note they played until the last reverberations of feedback closed out their set, the entire atmosphere inside the Metro did indeed feel like a bomb was going off. Combining hip-hop inspired vocals mixed with classic hardcore screams piled over deafening guitar noise and a rhythm section that somehow ties the entire thing together (think The Prodigy but a lot more fun), this Belfast quartet steamrolled through their first ever US performance. Lead singer Fionn Reilly prowled back and forth across the stage the entire performance, almost seeming like he had to constantly keep from launching himself into the audience to yell right into their willing and moshing faces. The rest of the band (Joe McVeigh on guitar, Adam Cooper on bass and Luke Bierne on drums) matched him beat for beat and thrash for thrash, beating their songs into submission so hard that I'm confounded how they don't need to be replaced after each set. The first taste the United States got of this Irish group was as unforgiving and riotous as anyone could have hoped for. It'll be hard to top this kind of energy, and I'll be afraid for what it looks like when they do. But I wouldn't mind a front row ticket to that kind of mayhem every time it rolls into town.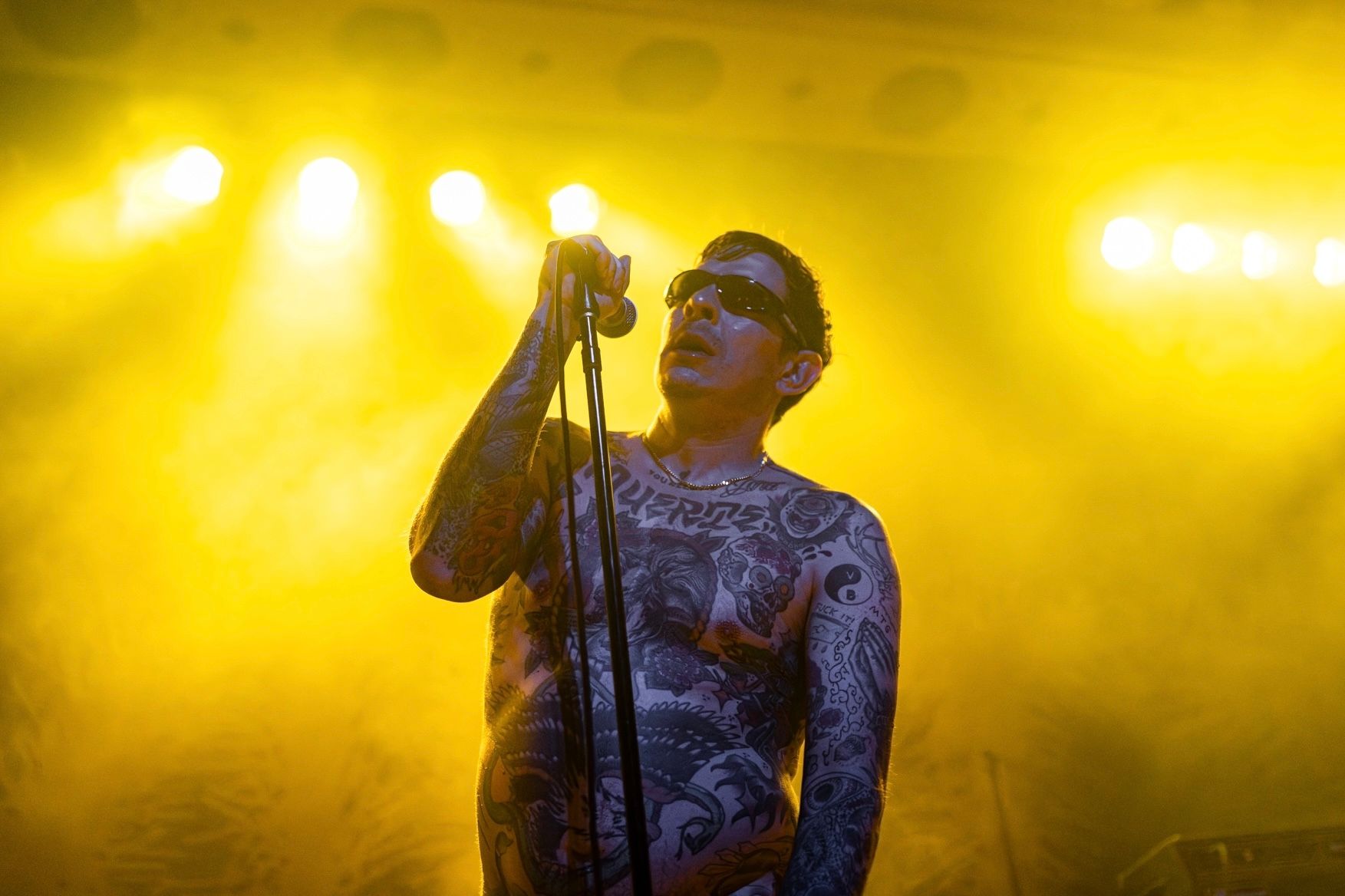 You know how I said earlier that there's weirdness to everything about the Viagra Boys? That includes their appearance. Taking the stage looking equal parts fever dream and acid trip, their various outfits sound like someone describing the Village People after taking too much codine. Leather pants. Beer stained t-shirts. Cutoff short shorts. Wraparound Terminator sunglasses. Tracksuits. A contender for Sleaziest Looking Band in the World (meant as the highest compliment), they kicked off their set with a fuzzed-out rendition of their hit "Ain't No Thief", an ode to the wild coincidences of just so happening to own the very specific items that seem to go missing from those around you ("We just happen to have the same stuff. So quit bitchin', motherfucker").
The theme of being anti-society and the breakdown of all social norms was a theme throughout the early part of the Viagra Boys' set. Their 2019 song 'Worms' touches on the futility of doing anything at all, because the same worms are going to eat us once we die no matter who we are. And while the popular meme of 'returning to monke' is usually nothing more than Reddit users expressing the desire for a simpler life, lead singer/songwriter/Ray Bradbury's Illustrated Man Sebastian Murphy builds the case to take that literally on 'Return To Monke' ("You can hang out and eat a banana/ You don't have to worryabout no current events/just rub a frog on your genitals/and stop paying your rent"). Followed up by their celebration of backward evolution 'Troglodyte', the Swedish sextet (rounded out with Henrik Höckert on bass, Tor Sjödén on drums, Oscar Carls on sax, Elias Jungqvist on keys, and Linus Hillborg on guitar) strutted and oozed their way through their own unique post-punk sound. With lyrics poking fun at everything from hyper-masculinity to right-wing fear mongering, only to engage in those very acts themselves (sometimes within the same song), part of the charm is the way they blur the line between what's an act and what's the sleazy truth, played up to maximum effect.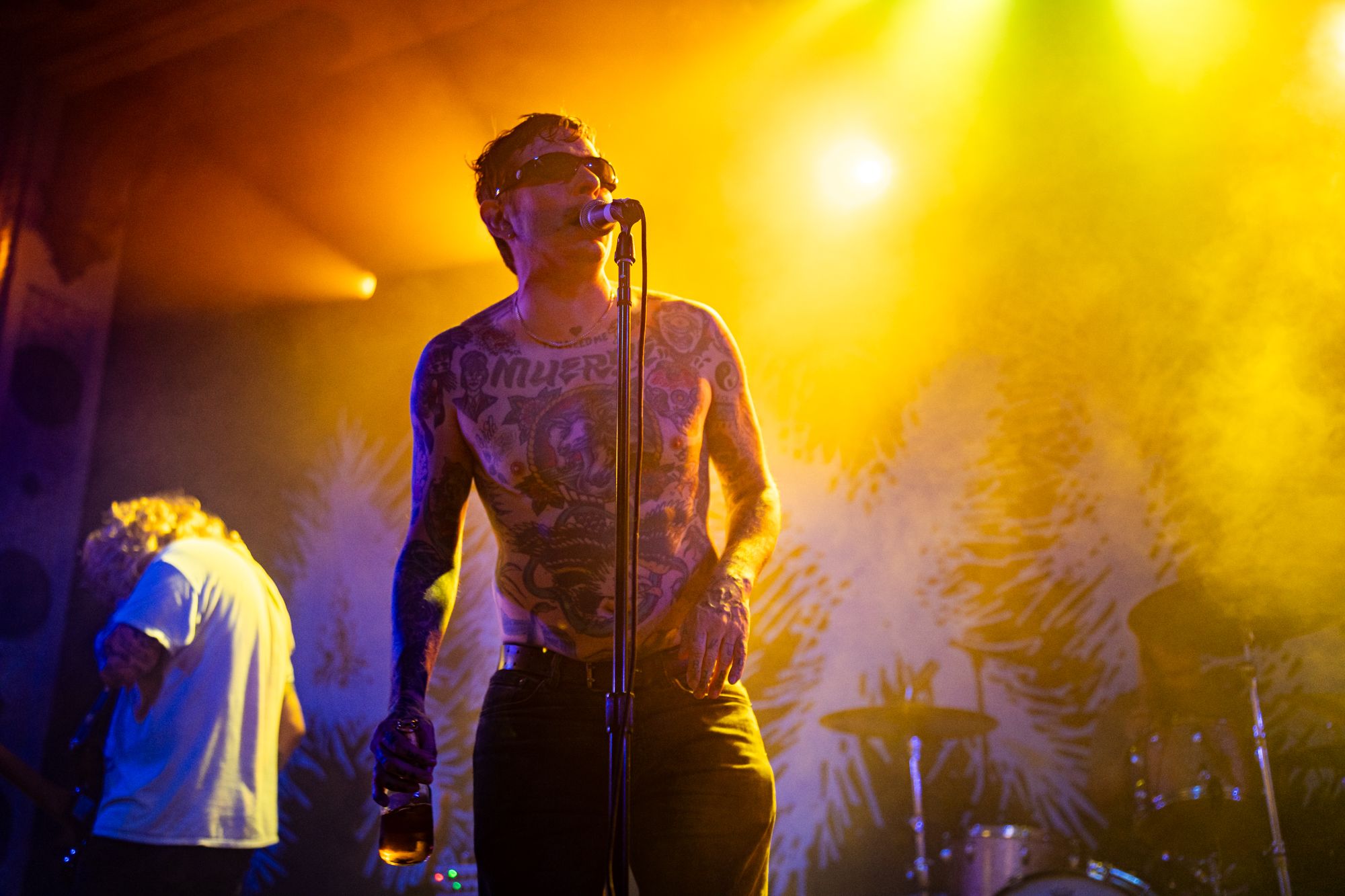 None of the band's swagger and attitude would work for a second if they weren't exceptional musicians. With the group's wild look and subject matter of their songs, it's easy to overlook the fact that they can only pull it off because they absolutely shred as a live band. Taking the exact same energy they'd use the next afternoon to play to a few thousand Riot Fest attendees on an outdoor headlining stage and bringing it to a sellout crowd of 1,100, the band and audience seemed to feed off of each other for the entire blistering 13 song set that mostly focused on the group's debut album Street Worms and their most recent release, 2022's Cave World. Their encore performance of 'Sports' and 'Research Chemicals' back to back was perhaps the most distilled example of the band in action: a dark look at the most American things in the world that doubles as a celebration of that same superficial culture, followed up by musings on chasing the next great high, no matter how disappointing it turns out. There aren't many bands out there that can proudly proclaim onstage to over a thousand screaming fans to be cooking up "psychedelic amphetamine yeah put it in your butt" and be met with thunderous applause.
Because most bands and their fans aren't the right amount of weird. It's hard to pull off, but when you can catch that lightning in a bottle like we did last Friday night and into the hours of Saturday morning, no Research Chemical in the world can rival it.
Viagra Boys are currently on tour in support of Queens of the Stone Age through October 6.
Viagra Boys Setlist - Metro, Chicago 9.15.23
Ain't No Thief
Slow Learner
Punk Rock Loser
Baby Criminal
Return to Monke
Troglodyte
Ain't Nice
Worms
Down in the Basement
Cold Play
ADD
Sports
Research Chemicals