Australian pop-rock band 5 Seconds of Summer had Indianapolis wrapped around their finger last Wednesday. Joined by Meet Me at the Altar, the 5 Seconds of Summer Show took the sold-out, 6,000-capacity TCU Amphitheatre by storm. Even though this was my fifth time seeing the guys, I was equally as excited as the first. I am positive that the same feeling coursing through me is what drives the dedicated fan base to sell out these venues.
---
Meet Me at The Altar
"Spent your days glued to your phone, and hoped that maybe you'd feel less alone..."
Meet Me at the Altar is an American pop-punk band that was formed in 2015. Lead singer Edith Victoria, guitarist/bassist Tea Campbell, and drummer Ada Juarez did not live in the same state when the band was formed. The group created music together remotely through the internet, which later led to them getting signed by Fueled By Ramen. I hadn't heard of the group previously, but I was aware of their endorsements by bands such as All Time Low and the Wonder Years. Due to this, I knew I would absolutely enjoy their set.
MM@TA started off their set with their song "Same Language", which is the fifth track of the band's most recent album release, Past, Present, and Future. Alongside many of their own originals, the crowd was both surprised and ecstatic whenever covers of Kelly Clarkson and The Jonas Brothers came into the mix. There were quite a few members of the audience who were definitely already fans, and throughout the night I met many people who were now. The energy radiating from this group was so beautiful and accepting, and I will welcome that from a pop-punk group any time I get the opportunity.
Setlist (Via Setlist FM)
Same Language
Need Me
Try
Give It Up
Since U Been Gone (Kelly Clarkson cover)
Complicated (Avril Lavigne cover)
Burnin' Up (Jonas Brothers cover)
T.M.I
Say It (To My Face)
Kool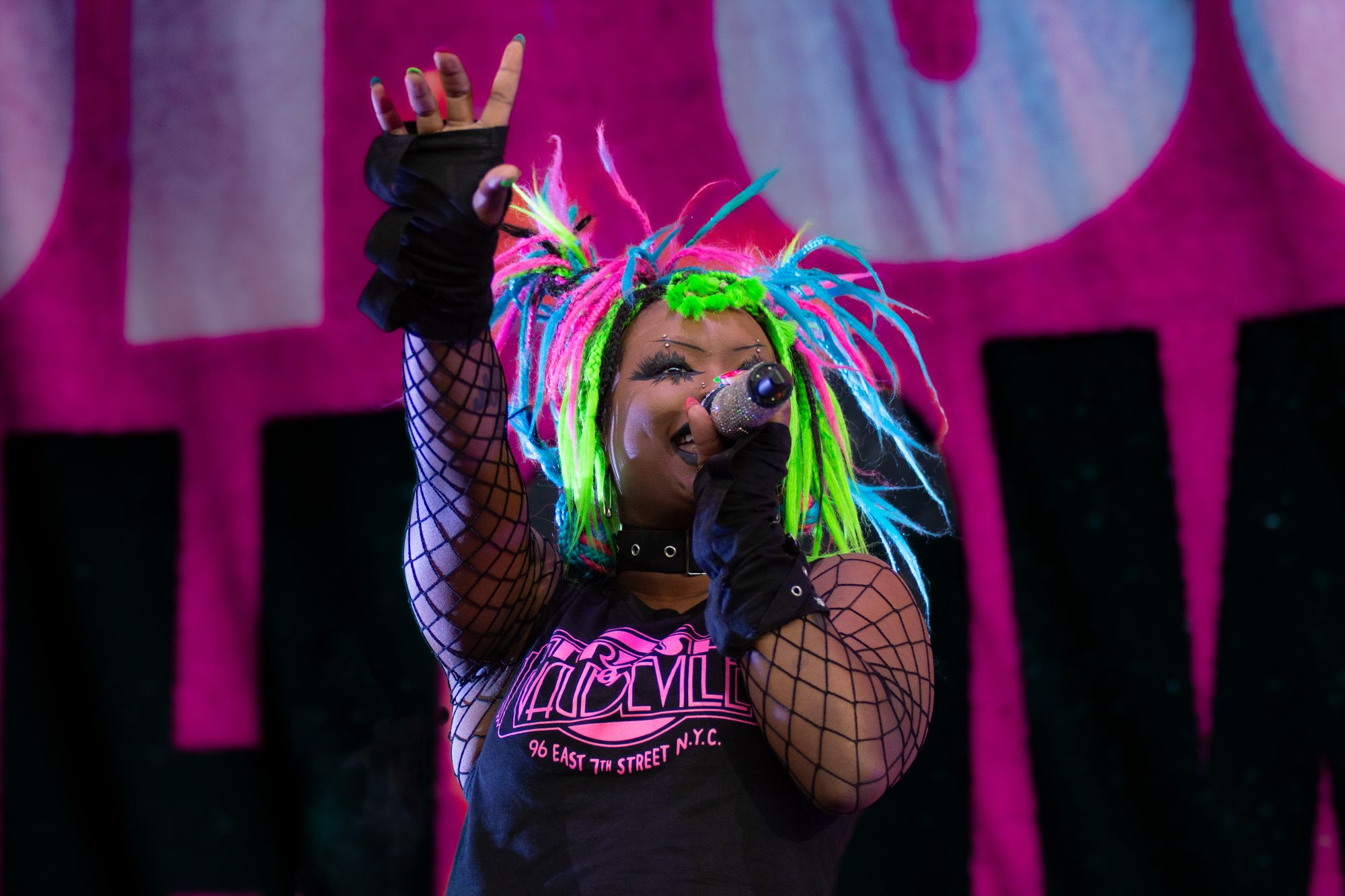 ---
5 Seconds of Summer
"I'm feeling like a dreamer, don't you try and wake me now...."
5 Seconds of Summer are a pop-punk band based out of Sydney, Australia. In 2011, lead singer Luke Hemmings, bassist Calum Hood, and guitarist Michael Clifford, who all attended the same high school, began posting videos of covers on YouTube. Shortly before the group's first live performance, the trio invited drummer Ashton Irwin, and the four-man lineup was complete. The band began to rise in international popularity after Louis Tomlison of One Direction shared a link to one of their covers on Twitter. They were then invited on One Direction's Take Me Home World Tour, which led to their signing to Capitol Records in 2013.
I would consider myself a super fan of 5sos, if that's what you prefer to call it. I have been listening to the band and following them on their tours for the past 10 years. With the release of their fifth studio album last year came many new songs on the setlist, so to say I was stoked was an understatement. After playing a series of comedy-themed safety videos, the band was introduced one member at a time before the curtain dropped. In that moment, the screams from the crowd had to have echoed throughout downtown for so many people to hear.
The second the evening began with the opening track of 5sos5, "Bad Omens", everyone was giving 100% of what they had, and they never faltered. There is a specific, unique moment that made this show stand out from the others of theirs I have seen. The band created a giant, inflatable red dice, with each side reading the title with a different deep cut. For 70 seconds, the crowd is able to toss it around before throwing it back onto the stage, and whichever song is facing upwards is the dice song of the night. Indianapolis got to hear "Heartache on the Big Screen", which is from the band's first EP with Capitol Records.
Continuing on to play more fan favorites, such as "Babylon" and "Disconnected", and more popular singles like "Youngblood", the perfect weather had everyone in an incredible mood. Ashton was also sure to point out that the show was on the same night as the Super Blue Moon.
I cannot emphasize enough how much you need to attend one of the remaining dates of this tour. I have seen 5sos in so many different stages of their lives, and their appreciation for their fans and passion for their art have never changed. If you want to take the odds of the dice for yourself, make sure to get tickets to the 5 Seconds of Summer show below.
Setlist (Via Setlist FM)
Bad Omens
2011
Caramel
BLENDER
Easier
Babylon
If Walls Could Talk
She's Kinda Hot
Amnesia
CAROUSEL
Who Do You Love
Vapor
Waste The Night
Don't Stop
Heartache On The Big Screen
Ghost Of You
Disconnected
You Don't Go To Parties
Me Myself & I
Why Won't You Love Me
Best Friends
Meet You There
Teeth
Jet Black Heart
She Looks So Perfect
Outerspace / Carry On
Youngblood