by Sean Maciejewski
Kodak Center in Rochester, NY was one of a few theaters chosen for A DayTo Remember's limited 15 date 'Reassembled: Acoustic Theater Tour' with special guests Wage War. This show was very different from the usual hard, edgy performance these bands bring to their concerts. While not entirely an "acoustic"show, as some of the instruments were plugged in and drum kits were also present. This show gave the audience a softer, intimate performance of the "reassembled" songs by both bands. Some fans I spoke to, drove for over four hours to attend this unique show and it did not disappoint.
---
WAGE WAR
Wage War, formed in 2015 in Ocala, Florida, got the show started. The band set the bar high with their performance. Playing an eleven song set that replicated their newly released (Dec 2nd,2022) acoustic album "The Stripped Sessions". They sounded fantastic and really got the crowd in the right mindset for the evening. With just the right blend of smoother than normal vocals and acoustic guitar mixed in, Wage War, delivered a memorable performance! A few highlight songs for me were "Prison", "Me Against Myself" and "Circle The Drain". I would highly recommend checking out the new album to get a taste of what we experienced at this show!
Wage War are; Briton Bond – vocals, Cody Quistad -rhythm guitar/clean vocals, Seth Blake – lead guitar, Chris Gaylord – bass and Stephen Kluesener – drums
Set List; Prison, Slow Burn, Godspeed, Me Against Myself, Hurt, Circle The Drain, Never Said Goodbye, Gravity, Grave, Johnny Cash, Folsom Prison Blues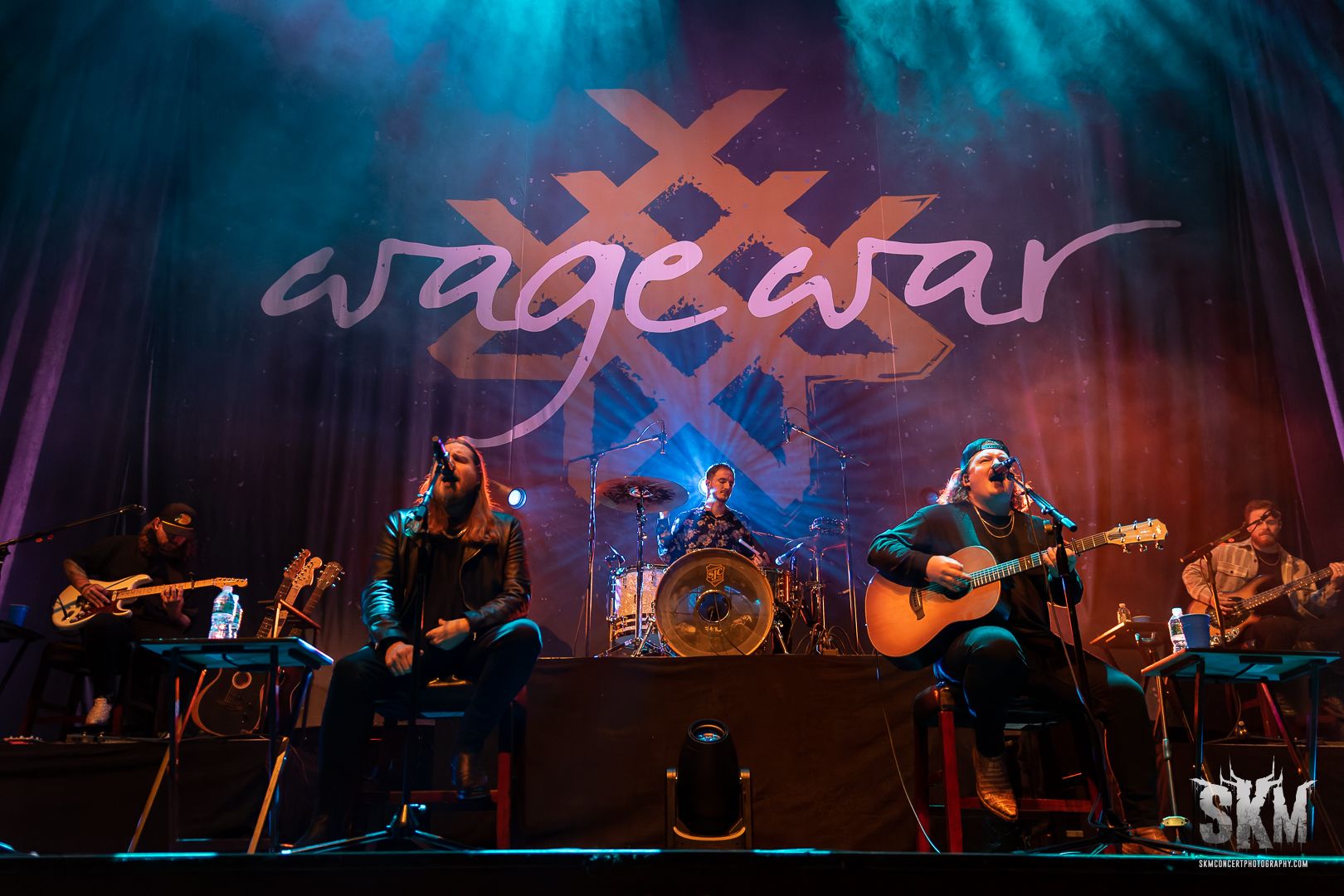 ---
A DAY TO REMEMBER
A Day To Remember (ADTR) took to the stage after a short intermission. Formed in 2003, in Ocala, Florida as well (Ocala must have something special in the water the band joked). ADTR has had a lengthy career and plenty of music to select from. Starting from where the opener left off, ADTR delivered a outstanding performance. Playing a nineteen yes nineteen song set, we followed along on their acoustic journey! Front man Jeremy McKinnon, joked at times, that this type show is all new to the band too, so they are just gonna wing it. He gave a great vocal performance and it felt that he was right at home doing an acoustic show. Many times throughout the night, the audience could be clearly heard singing along, as if they were part of the band. Musically, the sound was amazing. With the addition of a slide steel (lap steel) guitar player to the band, it added a mysterious element to the mix. Everything blended well, from the guitars, keyboards, to the light touch on the drum kit, ADTR nailed it! A few of my favorite songs were, "Everything We Need", "Resentment" and "If It Means A Lot To You". Before the encore performance started, the entire theater was on their feet cheering for more of the show. They all remained standing and cheering until the last note was played! I do hope ADTR gets inspired by this journey and releases their own unplugged album in the future! If you are fortunate enough to get the opportunity to see these bands on this tour, do it!
A Day To Remember are; Jeremy McKinnon – vocals, Kevin Skaff – lead guitar, Neil Westfall- rhythm guitar, Alex Shelnutt – drums
Touring musicians are; Dane Poppin – bass, Rob Vincent – keyboards, Matt Cleveland – slide steel guitar
Set list; Mindreader, City Of Ocala, Downfall, Already Gone, Rescue Me, Degenerates, Everything We Need, Good Things, Only Money, Wax Larry, Resentment, FYM, I Surrender, End Of Me, Leave All The Lights On, Lauderdale Encore; Looks Like Hell, If It Means, Rbaia