Imagine if you will:
-A frontman clad in a denim jacket and jeans, looking every bit a Texan with a worn-out baseball cap pulled low to obscure his face.
-A colorfully tattooed bassist decked out in a patch-covered biker vest and boots looking like he's waiting for Motörhead's set to start.
-A young and thoughtful-looking guitarist who you know isn't your cousin, but you swear has a striking resemblance to that no one else in your friend group sees.
-A drummer that, under the dim lights that drummers are usually subject to, might be able to convince someone in the back of the house he was Bad Bunny's stand-in on the set of Bullet Train.
-A keyboardist rocking an 80's synthwave look complete with black leather jacket and neon shoes.
If this all sounds like a bad attempt to Mad Libs the worst "so and so walks into a bar" joke possible, fear not – Austin, Texas' own Beatnik Bandits took the opportunity in front of a capacity crowd at Chicago's legendary Vic Theatre to prove that it's not the clothes that make the band. It's the way they came together to channel a pure hit of southern Americana straight into the heart of the Midwest.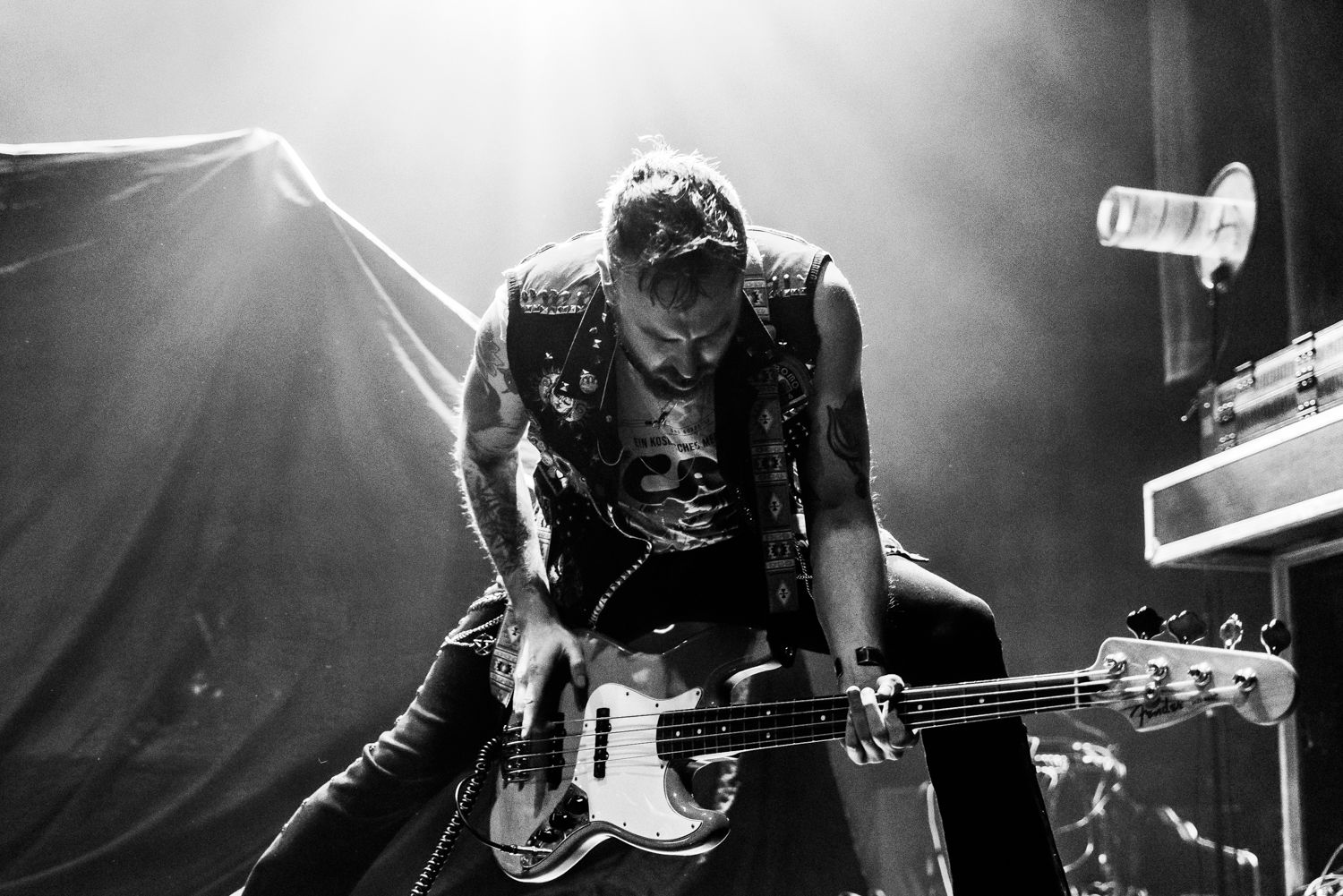 Officially listed as vocalist/guitarist Christian Sparks, lead guitarist Sam Lathrop, bassist Max Blake, and drummer Hunter Lenington, 'the motherfucking Beatnik Bandits' (as they're appropriately labeled by the front of their own bass drum) eased into their set with 'Junebug Stomp', the closing track of 2022's As Luck Would Have It. And while the easygoing, upbeat feel of the song wouldn't feel out of place on an Avett Brothers album (complete with a casual call-and-response between the band members at the end), they also didn't take long to demonstrate the varying styles and influences they've been able to masterfully pull together. Where 'Junebug Stomp' wouldn't feel out of place at a backyard barbecue, Sparks and the band next pivoted to 'Smoke Train', a darker, more brooding tune that sounds like it would be playing over your speakers as you took revenge over someone that gunned down one of your family members.
That's not to say the evening ever got too heavy, even when some of the songs took a more serious turn. Songs like 'Grandpa's Song' and 'Old Ghost' channel the same energy and sound as the early Kings of Leon albums. The evening's closer 'Firearms' is the best song that Ryan Bingham never wrote, touching on only the most relevant and pressing issues facing the room of 1,000 rowdy Chicagoans in the year 2023: if we all do old cocaine, then won't those poor Columbians have died in vain?
Those similar artists being mentioned aren't meant to imply that the Beatnik Bandits don't have their own distinct sound, which they very much do. Just don't try and put a specific label on it. Americana is a pretty catch-all label sometimes, but sometimes a wide net like that is needed. It's kind of folk, but it rocks more than folk does. Like a second cousin to country music, an older cousin that moved out of its parents place and can buy beer and doesn't mess with any of modern country's forced nostalgia. These songs and this performances felt real. Authentic. 100% lived-in. Doesn't matter what the subject matter. Or the tone. Or if you're a leather clad metalhead or wearing boots and spurs. All that matters is the end result.
And the end result of this show was a sold-out theater on its feet, rowdy as hell, and pissed that there wasn't more.
(Beatnik Bandits are currently opening for Blue October on their Spinning The Truth Around Tour. Upcoming dates can be found here.)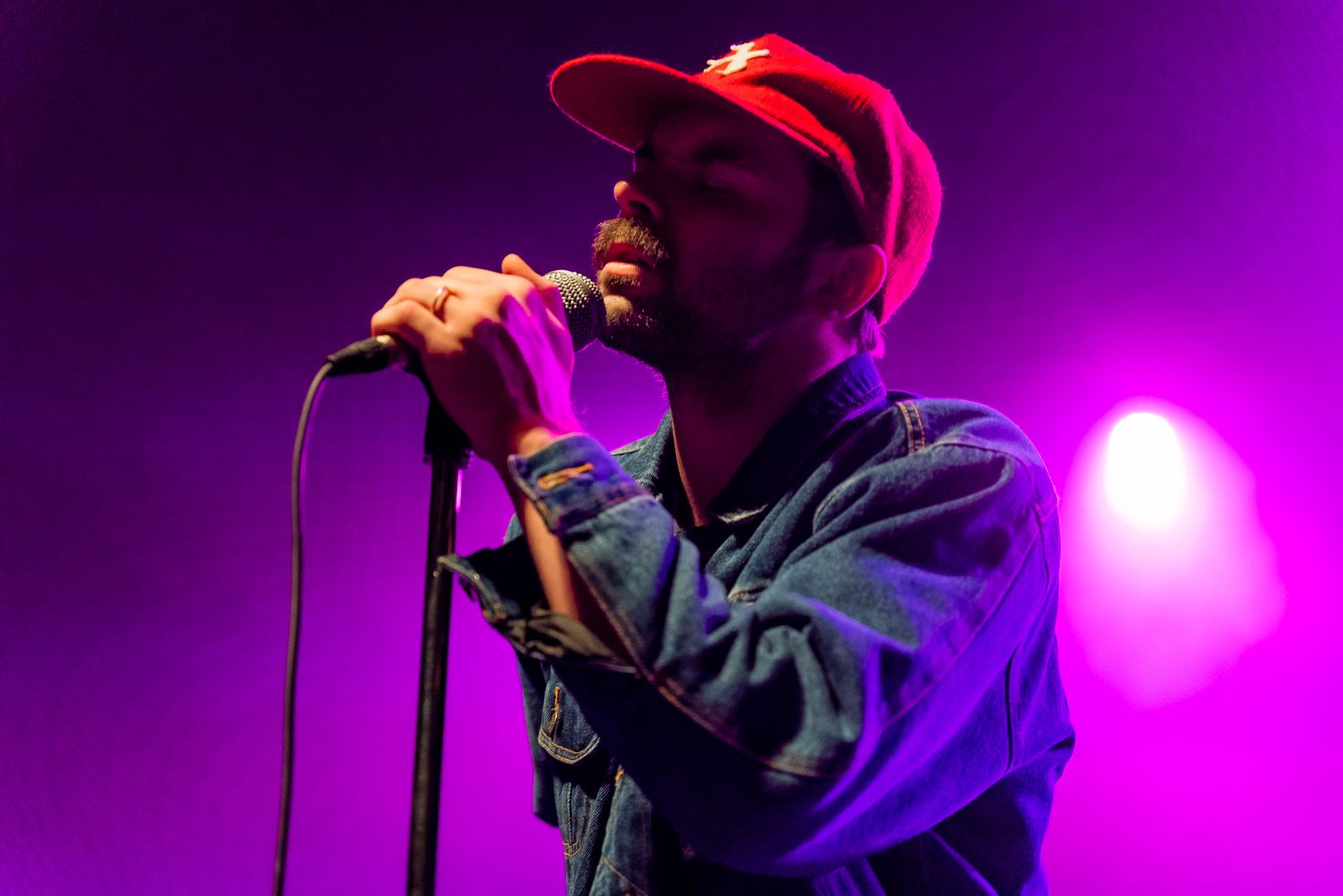 Beatnik Bandits Setlist – The Vic Theatre, Chicago 3.3.23
Junebug Stomp
Smoke Train
Hollywood Sign
Beesting
Grandpa's Song
Old Ghost
Starlight
Firearms