by Jackson Tujo
Blue Ridge Rock Fest is coming back September 7-10th for the 3rd installment of "The Festival Created by the Fans". Blue Ridge is considered the largest rock festival in the United States with the largest and most star-packed lineup. The festival takes place in Alton, Virginia at the Virginia International Raceway. With some of the lowest festival prices around, Blue Ridge Rock Fest truly can be considered "The Festival Created by the Fans".
The lineup is absolutely loaded with starpower, featuring metal veterans Slipknot, Pantera, and Five Finger Death Punch at the top of the card. While also featuring rock powerhouses such as: Shinedown, Evanescence, and Rise Against, and Limp Bizkit. Emo kids are getting their fix with Papa Roach, Asking Alexandria, Bad Omens, Dayseeker, I See Stars, Pierce the Veil, and Sleeping with Sirens. It is truly impossible to go down the list and describe every band so we included a picture.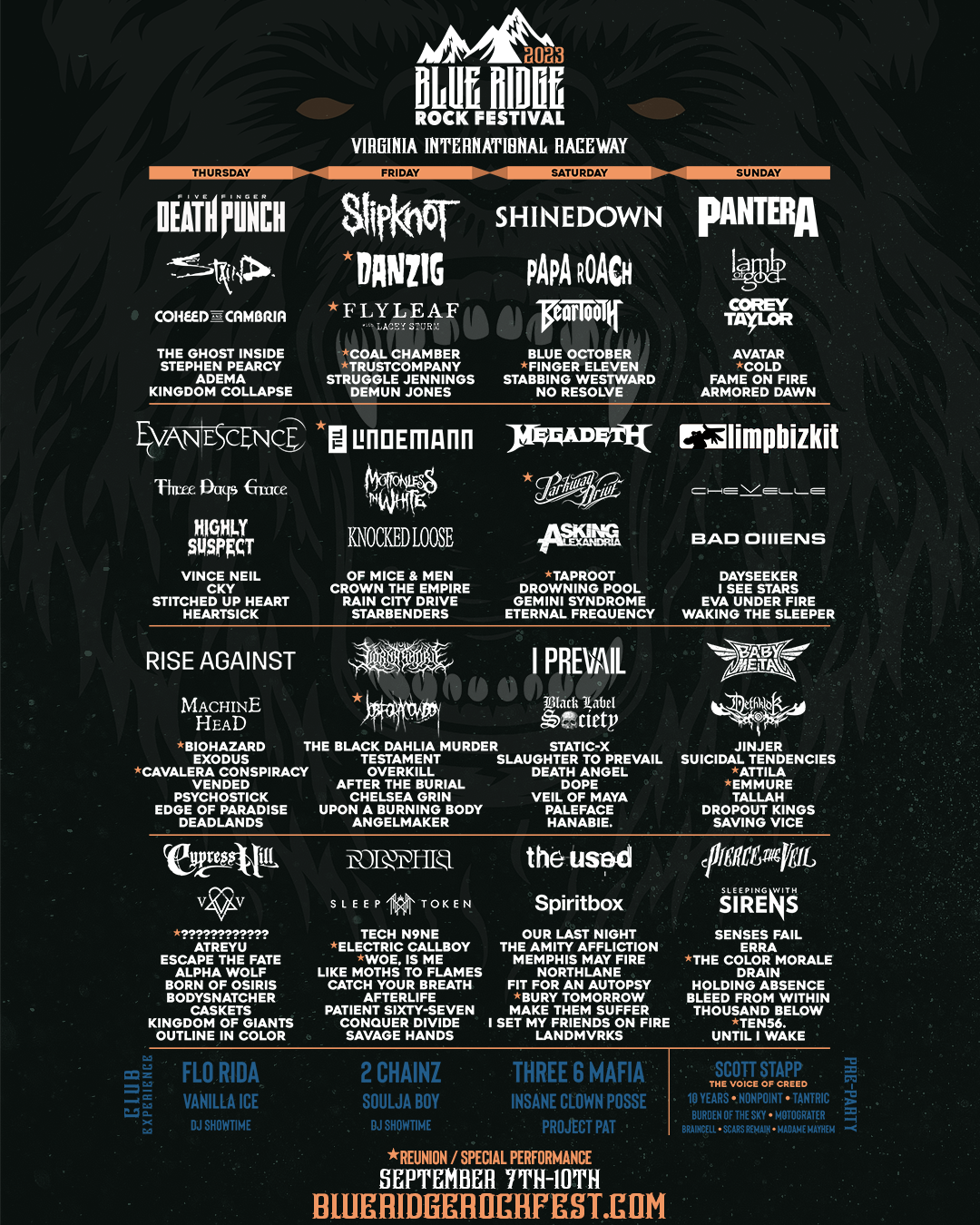 Shinedown are rock-veterans that consistently play and sell out amphitheater and arena tours. Their stage presence and theatrics are second-to-none. They are still touring off their 2022 release, "Planet Zero". Fans are in for a treat having Shinedown as the Saturday night closer.
Bad Omens may be the hottest act in Rock and Metal right now. They have announced multiple headlining tours that have sold out instantly. Partially due to TikTok stardom, their song "Just Pretend" (that wasn't even a single) has amassed an astounding 73 million streams in less than a year. They have also catapulted to an impressive 3.6 million monthly listeners. Singer Noah Sebastian is an insanely gifted live vocalist. Attendees on Sunday should definitely check out Bad Omens.
I See Stars are coming off a three year hiatus and returning with new music. One of their first stops, in addition to the Bad Omens headliner tour, will be Blue Ridge Rock Fest. I See Stars burst onto the scene as teenagers, releasing their first album "3-D" in 2009. Over time, with lineup changes, their sound matured, culminating in the 2016 release "Treehouse". Their music is an exciting blend of edm and metalcore with high-pitched soothing vocals from singer Devin Oliver. Do not miss the chance to catch an increasingly rare I See Stars performance.
With acts like these and featuring record-low prices, Blue Ridge is great bang-for-your-buck. The festival features bands of most genres, and artists of just about any niche. Adding up to a festival that is can't-miss in 2023.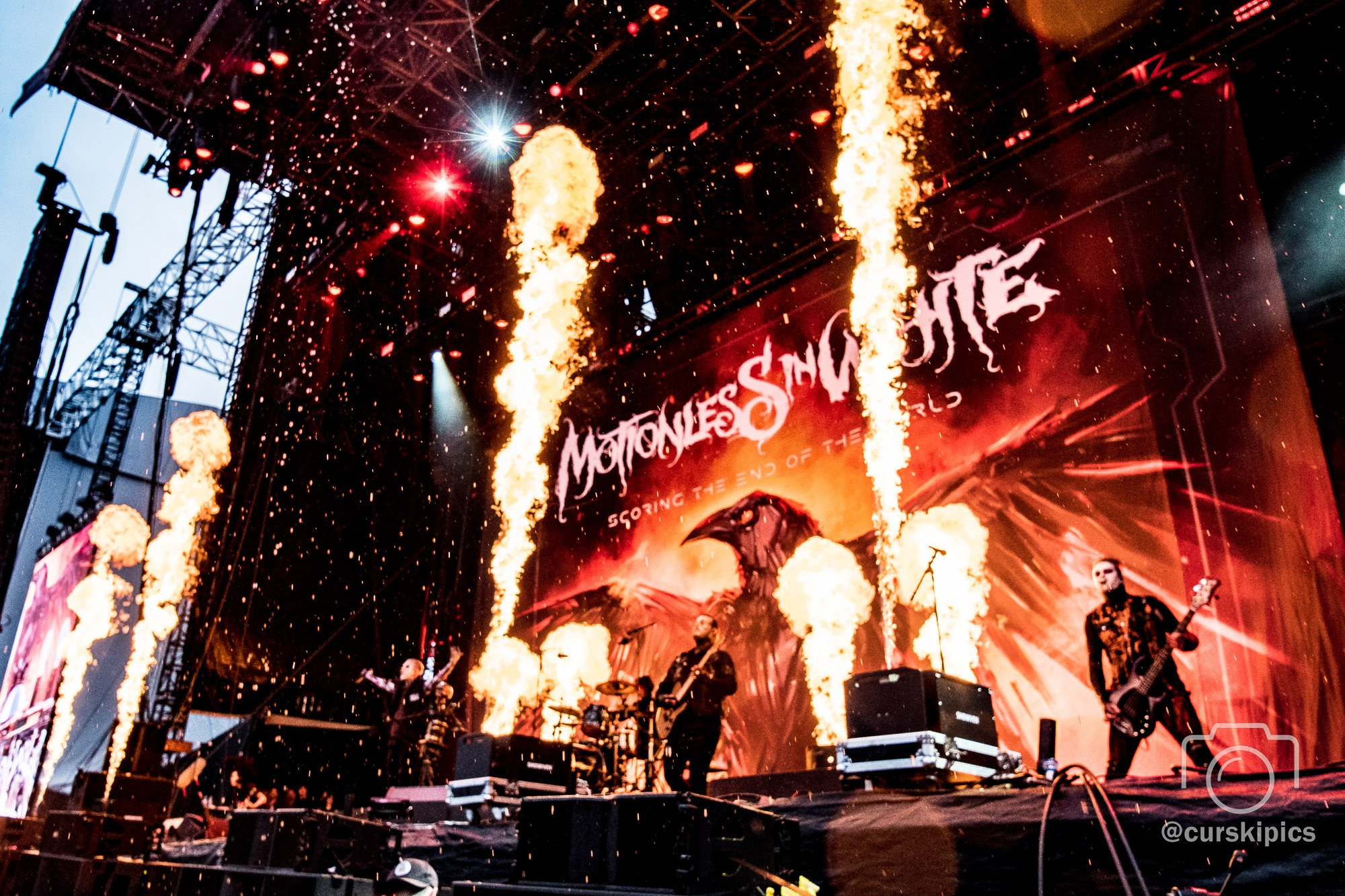 BLUE RIDGE ROCK FESTIVAL INFO
WHERE: VIRGINIA INTERNATIONAL RACEWAY, ALTON, VA
WHEN: SEPTEMBER 7TH-10TH, 2023
MORE INFORMATION AND TICKETS: WEBSITE
OFFICIAL AFTER-MOVIE FROM 2022
---