SPOTLIGHTS
The Brooklyn-based band Spotlights were first up in the Geek Show lineup. The trio, consisting of husband and wife duo Mario (guitar) and Sarah Quintero (bass), and drummer Chris Enriquez. The audience were totally mesmerized by their ethereal display of heavy beats throughout their five song set. Spotlights displayed an impressive range of dynamics and textures, from the crushing riffs of "The Alchemist" from the delicate interplay of guitar and bass in "Sunset Burial".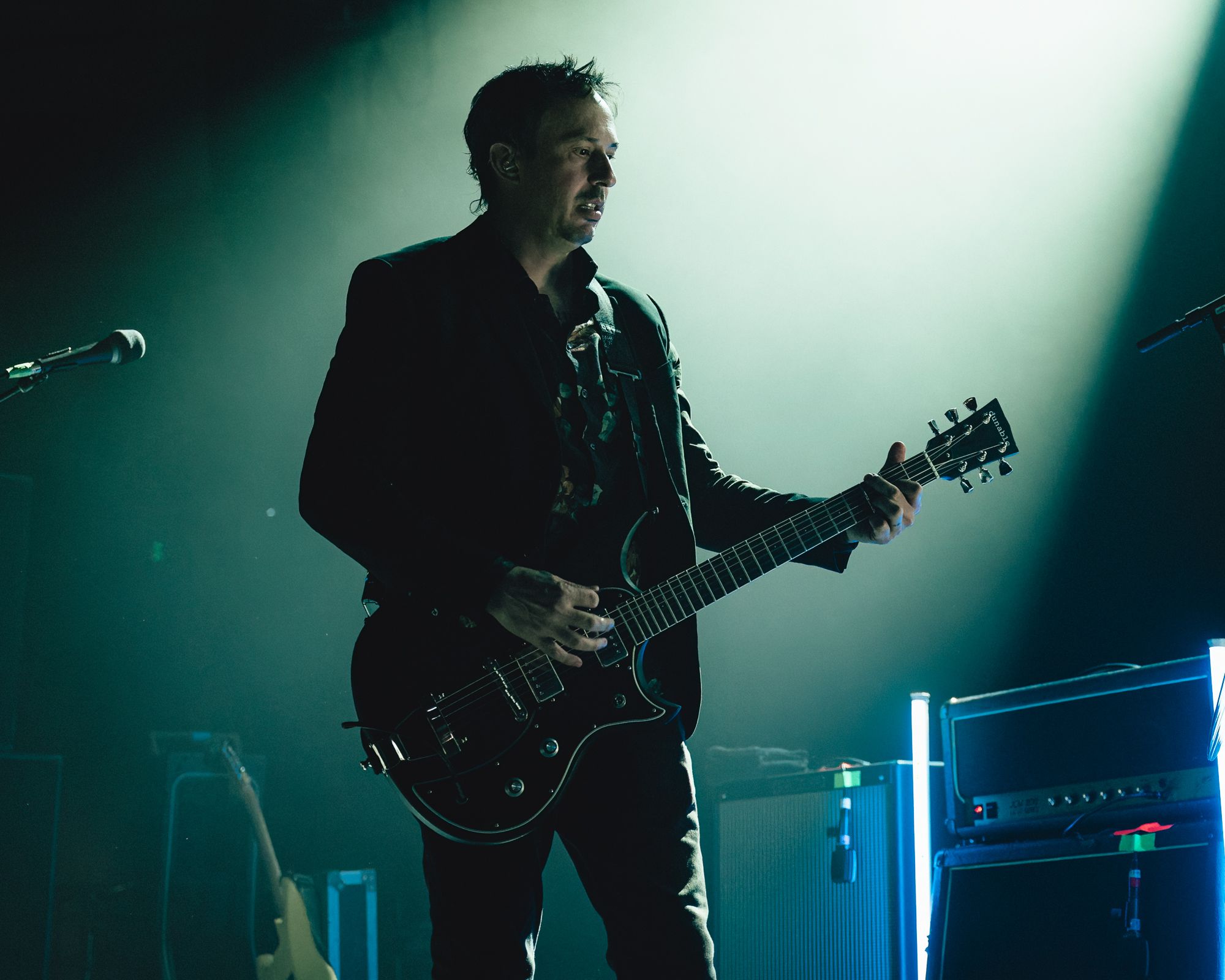 Both of these songs come from their newly released album "The Alchemy for the Dead". I noticed the band provided some of their own strip lighting, opting to be backlit for a more moodier effect. They continued on with two more songs from the new album "Algorithmic" and "False Gods". They finished with the punchier track "Part IV" from their "We Are All Atomic" album. Spotlights had delivered a capturing performance, one that left the crowd one hundred percent satisfied.
---
MELVINS
Melvins, known for their heavy, sludgy sound, joined the Geek Show lineup with full force! The band's founding members, Buzz Osborne, Dale Crover, were joined by Red Kross bassist Steven McDonald, who began busting out some expressive showman-like stage moves from their very first note of the song "Snake Appeal".
This is a veteran band that knows how to push the limits of volume without sacrificing clarity or precision. Buzz and with his unmistakable, signature hairstyle showed the eager crowd his virtuosic power with his efficient style of playing. Thrown into the mix was The Beatles cover "I Want to Hold Your Hand" which was arranged into a more slower, grungier version. Popular classics like "Blood Witch" and "A History of Bad Men" made their way towards the end of the set and finishing off with the hit "Honey Bucket".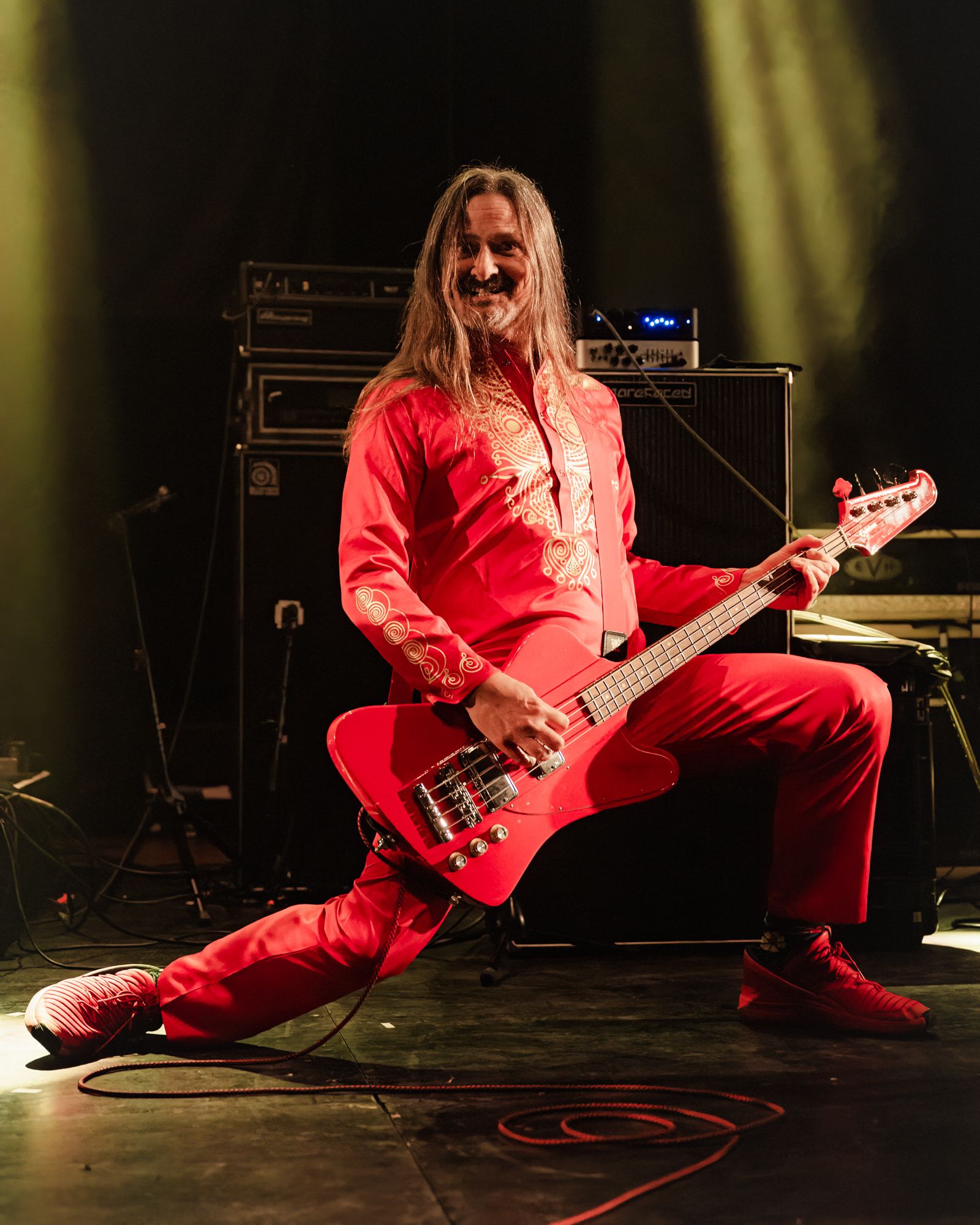 This year they celebrate their 40th year of performing and they have been so influential to so many bands such as Mr Bungle. They will soon be kicking off their own UK and Europe tour at the end of this month. This is a band that knows how to deliver a powerful, intense performance, and they clearly still have a lot of passion for what they do.
You can see their UK and Europe dates here:
https://www.loudersound.com/news/melvins-announce-40th-anniversary-tour-dates-for-the-uk-and-europe
---
MR BUNGLE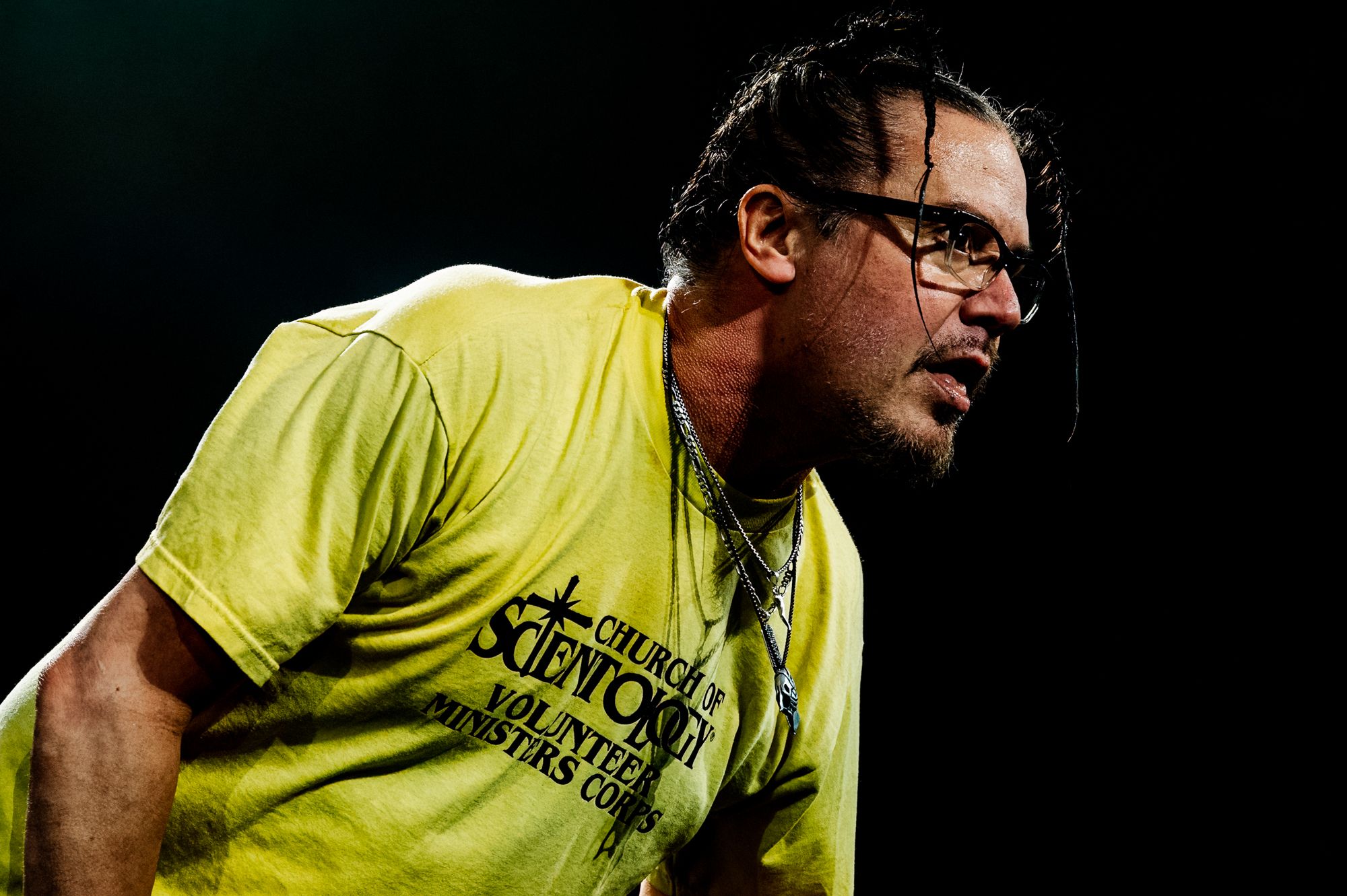 Mr. Bungle released the re-recorded The Raging Wrath of the Easter Bunny Demo back in 2020 featuring a powerhouse lineup of original members Mike Patton, Trevor Dunn, and Trey Spruance alongside Anthrax guitarist Scott Ian and Slayer drummer Dave Lombardo.
Patrons started to swell into the historic Palladium room, all anticipating the skullduggery Mr. Bungle has to offer in this sold-out show. Seals & Crofts "Summer Breeze" was melodically playing on the PA. Finally, Mr Bungle launched onto the stage and greeted the excited audience with their first song "Welcome Back", a John Sebastian cover and a nod to the 70s television show "Welcome Back, Kotter". Straight after launching into a crowd favorite, "Bungle Grind", followed by the groovier "Eracist".
Mike Patton's vocals were unrelenting, delivering his trademark range of vocals from soaring falsettos to guttural screams with ease. Mike has a determined attitude and you can clearly see that he still loves performing, dancing around in circles, providing many crouching poses, arm swinging, and head banging. For this, Patton proved to be both a fun and difficult subject for myself to photograph. At one stage he asked the audience if they had had enough? After a loud "No!", he apathetically replied  "Well, we are, we are old and tired". I found that hard to believe as the entire band's vitality never wavered.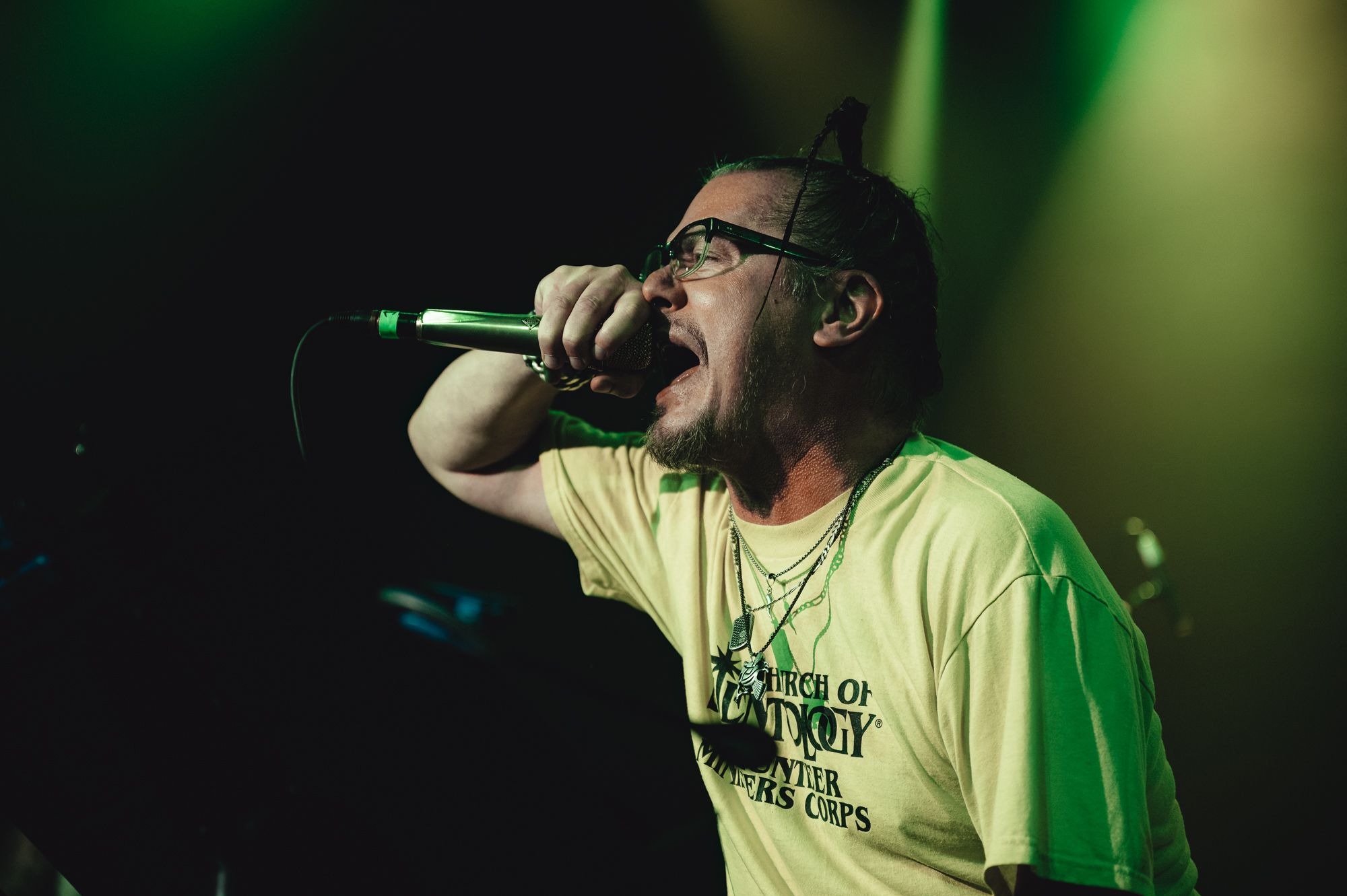 What really made the show stand out was mixing up their songs and experimenting with different arrangements, and they certainly didn't disappoint in that regard.  A perfect example of this was when they performed The Spandau Ballet cover "True" then rolling into "Cold War" and straight back to "True".
Heavier songs such as "Anarchy Up Your Anus" and "Raping Your Mind" influenced a circle pit in the middle of the GA floor. Crowd surfers and moshers holding tubes containing signed posters substituted for devil hand signs, although they were also seen aplenty.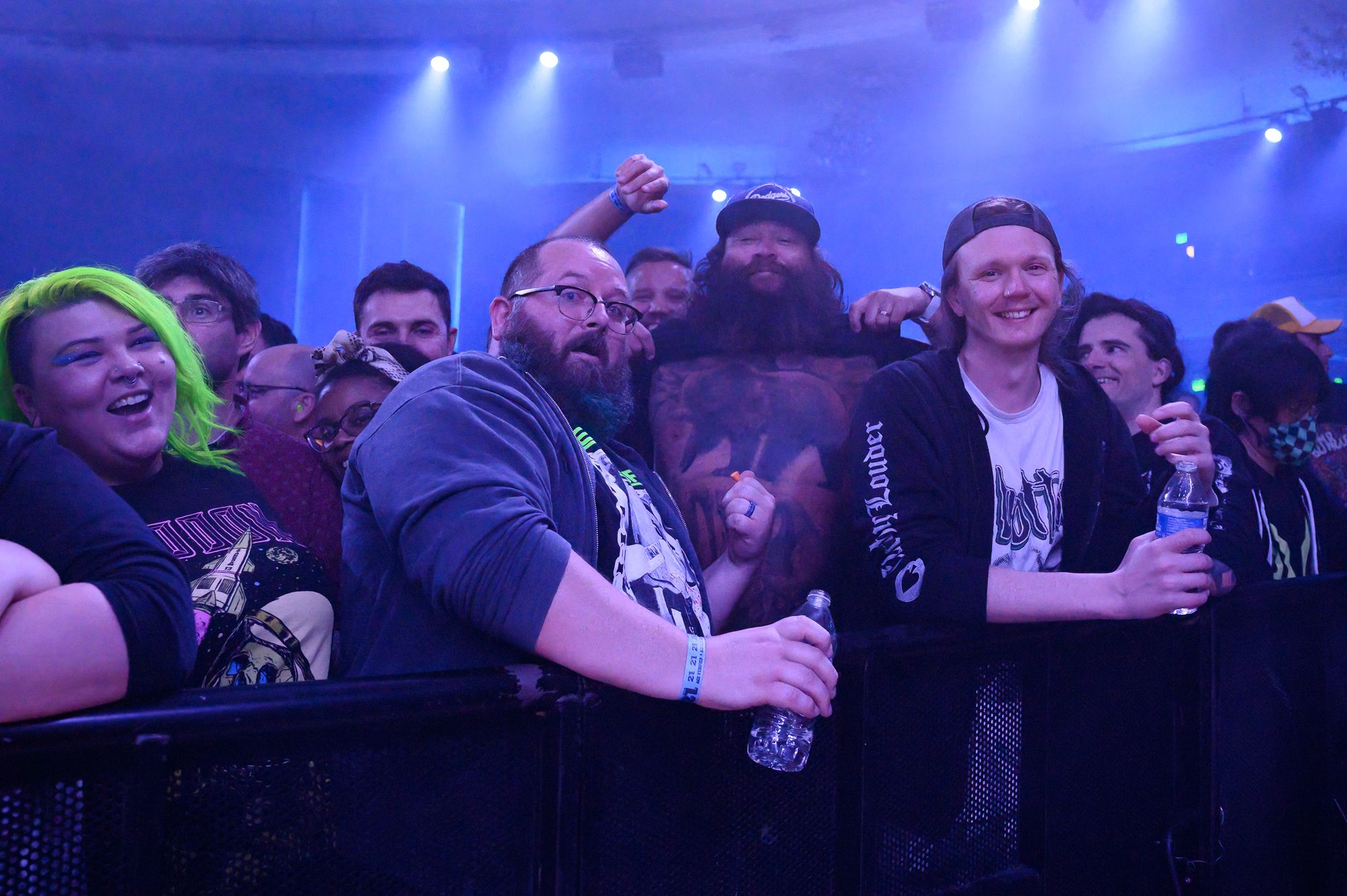 After they performed "Sudden Death" the band went on a quick hiatus, before coming back for an encore covering Van Halen's "Loss Control" and ending with "My Ass On Fire". Overall, Mr. Bungle's gig was a triumph. The sound quality for all acts was top notch. Bungle delivered an electrifying performance that West Hollywood will not see for while.
---
Mr. Bungle and Melvins' 2023 US Tour Dates with Spotlights:
05/10 – Pomona, CA @ Fox Theater
05/11 – Los Angeles, CA @ Palladium
05/13 – Las Vegas, NV @ Sick New World Festival *
05/16 – Denver, CO @ Mission Ballroom
05/17 – Salt Lake City, UT @ Union Event Center
05/19 – Seattle, WA @ Showbox