by Lauren Lake Lacar
I'll say it. I cried. Bawled like a baby. I laughed, too. At times, I found myself dancing in my seat, singing along to all the words. And at other times, I found myself fighting back tears (the good kind, of course). This is what a Ben Rector concert is like.
Let me clarify, though. It's not just a concert. It's an experience– a very real rollercoaster of very real emotions. They're not just some catchy melodies with trendy lyrics– they're memories shared and stories told from a place of vulnerability. He's not just some guy up on stage with a guitar or on the keys– he's a friend. A friend to all of us and a friend who's just like all of us. He goes through very human things, acknowledges the humanity in those things, and then proceeds to write, sing, and pour out the beautiful poeticism in them.
The show:
On March 29, 2023 Ben Rector and crew brought the Old Friends Acoustic Tour to a sold-out Ryman Auditorium in Nashville, Tennessee. Accompanied by Stephen Day (vocals, guitar, slide whistle) and Jordy Searcy (vocals, guitar), who also preceded the main set with their own individual opening sets, Rector eagerly took the Ryman crowd on a wild roller coaster ride Wednesday night.
Here, I saved you a seat on the balcony:
I'm not exactly sure how many times or different ways I could say this, but Ben Rector and company's acoustic set at the Ryman felt surreal. Surely I dreamt it. To be hit with such varying waves of emotion– and such strong emotion at that– can only lend itself as reflection of the genuine musical genius of an artist and their art.
Rector, with balladic themes like "When a Heart Breaks" expresses the humanity and vulnerability of all of us; what exactly he sings about in this one is open to interpretation, but it's one of a universal experience. With gentle lyrics and soft, yet impactful progressions in "Forever Like That" and "Love Like This", Ben sings of the sweetness in life found in the relationships we hold closest to our hearts. Perhaps my favorite side of Ben Rector (though it really is near-impossible to pick just one from his brilliant multi-faceted artistry), is the side of Ben that recounts specific stories in his lyrics. Songs like "30,000 Feet", "Old Friends", "Brand New", and "The Men That Drive Me Places" are emotional powerhouses that not only remind but reignite. With these stories, Rector opened up to the Ryman spectators, recounting memories of people that have influenced him along the way and made him the artist he is today. While none of us have exactly walked the exact path Ben has, we've walked a similar one; thus it was of no difficulty to feel the waves of nostalgia, gratitude, and sentiment weaved into each of his songs.
But don't let me mislead you. Ben Rector knows how to have fun. Along with Stephen Day and Jordy Searcy, the Old Friends commanded the stage and shook the auditorium with upbeat themes like "Range Rover (a capella)", "Let the Good Times Roll", "Great Day to be Alive (Travis Tritt cover)", and even a twist on Disney's "The Little Mermaid" medley. On stage, the trio looked just like three lifelong pals singing their hearts out and having the best of times. They joked at each other with little quips here and there (cue the impromptu Stephen Day slide whistle solo) and even had a little fun with the audience, stopping midway through the night for a brief crowd Q&A session.
Side note, to the Nashville audience member who challenged Ben to a "friendly" game of golf (to which Ben entertained the idea of but admittedly is "not the most confident in [his] golf skills"), please keep us updated. We'd love to see it.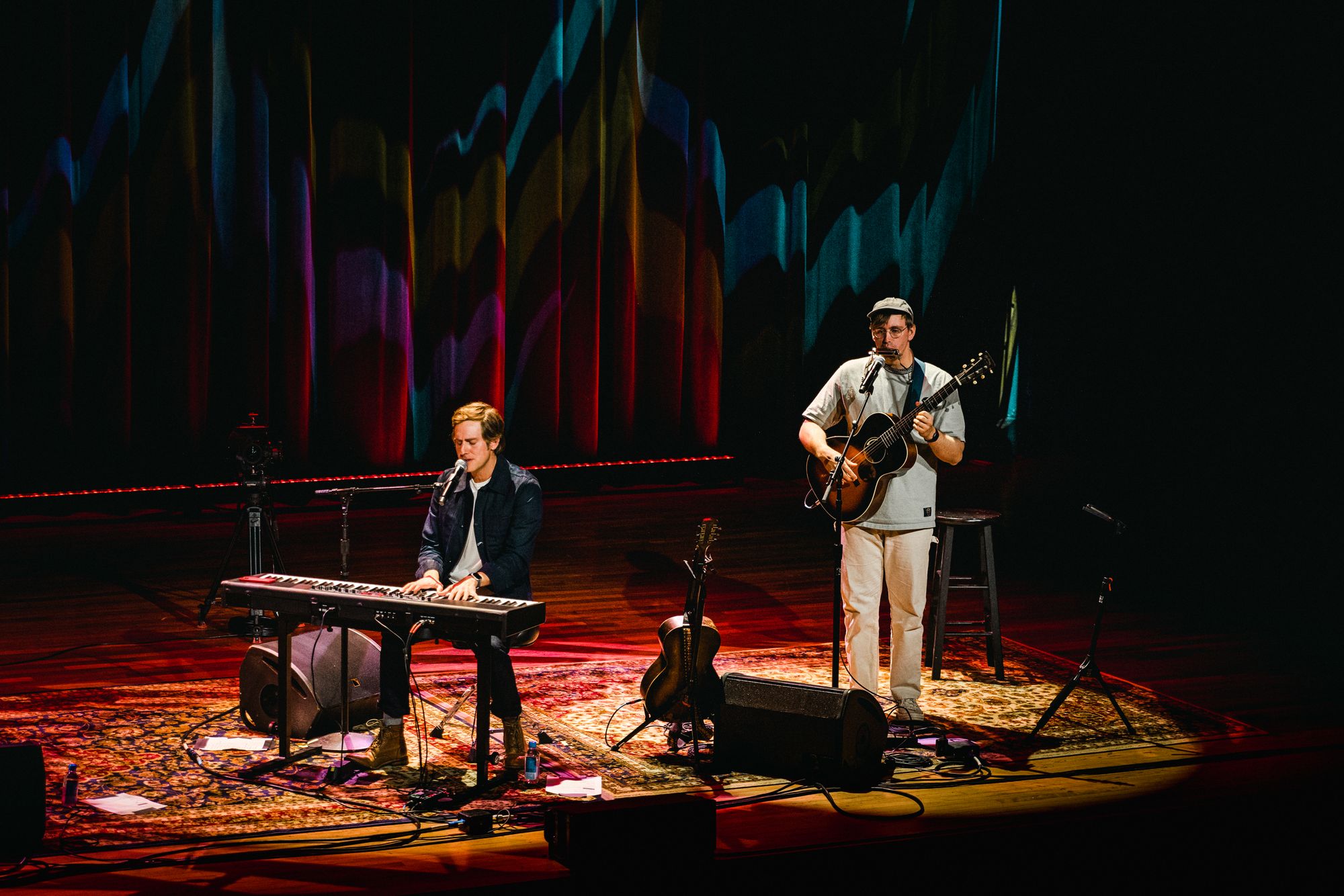 Getting to know Ben:
Benjamin Evans Rector, professionally known as Ben Rector, is an American singer-songwriter and musician. Born on November 6, 1986, in Tulsa, Oklahoma, Ben grew up in a musical family and began playing piano as a youngster. Rector's music is often described as a blend of pop, pop rock, and folk, and frequently deals with themes of love, faith, and personal growth.
Rector released his first album, "Twenty Tomorrow," in 2007 and gained wider recognition with his fourth album, "Something Like This", which was released in 2011 and peaked at No. 6 on the Billboard Heatseekers chart. Since then, he has released several more albums, each building on his musical empire, including but not limited to, "Brand New" (2015), "Magic" (2018), and "The Joy of Music (2022).
What's next?
The Old Friends Acoustic Tour continues across the United States until early May 2023. Rector is set to open for Matchbox Twenty on their nationwide tour and continue to promote his latest album release (The Joy of Music, 2022).
With Special Guests: Stephen Day and Jordy Searcy
Find Ben Rector on:
Spotify: https://open.spotify.com/artist/4AapPt7H6bGH4i7chTulpI
Website: https://www.benrectormusic.com/
Instagram: https://www.instagram.com/ben_rector/
Setlist:
When I'm With You
Sunday
Living my Best Life
When a Heart Breaks
Forever Like That
Let the Good Times Roll
Great Day to Be Alive (Travis Tritt cover)
30,000 Feet
Old Friends / Forever Young
Love Like This
The Men That Drive Me Places
Little Mermaid Medley
Brand New
Range Rover
Special thanks to the Ryman Auditorium, Sarah Harris of Live Nation, and Steve Bryan.