Knocked. Loose. Motherfucker.

Whether you want to call them metalcore, hardcore, post metalcore with hardcore elements, or whatever genre you want, you can't deny that Knocked Loose are a force to be reckoned with. The music scene saw the band explode out of Oldham County, Kentucky back in 2014 with their Pop Culture EP and once again in 2016 with Laugh Tracks, especially with "Counting Worms". As if that wasn't enough, the band decided to push the boundaries of music again with 2019's A Different Shade of Blue and 2021's A Tear in the Fabric of Life. I think A Tear in the Fabric of Life really allowed the band to experiment while keeping that traditional "Knocked Loose" sound.
This leads us to the two new singles: "Deep in the Willow" & "Everything is Quiet Now". First things first: the songs are aggressive as all hell. The singles continue to showcase the amazing vocals of lead vocalist Bryan Garris and guitarist/vocalist Isaac Hale. The two have such different vocal ranges but they compliment each other beautifully. This is easily the best drumming from Pac Sun, not to diminish his previous work, but he is definitely becoming a master in his craft. The bass lines from Kevin Otten make you want to drop everything and mosh all while Nicko Calderon (guitar) makes you want to do the most insane circle pit of your life. The fact that both singles have such great breakdowns is something I personally am a fan of. It's been said all over the internet already but I guarantee that the "Knocked Loose Motherfucker" callout before the breakdown is going to be crowd favorite just as much as the "Arf Arf" from "Counting Worms". Staying true to their sound while showing an exceptional amount of musical growth is truly breathtaking and mind-blowing.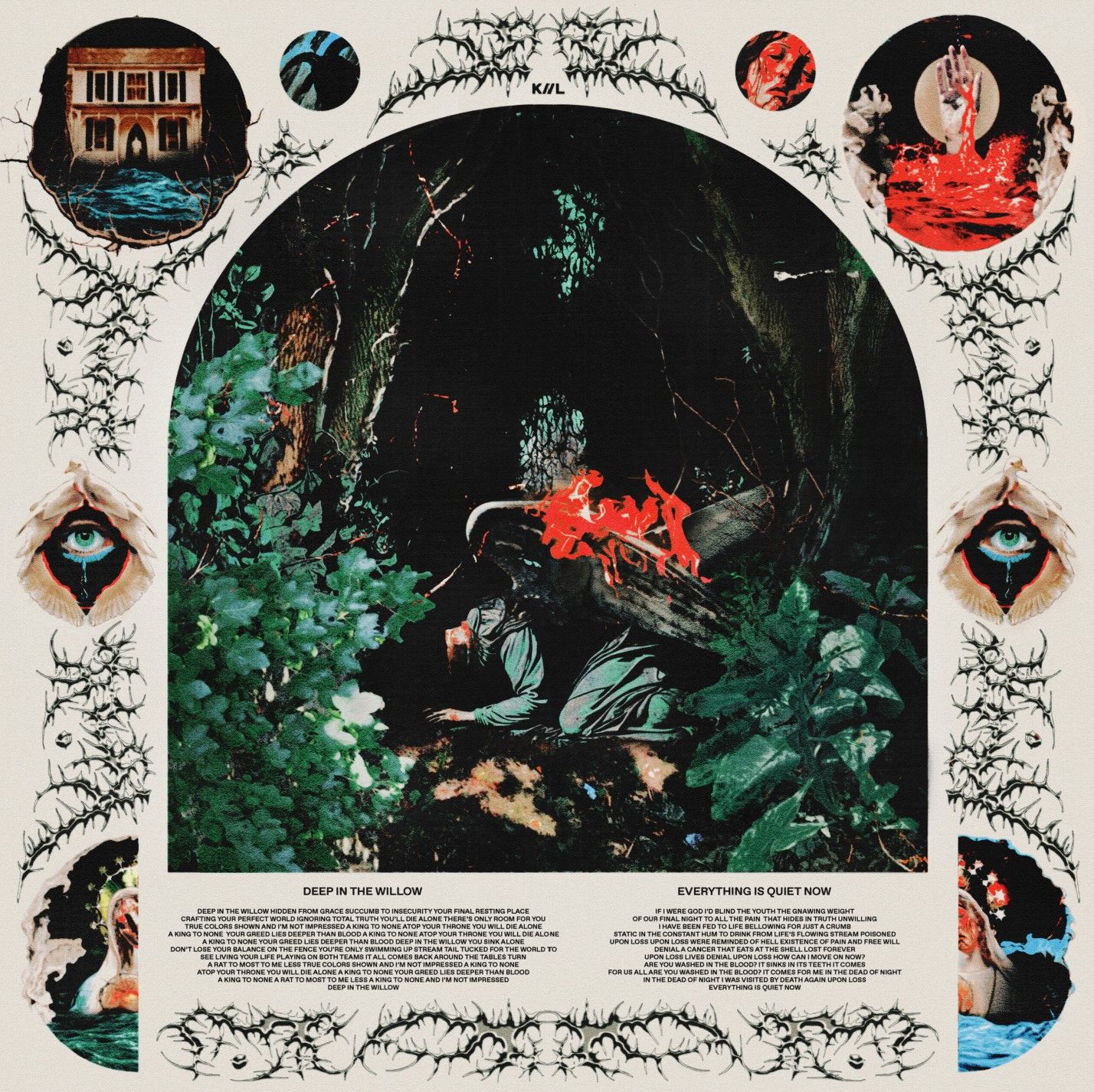 The only thing that makes these two singles so much better are the accompanying music videos. Garris had this to say on the Pure Noise Records site:
"'Deep in the Willow' and 'Everything is Quiet Now' are a reminder that we are heavy, intense, and extreme," Garris tells. "Some elements come and go, but those will never change. After 'A Tear in the Fabric of Life' we were inspired to see how much art we could incorporate moving forward – which led us to a style of video we've never attempted or approached. Taking myself specifically far outside of my comfort zone and pushing the boundaries on how I've been seen in the past was a creative experience I will never forget. This video wouldn't be what it is without the collaboration with Eric Richter, someone we've admired for a while. And the songs wouldn't be what they are without [producer] Drew Fulk, a new friend and creative ear in the entire process."
I think he is absolutely spot on. I've had the music videos on repeat since release because of how artistically stunning they are. The transitions between shots and camera work is something straight out of a Hollywood Blockbuster film. The costumes and storyline are something you'd see in an indie horror film or an A24 production. Not that Knocked Loose was worried about fading into the Spotify abyss, but this release is sure to solidify them into a stadium band. I for one am excited to see just where this will take them and what Knocked Loose has in store for fans next.
Pre-Orders for the Upon Loss Singles Vinyl Release
We can't wait to see what else Knocked Loose brings out when they hit the road with Motionless in White, After the Burial, & Alphawolf on the TOURING THE END OF THE WORLD TOUR this fall. For now, enjoy some of these photos from our team of previous Knocked Loose shows.