Talk about starting a review under some pressure.
Here I am, armed with the task of giving an unbiased and entertaining recap of Lauren Mayberry's sold out performance last Friday at Chicago's famed Lincoln Hall. The deck could not be more stacked against me. Lauren Mayberry is a professional musician (I am not) touring behind solo material after 4 hit albums as the frontwoman for synthpop act CHVRCHES (I have been in zero bands ever and have no albums). She has an undergrad degree in law (I majored in theatre, aka pretend). And if you were thinking I could play the "leave the music and the legal advice to her and the funny writin' to good ol' Rich!" card, did I mention she has a master's degree in journalism with much much MUCH more experience in music writing than I do?
No sweat. I got this.
(Cracks knuckles)
"OMG WOW WHAT A SHOW."
(Ends review. Takes world's least deserved bow.)
Ok, I'm obviously kidding. But you can see how trying to talk about someone this talented is tough. Mayberry is that type of person that everyone has known at one point, who can not just do anything, but absolutely knock it out of the park. She's funny, writes fantastic songs, has an absolutely killer voice, and just has that star quality when you watch her perform onstage. And with CHVRCHES seeming to be on an undefined hiatus, she has the spotlight all to herself with new material under her belt and ggwendolyn providing support at a Lincoln Hall show that sold out within seconds when tickets went on sale months ago.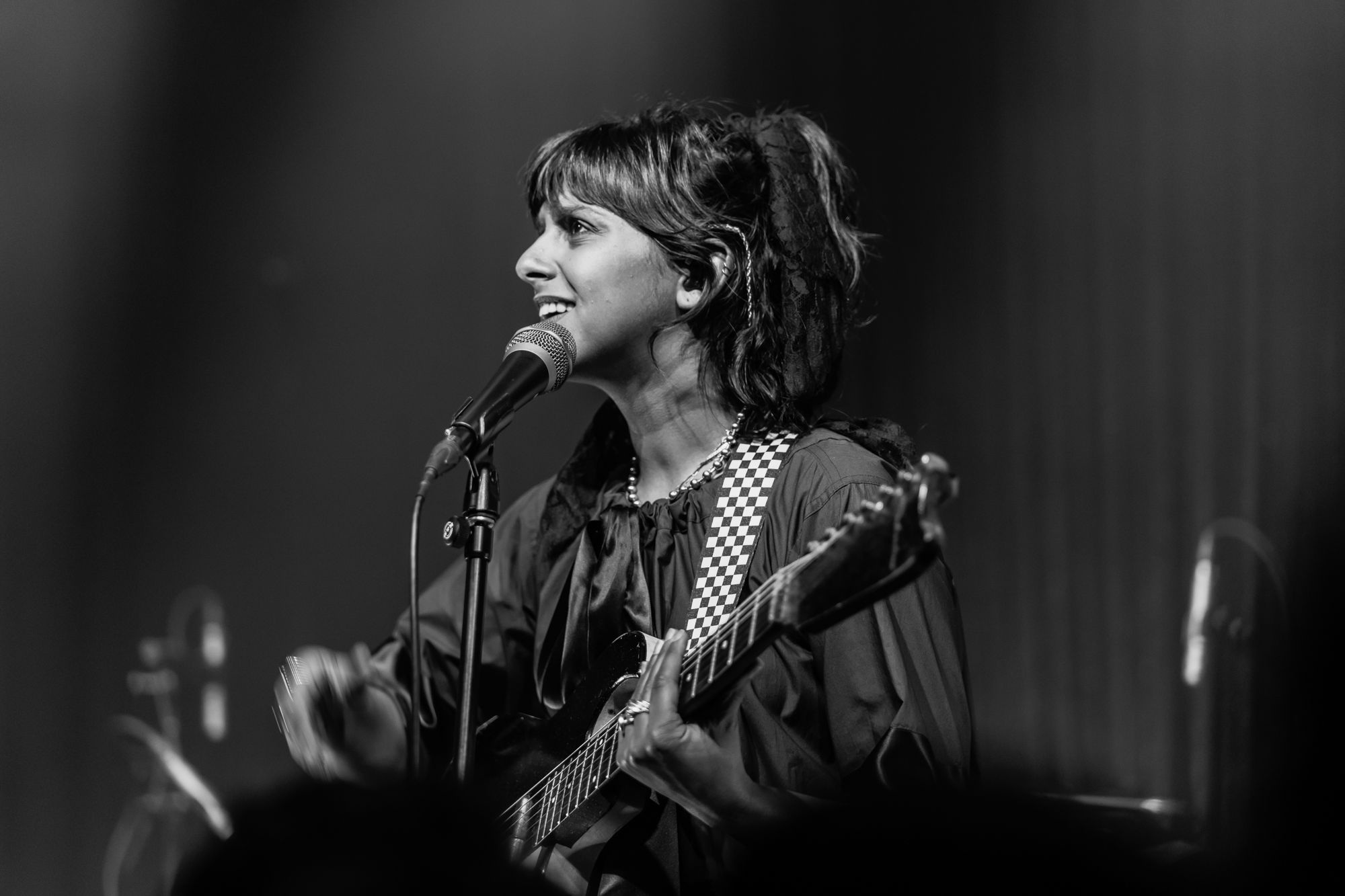 'I'm sorry if I'm a little out of it, " singer/songwriter ggwendolyn (yes, with two g's as she reminded us toward the end of her set) mused between songs during her opening set, "I think I might have a concussion. But you should see the other guy!" No, she had not actually been in a fight ("A mirror fell on my head!"), but that kind of wry humor and dark musing was a common thread throughout her songs. Sometimes that kind of thinking is the best defense against some of the situations and emotions explored in ggwendolyn's songs. The set's opener 'Red Eye' deals with the struggle of preferring a bad relationship over no relationship at all ("I would rather care about you than care about me right now / It's easier to love you first than love myself somehow"). But with subject matter that's been covered ad nauseam since the beginning of music, the combination of her clever wordplay and a voice that specializes in walking the tightrope between happy and sad keeps things fresh and engaging. Through her 8 song set (including an appropriately slowed-down cover of Sheryl Crowe's 'Soak Up The Sun'), her cheeriness in the eyes of singing about everything from sexual frustration to the aimless existence of today's youth and razor sharp tongue/performance, she definitely was not concussed. Or if she was, I cannot imagine just how much more locked-in her performance could be after she clears the league concussion protocol.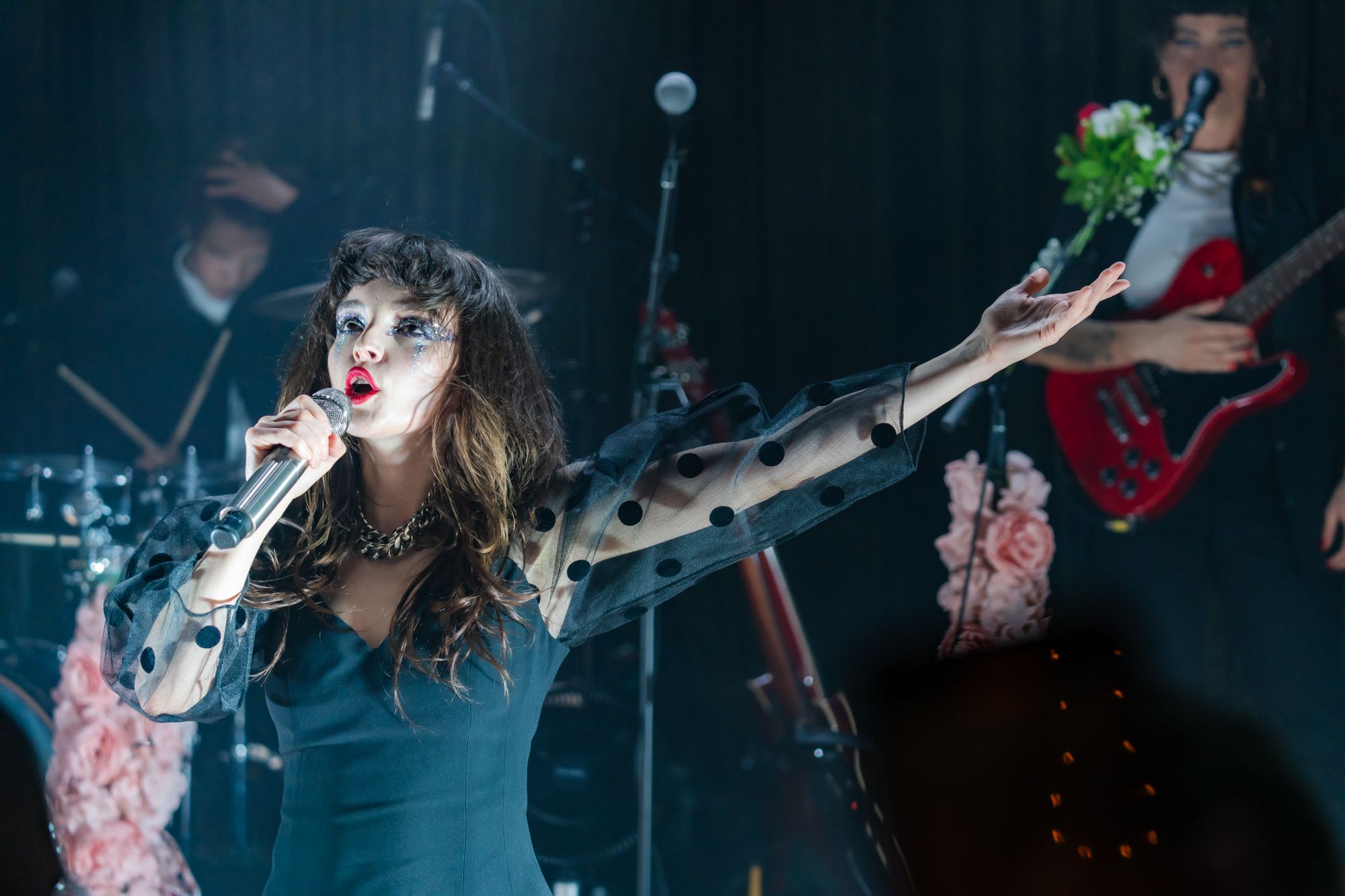 I had mentioned at the top that Lauren Mayberry was touring behind new solo material. Where her tour may differ from others doing the same is that, other than one single, none of Mayberry's material has been released with no current date for a full-length album or LP in sight. It's been a while since I've been at a show where I had very little clue what to expect, as I expect was the case with the rest of the capacity crowd. Did the anticipation of the completely unknown create a buzz in the crowd that usually isn't there? Surprisingly, it did. It's a bold strategy that I assume can only be pulled off with the CHVRCHES name in the back of the audience's mind, something Mayberry didn't shy away from at the outset and directly addressed with the audience a few times throughout the night.
Taking the stage to a recording of Liza Minnelli's "Maybe This Time", Mayberry launched into five all new, currently unreleased songs. And for CHVRCHES fans not knowing what to expect...well, it wasn't CHVRCHES - in the best ways possible. Gone was the thrumming low end and polished synth tones of her former band, replaced in songs like 'Change Shape' with a baseline that wouldn't sound out of place on a 60's funk album with a sprinkling of electric piano on top. Dipping her toe into heart-wrenching ballad territory with 'Under the Knife' and pivoting to more of a straight-up pop/punk sound with 'Sorry, Etc.', Mayberry proved yet again to be a master of all, free to rule every genre of music now that she's free to explore every direction that pops in her head.
Citing the desire to have at least a few songs that the audience could sing along to, Mayberry incorporated covers of Madonna's 'Like a Prayer' and hometown hero Liz Phair's 'Fuck and Run' throughout her ten song set. It's a nice gesture, but it was hardly necessary. With the kind of command and stage presence she has, she could sit on a stool and read the phone book and no one would be able to take their eyes off her. Even when she did perform her only solo single that has been released (this year's 'Are You Awake?'), not a single voice in the audience dared join in. To do so would take you out of the moment that she had built, sitting alone onstage behind a piano, singing about the desire to reconnect with someone special that's fallen out of your life.
Plus, singing along with her would just be another chance to see just how much more talented she is than we are. At pretty much everything.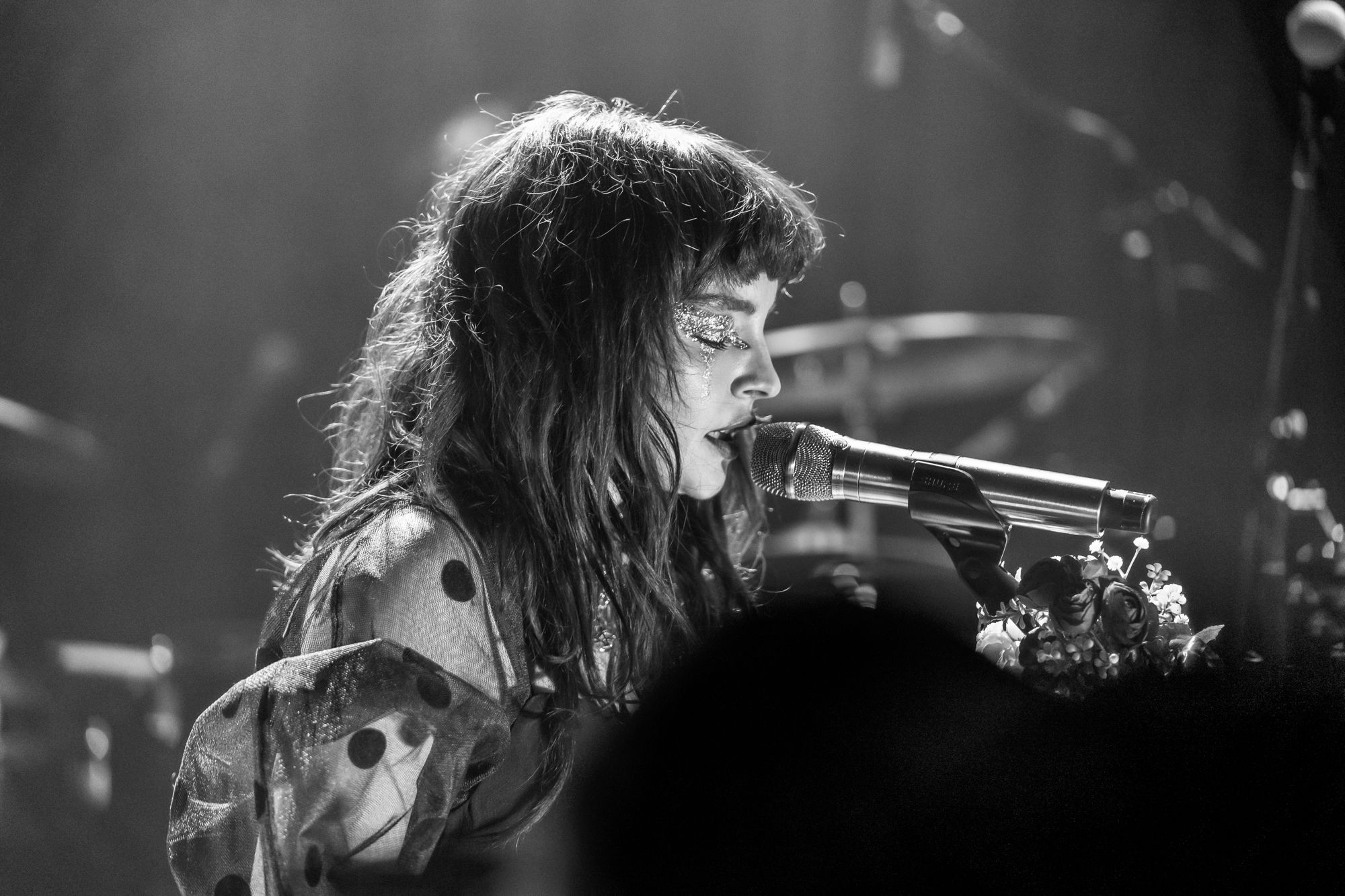 Lauren Mayberry will be on tour in the US through the end of September before her fall European tour. Dates can be found here.
Lauren Mayberry at Lincoln Hall - Chicago, IL 9.22.23
Bird
Change Shapes
Mantra
Under the Knife
Shame
Like a Prayer
Are You Awake?
Crocodile Tears
Fuck and Run
Sorry, Etc.