UK-born Maisie Peters debuted in 2016 at the age of 15. After successfully releasing her first two singles, "Place We Were Made" and "Birthday", she was signed by Atlantic Records UK in 2018. She released various singles with this record label before joining Ed Sheeran's Gingerbread Man Records in 2021, where she released her debut album "You Signed Up For This", resulting in becoming the top-selling album in the UK independent selling stores for that week.
Her second album, The Good Witch, subsequently reached number one on the UK charts and was written while on tour in 2022, then released in June 2023 and sums up her life experiences of a tough break up.
According to the reaction of fans from her North American tour, it seems her UK and European fans are in for a real treat.
As the North American leg of the tour comes to an end, European fans wait in anticipation for the arrival of Maisie Peters and The Good Witch tour.
With initial dates selling out so rapidly, new dates were added to fulfill the demand for what fans hope to be amazing performances. Supported by Australian singer-songwriter, Gretta Ray, Maisie is set to complete 13 shows across the UK and Southern Ireland, before moving on to Ghent in Belgium to continue the rest of the tour in 2024.
---
You can expect to see Maisie Peters at the following venues:
OCTOBER 2023
17th – O2 Academy Glasgow, Glasgow
18th – NX, Newcastle Upon Tyne
19th – O2 Academy Leeds, Leeds
21th – O2 Apollo, Manchester
22th – Rock City, Nottingham
23th – Liverpool Content, Liverpool
25th – 3Olympia Theatre, Dublin
26th – 3Olympia Theatre, Dublin
27th – The Telegraph Building, Belfast
29th – O2 Academy Birmingham, Birmingham
31th – O2 Academy, Bristol
NOVEMBER 2023
1th – O2 Academy Bristol, Bristol
3th – OVO Arena Wembley, London
FEBRUARY 2024
13th – De Vooruit, Ghent, Belgium
14th – Olympia, Paris, France
17th – Union Scene, Drammen, Norway
18th – Fryshuset Arenan, Stockholm, Sweden
20th – Vega, Copenhagen, Denmark
22th – Columbiahalle, Berlin, Germany
23th – Tonhalle, Munich, Germany
24th – Zoom, Frankfurt, Germany
26th – Paradiso, Amsterdam, Netherlands
27th – Tivolivredenburgh, Utecht, Netherlands
28th – Palladium, Cologne, Germany
---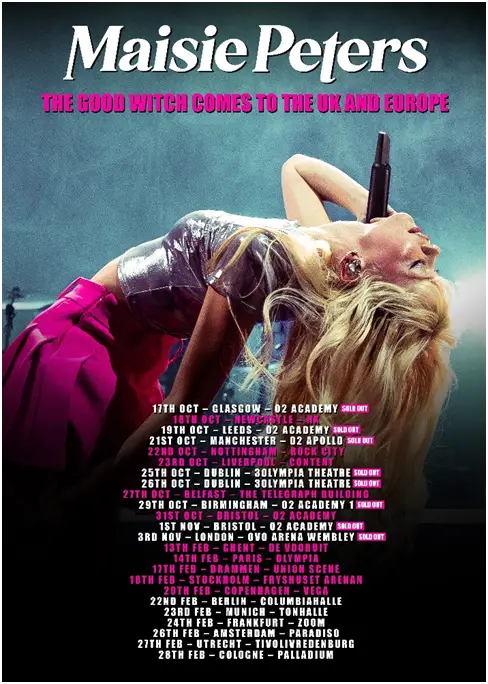 by Sofia Robertson