In 2021, I attended the revival of the legendary Furnace Fest. One of the first bands in the shed stage stole my attention on the first day. Emo rockers Better Off have been consistently releasing incredible music since 2013. Their somber yet angsty sound, filled with infectious choruses and fun riffs, became one of my favorite earworms. This winter, they embark on a tour celebrating ten years of their first release, (I Think) I'm Leaving. I took a deep dive into what makes Better Off so unique.
---
Better Off features Luke Granered on Vocals and Guitar, Charles Miller on Drums, Lukas Parrish on Guitar, Zach Janicello on Bass, and Hunter Walls on Guitar. In case it wasn't clear, these guys provide a sonic onslaught on record and live. The three guitars offer a unique and differentiated dynamic from their contemporaries.
"No Drama" is the band's recommendation for new listeners, but they added that "Reap What You Sow" is a crowd favorite. My personal favorite is the politically charged "Politician." However, you can listen to any track in their discography and remain content.
Their sound has progressed over the past decade. They mentioned that (I Think) I'm Leaving and Milk were learning experiences where they were still figuring out their vision for their sound. The last two releases, Reap What You Sow and Better Off, showcased a more experimental and production-oriented sound while flaunting their pop sensibilities.
The decision to hit the road to celebrate their debut album was the perfect opportunity. Over the past couple of years, chances had been far and in between. However, that changed when Dynamic Talent reached out about the celebratory tour. Starting November 25th Better Off hits the road with emo contemporaries Valley Heart, Daisyhead, and Sign Language. This is a can't-miss lineup traveling through the Midwest.
I mentioned my experience discovering the band through Furnace Fest. They loved their experience playing the shed stage. They described it as an atmosphere and vibe similar to a DIY show but with a killer sound system and a couple thousand people instead.
Better Off is excited to perform in Chicago and Evansville as they have been special cities for them throughout their career. They are even more stoked to be traveling the country with Daisyhead. Their member Mikey was even in Better Off earlier in their history.
You are in luck if you enjoy the edge and angst of Better Off's discography. They are in the studio working on their heaviest material yet while maintaining their pop roots. They stated it is much different than their previous four. I love heavy music and Better Off, so I could not be more excited to hear what is next.
I asked Better Off what message they hope to convey through their writing. They responded, "Pursue your dreams, love where you are, and stay in the moment." For my final topic, I gave Better Off the floor to relay a message to their fans. They stated, "Thank you for listening to the music. I can't wait to be face-to-face with those who have supported us over the years. This tour will be our first since 2019, and we're so excited."
---
Catch Better Off in a City Near You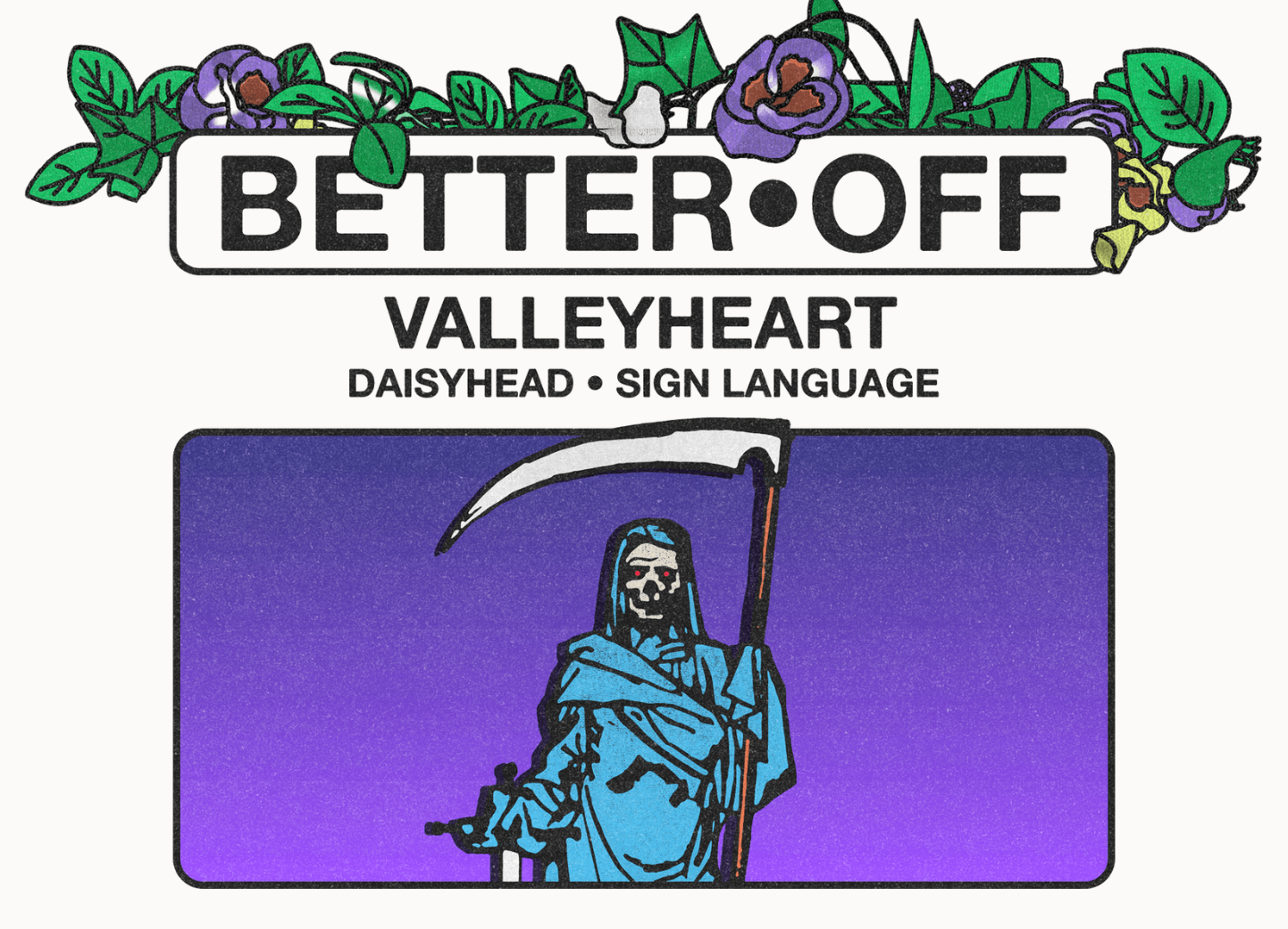 ---
Listen to (I Think) I'm Leaving
---
Follow Better Off