Pop Evil seemed to be riding a high with having just received their eighth number-one single on the Billboard charts with "Eye of the Storm" from their latest album Skeletons (2023). The hard-rocking Michigan five-piece brought their Flesh & Bone tour to the Charleston Music Farm this past Friday. The crowd was enthusiastic, with fans of all ages sporting mohawks and throwing up devil horns.
A massive steel platform flanked by giant ramps stood like a monolith at the back of the stage, with Hayley Cramer's impressive drum kit shining at the top. The band's performance was nothing short of spectacular. They opened with "Paranoid" from Skeletons, setting the bar for the night with Cramer's booming drums, Nick Fuelling and Davey Grahs' hard-edged guitar, and Leigh Kakaty's howling vocals. They smoothly transitioned into "Deal with the Devil" from Onyx (2013), and "Let the Chaos Reign" from Versatile (2020). Keeping up the high-octane energy, the band took turns strutting across the stage. Kakaty at times would climb the ramps to the platform and let the others take center stage. This really provided an excellent look at all the power players that this band has on its roster. Every member had multiple moments to shine. Bassist Joey Walser really owned the stage. His bass slung low, he moved effortlessly from the upper platform to the front of the stage.
As the night continued on, the energy in the room intensified, with the band performing "Be Legendary" from their self-titled 2018 album, and "Who Will We Become" from Skeletons (2023). Pop Evil's self-reflection title track "Skeletons" enchanted the crowd. It was during songs like "Skeletons" that Pop Evil's connection with their audience shone. While their instrumentals were chaotic, dark, and driving, their lyrics ultimately delivered motivational messages that the audience could connect with.
When the band performed their latest hit, "Eye of the Storm", the crowd went wild. Bodies went flying and the audience rippled with fans rocking up and down and waving their arms in the air.
For their encore, Kakaty and Fueling took the stage and performed a slower version "100 in a 55" from Lipstick on the Mirror (2009), with the audience joining in for the chorus. They then performed an unyielding version of "Torn Into Pieces" from Onyx before the rest of the band returned to the stage to close out the show with two more bangers from Onyx, an electrifying performance of "Trenches" and "Breath Again". Pop Evil's explosive performance and all-killer, no-filler setlist absolutely lived up to the hype.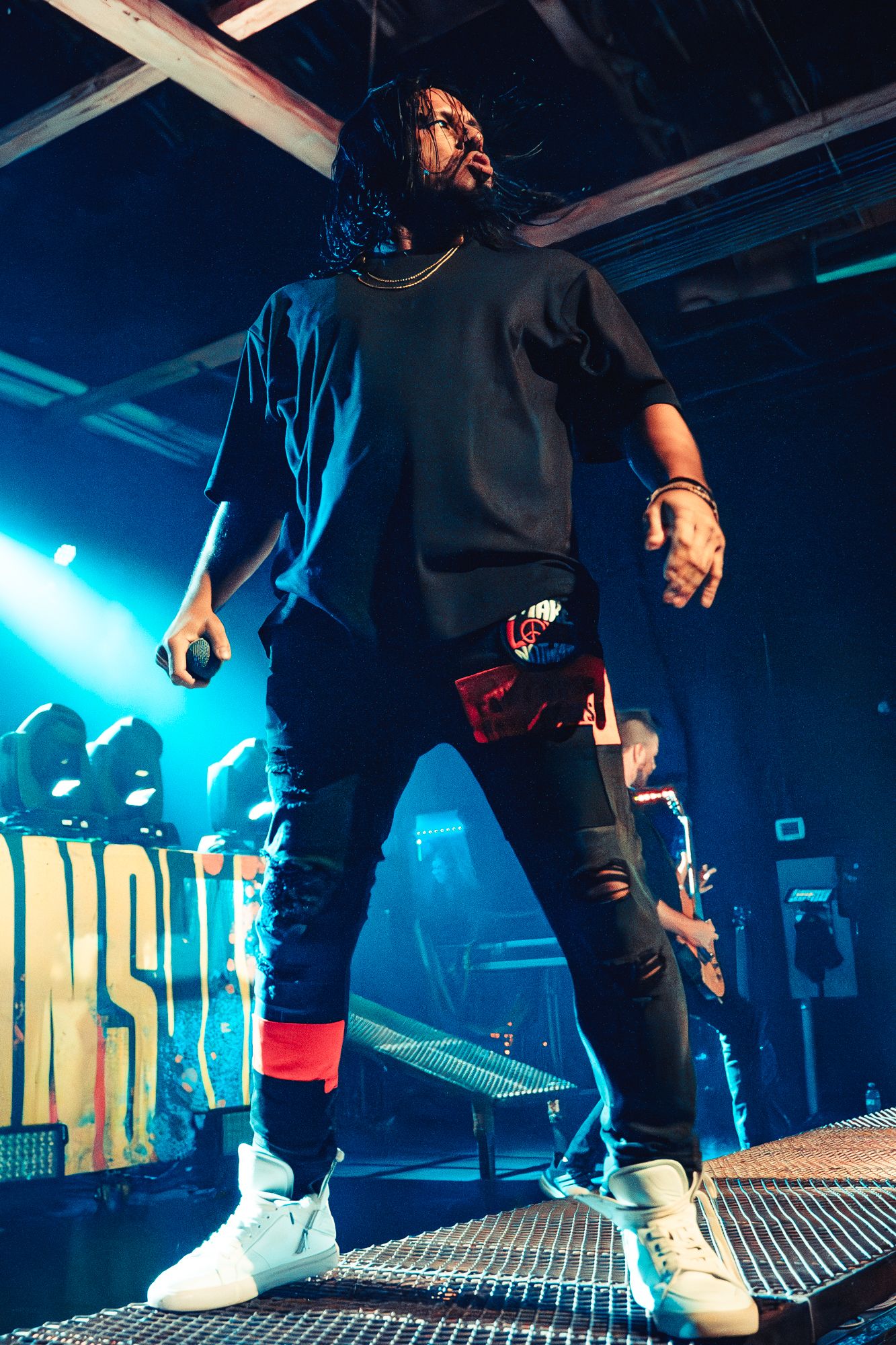 Pop Evil: Website / Facebook / Instagram / YouTube / Spotify / Apple Music / X / TikTok