The wind is cool and crisp, and leaves dance around in circles along the road's curb. Jack-o-lanterns sit glowing on the steps of people's front doors, while trick-or-treaters down the street march up and down the sidewalk stocking up for the year on free candy. Up the road, however, Slayyyter was preparing a spooktacular night at her Toronto stop at The Opera House for her Club Valentine tour. Fans came out decked head to toe in their Halloween costumes for a unique concert starring the opening act BAYLI, and the main performance, Slayyyter. Some dressed up with angel or fairy wings, some with animal-themed onesies, and even the odd carrot and banana costumes could be seen among those lining up waiting to get in.
Once the doors opened and fans started to pour in, everyone rushed to get as close to the stage as they possibly could. Atop the stage was Slayyyter's Club Valentine itself; a white shag carpet, stretched corner to corner and front to back, covering the entire stage. Two white leather office chairs, fabric walls, a martini table, and even some lively plants were seen giving the stage design almost a 1980s club theme.
Not long after doors opened, the lights went out and the first performer of the night BAYLI made her way on stage. The music began and the crowd started jumping. BAYLI's music is almost reminiscent of that of Rihanna and Shygirl's styles; R&B, but definitely with a mix of pop and hyper-pop themes. The fans in attendance were excited to hear when she performed her collab "clown shit (up the wall)," that the late producer SOPHIE remixed. Later into her act, BAYLI brought out an orange guitar, telling the crowd that she wanted to slow things down and perform a song that she "used to get really emo for." She continued into performing a cover of "The Only Exception" by Paramore. Ending her set, BAYLI got Toronto to scream and jump more in anticipation for Slayyyter, gearing up a fun-filled Halloween night, ending her set with her song "Sushi for Breakfast."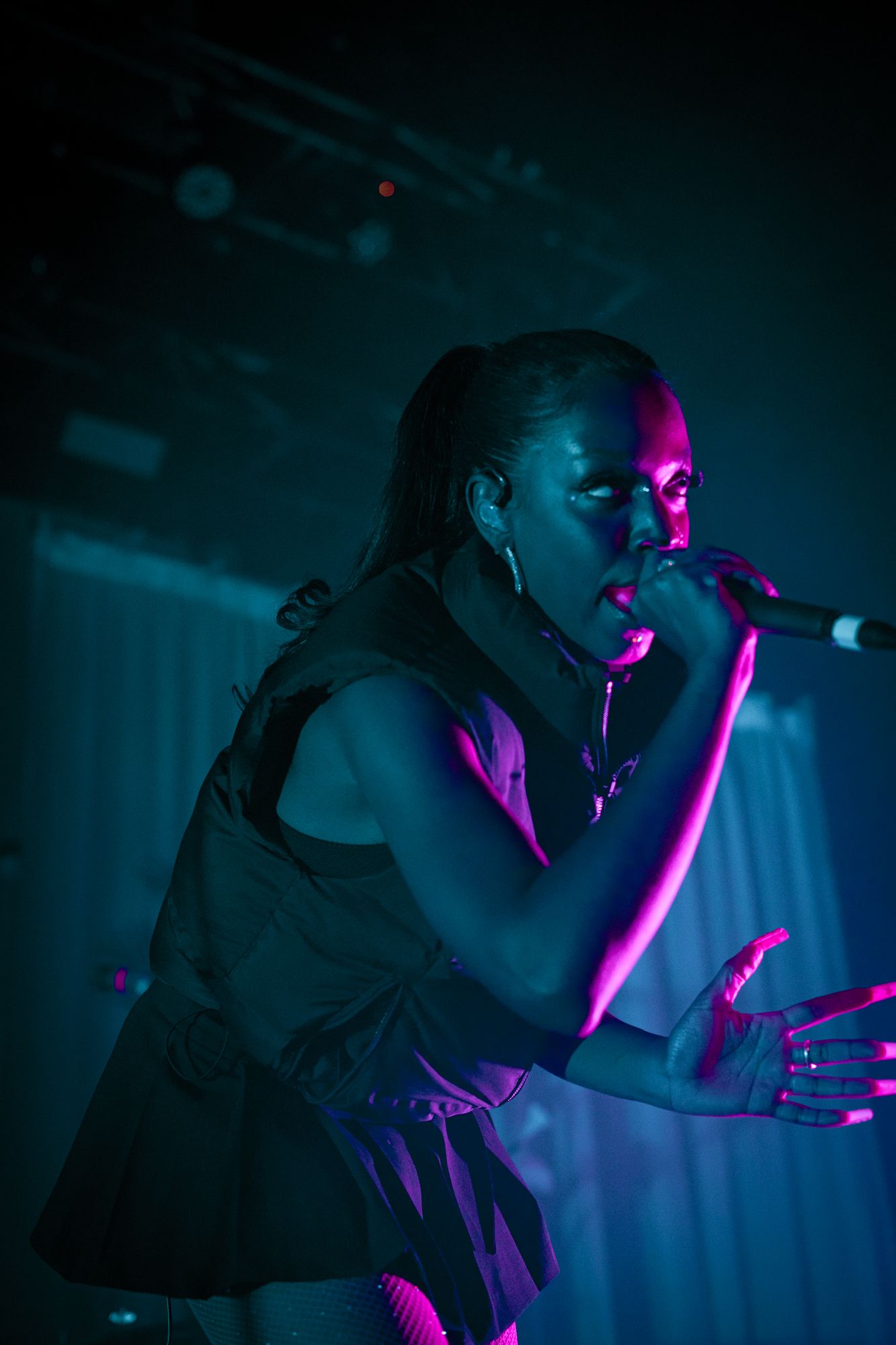 ---
The lights went out, the smoke started building, and emerging on stage was Slayyyter herself; a cross projected on the back of her set as she walked out on stage to open her Club Valentine tour with her song "Out of Time." Wearing a white jacket designed by Brandon Hilton, designer from The House of Mann, a pair of rectangular sunglasses, and sparkly high heels, Slayyyter wasted no time getting into her set for the night. Pouring herself a martini on stage and taking a quick sip, she goes on to perform songs "My Body" and "Memories of You" from her latest album, STARFUCKER. In act one alone Slayyyter proved that she could serve strong vocals and hold strong performance energy all while being playfully sassy with the crowd.
Leading into her second act, Slayyyter goes into performing a cover of Shirley Bassey's song, "Diamonds Are Forever." In true Halloween culture, Slayyyter performs the second act wearing a dress made to look like it was covered in slick dried blood, and a pair of devil horns sitting atop her head. After performing songs "Miss Belladonna" and "Dramatic" there was a small interlude, including a bit from the 2022 horror movie "Pearl" where you hear actress Mia Goth scream out, "No, please, I'm a star." When Slayyyter returns, she proceeds into my favourite song of hers, "I Love Hollywood!". After this song, Slayyyter took a moment with the crowd to get them to make some noise for the opener BAYLI, and thanked the fans for coming out to support the both of them. Slayyyter mentions this is her fourth time performing in Toronto, but this is her second time here as a headliner. Slowing things down a little with her songs "Clouds" and "Tear Me Open" the crowd was fully invested with Slayyyter's show, swinging their arms back and forth in unison, even some swaying their phone flashlights in the air.
Her on-stage DJ, dressed up as Dorothy from the Wizard of Oz, started the next interlude for the night, playing a heavy electronic drum beat with a robotic voice saying the phrase, "There's no place like home," over and over until Slayyyter returned to the stage, dressed in a black lace outfit with lace bunny ears on her head. A special surprise happened for Toronto here. Recently Slayyyter put out a cover on Spotify of Lady Gaga's song "Monster." Telling the crowd just for Halloween and this being the only time she would do this, Slayyyter performs her version of "Monster," making the crowd go crazy with excitement. After her performance of the cover, Slayyyter informed the crowd that she was currently working on a deluxe version of STARFUCKER, and performed unreleased song, "James Dean." The track is expected to be on the deluxe version when it is released.
Moving back into the main set of songs, the fan's energy never died or faltered, the glittery cascade of Halloween costumes sparkled under the stage lights as fans (and even some security) danced as she performed her songs "Plastic" and "Purrr." Telling the crowd that "this is the last song," Slayyyter continues into the track "Daddy AF," as she tells fans to dance and scream harder than they had all night. When the song finished, she left the stage, but fans continued to chant her name repeatedly.
A minute or two goes by before Slayyyter returns to the stage to do her encore, wearing a white and silvery body suit that sparkled under the spotlight, with a pair of angel wings attached to the back. Before getting into the final sequence of songs, Slayyyter told the crowd it was one of her team member's birthdays, and got the entire concert hall to sing "Happy Birthday" to them. Slayyyter performed songs "Rhinestone Heart," a cover of Britney Spears's song "Gimmie More," and her song, "Girl Like Me." Slayyyter told the crowd that the Halloween show in Toronto was one of the best nights of her life, and thanked the fans, as it is because of their love that she gets to travel and perform for them. She talked about how not long ago, she was just some random girl, making songs and posting them on the internet, but thanks to everyone's love and support she gets to make her dreams come true. Telling everyone in the crowd that she loves them, Slayyyter finishes the night performing her song "Mine."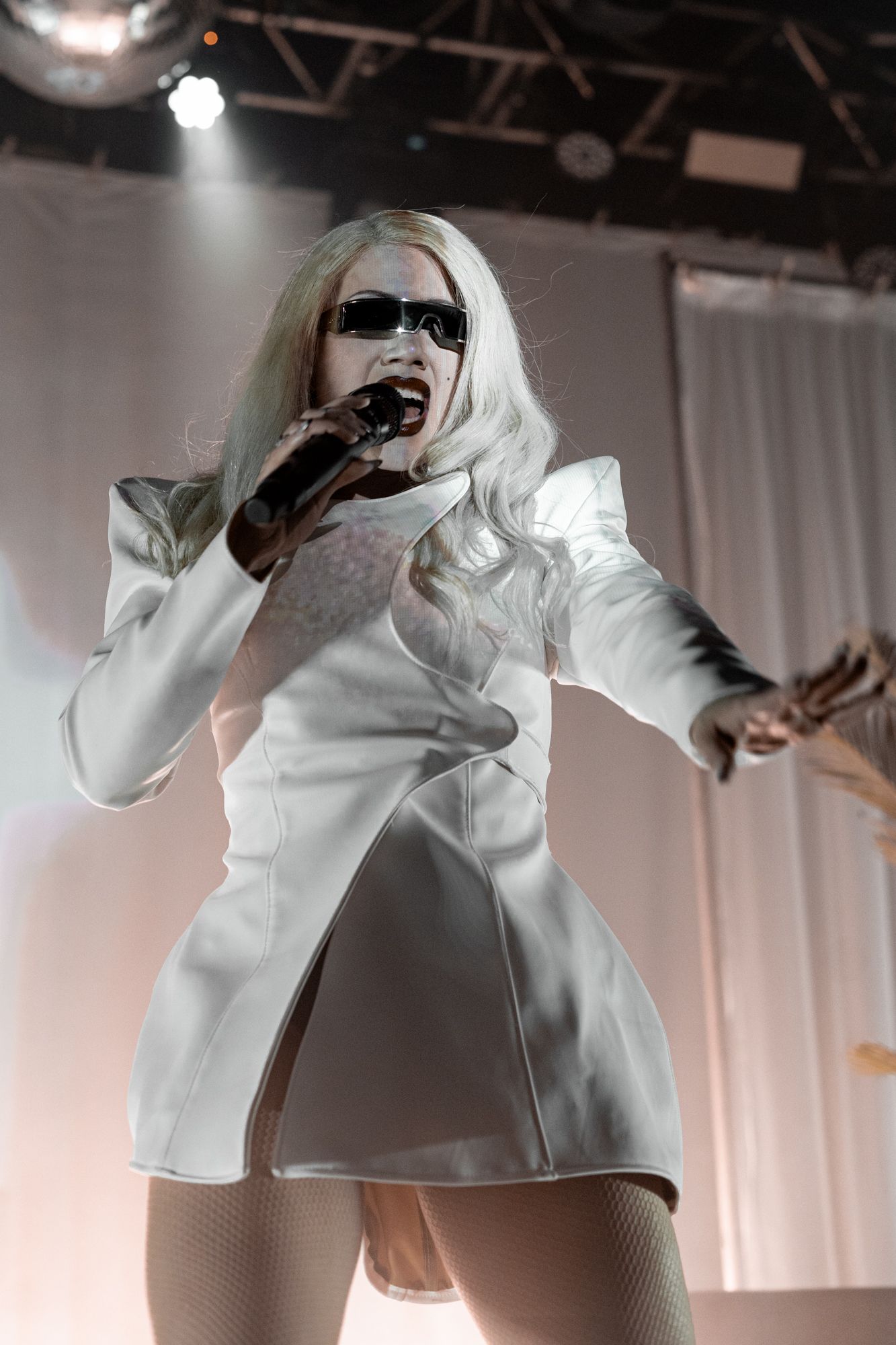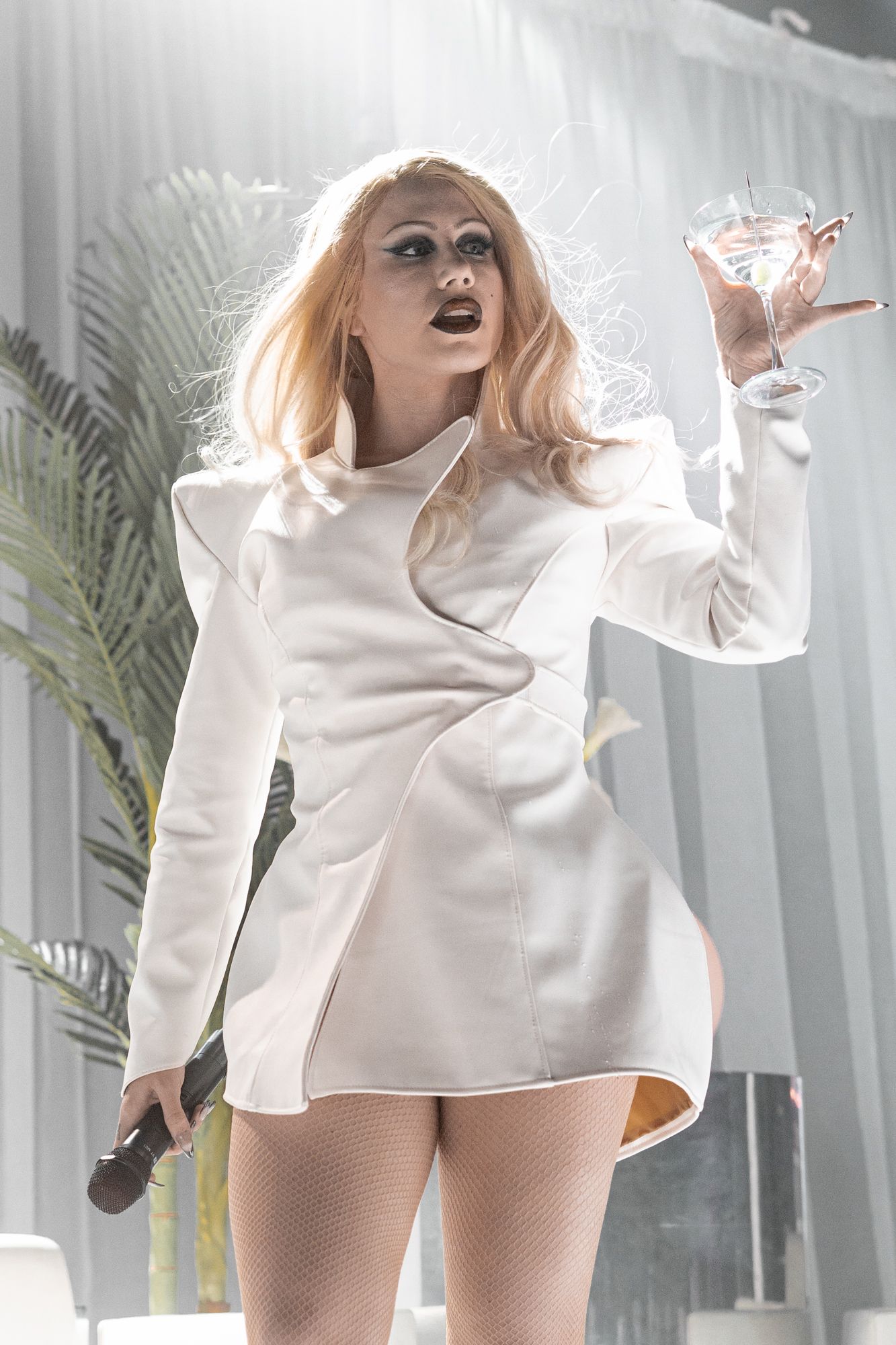 An incredible show put on by such incredible artists. BAYLI started off the night with incredible energy, warming up the crowd and getting everyone moving. Slayyyter's show had to be one of the most dazzling and fun concerts I had been to all year. If Slayyyter is headlining near you, take the opportunity to see her perform. She is an artist you don't want to miss out on seeing!
---