by Melanie Bryan
North Carolina-based glam rock band Pageant is bringing back teased hair, animal prints, studded everything, and good old-fashioned rock and roll. Dylan Dynasty, Roxxi Dirt, and Dezzy Foxx came together about 2 and a half years ago in High Point, NC, and have been taking the local scene by storm. Step One: Conquer North Carolina. Step Two? The world.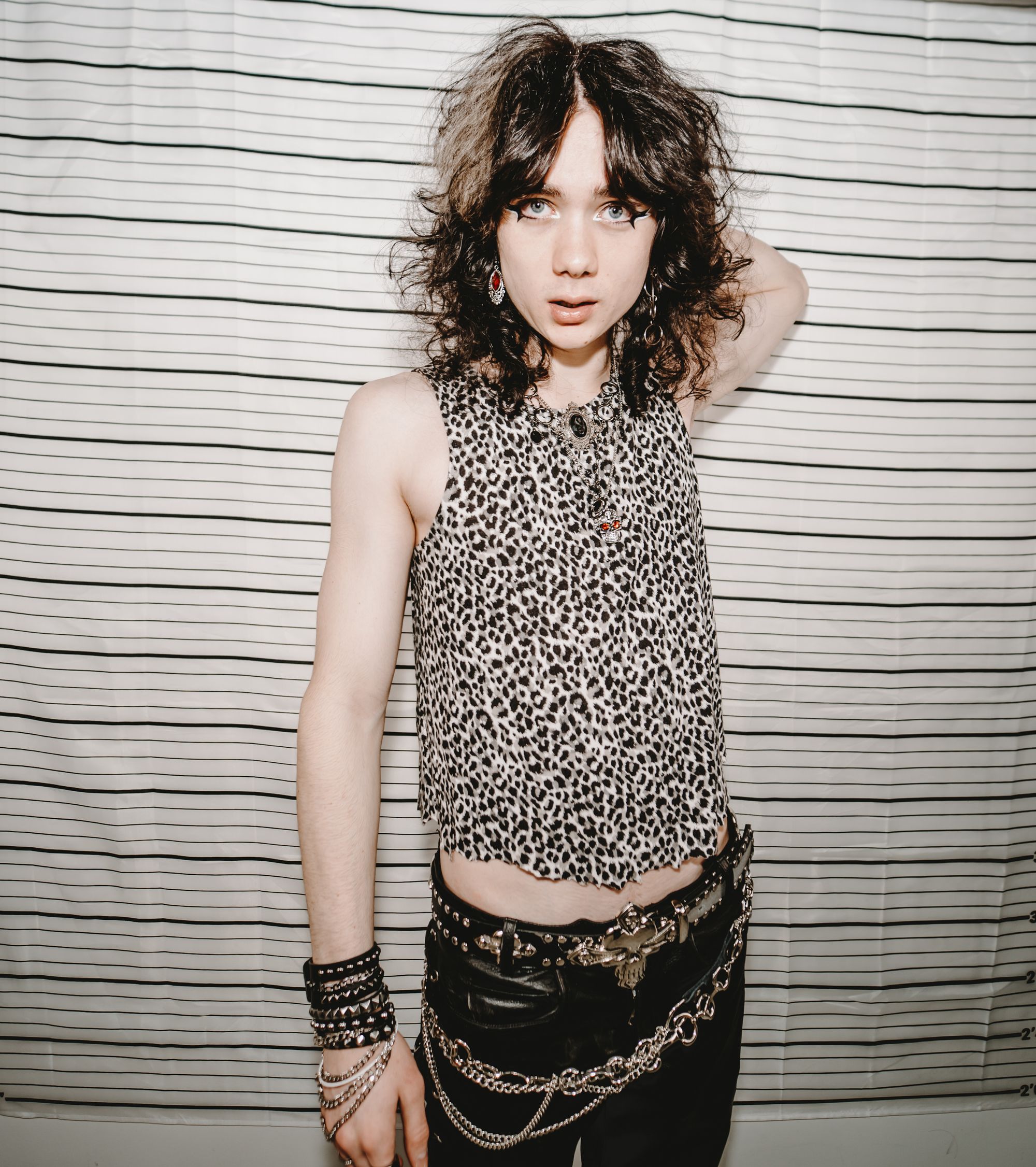 MSM: Would you start by introducing yourselves and sharing your role in the band?
Dylan: My name is Dylan Dynasty, and I'm the drummer for Pageant!!
Roxxi: What's up, I'm Roxxi Dirt and I play bass and sing in Pageant.
Dezzy: Yo I'm Dezzy Foxx, and I play guitar for Pageant.
MSM: If you could pick one song to sum up your sound for potential new fans to listen to, what would it be?
Dylan: I would say maybe "Round and Round" by Ratt. Our music is influenced by so many different bands that I feel like it's hard to just pick one song to relate our style to, but I would say our sound is kind of similar to Ratt's. I also just love that song.
Roxxi: I'd probably say something like "Round and Round" by Ratt
Dezzy: If I had to pick one it'd probably be something along the lines of Guns N Roses or Ratt or something similar to those bands. Motley Crue gets thrown around a lot too so maybe something from them.
MSM: What was your favorite artist growing up?
Dylan: Mötley Crüe has always been my favorite band. They're what made me wanna play rock music in the first place. Watching videos of Tommy Lee drumming and seeing their unique look inspired me when I was young, it like opened up a whole new world in my eyes. I grew up on 80's rock cause my dad would always play it for me but I feel like I really only became obsessed with it when I heard Home Sweet Home for the first time.
Roxxi: I would probably have to say Led Zeppelin. They were the first real rock band I listened to.
Dezzy: I don't know if I really had any favorites but I know that the reason I started to play music to begin with was because I got really into the blues. Guys like Stevie Ray Vaughan, BB King & George Thorogood are just a few examples of what I'd be listening to and learning from.
MSM: What was the first concert that you attended?
Dylan: It was a Big Time Rush concert with Victoria Justice opening for them. I begged my parents to take me. Maybe deep down Big Time Rush is the real thing that led to me wanting to be a musician…
Roxxi: My first ever concert was The Wiggles live. Still the best show I've ever seen to this day.
Dezzy: Funny enough it was a Zac Brown band concert I went to with my mom and some of her friends. It was a great show and I'm sure it left an impact on me in some way considering I still remember most of it.
MSM: What is the best advice you've been given about the music industry?
Dylan: I think the one thing that people have told me that I've found to be true is that only being able to play your instrument will not get you far as a musician. There are probably millions of people in this world who play the drums, and out of those people there's probably hundreds of thousands that are better than me, so what makes my drumming different? Thousands of people could probably replace me in this band and play the songs just as well as I can. So, because I'm not the best drummer in the world, I try my best to be the hardest-working drummer out of all the people who are just as good as me musically. I'm constantly reading books, watching videos, and talking to other people to try and learn more about music. I feel like being a musician is just as much about the work you put in behind the scenes as it is about playing music.
Roxxi: Probably that there's a difference between just playing music and performing it. We've really tried our best to focus just as much on the stage performance aspect of our shows as the music. People don't come to watch us live just to listen to our music exactly how it was recorded, they wanna be entertained, and we wanna give them an experience they'll remember and wanna come back to.
Dezzy: I'd say it's probably something like find people who are genuinely into your music and really care about your vision as much as you do. So far I think we've been really lucky in that department because we've been surrounded by people that care for us and our music and want us to succeed. I'm really grateful for that.
MSM: What is your go-to karaoke song?
Dylan: "Man or Muppet" from The Muppet Movie. Me and my friend Cody have this ongoing tradition to duet that song at any given opportunity. He's Jason Seagull, and I'm Walter. We've done it so much at this point that we have it almost perfected, but we're always looking to improve and do The Muppets true justice.
Roxxi: I kinda hate karaoke, but the one time that I did it, I sang "Can't Help Falling in Love" by Elvis.
Dezzy: I'm not a big singer, that's why I picked up guitar. But if I had to pick it'd probably be something along the lines of She's Gone by Steelheart. I sing that one in the car all the time.
MSM: What all instruments can you play?
Dylan: Really, the only instrument I'm any good at is the drums. I wanted to learn guitar growing up but after a couple of weeks of trying, I switched to learning drums at 12 years old because I thought it'd be easier, and I ended up loving them. I have been learning harmonica recently though and I'd say I'm not too bad at it, I don't think I'm good enough to label it as an instrument I actually play though. I also got a steel drum for Christmas and I can play pretty impressive renditions of Margaritaville and Baby Shark on it.
Roxxi: I started out playing piano so I can play that. I also play bass, a little bit of guitar, and drums.
Dezzy: I can play guitar, bass, a little piano, and I'm not sure I could anymore but I used to kill it on the saxophone.
MSM: What are you passionate about besides music?
Dylan: I have a tendency to get really really passionate about small things and like fixate on them for periods of time so I have a lot of weird and random hobbies. I've tried sculpting, crocheting, sewing, gardening, knife throwing, video editing, game design, skateboarding, clothing design, acting, and so many other things I've decided I wanted to learn at some point. The only obsession I've ever stuck with though is music, and that's how I know it's what I wanna do for the rest of my life. Everything else can just be weird skills to have in my back pocket I guess.
Roxxi: I've always really liked cars. When I was younger, my dad had a blue 62 Ford Falcon and that kinda kicked off my obsession. I have two cars right now, a Jeep TJ and a '92 Camaro.
Dezzy: I'm really into skateboarding even though I'm kind of out of practice. I'm hoping to get back into it soon.
MSM: What are you listening to currently?
Dylan: I love listening to all types of music, like literally most genres. I've been listening to a lot of Jazz recently though. I love listening to Jazz music because it can fit any mood that you're trying to feel. My Spotify search history is mostly filled up with playlists like "Evening Jazz for Cleaning" or "Morning Jazz for Reading". Jazz drums are also absolutely incredible, I always try and learn from them when listening.
Roxxi: I've been listening to a lot of W.A.S.P. recently and a lot of hip hop too. Mostly stuff like Wu-Tang Clan and Cypress Hill.
Dezzy: I strayed away from the blues for a while but I've been slowly making my way back to my roots to help me with my playing. So yeah, I'd say anything and everything blues-related is what I'm obsessed with right now.
MSM: What's next for Pageant?
Dylan: We just recently got out of the studio recording our first album! We don't currently have a set release date but it should be out within the next couple of months. We're also really trying to expand where we play shows right now. We have a show scheduled in NYC, one in Michigan, there's talk of some in Ohio and Pittsburgh, and we're really having fun planning some of those out-of-state shows. We're hoping to be able to invest in a van and really just hit the road and see as many new places as possible soon, all while doing what we love and playing music every night.
Roxxi: World domination.
Dezzy: Well, there are talks of getting a van soon. As far as I'm concerned that's one step closer to world domination.
---
WEBSITE // INSTAGRAM // FACEBOOK // TWITTER // YOUTUBE // SPOTIFY
*ALL PHOTOS BY MELANIE MAE BRYAN / @MELMAEPHOTOS