by Sean Maciejewski
Visions of Atlantis brought their first ever North American headlining tour to the Montage Music Hall in Rochester, NY on February 19, 2023. The Pirates Over North America tour is a twenty-one date tour, and this was the ninth stop. The doors would open at 6:30 pm and a stream of people headed into venue. This was going to be a long night of music as five bands were on the schedule to perform. Three local bands – Gates Of Paradox, Goron, and Dysplacer – played from 6:45 to 8:05 to a hyped up crowd. During these performances, I noticed something I have never seen before at a concert – fans were dressed as "Pirates"! I was now intrigued more than ever for what was yet to come.
---
THE SPIDER ACCOMPLICE
After a very short break, starting at 8:15 pm, tour-mates The Spider Accomplice was up next. Based in Los Angeles, California, the duo has a unique symphonic rock/metal/blues sound. Armed with only a laptop, guitar and a microphone, the duo has a big sound. Before starting, there was an issue with singer VK Lynne's wireless mic. She had to make do with a corded house microphone, but it didn't seem to hinder her performance. From the very start of their 8 song set, you could feel the energy they brought to the stage. Starting with "Enough", the duo introduced most of us to their unique sound. Throughout their set, guitarist, Arno Nurmisto, flashed fantastic guitar work, while VK Lynne charmed us with her performance. Finishing with "Shards Collect" the duo put on a great show. I am confident that they have gained many new fans, myself included!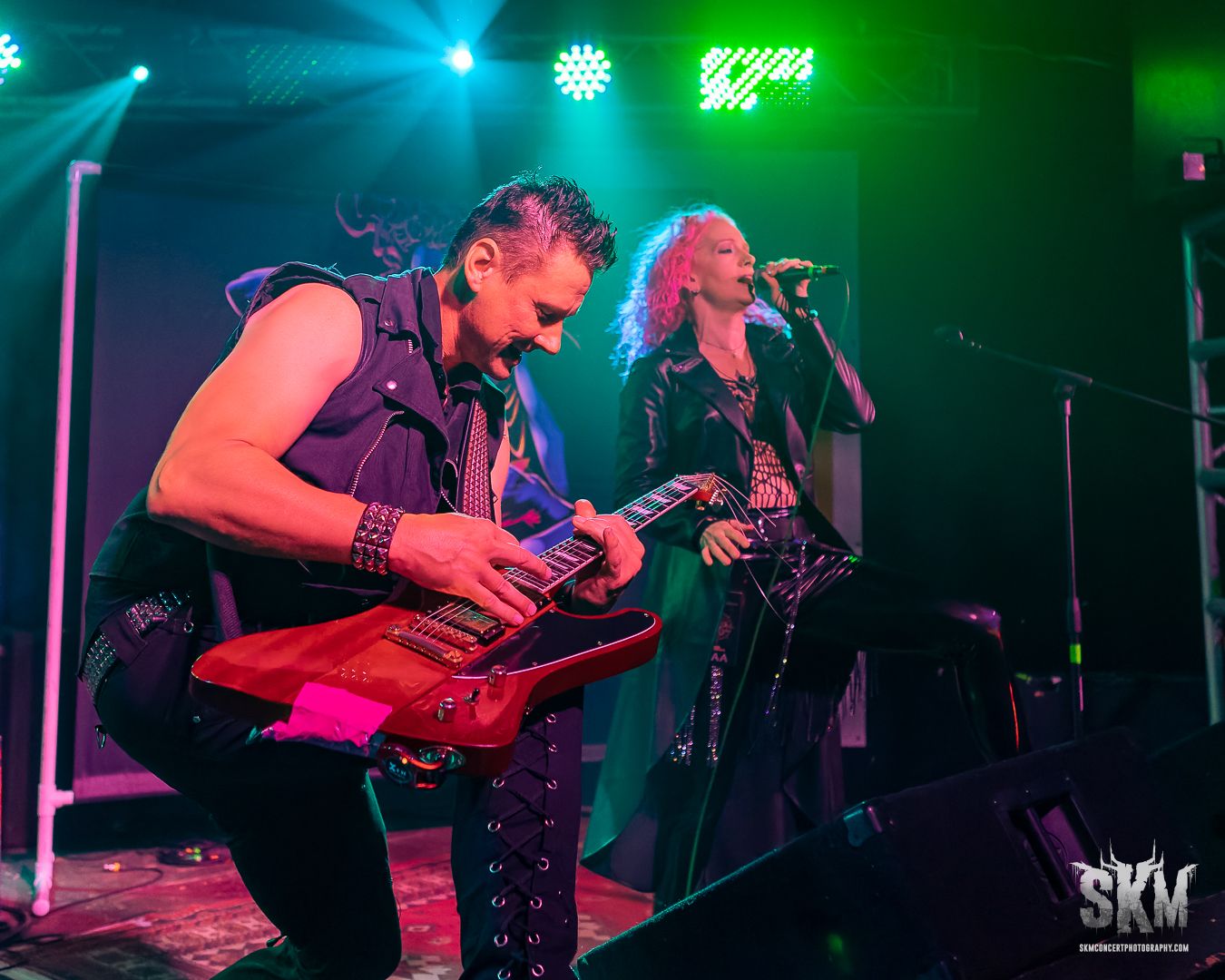 The Spider Accomplice are; VK Lynne – vocals, Arno Nurmisto – guitar
Set list; Enough, User, Messy Vampire, Crawl, Atmosphere, End My Life, Fight, Shards Collect
---
VISIONS OF ATLANTIS
The stage lights dimmed at 9:20 pm to an eerie blue from out of the blacked out stage. The crowd then erupted in a loud cheer as a pirate hat appeared from the darkness. Visions Of Atlantis stormed onto the stage and I was excited to see my first "Pirate" metal band show! VOA was founded in 2000 in Austria. They can be described as a symphonic pirate metal band, popular in Europe, and are about to conquer North America! They played a fifteen song set including eight from the newest (2022) album "Pirates" and seven songs from seven other studio albums. From the opening song, "Master The Hurricane", the entire show was a musical and visual voyage. Vocalists, Clémentine Delauney and Michele Guaitoli would passionately sing, while acting out skits with each other and other band members. Clémentine showcased her multi-octave, angelic voice throughout the evening, never once faltering. Michele contributed with his own flare and strong vocals, as well. Christian Douscha played some very impressive guitar, while Herbert Glos jammed on the difficult to play, five string bass. Not to be forgotten is Thomas Caser, who kept the beat on the musical voyage. What impressed me the most is that the entire band was genuinely having fun on stage and it showed. The audience was also a part of the show, from lighted cell phones waving in the air to being named honorary "sailors" in the crew. If I had to choose some of favorite songs from the set, I would pick, "Heroes of the Dawn", "Clocks" and "Legion of the Seas". Sadly, the clock struck 11:00 pm and the last note of the encore faded away. The band then took a final bow and said that they will return again in the future. I truly look forward to that day….It's the pirates' life for me!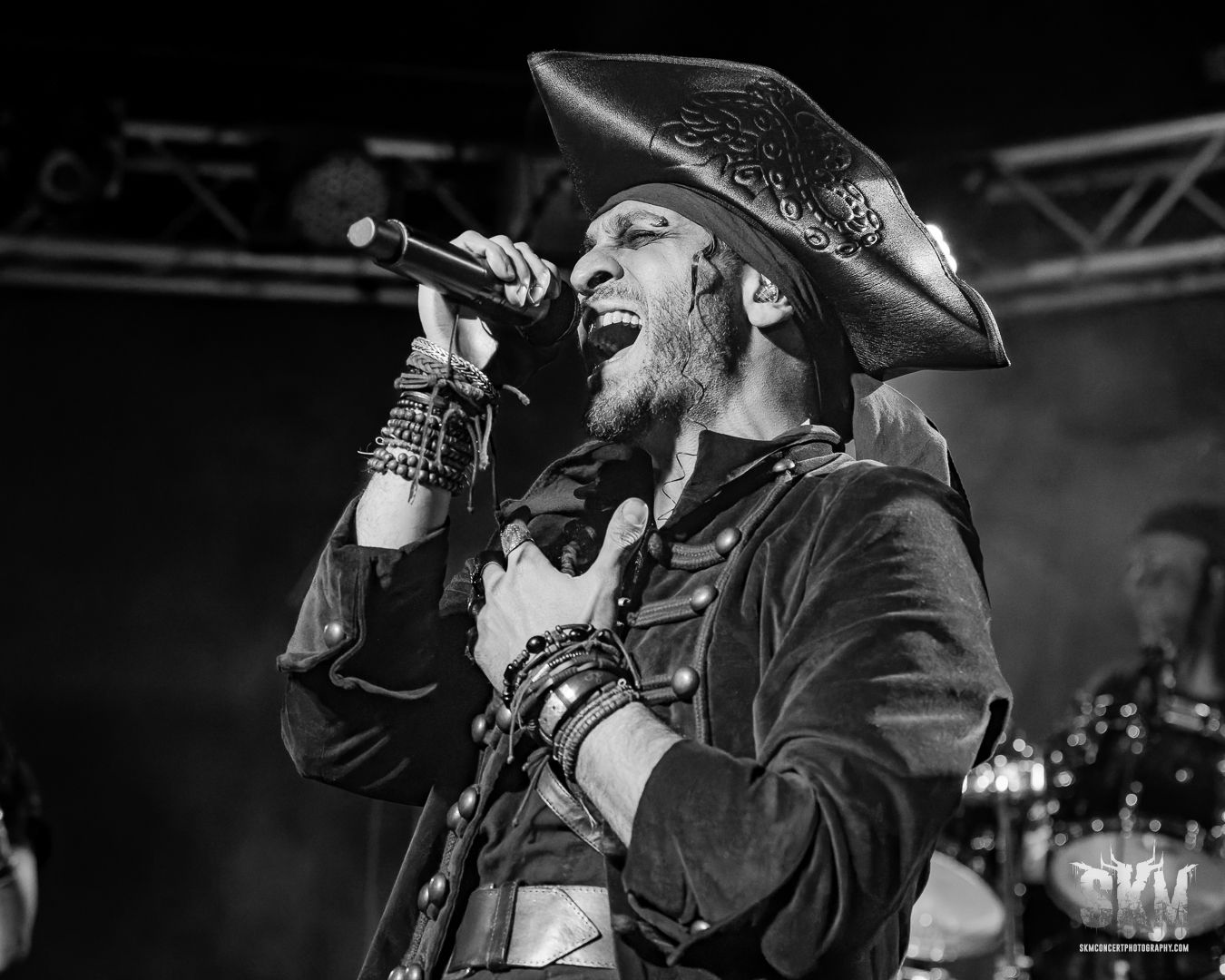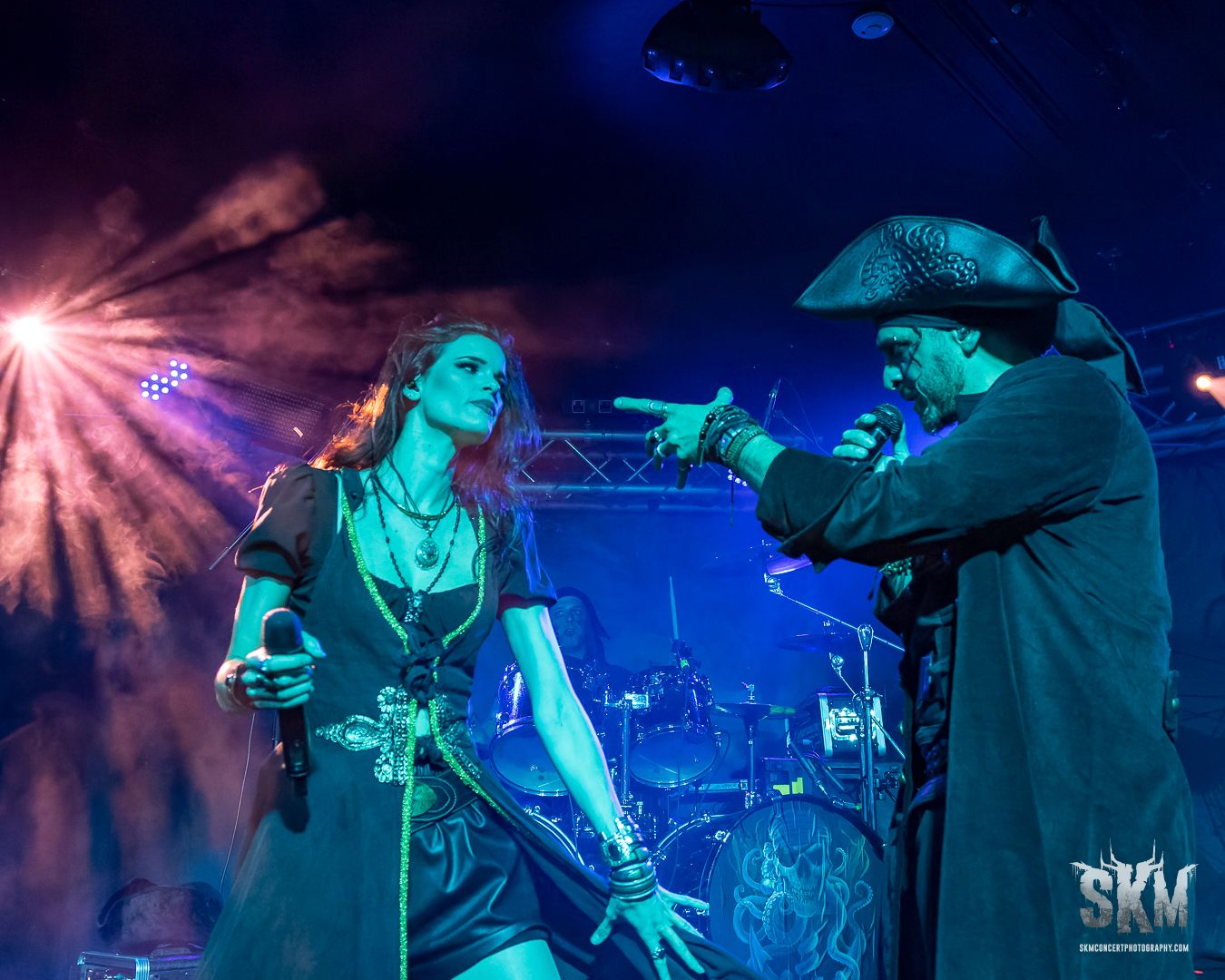 Visions Of Atlantis are; Clémentine Delauney – vocals, Michele Guaitoli – vocals, Christian "Dushi" Douscha – guitar, Herbert Glos – bass, Thomas Caser – drums
Set list; Master The Hurricane, New Dawn, A Life of Our Own, Clocks, The Silent Mutiny, The Deep and the Dark, Freedom, In My World, A Journey To Remember, Mercy, Heroes of the Dawn, Nothing Lasts Forever, Melancholy Angel – Encore; Pirates Will Return, Legion Of The Seas