There's a certain energy to a show for a band that's right on the verge of breaking out. Little signs early on that you're in for something special. The floor and balcony of the venue are packed to capacity before the opening act finishes their set. Lines for coat check and merch seem endless. Even in the down time between sets, the crowd stays abuzz as no one in the first 4 rows of general admission budges an inch. After all, this could be The Show You Tell Your Kids About One Day, when you caught that next hot band right before they became mega-stars.
Will White Reaper become the next Black Keys or Muse, a guitar-driven rock band able to gain a national audience at a time when it seems like only pop and hip hop acts are allowed to reign supreme? Take a closer look…their resume absolutely pops off the page:
– Just released their fourth album (and second on a major label) Asking for a Ride in January
– Had 'Pages', the lead single off that album, debut at #1 on the Alternative charts
– Already played premium festival slots over the last few years (Lollapalooza and Austin City Limits in 2021)
– Opener for some of the biggest names in rock music the last few years (The Killers, Weezer, Pearl Jam)
All they need to do is be picked as SNL musical guest and they'll have assembled all of the Breakout Band Infinity Stones, which comes with the reward of royalties from Ford F-150 commercials if I remember correctly. With support from Mamalarky and Militarie Gun at Chicago's historic Metro, White Reaper set out to show a capacity crowd of 1,100 what the World's Best American Band can do.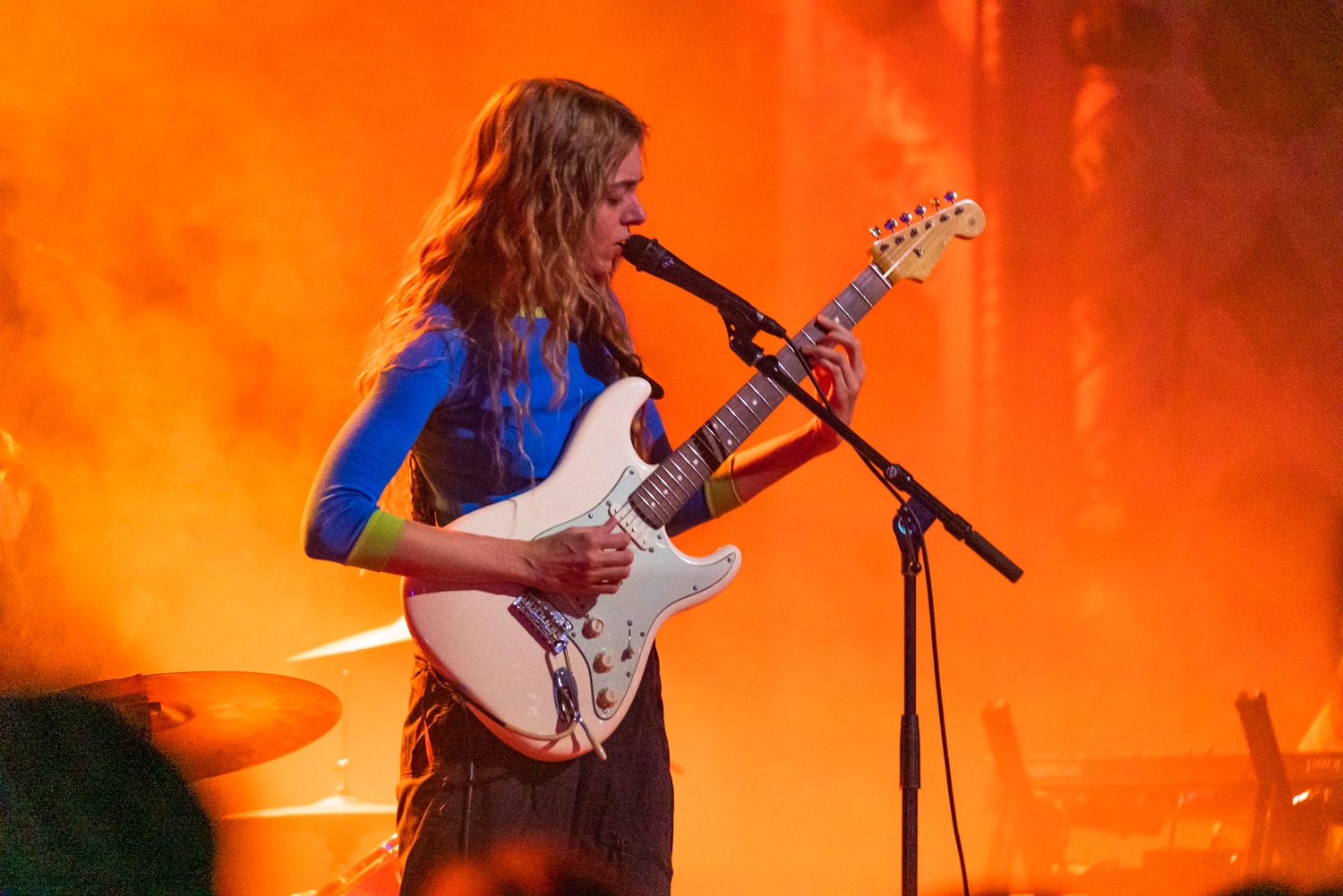 To call Mamalarkey an indie-pop group is accurate and inaccurate at the same time. Like a Schrodenger's Cat for hipster bar arguments. Yes, the Atlanta-by-way-of-Austin quartet (singer/guitarist Livvy Bennett, bassist Noor Khan, drummer Dylan Hill, and keyboardist Michael Hunter) does classify as indie and they are quite poppy, but that's severely understating everything that's going on in their performance. They were able to jump from upbeat Beach Bunny-esque pop on one end to slower, more contemplative atmospheric songs that would satisfy Lana Del Ray fans in the audience on the other, and still being able to jam out to jazzy, complex time signatures that would make Tool nod their heads in appreciation. Even in back to back songs, you never knew what was coming. But Bennett and the band never let things feel overly-structured or rigid. All of their songs had a jam band vibe where they could tell you that they came up with the song right there on the spot and you wouldn't be surprised.
The perfect contrast to the riff-fueled mayhem to come, Mamalarky was the ideal table-setter. The auditory experience of burning your work clothes after quitting time on Friday and throwing on a pair of sweats so you can just sit for a minute on the couch and live and breathe before you have to figure out what's next.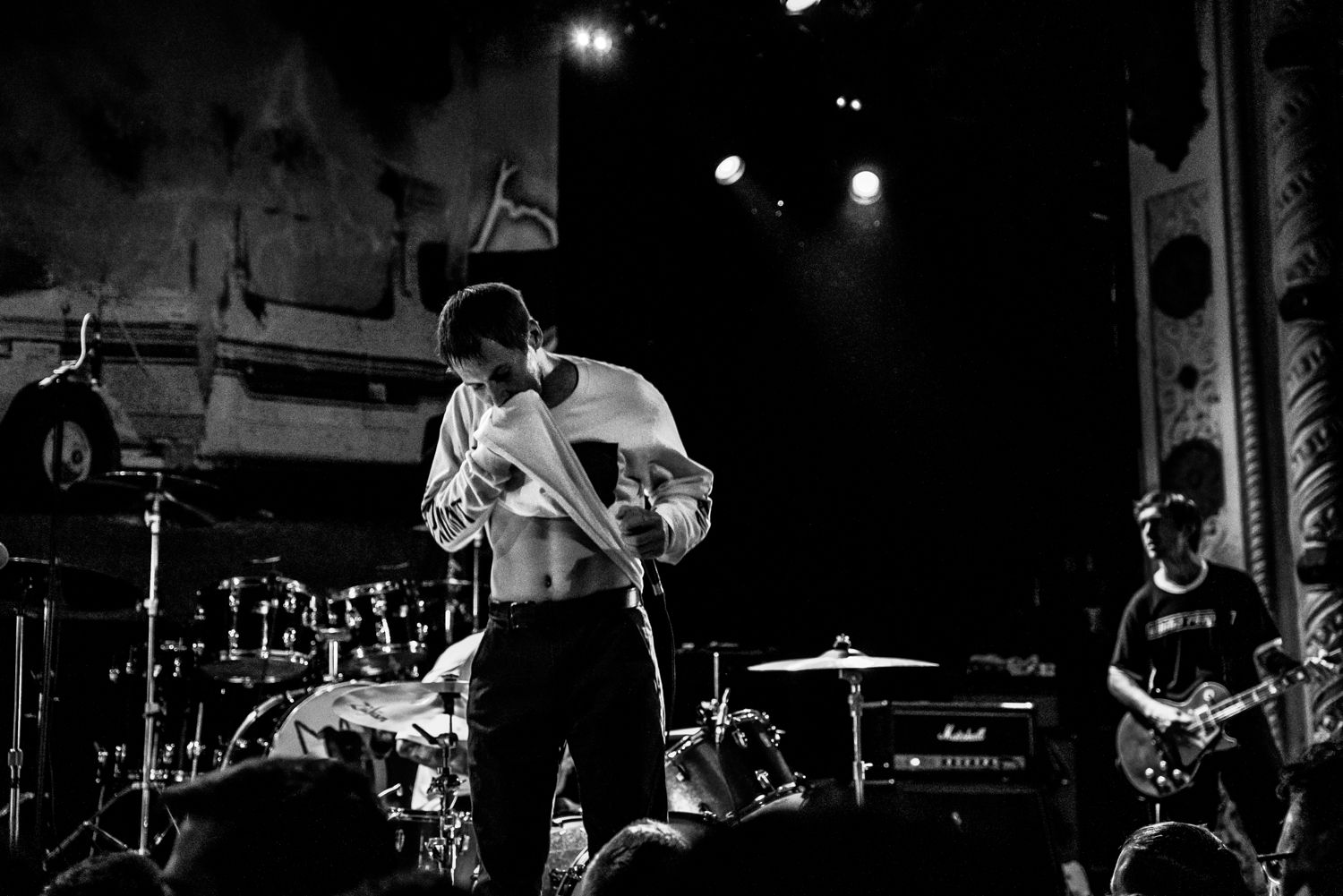 In this case, 'what's next' was Militarie Gun, who broke your door down, jumped onto your couch, and taped two 40's of Steel Reserve to your hands. You know in movies when college dudes are woken up in the middle of a dead sleep by frat guys who kidnap them for a night of Jaeger shots and shirtless wrestling? That's the exact kind of energy vocalist Ian Shelton brought to the stage. Joined by guitarists Nick Cogan and William Acuña, drummer Vince Nguyen, and bassist Max Epstein, I wouldn't exactly describe Militarie Gun as a band that's trying to pick a fight with its audience. More like they're going to pick a fight for their audience, and be the first one to jump into the fracas with a broken beer bottle in one hand and a Black Flag t-shirt wrapped around the other.
Steamrolling through most of their debut album All Roads Lead to the Gun, there was rarely a second where the majority of the Metro's crowd was safe from the frenetic mosh pit that raged for the entirety of their set. When Shelton launched himself into the crowd twice during Gun's closing song, it almost seemed like a given. You don't call yourself Militarie Gun and play the kind of punishing hardcore melodic punk that compels fully grown human adults to throw their bodies into each other for the better part of 40 minutes and not throw yourself into the audience. It would be poor form. You have to respect a frontman that's willing to mix it up with the mob of his own creation.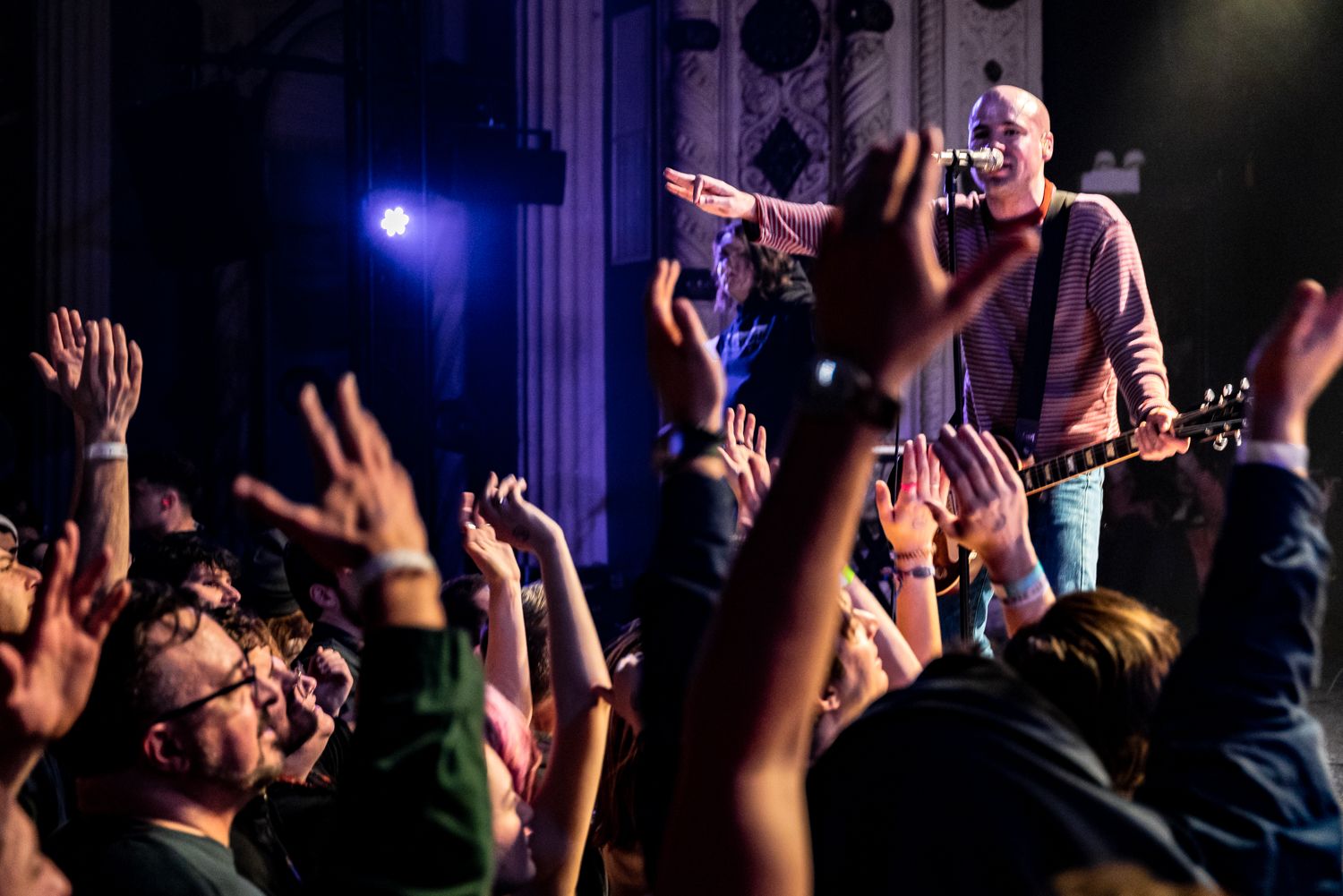 If there's one thing that White Reaper isn't short on, it's confidence. This is a group that called their debut album White Reaper Does It Again and the follow up The World's Best American Band. Sure, there's a decent amount of tongue-in-cheek with both of those titles, but you're still taking on quite a bit of risk for what amounts to a smirk-inducing joke. Kidding or not, if you call yourselves the World's Best American Band and you suck, you aren't going to be around for long.
The good news on that front is that if there are two things White Reaper isn't short on, it's confidence and the ability to write catchy-ass rock tunes with guitar riffs that'll shatter your teeth if you accidentally crank it up too loud. It's appropriate that their new album is titled Asking for a Ride since their sound has always sounded like Cheap Trick went on a road trip and picked up a trunkload of KISS guitar riffs along the way. And …Ride shows that the band (singer/guitarist Tony Esposito, guitarist Hunter Thompson, drummer Nick Wilkerson, bassist Sam Wilkerson, and keyboardist/hype man Ryan Hater) isn't afraid to lean into a heavier, crunchier sound than their previous three albums. After opening things up with their debut album's first track 'Make Me Wanna Die', the new material was put to the immediate test, with 'Asking for a Ride' and 'Bozo' coming back to back. The Metro's audience had no problem keeping up, as they apparently spent the six weeks since …Ride's debut doing little else than memorizing every lyric.
And honestly, that's not hard. The Cheap Trick mention earlier was made knowing full well how lofty of a comparison that is. Cheap Trick has sold more than 20 million albums. Now that's a tall feat for any band to measure up to, especially in the streaming era. But listening to White Reaper's set and seeing the effect their songs had on the audience…you can kind of see it happening in your head. It's melodic, but it rocks. It's catchy, but you don't feel embarrassed singing it at the top of your lungs. You can dance to it. You can headbang to it. It's a sound that has mass appeal, but sounds totally unique. The first time I saw White Reaper live was opening up Sunday morning of a 3 day festival, which is just about the worst slot in the world. What started as the kind of sparse crowd that you would expect for the openers of the 3rd day of a September festival that had been 95+ degrees the entire time turned into a packed elbow to elbow crowd 12 rows deep by the end of their set, purely from people walking by and really digging what they heard.
If you've heard of White Reaper before this, you know what I'm talking about. If this is the first time you've heard of White Reaper, I bet it will not be the last. The good news is that they're on the road with the Asking for a Ride Tour through September, so get tickets while you can and be one of the cool kids that saw them before they were huge.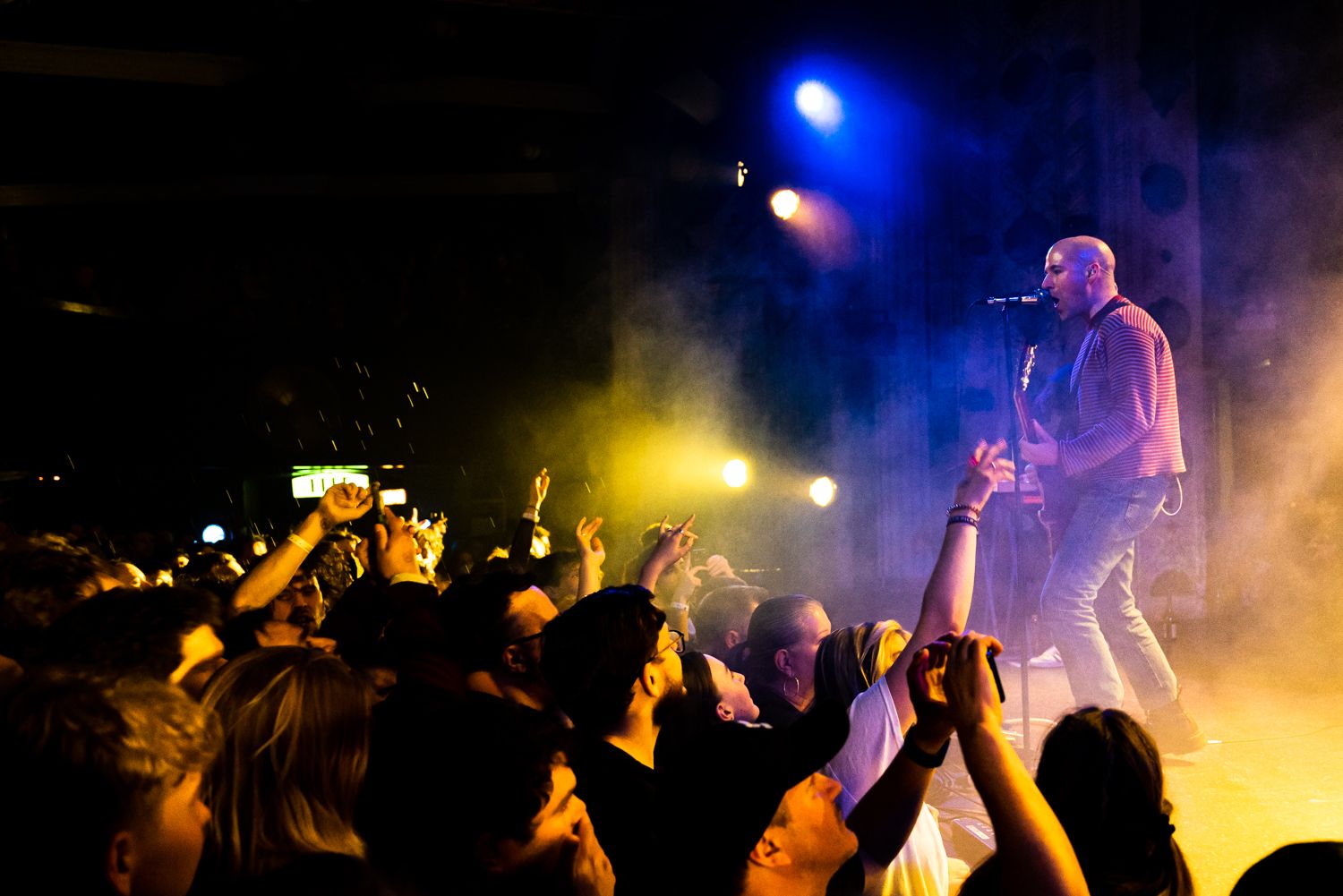 White Reaper Setlist – The Metro, Chicago 3.10.23
Make Me Wanna Die
Asking for a Ride
Bozo
Real Long Time
I Don't Think She Cares
Don't You Think I Know?
Little Silver Cross
Fog Machine
Sheila
Ring
Might Be Right
Raw
Pink Slip
Only a Shadow
Funny Farm
Daisies
Conspirator
Half Bad
Pages
Judy French