by Sean Maciejewski

Andy Frasco & The U.N. bring their "Wash, Rinse and Repeat" tour to the Water Street Music Hall in Rochester, NY on November 11th 2022.
While I was waiting in the cold rain prior to the doors opening, I had the opportunity to talk to fans waiting with me. Having never seen either band before, I was trying to get a feel for the show. Wow, is all I can say! Fans eagerly explained to me that they have attended multiple Frasco shows. Pointing out that I should watch out for this, hopefully they do that, and most of all, enjoy the chaos! The doors soon opened, I ventured into the venue both anticipating and questioning what I was soon to be witnessing!
Little Stranger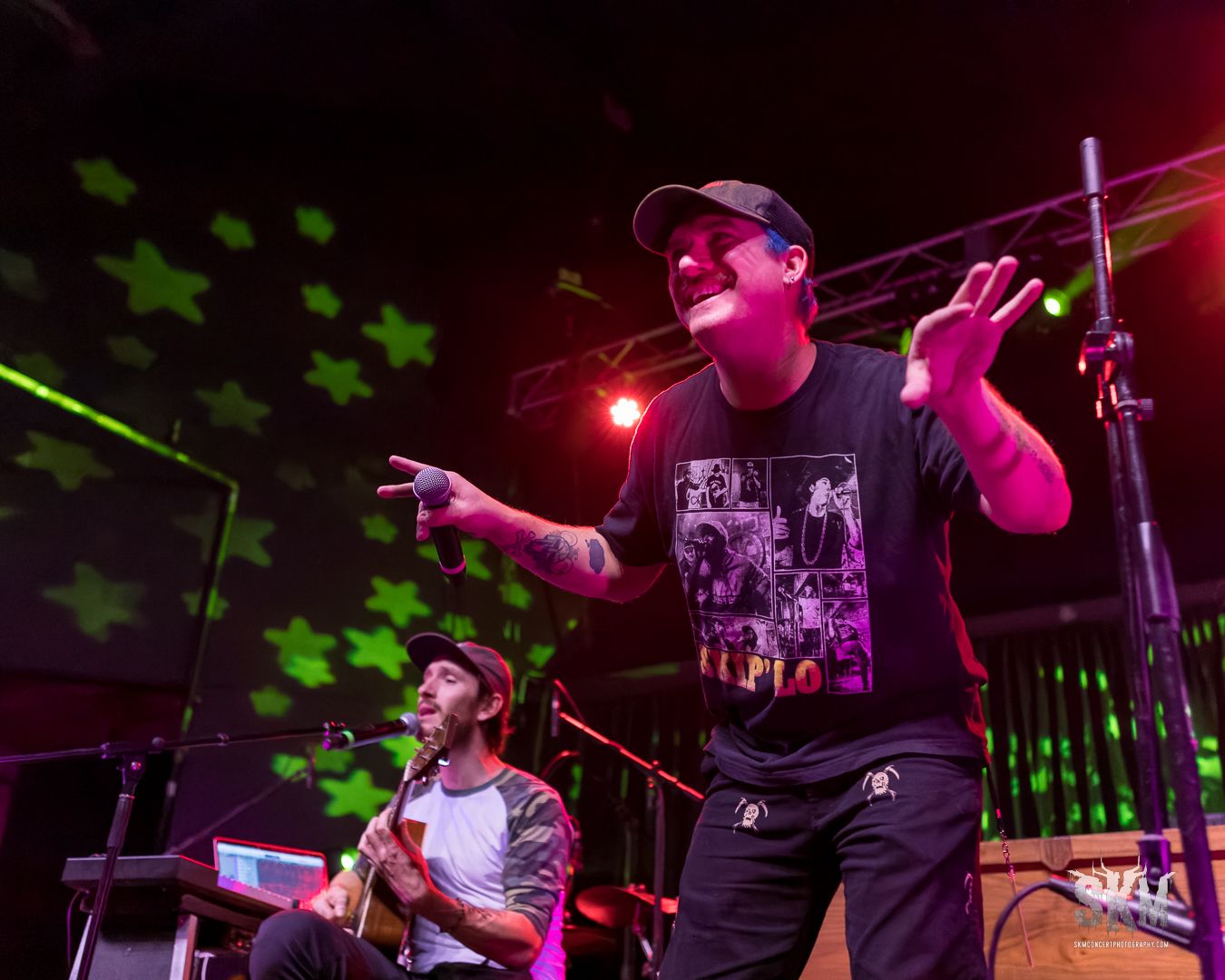 Opening the show was the duo Little Stranger. Consisting of brothers from another mother, Kevin and John Shield. Born and raised in Philly and crash-landed in Charleston, the quirky indie hip-hop group set the stage for an incredible show. With a sound much larger than two, the band set the bar high for the evening. With an eclectic mix of acoustic guitar, midi keyboard and a mouth melodica keyboard, the band brought a funky mix of feel good music. The duo brought their tour manager "Paul" on stage to play some killer harmonica on several songs. Also, making an appearance, was Frasco guitarist, Shawn Eckels. Throughout their set, they hooked the audience with tunes loaded with catchy beats and lyrics. The venue was now primed for the headliner!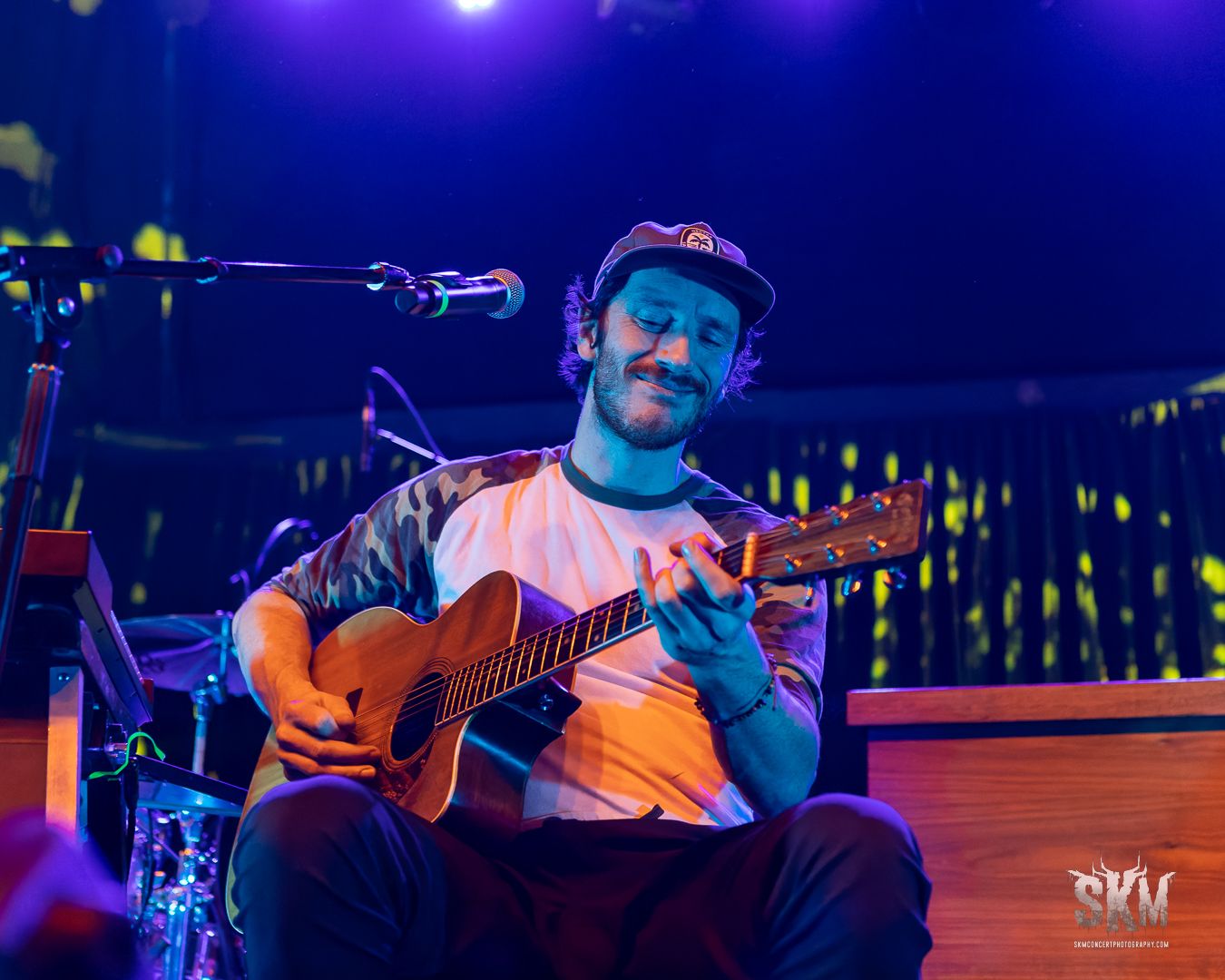 ---
Andy Frasco & The U.N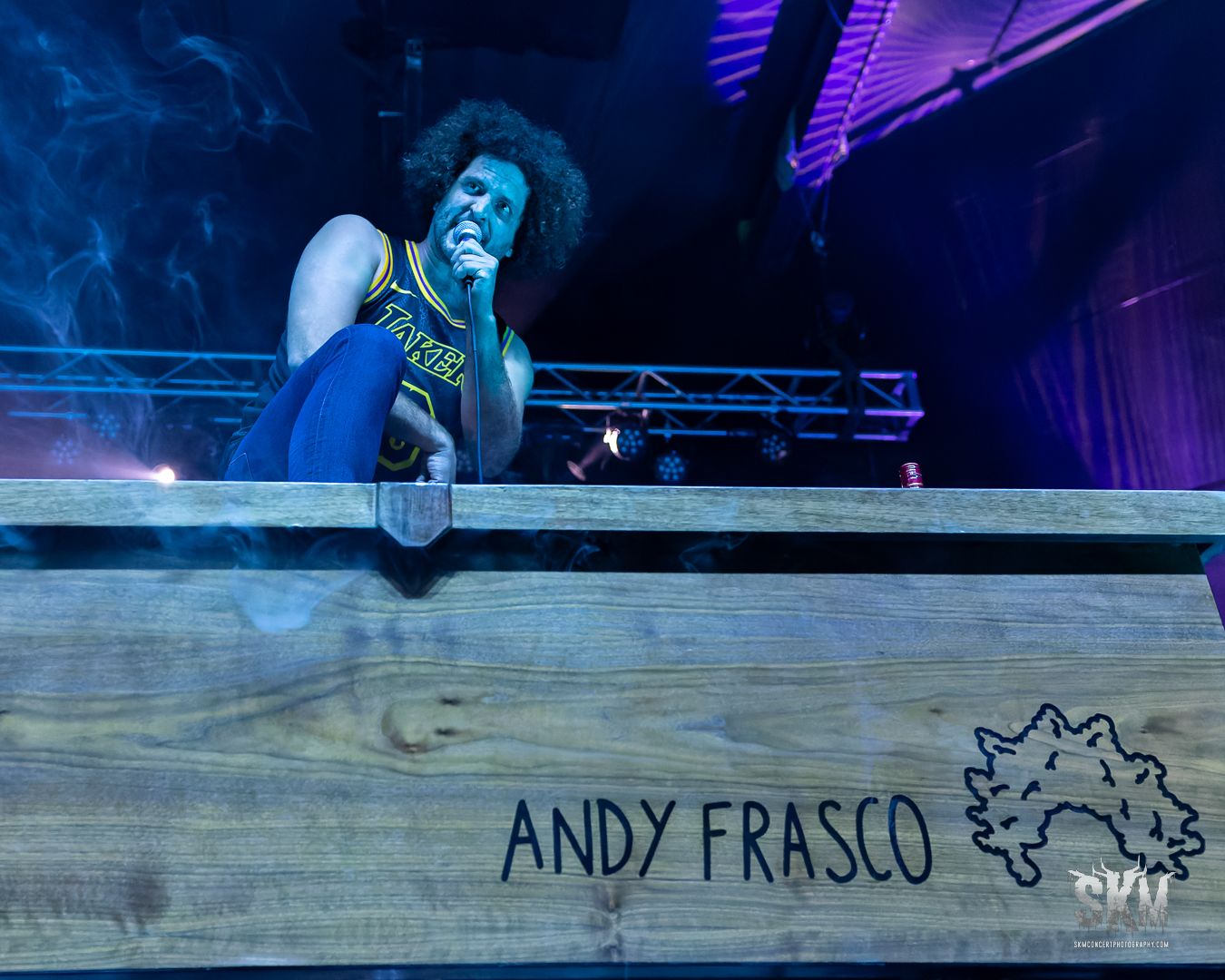 The Los Angeles, CA based group, Andy Frasco & The U.N took the stage next. Frasco ,with his signature hair and bottle of Jameson, lit up the crowd instantly. Playing a lengthy twenty-one song set, those in attendance were in for a epic show! From the first song "High Supply" to the final encore song "Keep On", it was a non stop visual and musical journey. This band knows how to party hard! Throughout the set that bottle of Jameson kept on getting passed around to several band members. They never missed a beat even though they clearly were having fun. Speaking of having fun, Frasco was celebrating their tour manager's, "Beau", birthday on stage. Complete with a birthday cake in the face and a very, very long shot of Jameson as "Beau" laid across Frasco's piano. The piano was center stage to a lot of the band's antics such as shredding guitar/bass solos and some provocative skits. Musically, these are highly talented musicians, but aren't afraid to have some fun. At one point they all switched instruments and kept jamming away. Later in the set, Frasco brought drummer, Emanuel Washington, from the band Sophistafunk on stage to jam with the band. As the night wore on Little Stranger and their manager joined the fun. They sang an improv song about guitarist Shawn Eckel's mustache. It was getting to be one big party on stage. Frasco and several band members surfed atop the crowd throughout the night. Before I knew it, the show was winding down with the crowd getting sprayed by the remaining contents of the Jameson bottle by tour manager Beau. I was thoroughly impressed by this band and their brand of blues-rock fueled by funk with jazzy influences. The energy and vibe they put out is infectious. I left the show with a smile on my face and a bit stunned of what I just experienced. I can't wait till they come by this way again!
Andy Frasco & The U.N. are; Andy Frasco – vocals,keyboard; Shawn Eckels – guitar,vocals; Floyd Kellog – bass,vocals; Ernie Chang – saxophone; Andee Avila – drums,vocals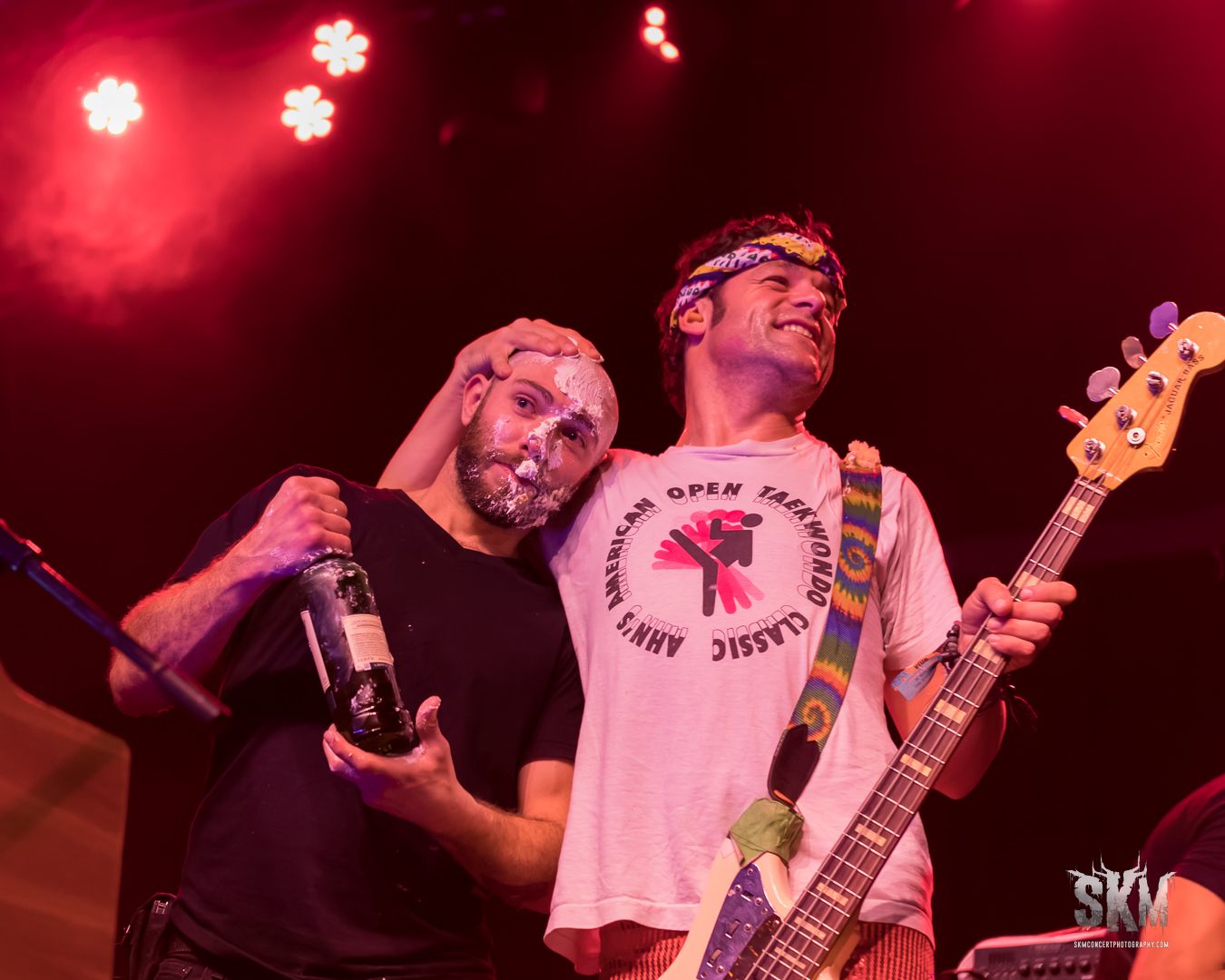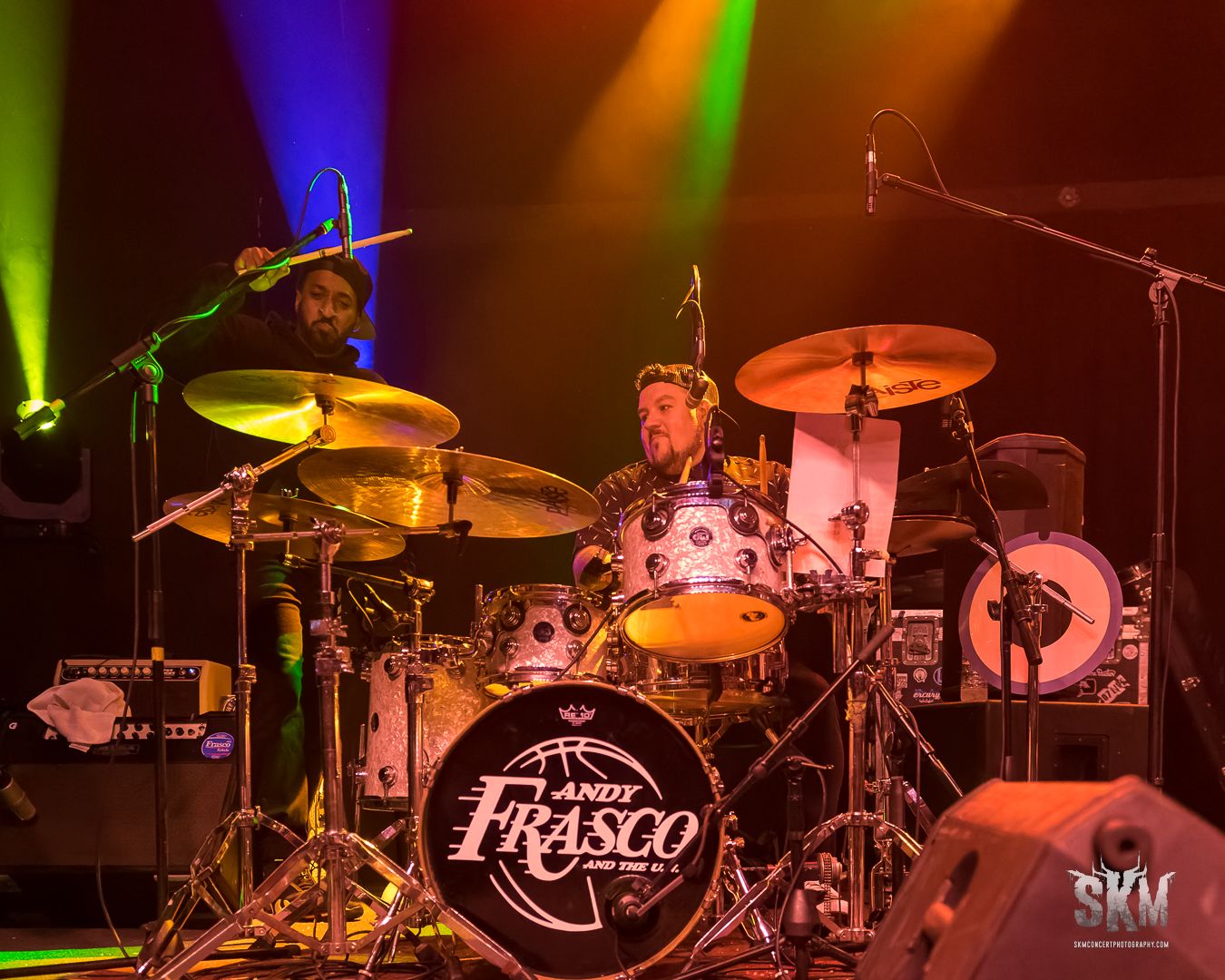 SET LIST; High Supply, Pay To See(Queen), BDay Song, U Do U, Walk, Change O Pace, Wait Game, Ramble On( Led Zep), To Be Wanted, C Boog(Cuntry Rd), Nun Thos Things W/LS, Fish Song, Spaceship, Talk Bout It(Nirvana), Luv All Deez(Queen), Mature AF, Struggle(Def Lep) W/Snell, Dream, Graves Encore; What A Life, Teen Spirit, Keep On