Consistency and longevity.
We demand it of everything in our lives from our cars to our running backs. When it comes to rock bands, they tend to be less reliable than the former and even more unpredictable than the latter. Rock music by its very nature has always been a beast in constant change, sometimes swinging one way with the rest of society only to have a counter-movement rise up with middle fingers blazing. And when that next movement comes, it tends to eat the previous one rather than gently pushing it aside. With glam metal reigning in the late 80's, Guns & Roses almost singlehandedly came along and stopped all that nonsense, only to have Nirvana come along and do the same thing to them. And so all rock bands eventually face an almost impossible choice: do you keep putting out the same kind of music, knowing that your sound gets more and more dated every year that goes by (like Motley Crue in 1990)? Or do you attempt to change your sound along with the times with the good chance that you'll whiff on something way outside your wheelhouse (like Motley Crue in 1994)?
In the early 2000's, it was nu-metal's turn. We as a people came together and decided that Fred Durst was not only acceptable in public, but someone to be lifted up and imitated, and that opened the floodgates. With breakthrough albums coming in back to back years, both Chevelle and Three Days Grace were right in the thick of the end-phase of the movement. And while nu-metal had the mass appeal to support a jillion bands while it was the flavor of the week, rock music did what rock music does and moved on by the mid to late 2000's. Some bands decided to embrace classic metal (Disturbed) while others ditched their straight up rapping for a less-heavy, more harmonious sound (Linkin Park). Adding to all of that was a dose of change that both bands were forced into over the last few decades: lineup changes, with Chevelle losing longtime drummer Joe Loeffler in 2006 and Three Days Grace seeing the departure of lead singer Adam Gontier.
And yet, not only are both bands still around in 2023, but thriving, bringing their co-headling tour to Chicago's Aragon Ballroom with English metal band Loathe in support. Where did both these bands succeed over the last 20 years where so many of their peers (Trapt, POD, Crazytown) faded into the background?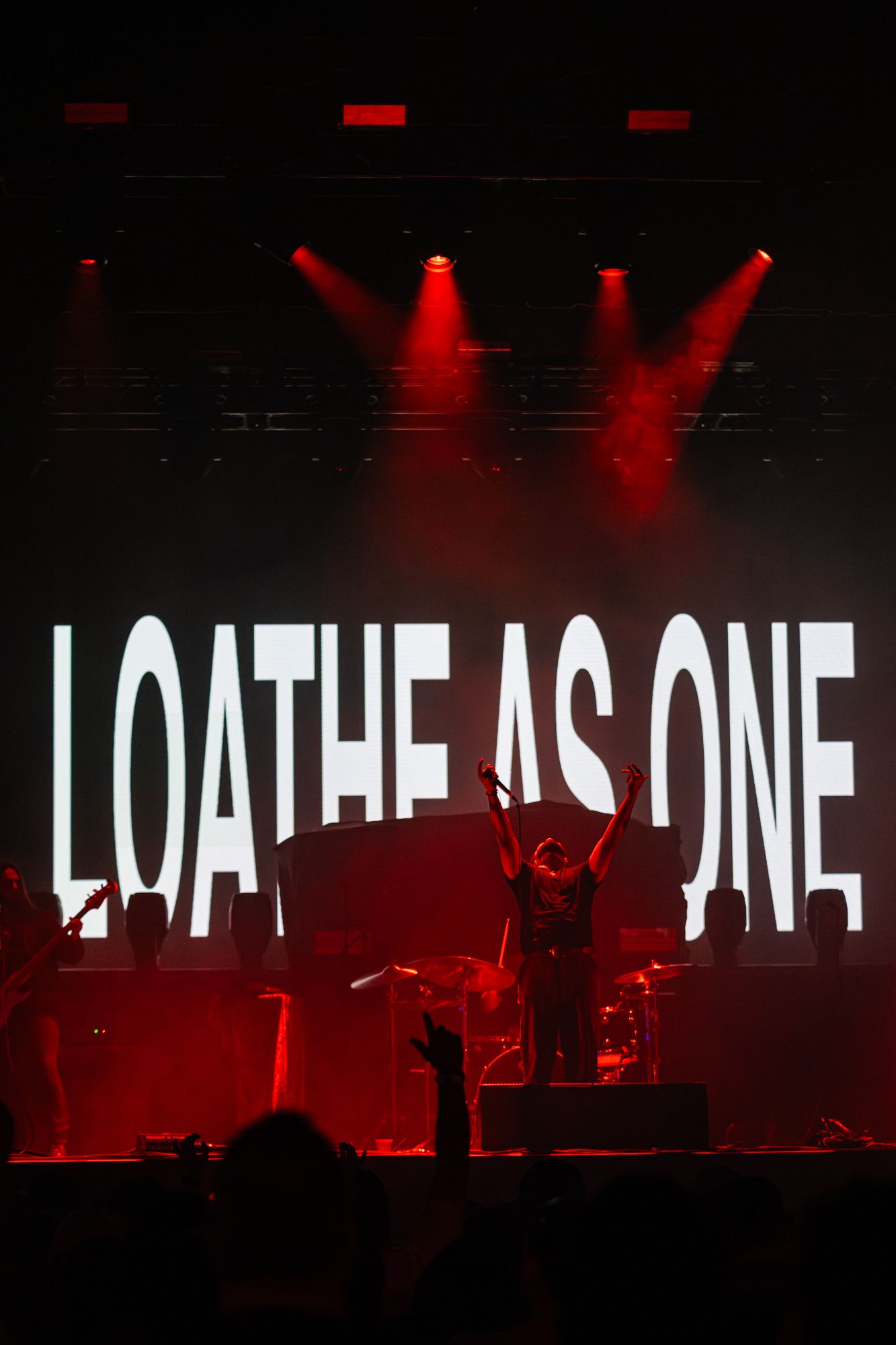 I'm not going to dance around things. When it comes to Loathe (Kadeem France, Erik Bickerstaffe, Sean Radcliffe, and Faisal El-Khazragi), you could use a lot of words to describe their sound. With influences that touch on everything from shoegaze fuzz to prog rock, all of those words would most likely be correct. But there's just one word that needs to be used before all others: loud. Loathe is LOUD. When they scream right before a metalcore breakdown, they're loud. When they let their songs devolve into extended ambient tracks, they're loud. And in no way is that anything other than a compliment. This London quartet has the kind of music that fills up your entire head, bordering just on the edge of being too loud...but never stepping over. Playing in support of c0-headliners, they had a more truncated set (just six songs), but the half dozen tracks they played off of 2020's I Let It In and It Took Everything were absolutely worth 100% of your attention. Which is a good thing, considering no one in the crowd had any choice but to be consumed by Loathe's sonic fury.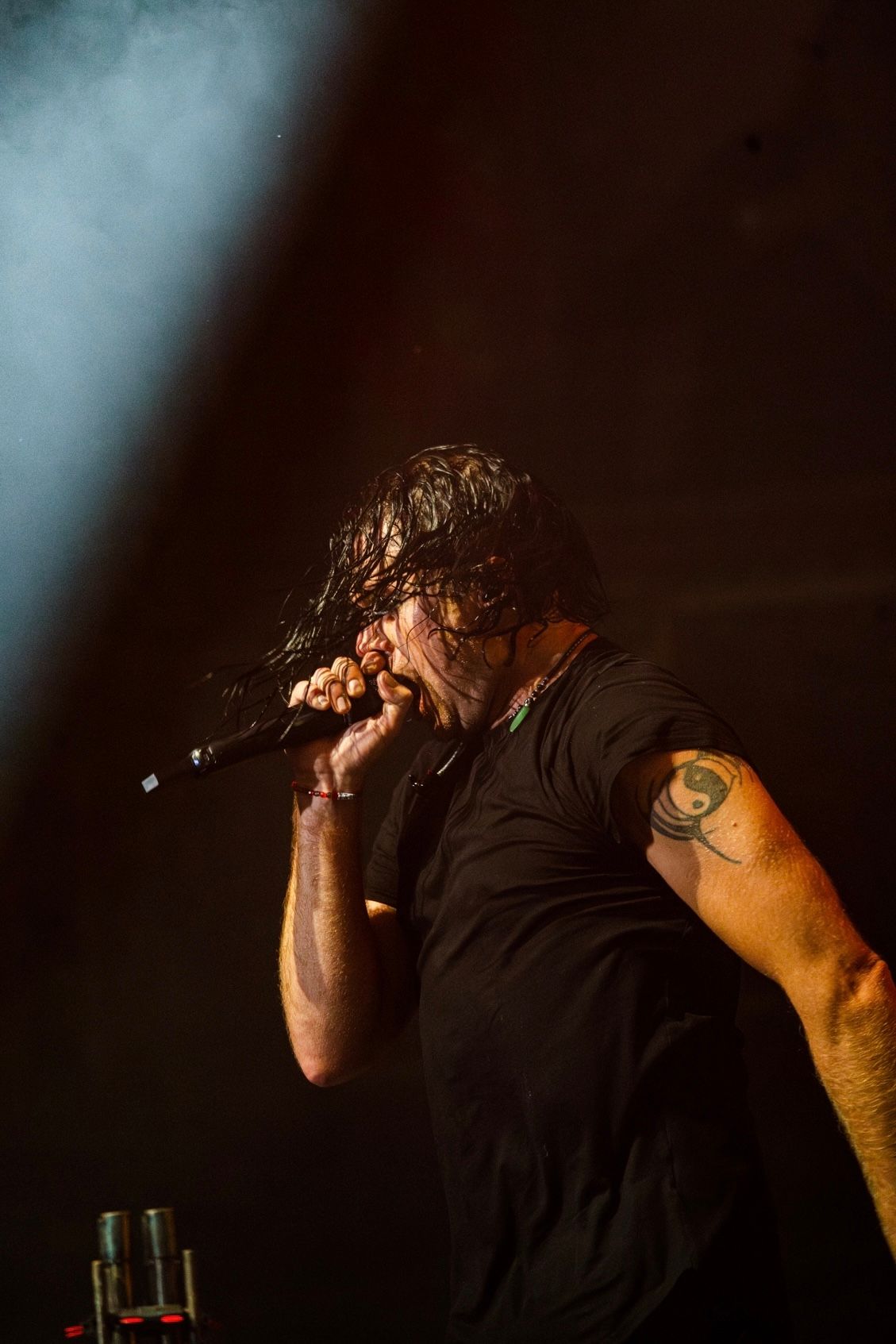 Established rock bands switching lead singers is always a risky move. For every 'Sammy Hagar replacing David Lee Roth', there's a few dozen 'Gary Cherone replacing Sammy Hagar' situations. Not that Gary Cherone isn't a capable frontman, but he stepped into an almost impossible situation: try to sound like the old version of the band and risk being called a cheap imitation, but try and change the sound of the band and you may alienate a huge part of your fanbase.
One of the things that the current iteration of Three Days Grace has going for it is that current singer Matt Walst has been with the band (10 years, 3 albums) for almost as long as Adam Gontier was around after their 2003 breakout (10 years, 4 albums), so there are actually quite a few Three Days Grace fans out there that have never known a different lineup. Kicking off their set with 'So Called Life', the first track off 2022's Explosions, the lineup's consistency for the last decade was in full sight. Their riffs (laid down by guitarist Barry Stock) were tight. The bass and drums (Brad Walst, Neil Sanderson respectively) were locked in like clockwork. Walst was equal parts growl and prowl as he made his way across the stage. One of the reasons Three Days Grace has had the staying power they have was not so much an evolution of sound over time, but an evolution of lyrical content. Seven of their songs on the night came off their self-titled debut and its follow-up One-X. As they played through fan favorites like 'Home', 'I Hate Everything About You' and 'Riot', you could tell they were songs written and released by a band going through inner turmoil, whether with each other or individually. But switching gears to songs like 'World So Cold' off 2009's Life Begins Now and 'Lifetime' on Explosions, you get a bit more of an introspective (and in some cases one might actually say...hopeful?), it's clear that the lyrical content has evolved along with the people performing the songs sorting through their demons. While their songs weren't played chronologically in their set, the whole body of work covered in their performance shows a band that has changed over time, and that kind of honest change can connect with an audience. It wasn't a shock to see a few dozen kids under 15 wearing Three Days Grace shirts in the crowd. One of them even got pulled onstage to assist with singing the group's hit 'Just Like You'.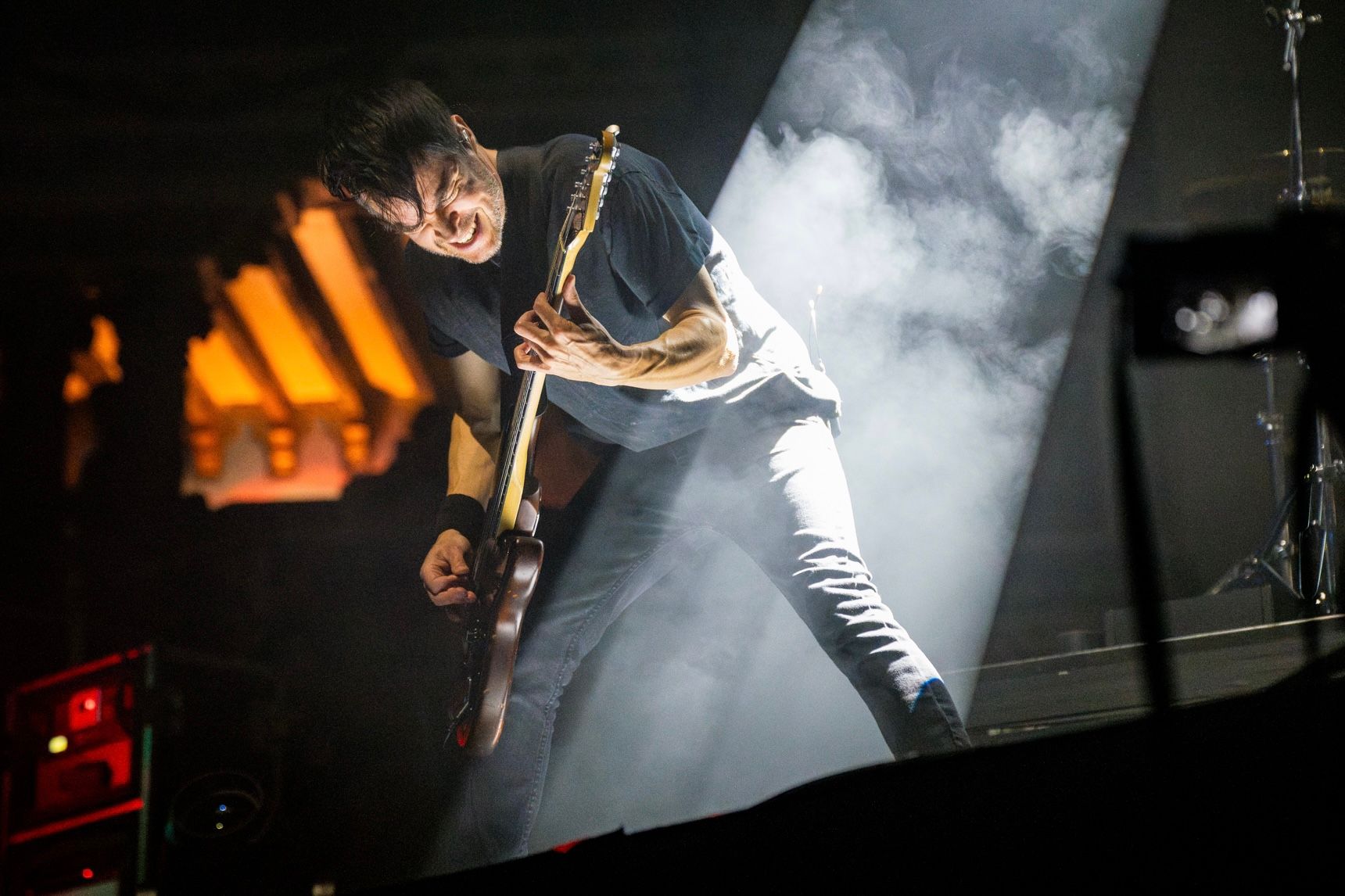 Like I mentioned earlier, from the time they broke onto the nu-metal scene, Chevelle has been able to rise to the top of the genre. While they may not have the 'elder statesman' reputation of the old guard the way fellow Chicagoland natives Disturbed might (it's hard for any band to argue with over 15 million albums sold if we're being honest here), there's always been something about the band that appeals to people. Maybe it's that they're heavy as hell, without being death-metal levels of brutality. Maybe it's that lead singer/guitarist Pete Loeffler can scream his head off without sounding like a demon from hell. I don't want to label them "thinking man's nu-metal" (partially because I don't want to be the one to blame for putting a phrase like that into the world), but Loeffler's higher register and song structures that do everything from flirt with prog rock to straight up getting in bed with it have long drawn comparisons to Tool. Is there a higher compliment in rock music?
Those Tool comparisons were on full display as the band kicked off their set with 'Verruckt', a three and a half minute, multi-time signature instrumental off their 2021 album NIRATIAS. Followed up by 'An Island' and 'Door to Door Cannibals' (off La Gargola and The North Corridor respectively), Chevelle showed how they've maintained their consistent popularity in the opposite way of their tourmates. While Three Days Grace has maintained largely the same sound throughout their time together, Chevelle hasn't been afraid to play around within the sandbox of their genre. Sticking to a pretty straightforward nu-metal sound in their first two albums, albums like Gargola and Corridor didn't mind getting a bit heavier with its guitars and exploring more horror themes lyrically. Even their newest release NIRATIAS flirts with some pretty strong sci-fi themes, from the Boris Vallejo sexy Jetsons album artwork to the acronym that makes up the album's title (Nothing Is Real and This Is a Simulation).
Over a 16 song set that touched on seven of the band's albums, Loeffler (along with drummer Sam Loeffler and bassist Kemble Walters) absolutely rocked the Aragon Ballroom. And when I say that, I don't mean 'rocked' in the 'I'm not creative enough to think of a better descriptive word' way (although I wouldn't blame you if that was your immediate thought because I am absolutely that person sometimes), but in a literal way. In early 2021, eighteen inches of snow caused part of a wall to collapse at the Aragon, but the venue otherwise has an almost unblemished record of being steady as hell. And we're all lucky for that because after the show Chevelle put on, a lesser building might have crumbled to dust. Songs like 'Face to the Floor' and the evening's closer 'Mars Simula' hit extra hard, each downstroke and bass kick reverberating down to the studs. As the show closed out, it was hard to tell what to be more impressed by: the fact that a band could simultaneously sound both loud as hell and clear as hell, or the fact that the auditory assault we were overdelivered came from just three guys. No triple-stacked distorted guitars. No Slipknot-esque second drummer. Just controlled fury poured into distorted guitars and primal screams.
Chevelle and Three Days Grace's co-headling tour continues through October 14. Tickets can be purchased here.
Chevelle Setlist - Aragon Ballroom 9.13.23
Verruckt
An Island
Door to Door Cannibals
Self Destructor
Vitamin R (Leading Us Along)
Young Wicked
Joyride (Omen)
Face to the Floor
Piistol Star (Gravity Heals)
The Clincher
Forfeit
Send the Pain Below
The Red
Comfortable Liar
I Get It
Mars Simula
Three Days Grace Setlist - Aragon Ballroom 9.13.23
So Called Life
Animal I Have Become
I Am Machine
Home
The Good Life
Pain
The Mountain
Painkiller
World So Cold
Just Like You
Break
Lifetime
I Hate Everything About You
Never Too Late
Riot