The shrieks and screams that arise from the air the weekend preceding Hallow's Eve need not fill your mind with fear. It's just Freaky Deaky settling into its new haunt in Austin, Tx for 2023.
Disco Donnie Presents is bringing Freaky Deaky's bewitching mix of EDM, art, and Halloween fun to the Travis County Expo Saturday, October 28th and Sunday, October 29th. All the costumed ghouls and goblins will enter the gates with anticipation of a festival experience like no other; steeped deeply in the soul of Freaky Deaky's traditions.
Freaky Deaky's 5th year offers 3 outdoor stages and one indoor stage where musical acts like JOYRYDE, Gryffin, Alison Wonderland, Ganja White Night, Slushii, Zed's Dead, Troyboi, Kai Wachi, Ray Volpe and many others can be found mixing up spooky beats. Festival attendees can also float through the immersive art installations, vendors, and festival eats while the day slowly creeps into night.
For ghouls and boys who love the VIP life, Freaky Deaky is offering Ultra VIP. This offers expedited entry, VIP only viewing, plus VIP only food and bar areas. In addition, Ultra VIP will fill you up with only treats - no tricks goody bags. Essentials such as ear plugs, water bottles, and a t-shirt among other things can be found in the VIP bags.
As the end of October draws near and dark nights become longer we prepare. Freaky Deaky and its Halloween thrills are waiting for you. Enter. If you dare.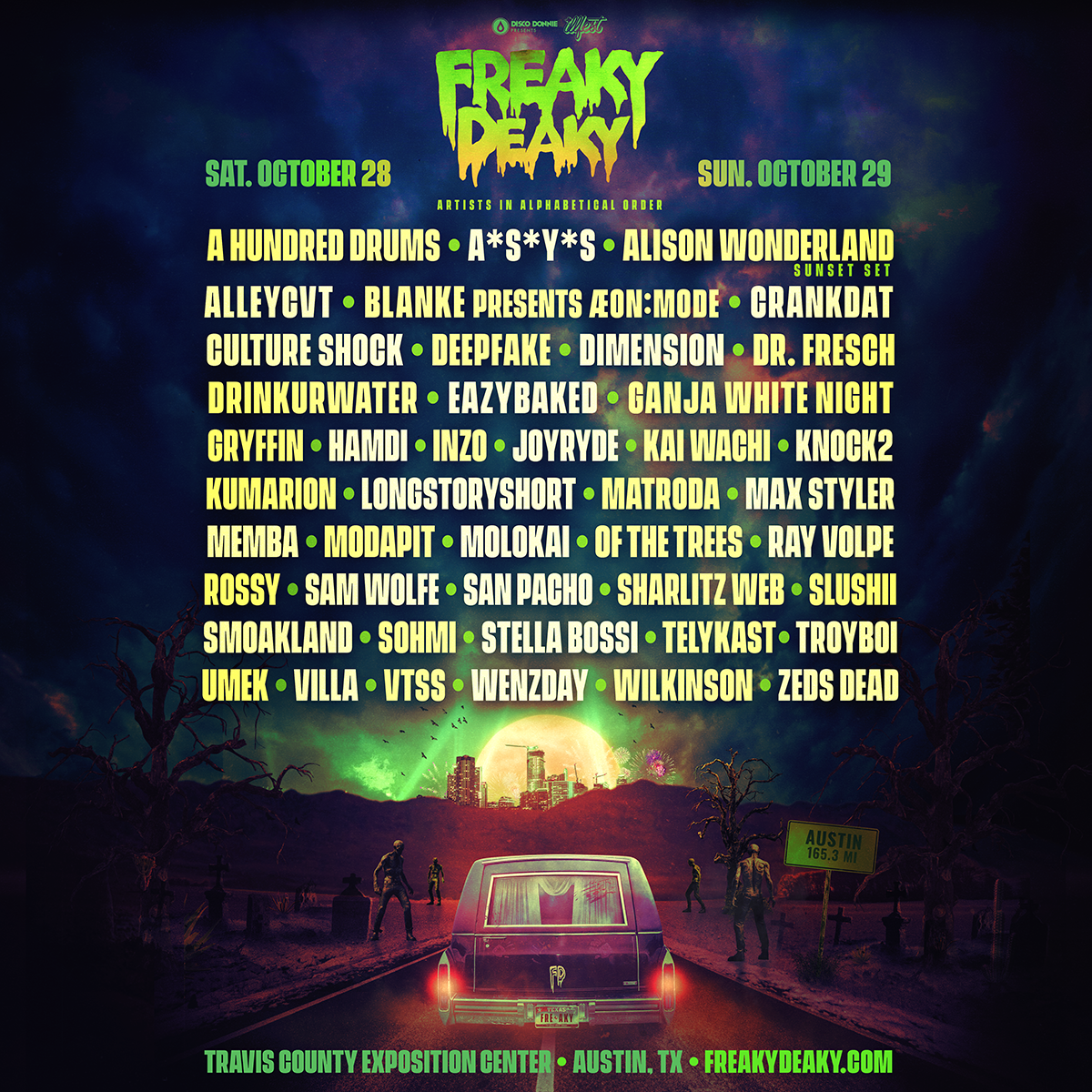 ---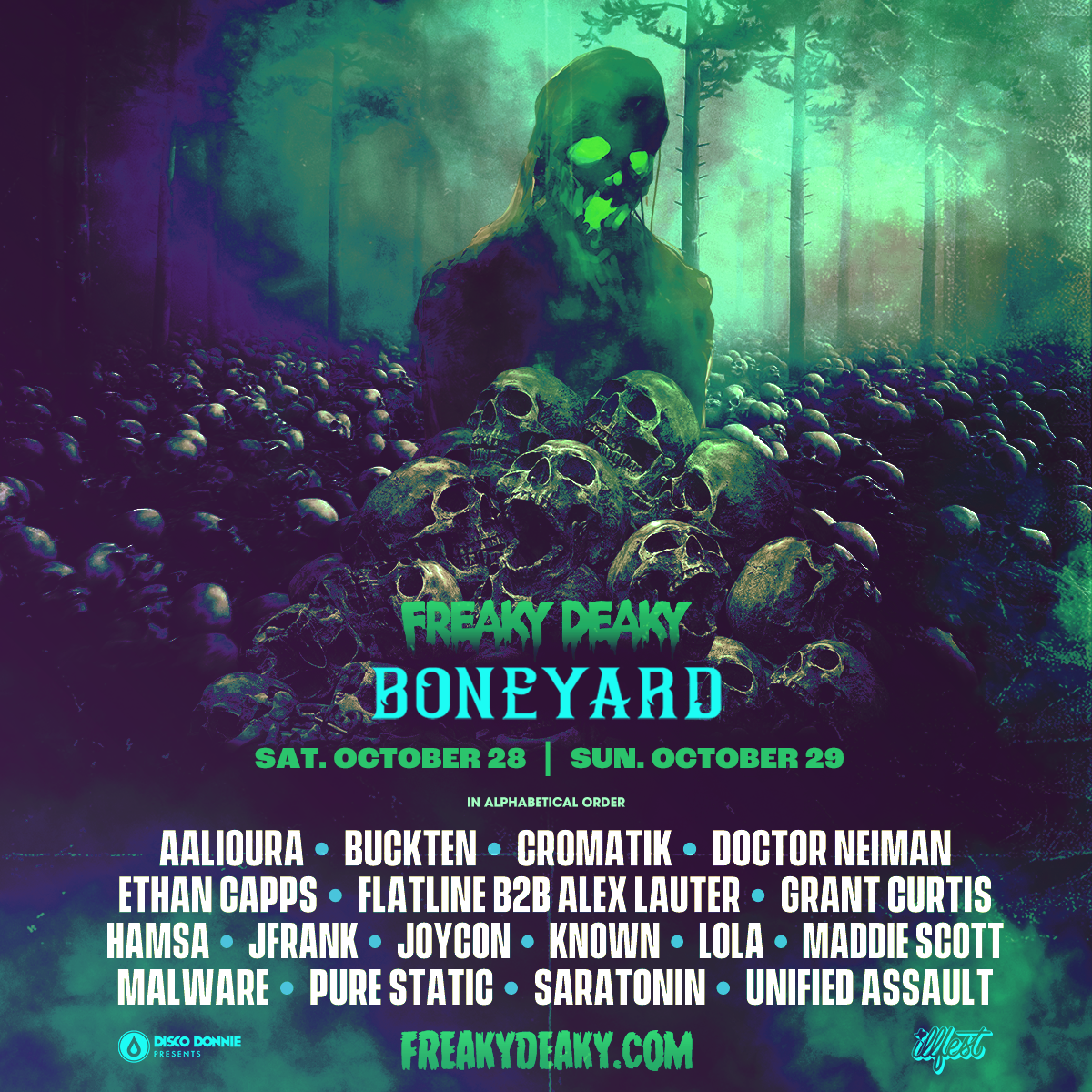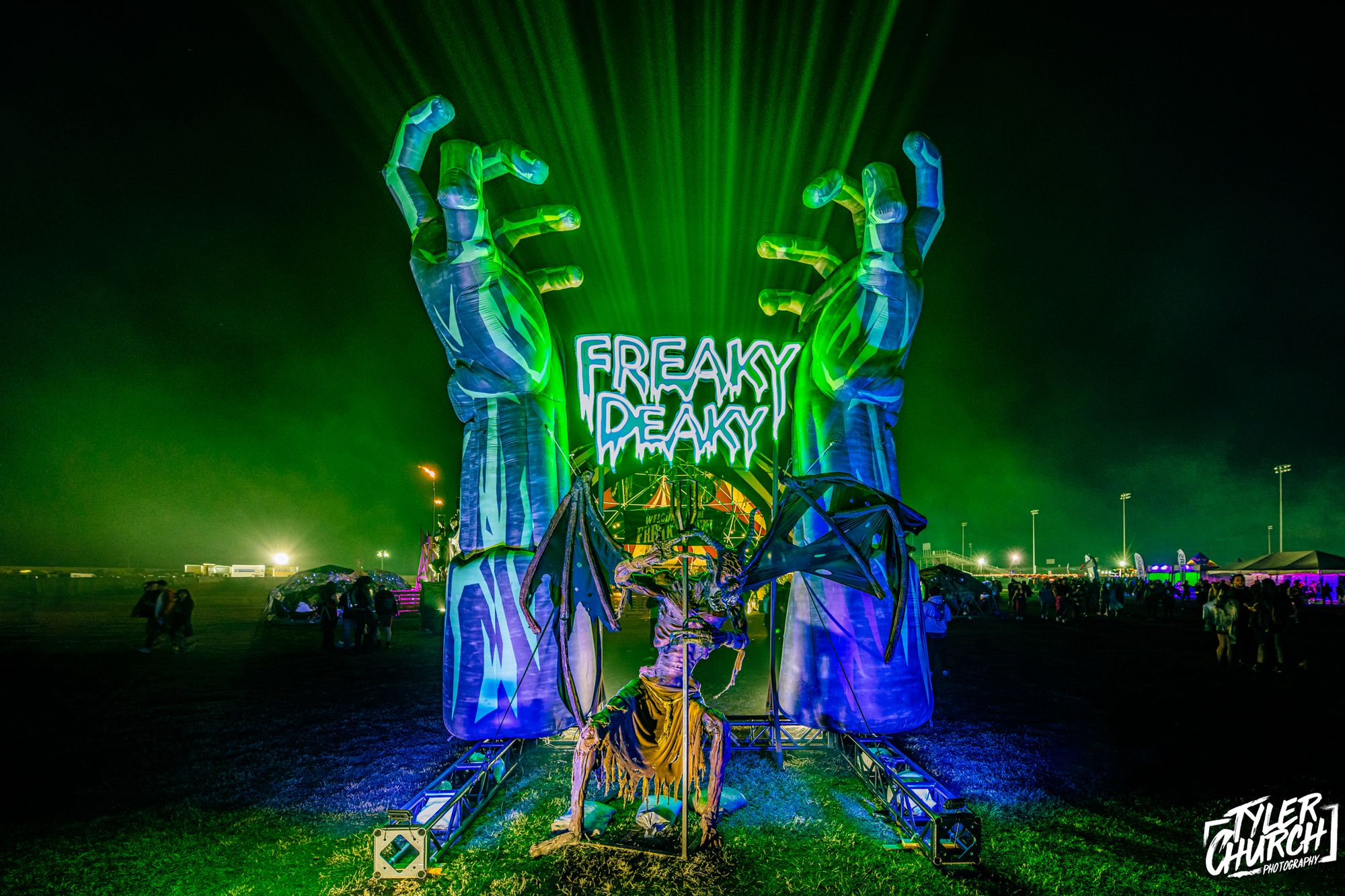 ---
Saturday October 28 • Sunday October 29, 2023
Travis County Expo Center • Austin, Tx
2023 Lineup:
A HUNDRED DRUMS
A*S*Y*S
ALISON WONDERLAND (Sunset set)
ALLEYCVT
BLANKE presents ÆON:MODE
CRANKDAT
CULTURE SHOCK
DEEPFAKE DIMENSION
DR. FRESCH
DRINKURWATER
EAZYBAKED
GANJA WHITE
NIGHTGRYFFIN
HAMDI
INZO
JOYRYDE
KAI
WACHI
KNOCK2KUMARION
LONGSTORYSHORT
MATRODA
MAX STYLER
MEMBA
MODAPIT
MOLOKAI OF THE TREES
RAY VOLPE
ROSSY
SAM WOLFE
SAN PACHO
SHARLITZ WEB
SLUSHII
SMOAKLAND
SOHMI
STELLA BOSSI
TELYKAST
TROYBOI
UMEK
VILLAVTSS
WENZDAY
WILKINSON
ZEDS DEAD
---
Follow Freaky Deaky Festival: Website | Facebook | Twitter | Instagram