Pop-punk trio FRND CRCL has released their third full-length album, Suburban Dictionary, a conceptual composition that takes the listener through an ordinary day in the life of the garden-variety suburbanite. Using loud, energetic instrumentals, and introspective lyrics that deal with heavy topics such as mental health, social issues, and love, FRND CRCL encompasses pop-punk's core while adding their unique flare for a refreshingly appealing sound.
Made up of guitarist and vocalist Zac Johnson, his brother, bassist Nick Johnson, and drummer Aaron Smith, FRND CRCL (pronounced "Friend Circle") was formed in 2016. With an EP and two full-lengths under their belt, the release of Suburban Dictionary serves as the New Jersey native band's most profound material to date. Swift punk tempos from lively drums and bass combined with power-pop melodies and quick chord progressions make the album alluringly reminiscent of early 00s pop-punk. However, synthesizers and distorted vocals give Suburban Dictionary a rejuvenatingly modern sound, leaving listeners feeling nostalgic yet invigorated.
Lyrically, Suburban Dictionary is candid and hard-hitting. Discussing serious everyday topics from dealing with mental health to experiencing love and heartbreak, FRND CRCL minces no words, expressing their innermost thoughts and feelings openly and directly. Regarding the album, the band stated, "Suburban Dictionary is for those who take things not at surface value, but who aren't afraid to stray deeper into their minds. This is very much a story of the common- a punk rock take on a punk rock evolution delivered with the spirit of punk through pop melody."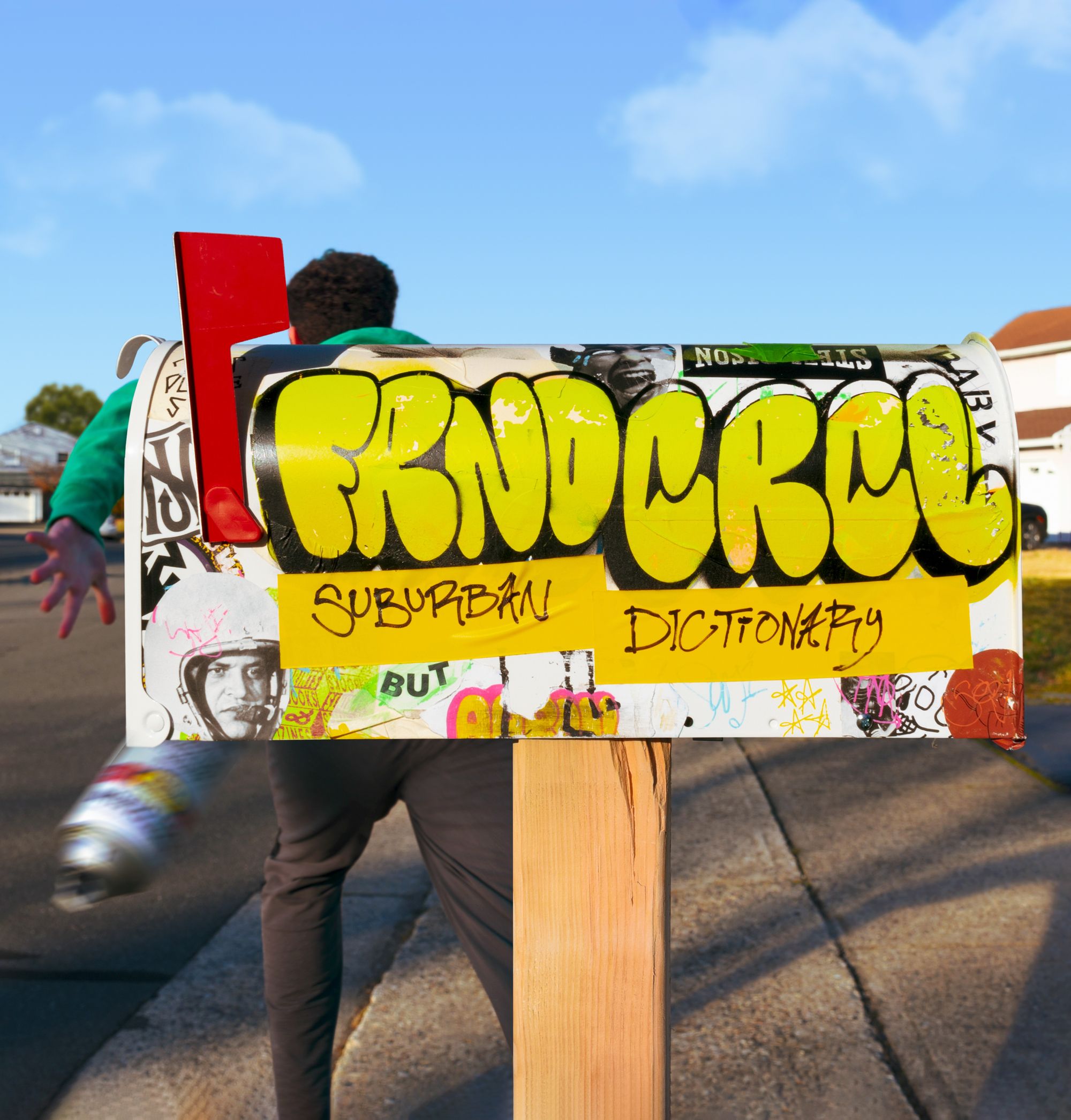 FRND CRCL kicks things off on Suburban Dictionary with a dreamlike prelude called "7 AM." Soft instrumentals and warped vocals give the track an ethereal sound, while the title brings life to the concept of demonstrating someone's day from start to finish. Leading directly into the second track, FRND CRCL uses blaring strings and vibrant drumming to turn the energy up a few notches with "No Bad Days." If Suburban Dictionary represents "a day in the life," then it would appear the day starts with an optimistic outlook. Filled with lines about problems melting away and raising glasses in solidarity, "No Bad Days" leaves listeners ready to tackle whatever the rest of the day throws at them.
Moving on through to "ADHD," the day's hopeful attitude seems to still be going strong. Though the song's verses touch on the daily struggles of having Attention-Deficit/Hyperactivity Disorder, the chorus remains upbeat and leaves listeners ready to push on through. The overall positive feel of the track is further supported by the instrumentals. Beginning with a bouncy bassline that slowly mixes into synths, the drums gradually come in and get more animated as the song crescendos into the high-energy track that it is.
From there, Suburban Dictionary transitions into "Golden," "Orange Tang," and then "Clinically Insane." As exclaimed in the first verse of "Golden," this is where the day's strains are "starting to take its toll." And with the chorus venting worries about being given the runaround, this is also where the album's themes of love and its struggles are introduced. Things don't seem to improve romance-wise with "Orange Tang," a wistfully striking track about a forlorn attempt to keep a relationship going. And by "Clinically Insane," the day has certainly taken a darker turn. Lyrically, it would appear the relationship has ended; between that and the rest of the day's tribulations, the idea of succumbing to it all is portrayed with an almost bittersweet resignation.
Recently released as a single, "Fuck California" isn't a traditional pop-punk anti-suburb anthem. Rather than go the customary route of songs about leaving behind their town forever, FRND CRCL uses "Fuck California" as a proclamation of love for their home state. The band instead encourages listeners to live in the moment and flourish where they are instead of focusing on where they could be. This track also marks another shift in the mind frame on Suburban Dictionary. No longer held down by the previous crippling troubles, "Fuck California" brings a more upbeat attitude; now inspired to tackle challenges head-on rather than run from them.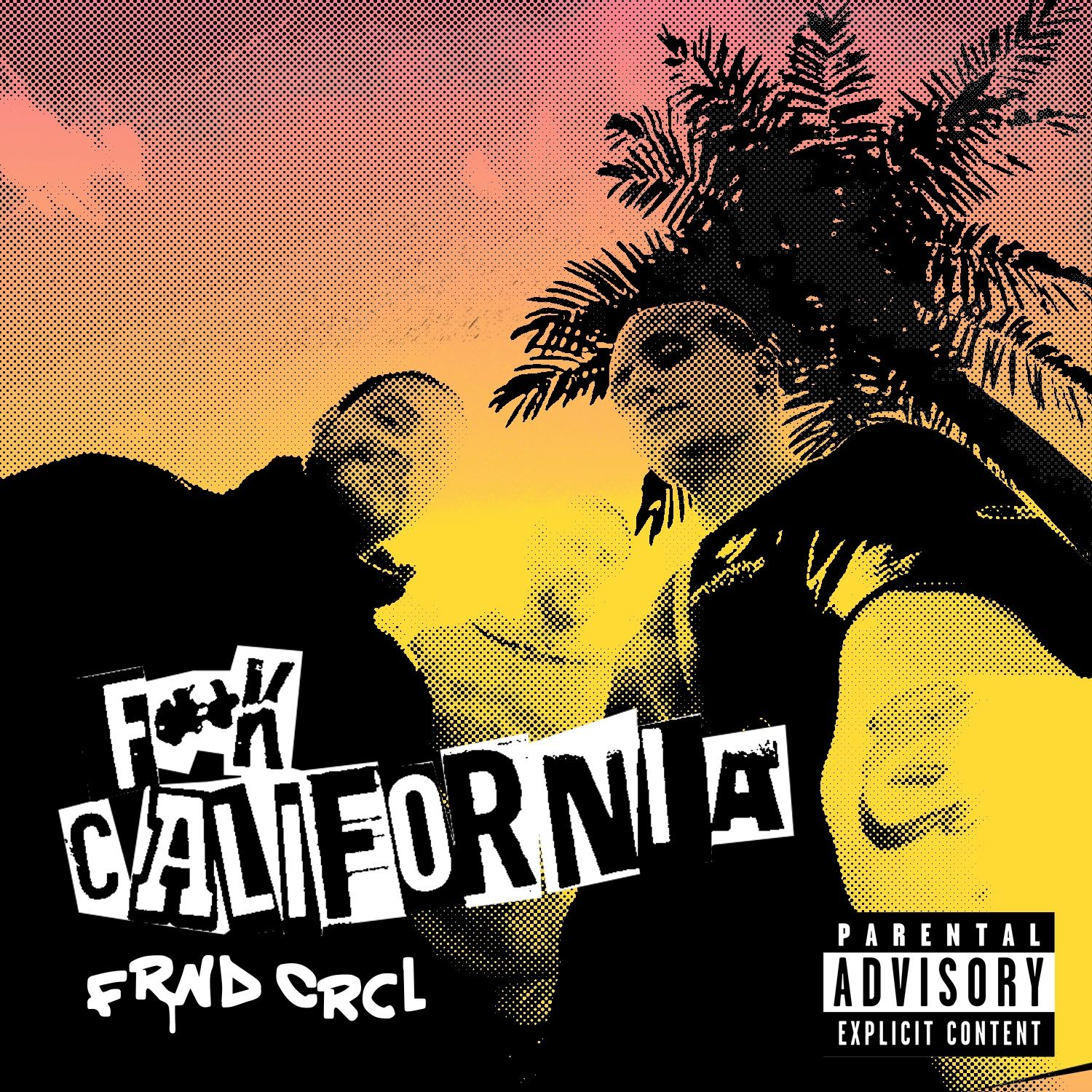 Up next on Suburban Dictionary are "No Chill," "47," and "Don't Wait Up." Having lines such as "It's not that big a fucking deal" and "Suck it up or start swallowing pills," the fast-paced, high-energy "No Chill" is both lyrically bold and forthright. FRND CRCL shows that they are truly not afraid to call it as they see it. This is only proved further when "47" comes on. A candid statement on the firearms situation in the US, the swiftly delivered lyrics in this song do not hold back and are paired with brisk, attention-getting instrumentals. "Don't Wait Up" continues the positive change in mentality brought on by previous tracks. The song has a wry acceptance of the fact that, for better or worse, sometimes things just happen- you've got to learn how to roll with the punches in life.
Starting slowly with light, airy guitar and bass, the drums on "Kids" kick in suddenly, bringing energy to the track. Lyrically, there's a sense of unity and camaraderie. "Kids" discusses the world's current social state and tensions and its effect on everyone, particularly younger generations, because "we're all just kids." Next up is "Midnight," a dreamy, soothing interlude. With the title bringing Suburban Dictionary's concept full circle, "Midnight" perfectly transitions into the next track, "WYNWM" (used as an acronym for "when you're not with me"). All about moving on and starting to glue the pieces back together, FRND CRCL uses "WYNWM" to bring closure to the love story portion of the album.
The closing track of Suburban Dictionary, "Alright," immediately starts with a cheery disposition. With melodic strings and exuberant drumming, "Alright" has a happy-go-lucky vibe that is solidified by the lyrics promising that "it's gonna be alright." And as the track comes to a slow, gentle close, listeners are ready to believe it.
Lyrically earnest and sonically embracive of both the classic pop-punk sound and modernity in music, FRND CRCL's Suburban Dictionary is a compellingly relatable and infectiously catchy album. And the concept is beautifully played out, truly exhibiting a day in the life of the average suburb-dweller.
---
FRND CRCL: Instagram, Twitter, Facebook, YouTube
*Photos provided courtesy of Big Picture Media Online