Everybody needs a night out. Especially in the later parts of the summer with school and the fall just around the corner. This gets more true the older you get, which was on full display Tuesday night at the Goo Goo Dolls' Big Night Out tour. That's not to say that the band's entire fanbase is made up of geriatrics, but we are talking about a band that formed in 1986 and were last on top of the music world in 1998. It's not a surprise to see the crowd at their show spanning a wide range of ages. And when you have a tour roll into town that's so aptly named, you better believe there's going to be a run on babysitters so a crowd of 4,500 Goo Goo Fans could eat pizza, slam multicolored sugary booze-drenched drinks, and dance their asses off in 85+ degree heat. On a weeknight no less! The Goo Goo Dolls bringing O.A.R., the kings of summer touring, along for the ride was the perfect compliment for a hit of pure late summer shot right into your brain.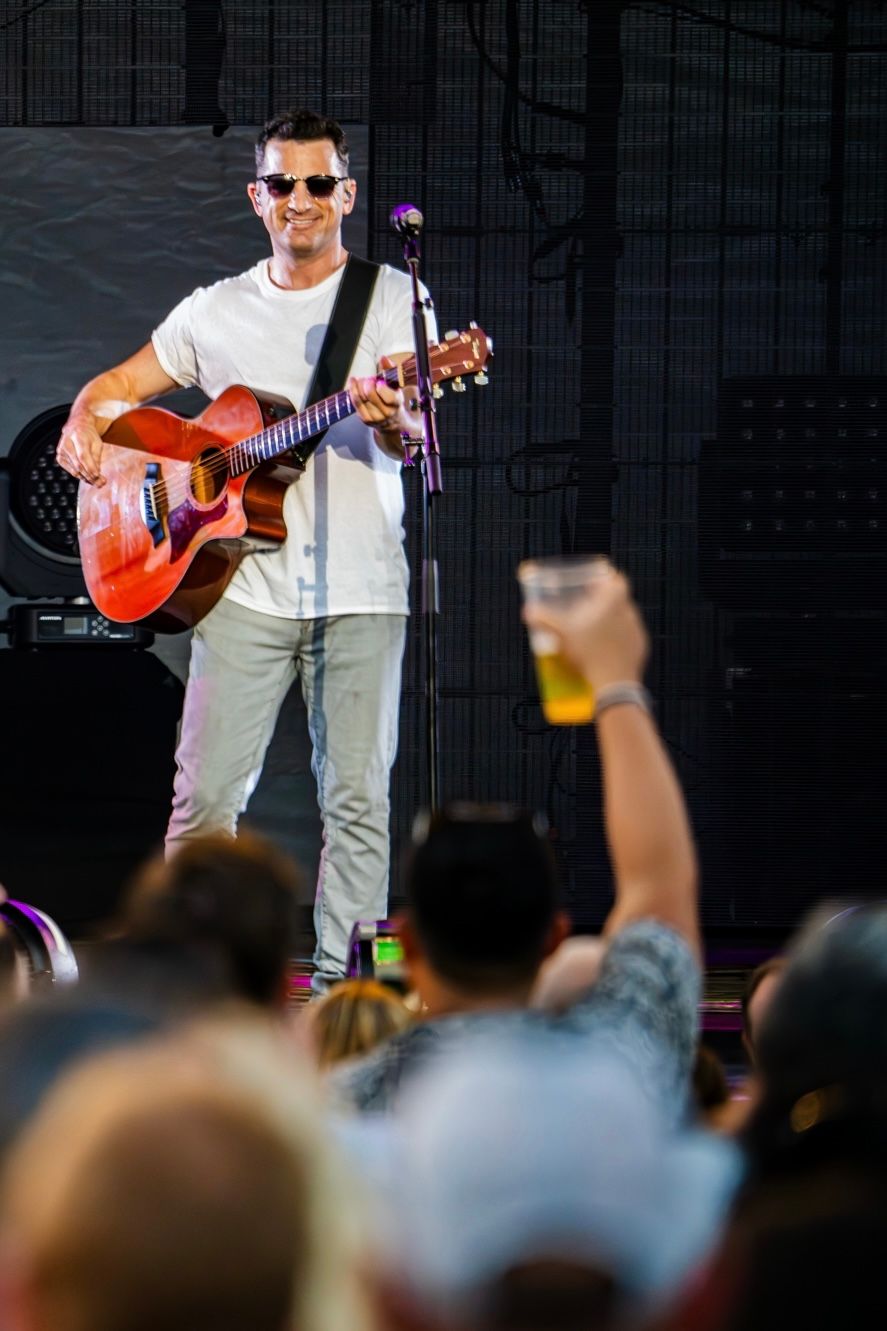 I'm not going to pretend that I'm the biggest O.A.R. fan in the world. That's not to say that I don't enjoy their music. I've just never really taken the time to properly dive in. Like most people, I remember when the Maryland quintet's 'Crazy Game of Poker' took indie radio by storm in 1997 and could hum the chorus to their breakthrough radio hit 'Love and Memories', but with their laid-back style, wordy lyrics and proclivity to stretch any live song into a jam session at the drop of a bucket hat, I always lumped them in with bands like Phish that were a little bit too jammy for my taste.
Lumped them in wrongly it turns out, which isn't too much of a surprise as I am often quite late getting onboard with awesome things (I didn't try sushi until I was 28!). From the opening bars of their 2016 song 'Lay Down' kicking off their set, it was clear that this wasn't a bunch of East Coast hippies looking to stand around the stage noodling endless guitar solos and drum breakdowns. O.A.R. came to absolutely rock out, and that's exactly what they did. Playing songs from 8 of their 10 studio albums (throwing in a cover of Led Zeppelin's 'Fool in the Rain' for good measure), it would have been an amazing performance if you measured just the band's performance alone. But what took the performance to the next level was the connection the audience had to O.A.R.'s music. It isn't often that the majority of the crowd can sing every word along with the opening act's songs, but that's exactly what happened on the night, with the audience frequently singing louder than singer/guitarist Marc Roberge could. An appreciative Roberge had no problem playing along, letting the crowd finish off multiple choruses throughout the set. By the time the band closed out their set with the aforementioned 'Crazy Game of Poker', the energy was at a fever pitch, hundreds of playing cards being shot out of confetti canons over an audience that seemed absolutely intent on breaking a hip from jumping and dancing as the 3rd and 4th drinks were definitely kicking in.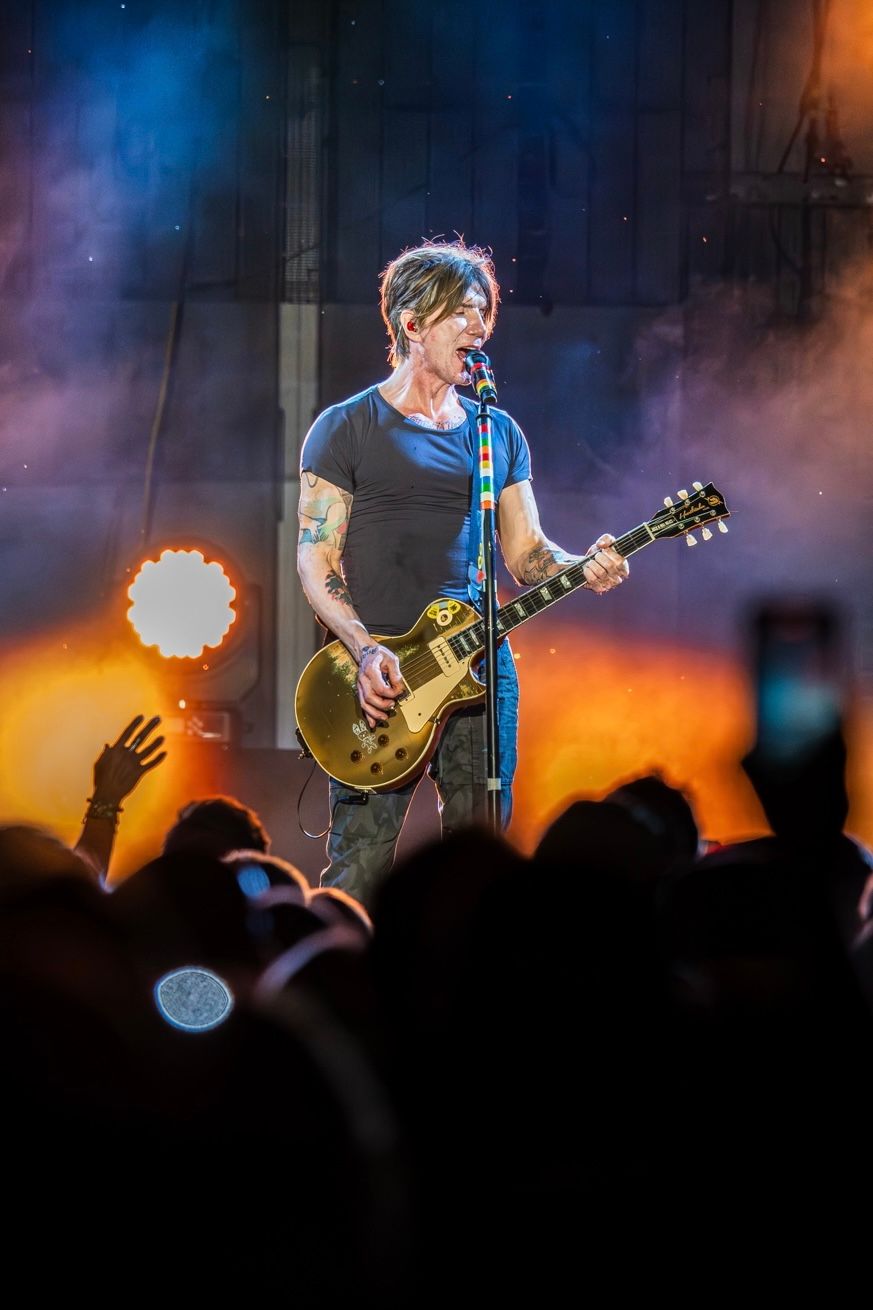 If you had a radio between 1995 and 2001, you couldn't escape the Goo Goo Dolls if you tried. Starting with their smash hit 'Name' off their breakthrough album A Boy Named Goo, lead singer/guitarist John Rzeznik and bassist Robby Takac set an almost impossibly high bar with their unique brand of heartfelt rock and pop sensibilities only to see their fame and success reach another stratosphere with the release of 'Iris', included on both the soundtrack for 1998's City of Angels as well as their quadruple-platinum follow up Dizzy up the Girl. But a lot of folks who first encountered the Goo Goo Dolls in the mid to late 90's might not recognize the hard rock/punk influenced band that they were on their four albums preceding A Boy Named Goo. With Takac originally on vocals, the Goo Goo Dolls spent their early years opening for bands like Bad Religion, Motörhead, and The Dead Milkmen and playing venues like New York's famed punk Mecca CBGB. They even had a single on the soundtrack of a Friday the 13th movie (1998's Freddy's Dead: The Final Nightmare).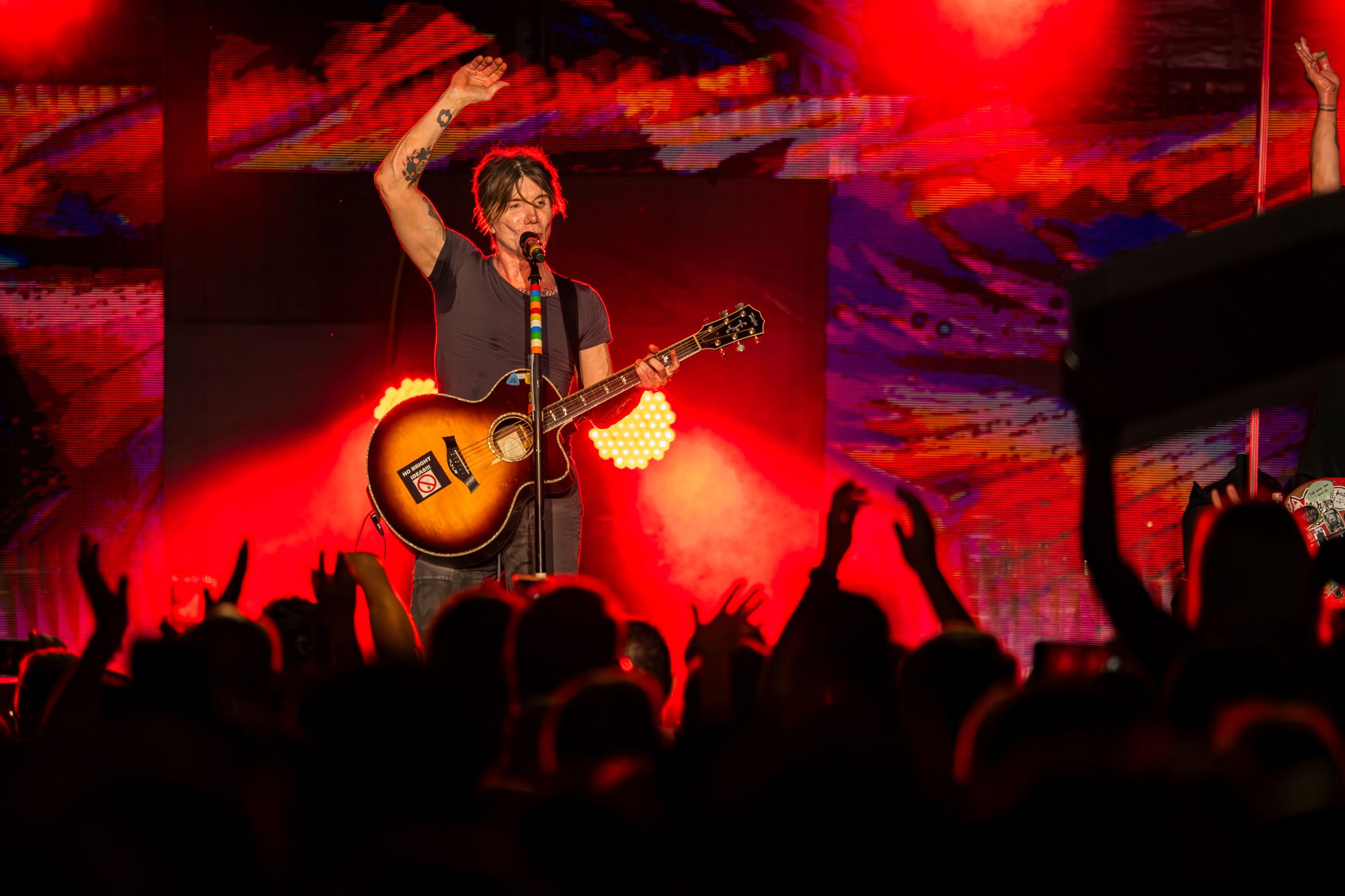 All that's to say that even underneath the Goo Goo Dolls' yearning lyrics and gentile acoustic strumming, there's always been the hint of an edge, and that energy was on full display during their set. Kicking off their set with back-to-back-to-back hits 'Broadway', 'Over and Over', and 'Slide', Rzeznik, Takac and the rest of the band made sure that every song had a little extra something behind it, even giving some of their more contemplative songs like 'Black Balloon' a sense of urgency and momentum.
But that doesn't mean that the band wasn't able to strip everything away and fully wear their hearts on their sleeve. When Rzeznik performed 'Sympathy', a song about his struggles overcoming alcoholism, accompanied only by a solitary piano, you could hear a pin drop amongst an enraptured crowd of four thousand plus. Coming through on their promise of a big night out, Rzeznik and the rest of the Dolls played deep into the night, covering 25 songs off their 13 studio albums, the entire crowd (young and old) hanging on every word. Climaxing with an emotionally charged performance of 'Iris' that was a fitting and perfect capper for their career-spanning set, there isn't much more the band could have given the audience that they hadn't already handed over, with every last ounce of energy they had going into the multiple pleas of "I just want you to know who I am" that close out the song. Smiling and staring out onto the sea of cell phone flashlights being waved in unison like a sea of drunken fireflies, he knew that they had delivered on their promise of a Big Night Out. The only thing missing was a reminder for everyone not to forget to tip their babysitters.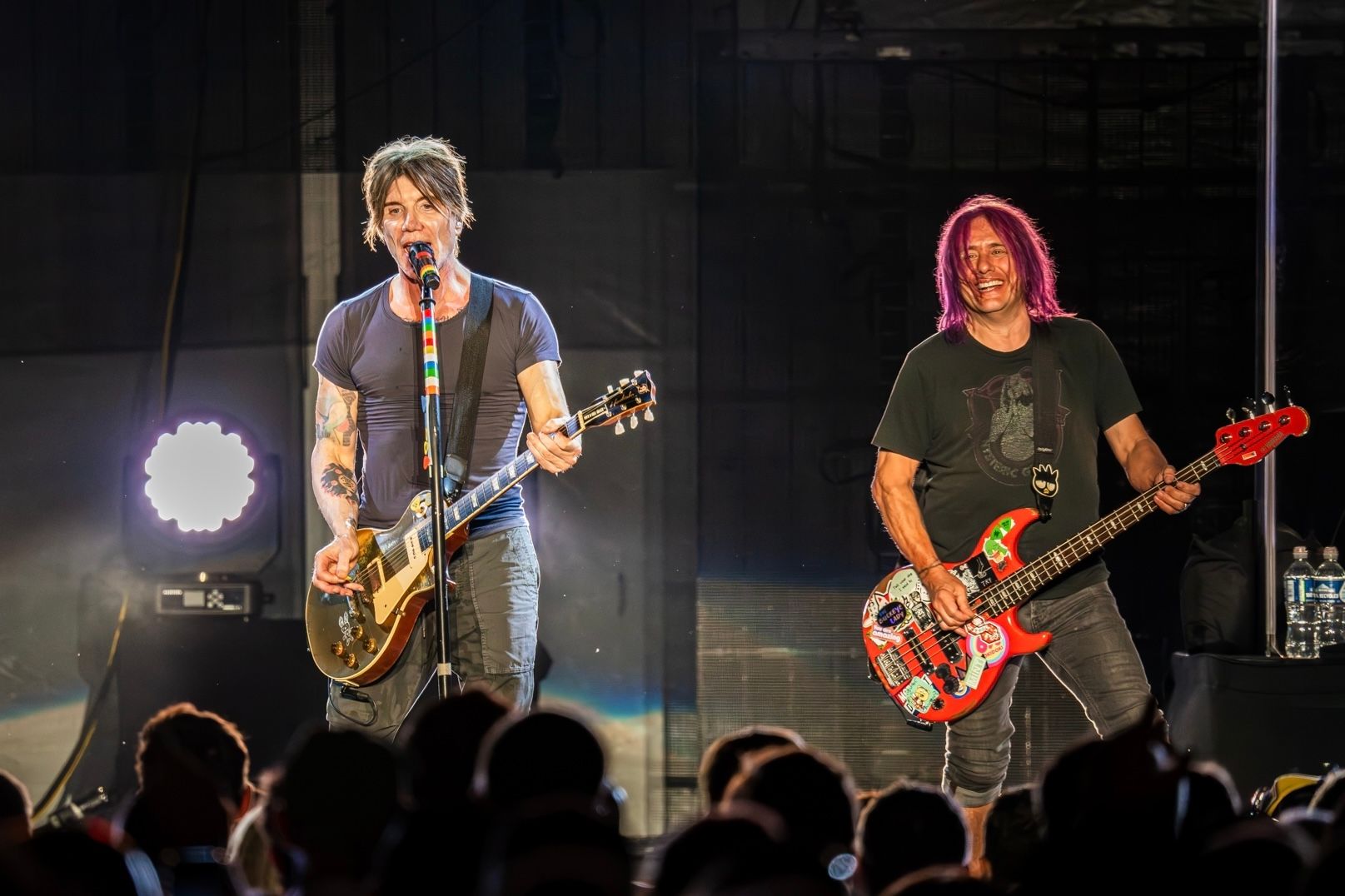 The Big Night Out tour continues in the US through October 7. Tour dates and links to tickets can be found on the band's website.
Goo Goo Dolls Setlist - Huntington Bank Pavillion, Chicago 8.22.23
Broadway
Over and Over
Slide
Big Machine
Here Is Gone
Black Balloon
January Friend
Yeah, I Like You
Going Crazy
Lucky Star
So Alive
Dizzy
Sympathy
Come to Me
Name
Long Way Down
Miracle Pill
Run All Night
Life's a Message
Bringing On the Light
Better Days
Let Love In
Tattered Edge/You Should Be Happy
I Won't Back Down (Tom Petty Cover)
Iris