Los Angeles-based alternative rock duo HOLY WARS takes listeners on a journey through the darkest corners of the mind with the release of their new EP, CULT CLASSIC. A homage to cult classic horror films, HOLY WARS gives the EP a unique twist by showcasing that one's psyche can sometimes be the scariest monster of all. With heavy, evocative lyrics supported by a flawless melding of sonic elements from nu-metal, pop, and punk, CULT CLASSIC is an unwavering force of both raw emotion and pure artistry.
Made up of vocalist Kat Leon and guitarist Nick Perez, HOLY WARS started creating music as a band in 2017. After the tragic loss of both her parents a few years prior, Leon began funneling her pain into her music, and HOLY WARS was born. Now, with raw, emotional lyrics and Perez's artful guitar skills backing Leon's powerful, versatile vocals, HOLY WARS voyages through a confrontation of self, ego, and a dark psyche with the release of CULT CLASSIC.
Speaking on CULT CLASSIC, Leon shared, "In most thrillers, the monster is an external enemy, but in this body of music, I really wanted to lean into the internal enemy, but also acknowledging how this internal enemy is influenced by our external world and what we are made to feel about ourselves and others … I hope this EP and every song displays the internal struggle of the self, empowers the listener, and allows them to have the freedom to unplug and let go of the ever powerful ego."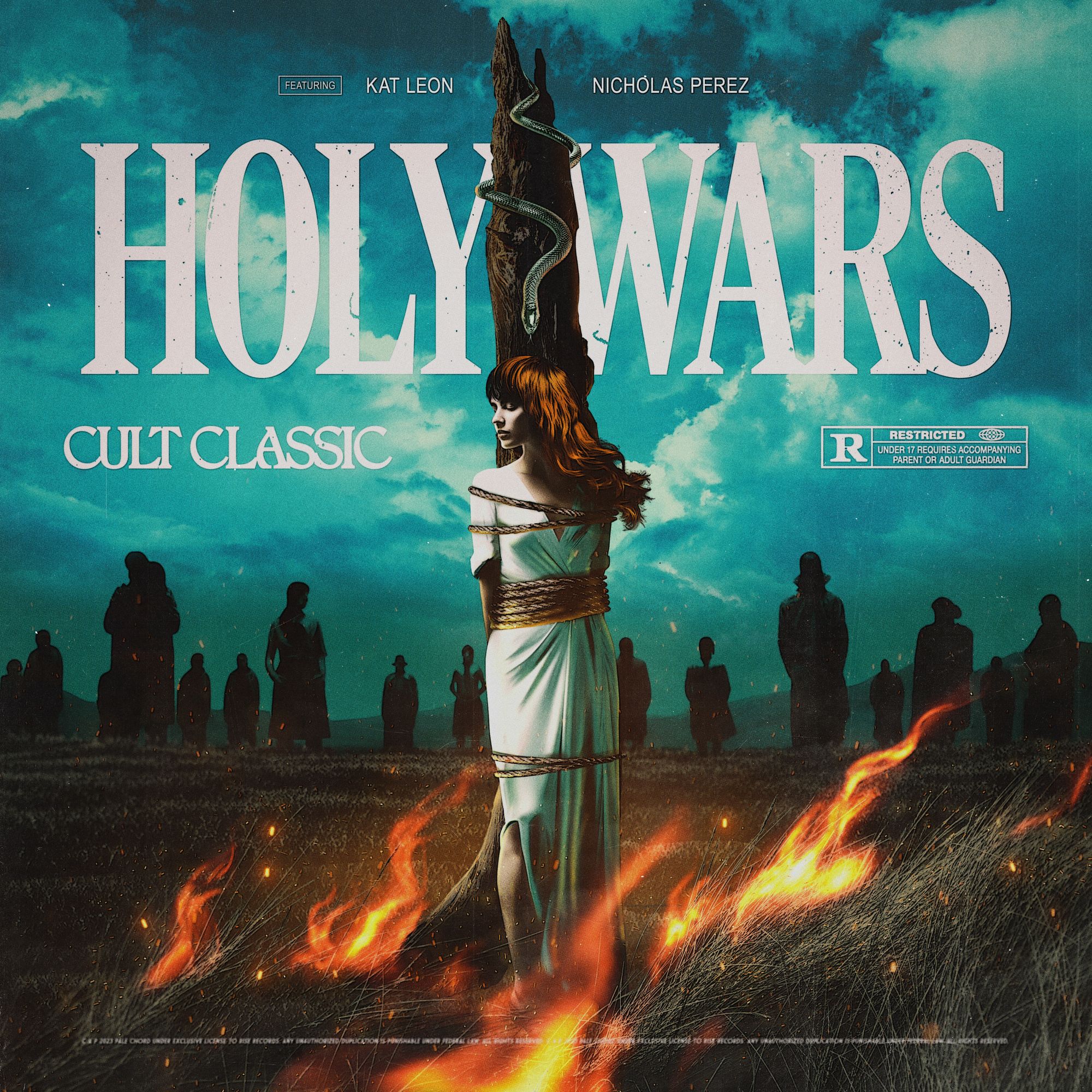 CULT CLASSIC begins with a 22-second intro track called "<//>." Starting with the sound of a mellow 1920s reminiscent song playing on a gramophone, panicked shrieks can be heard in the background halfway through. "<//>" is truly a creative way of signifying the EP's horror film influences. From there, CULT CLASSIC dives headfirst into its tumultuous title track. With incredible guitar riffs, speedy drums, and vocals ranging from gentle whispers to ferocious screams delivering infectious lyrics, "CULT CLASSIC" is a bona fide rock anthem.
Next up on the EP are its two lead singles, "BODY//TEMPLE," followed by "Deus Ex Machina." With loud, heavy guitar and biting lyrics, the feelings of anger and resentment behind "BODY//TEMPLE" are palpable. "Deus Ex Machina" is another aggressive track, though its emotions stem more from anxiety. The vocal switch-ups between whispers and impassioned crooning mixed with thundering instrumentals and shifting tempos immaculately emulate a mind that feels all over the place and out of control.
CULT CLASSIC ends with defiant and intense "VenoM," followed by emotionally raw "TENSION//RELEASE." "VenoM" finds HOLY WARS ready to face confrontation with lyrics about being forced to spit venom at those who try to tear them down. Alternatively, "TENSION//RELEASE" shows the band's more vulnerable side. Tying in themes of depression and grief, the closing song adds an extra layer of depth to CULT CLASSIC and provides listeners with a breath of fresh air from the EP's intensity.
The newest EP from HOLY WARS, CULT CLASSIC, is an unrelenting force of intensity and emotion. From start to finish, CULT CLASSIC continuously packs a punch through the ears and right down into the heart. And the concept of a horror film where the real monster is the human mind is both incredibly creative and impeccably well done. CULT CLASSIC will undoubtedly go down in the books as exactly that, a classic.
---
Follow HOLY WARS on: Facebook, Instagram, TikTok, & Twitter/X