by Ian Storck
Embarking on their first US tour since 2017, industrial legends KMFDM return to support their last two albums: Paradise, and Hyëna.
Opening up the show, Chant infuses aggressive drum beats with a fast-paced industrial sound. It's a fitting companion act to KMFDM, with politically-infused lyricism and an aggressive tone that resonates with the growing crowd as they file into the underground ballroom venue of Milwaukee's multi-level venue The Rave.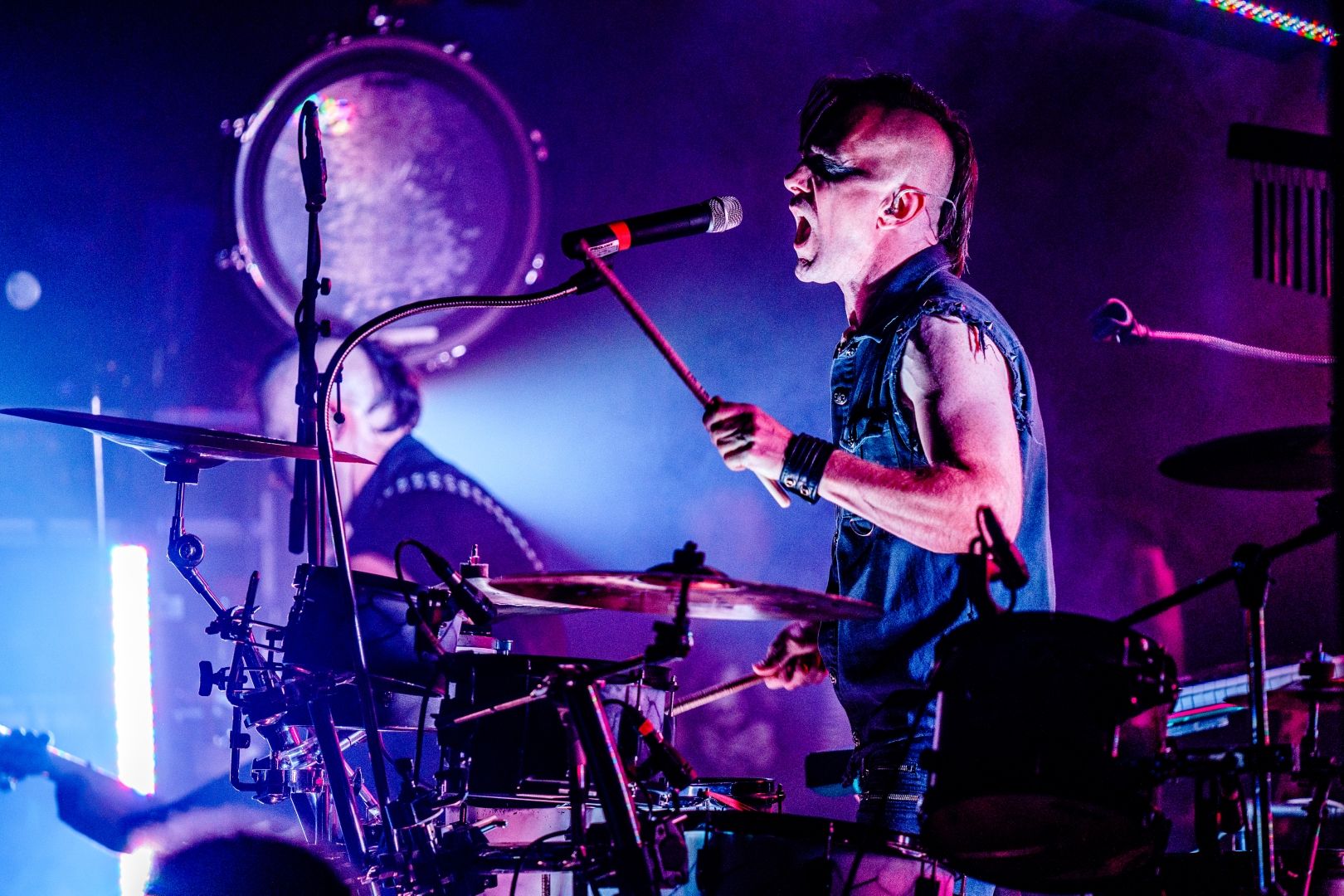 KMFDM frontman and composer Sascha Konietzko leads the charge at his welded iron podium, in his classic Taxi Driver look of aviator shades and bomber jacket. To his right, his partner, Lucia Cifarelli, handling vocal duties for KMFDM since 2003, stalks the stage like a predator on a hunt, unleashing her harsh vocals that are even more impactful live than studio releases.
At the backbone of the ultra heavy beats is drummer Andy Selway, who is unrelenting with his fast-paced drumming, adding massive weight to the electronic beats. Andee Blacksugar rips and shreds on guitar, with crunchy and funky riffs, adding especially to the most punk-sounding tracks.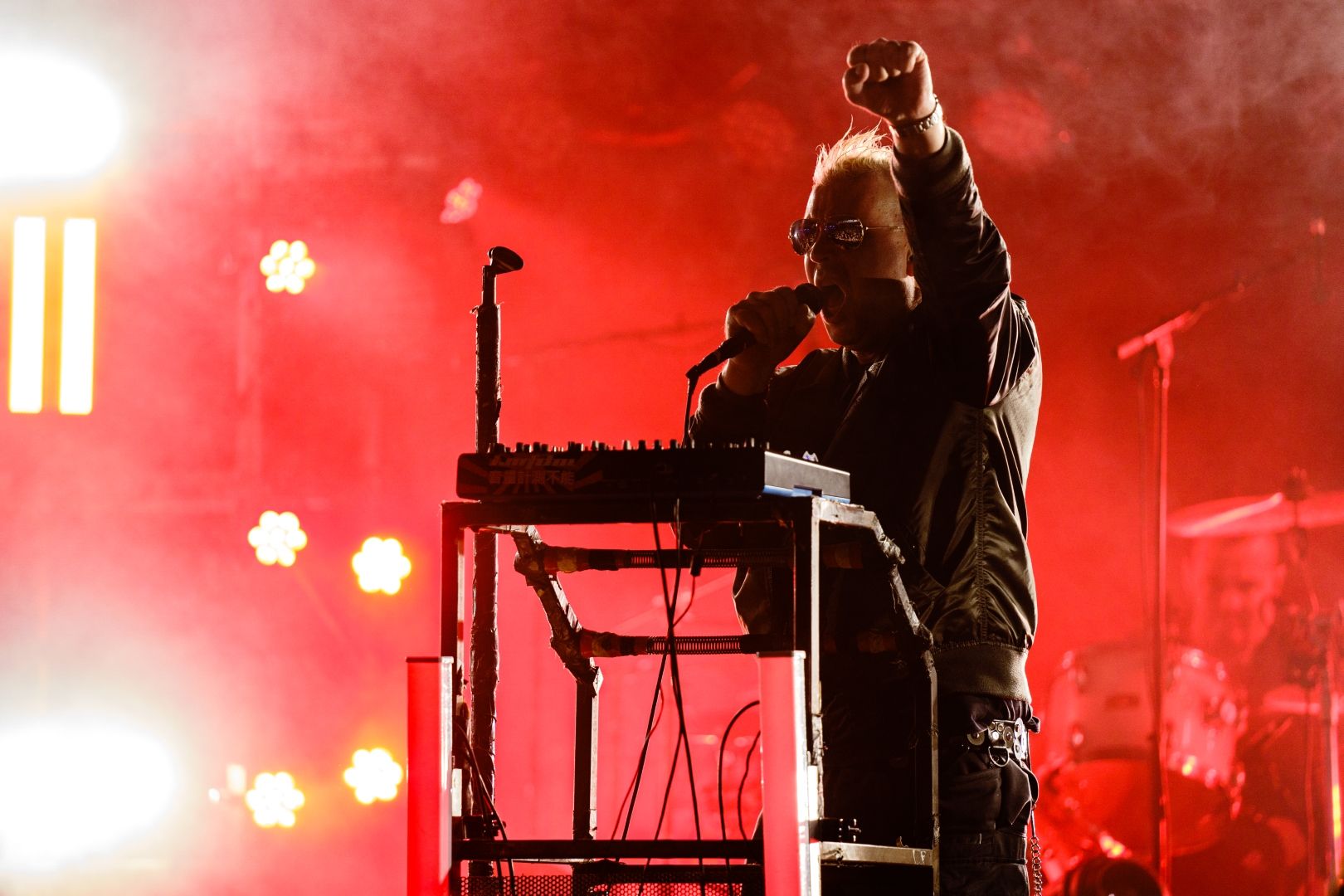 For over 30 years, KMFDM has been able to change up their sound from album to album, with the use of different vocalists, experimenting with new electronic elements, and interesting genre changes on several tracks. Forever consistent are the ultra heavy beats and the ability to get a crowd jumping and moving for every song.
KFMDM's set is primarily made up of tracks off of their latest two records, however with such a lengthy discography, they still manage to include a good mix of old and new tracks from 10 of their previous albums.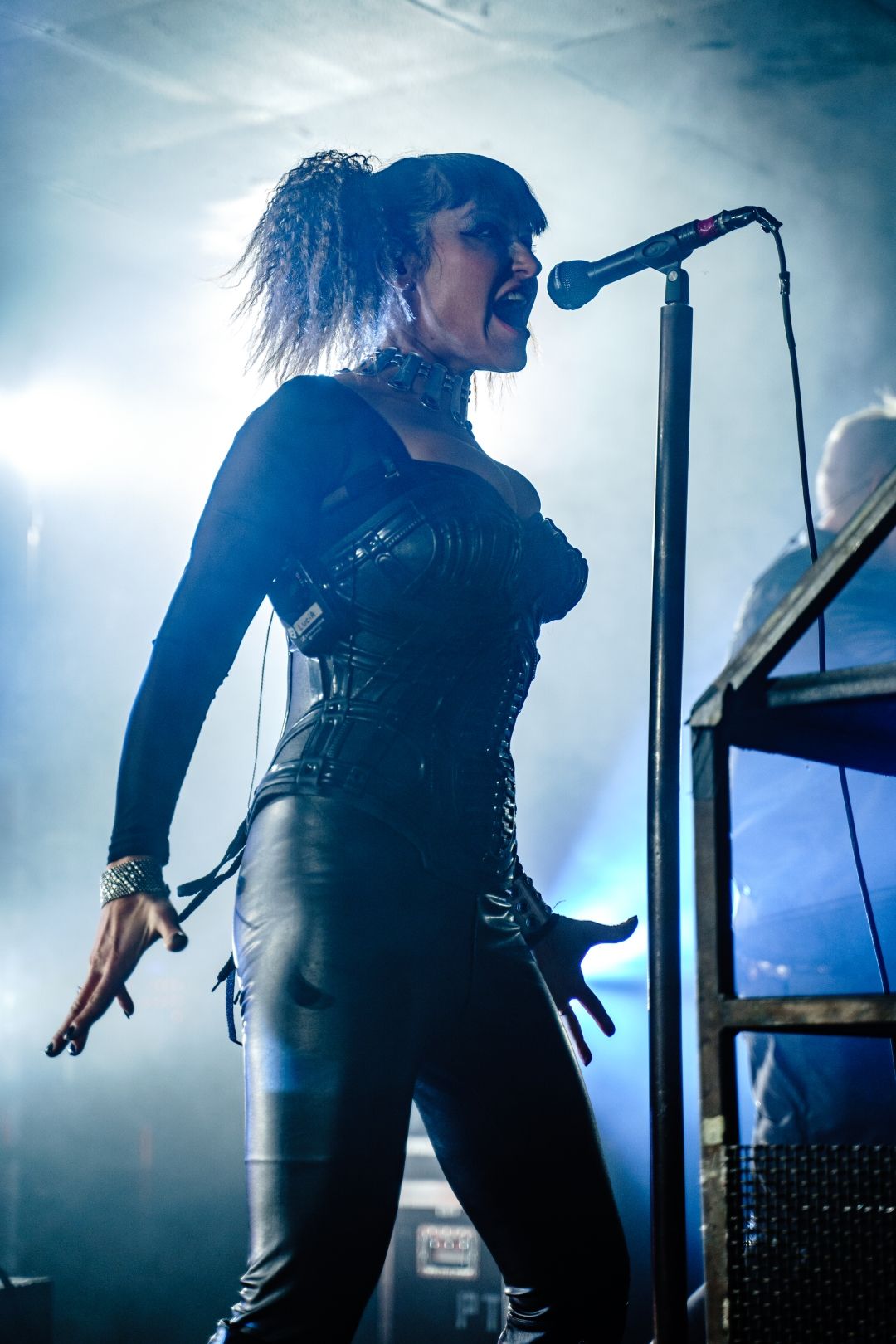 The crowd has a surprisingly wide age range, with plenty of older fans, sporting t-shirts of album art from the 90s, but also a great deal of younger fans, who lead the charge at getting wild in the pit. Towards the end of the show they even threw a crowd surfer over. The counterculture, underground sound of KMFDM continues to thrive and grow, 30 years later.
Follow KMFDM: Website / Facebook / Instagram / Spotify
Setlist:
D.I.Y.
All 4 1
Light
Rebels in Kontrol
Hyëna
Amnesia
Rock'n'Roll Monster
K.M.F.
Black Hole
A Drug Against War
Bumaye
Son of a Gun
Oh My Goth
Liquor Fish & Cigarettes
Blindface
Hau Ruck
Encore:
Megalomaniac
Godlike
Paradise