I celebrated my 41st birthday last week. I don't mention this as something that needs to be celebrated by you, the reader. One could argue that 41 might be least relevant birthday you can have. 40 is the 'big' one before you start getting old enough that people start being impressed that you're still around, but still old enough to take stock of your 401K and weep, if you have one at all.
The reason I mention my age is because I am very much not the authority on modern rock music. Music snobbery is a young man's game. It wasn't until halfway through college that iTunes came around for me, so a shit ton of time was spent listening to the regular ol' FM radio, where modern rock still has some weight to swing around. When I was 25 with all the free time in the world and emerging streaming services at my disposal, I didn't have much going on to conflict with listening to and ranking a Top 500 Albums of the Year list. But the older I get, the more time I spend listening to the bands I already know and love. It's the perfect kind of self-assembled echo chamber that's low-stakes enough from an everyday standpoint that you might not even realize it's there. It's a natural side effect of aging - you spend so much time cultivating your musical preferences that, at least for me, you get to a point where you look at MORE music and say "Nah, I'm set." Adding to all of this is the fact that, as inconceivable as it sounds to some of us old people, rock music as a whole is much more niche than a lot of us would like to admit. This recent article by the New York Times goes into detail about the rise and fall of rock and roll and what that means for younger generations looking to follow in the footsteps of those who headbanged before them.
And whether I was paying attention or not (HINT: I was not), rock music did what rock music has always done: it evolved and ate everything in front of it. Rock may not dominate the mainstream charts like it did in the heyday of the 80's and 90's, but that doesn't mean its audience is gone. The wealth of sharing and streaming options have just allowed it to branch off into a million different directions. But at the same time, that's provided fertile ground for new artists to emerge that have grown up having access to every conceivable style of music they could possibly want to hear. The end result is a whole spectrum of rock, where no one type dominates the landscape but has enough room under its collective umbrella to literally include something for everyone.
Motionless in White and Knocked Loose were both bands I wasn't too familiar with musically, but was very much aware of their reputations as live performers. Bringing their own unique types of rock music and crowd insanity, with After the Burial and Alpha Wolf along as support, I knew the aptly named Touring the End of the World tour was the type of mayhem I wouldn't be able to pass up.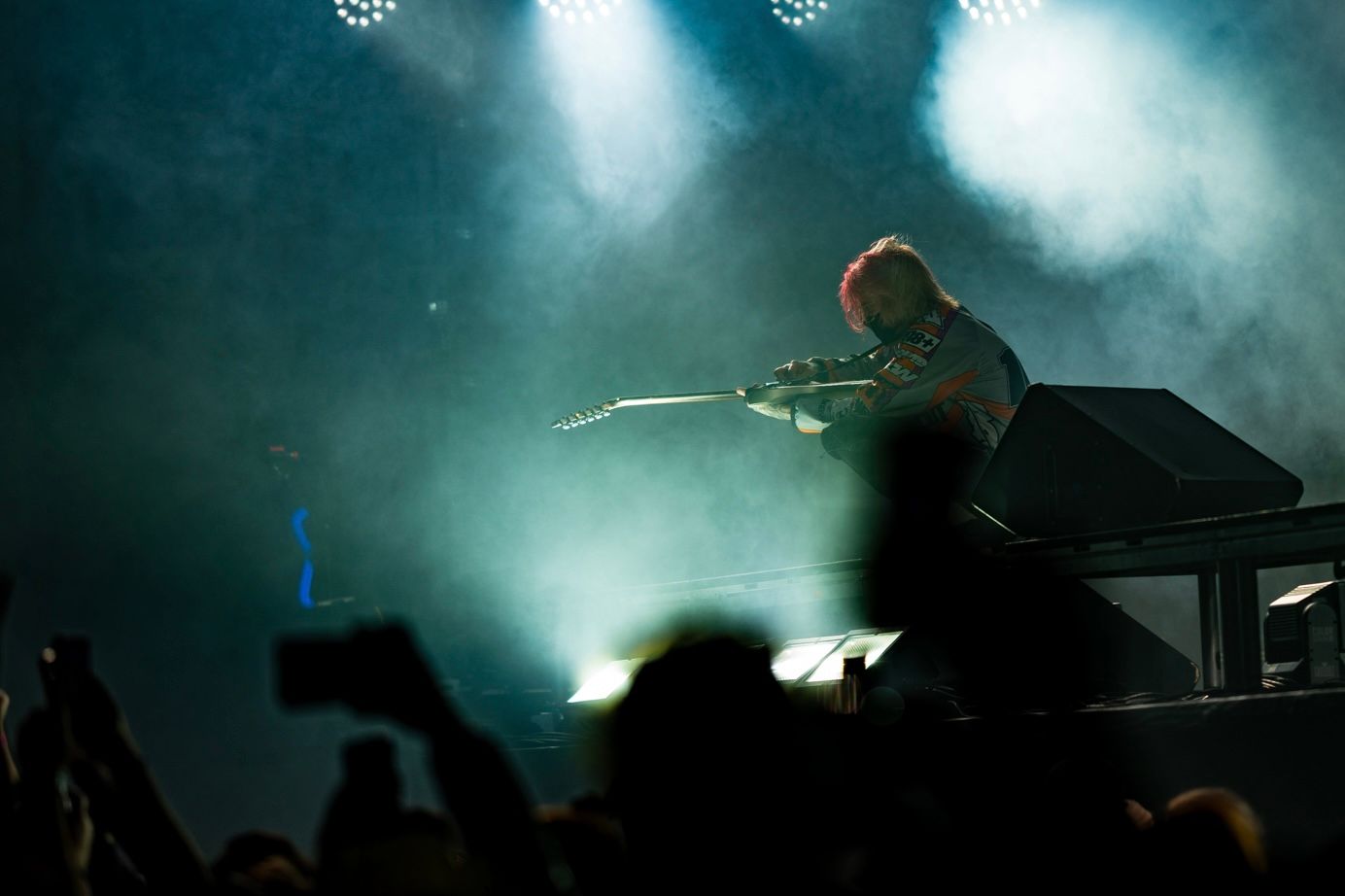 To say that opening act Alpha Wolf 'set the tone for the evening' would be a bit of an understatement. From the literal second they kicked into their opener 'Rot in Pieces', the Australian metalcore quintet didn't let up for a moment. A constant tornado of guttural screams over riffs heavier and dirtier than the gym in your neighbor's garage, fans of Polaris, Currents, and/or Invent Animate would feel right at home getting their ears smashed in by this brutal sonic assault. The only way they could be more metal would be if they took their band name from the 'Liam Neeson fights wolves' movie The Grey. Oh wait, they did. So fucking metal. Keep your high powered magnets away.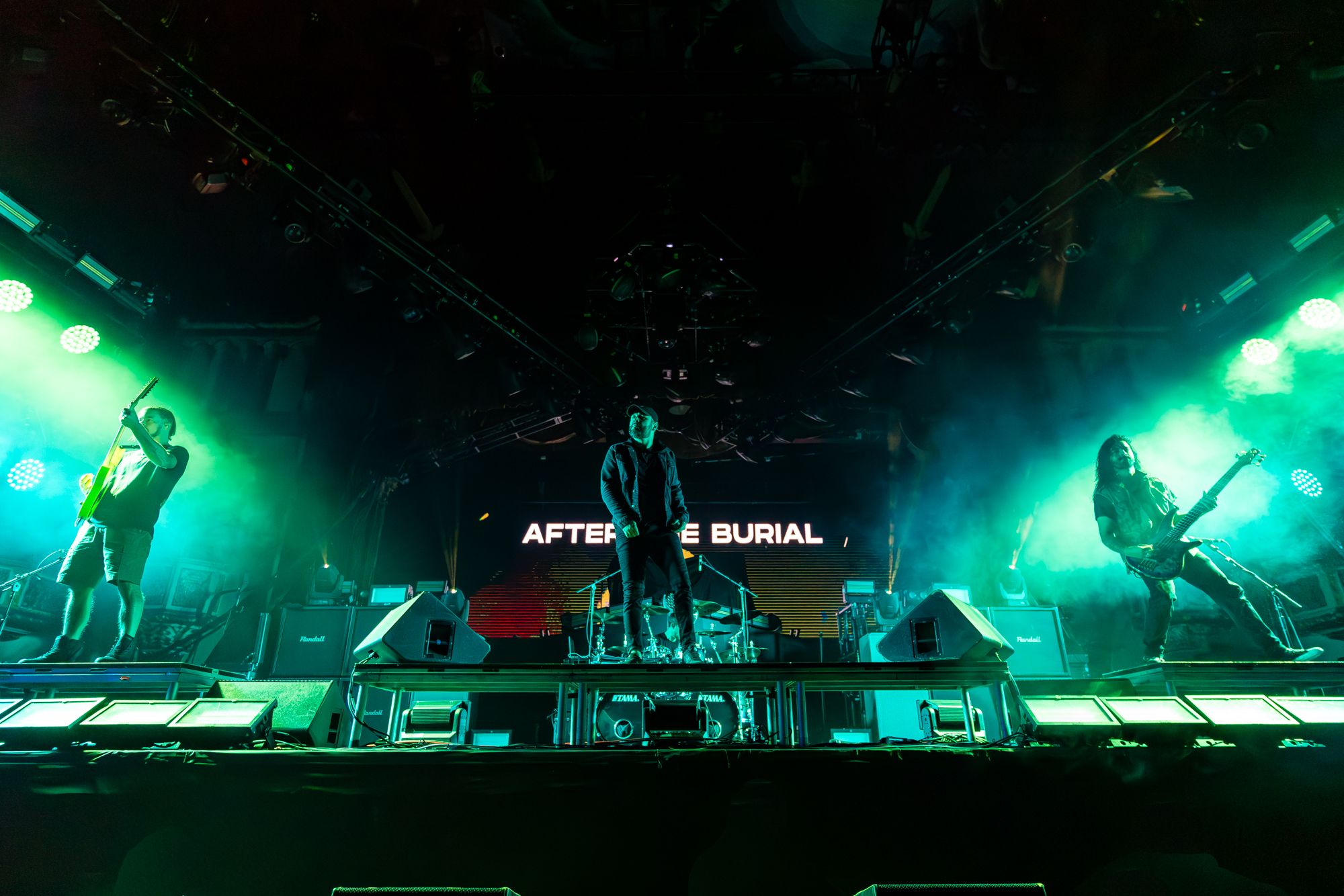 I'm no stranger to the seven string guitar. I was still in the game when nu-metal took the world by storm and bands like Korn used the extra lower string to make everything sound just that much heavier than everything else. What After the Burial have done with the concept of extra strings (both a seventh on guitar and fifth on bass) takes things to the next level, not just using the additional low end for its gut-churning effects on raw heaviness, but exploring that additional space from a technical standpoint. And I know that in the metal world, 'technical' is a word that gets thrown around a lot, but you could absolutely set your watch, VCR, and microwave to how in-sync their timing is. Singer Anthony Notarmaso has the incredible ability to somehow scream from the depths of his being while still annunciating clearly enough for their lyrics to be understood, which I cannot say often when it comes to metalcore bands. And the insane whiplash of stop-and-start that guitarist Trent Hafdahl and drummer Dan Carle pulled off on songs like 'Collapse' and set closer 'Behold the Crown' was almost mesmerizing enough to make you pause an extra half second before throwing your body into the closest mosh pit participant. And amongst all that, I can tell what I was more impressed by from bassist Adrian Oropeza: his ability to provide the slithering life behind the technical precision of the drums and guitar, or doing it while throwing around some of the top 5 rock and roll hair I've seen in years.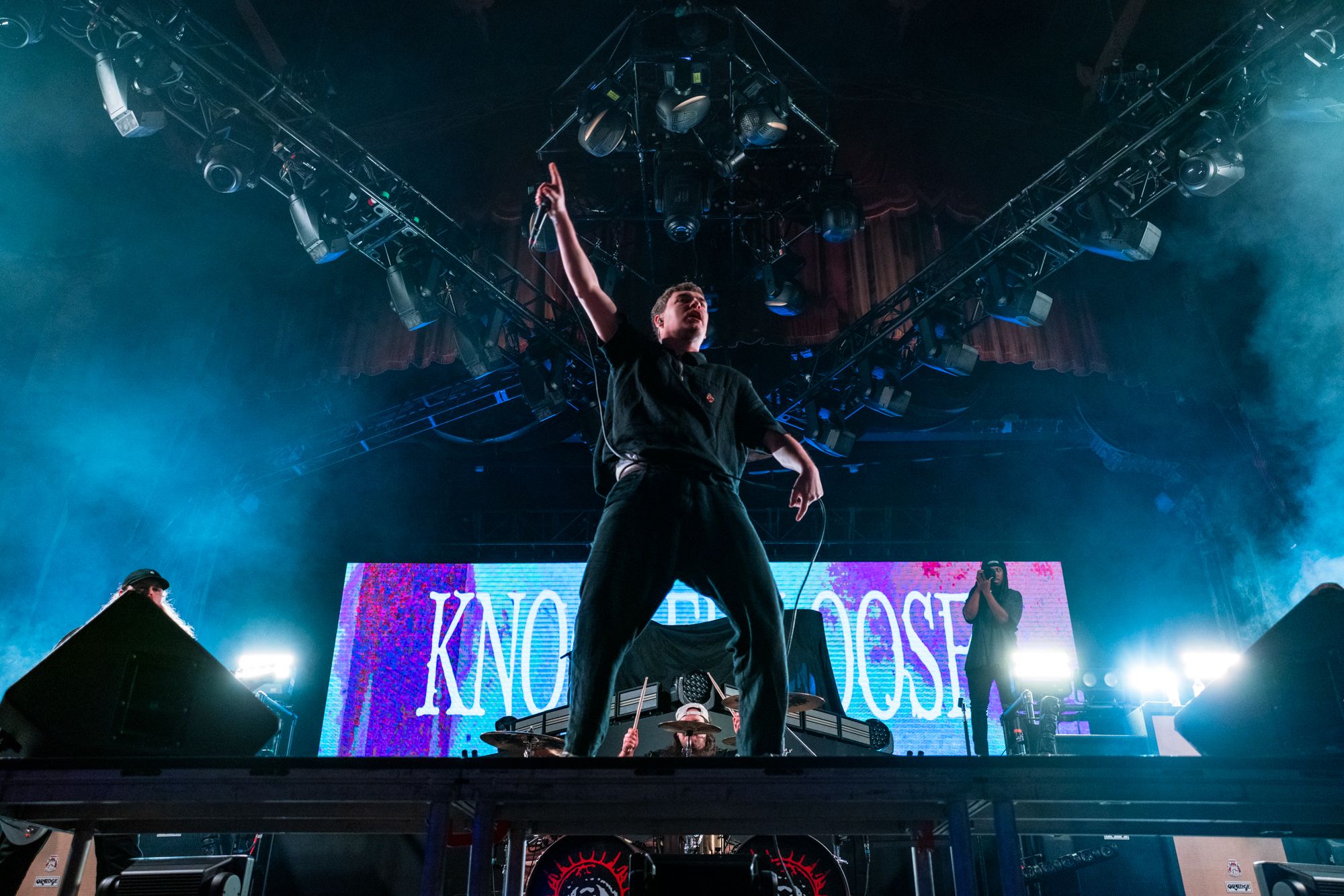 It's tough for hardcore bands to break into the mainstream. Forgetting how hard it is for even 'mainstream' rock bands to break through these days, it's a tough hill to climb for mainstream's much more scream-y, much louder, much rougher cousin. That's not to say it's impossible. You only have to look back a few years to see fellow hardcore act Turnstile's rise from playing no-pit clubs to getting top placements at rock festivals. Knocked Loose elbowed their way into the public spotlight earlier this year after delivering one of the most buzzed-about Coachella sets in recent memory. And where Turnstile has a bit more of a commercial sound, Knocked Loose is all thundering riffs so loud you can barely think and guitar wails that feel like the grim reaper scratching his fingers on a chalkboard, capped off by a voice with such a surprisingly high register for this genre, that you'd swear it would never work...until it all blends together perfectly.
The end result is music that I would call frustration personified. Not in a bad or negative way, but every Knocked Loose song sounds and feels like someone getting something off their chest, but cranked to an 11/10. And the capacity crowd at the Aragon did their part, throwing all of that energy right back at the band throughout their 12 song set. While most of their set focused on 2019's A Different Shade of Blue, the band bookended their performance with both tracks on this year's single release Upon Loss. Opening their set with fan favorite 'Deep in the Willow' let the crowd know how the rest of their set would go up front. Hitting their first of many breakdowns of the evening with the defiant scream "KNOCKED LOOSE, MOTHER FUCKER!!!", the entire building descended into chaos that didn't take the time to do anything but jump, shove, sweat, and scream for the entire rest of the set, culminating in three simultaneous mosh pits during set closer 'Everything is Quiet Now'.
SPOILER ALERT: It was not that. It was the opposite of that. But in a way that made me want to not go to work on Monday and pursue a career in crowdsurfing.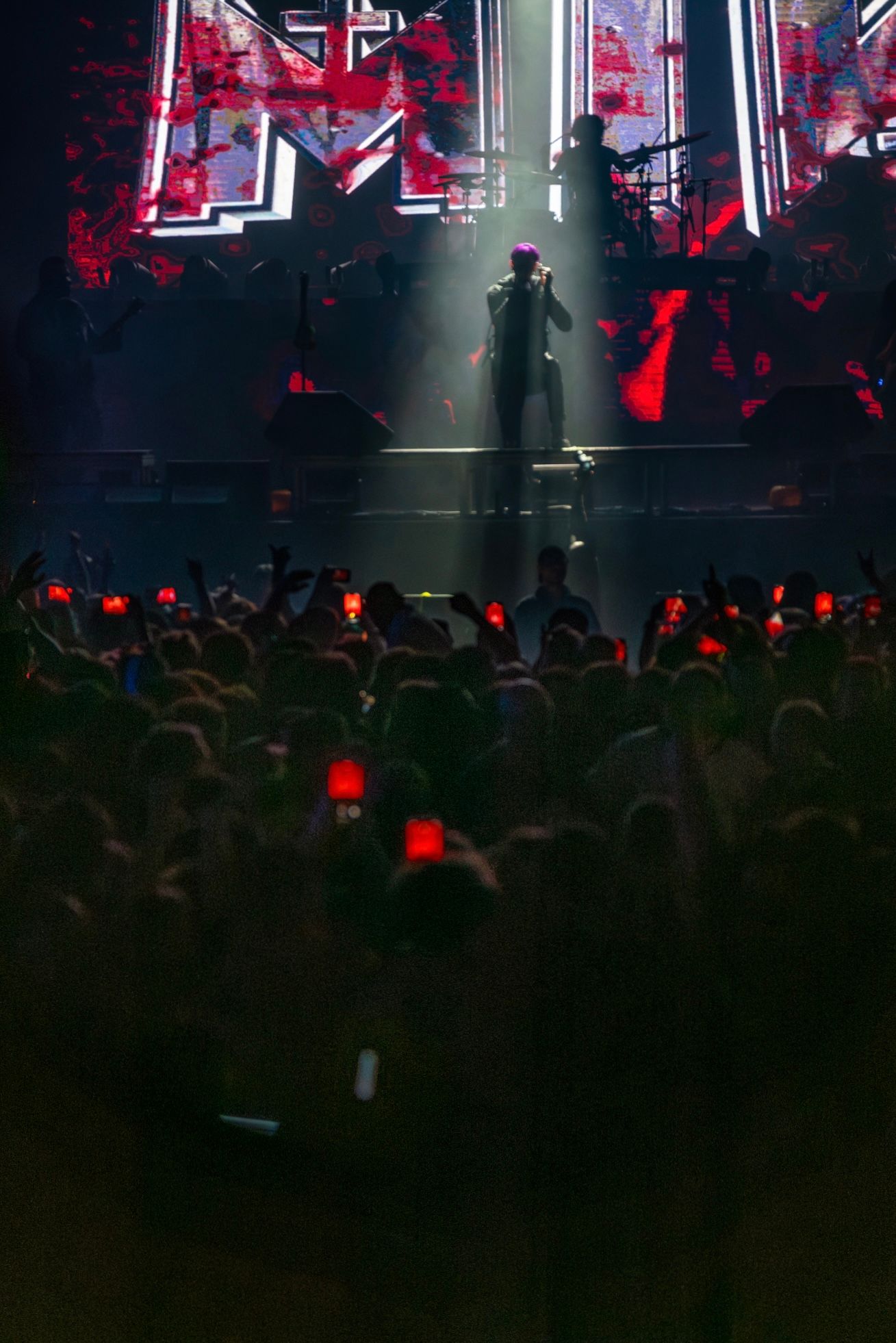 A couple of interesting things happened while I took my Rip Van Winkle nap from keeping tabs on what was popular in modern rock. The first is that rock music seemed to get its sense of humor back. Or at least the ability to not take itself so seriously. That's not to say there wasn't humor in rock music back in my heyday, but in the last 90's/early 2000's, a lot of what was 'humor' in music was dick and fart jokes, spearheaded by 'immaturity is the point' emo punk bands like Blink 182 and Sum 41. The second is that there sure seem to be a lot of bands out there now that love Halloween. It's like heavy metal got really into Tim Burton while I wasn't looking. But both of those things together work really well in this genre. We already did the 'here's theatrical makeup and outfits but we're way too serious about it' thing with Marilyn Manson and then Slipknot/Mudvayne. Carrying the torch of combining those types of elements with more of a wink and a smile that My Chemical Romance made cool again, Motionless in White were definitely an appropriate choice for a late October show. Taking the stage with elements of their various looks seemingly inspired by everything from Jared Leto's Joker to Frankenstein to Bane to an overall undead aesthetic, it all goes back to the concept of being exposed to everything, taking all the parts you love, and throwing them all into the mix. Surrounded by video screens flashing everything from pillars of flame to video game elements, the band kicked off their set with the opening track off their latest full-length release Scoring the End of the World, 'Meltdown'. This is where the attitude of not taking everything so seriously works for their music. Rather than facing the unstoppable end of the world with panic or anger, we're invited to take a front row seat at the end-of-the-world party to end them all, with lead singer Chris Cerulli welcoming the screaming crowd of 4,000 to pull up a front row seat to the apocalypse, screaming "Trigger the countdown / run up the headcount / we're all invited to the meltdown." Partying in the face of the extinction of our planet isn't fun to mosh to if you really mean it. You also can't get away with writing and performing songs with titles like 'Not My Type: Dead as Fuck 2' without some amount of tongue in cheek implied.
The mix of styles that the band brings to the stage doesn't stop with their individual horror-inspired looks. Making their way through an eighteen song set where they covered most of Scoring the End..., there are snippets and elements of so many other bands woven in and out of their songs. breaking Benjamin comparisons are common, not unexpected with Cerulli citing Ben Burnley as one of his inspirations in the past. But in songs like 'Headache' off 2019's Disguise, bassist Justin Morrow and drummer Vinny Mauro definitely give the song a Tool vibe. On songs like Rats and Werewolf, guitarists Ryan Sitkowski and Ricky Olson seamlessly meld their heavy, thrashing sound to sit in perfect compliment to a handful of synths, and immediately turning around on songs like Slaughterhouse to throw down some of the crunchiest hardcore riffs imaginable. All types of rock were welcome in the Motionless in White mix, along with outfits and visuals that had extreme 'that looks awesome, throw it in the mix' energy. By the time the band closed out their set with 'Porcelain' and the title track off Scoring the End..., it felt like we'd seen three different complimentary shows mashed into one Frankenstein's monster of metal riffs and pop sensibilities.
As far as the music that should be playing as we all await humanity's downfall goes, this tour is the perfect mix.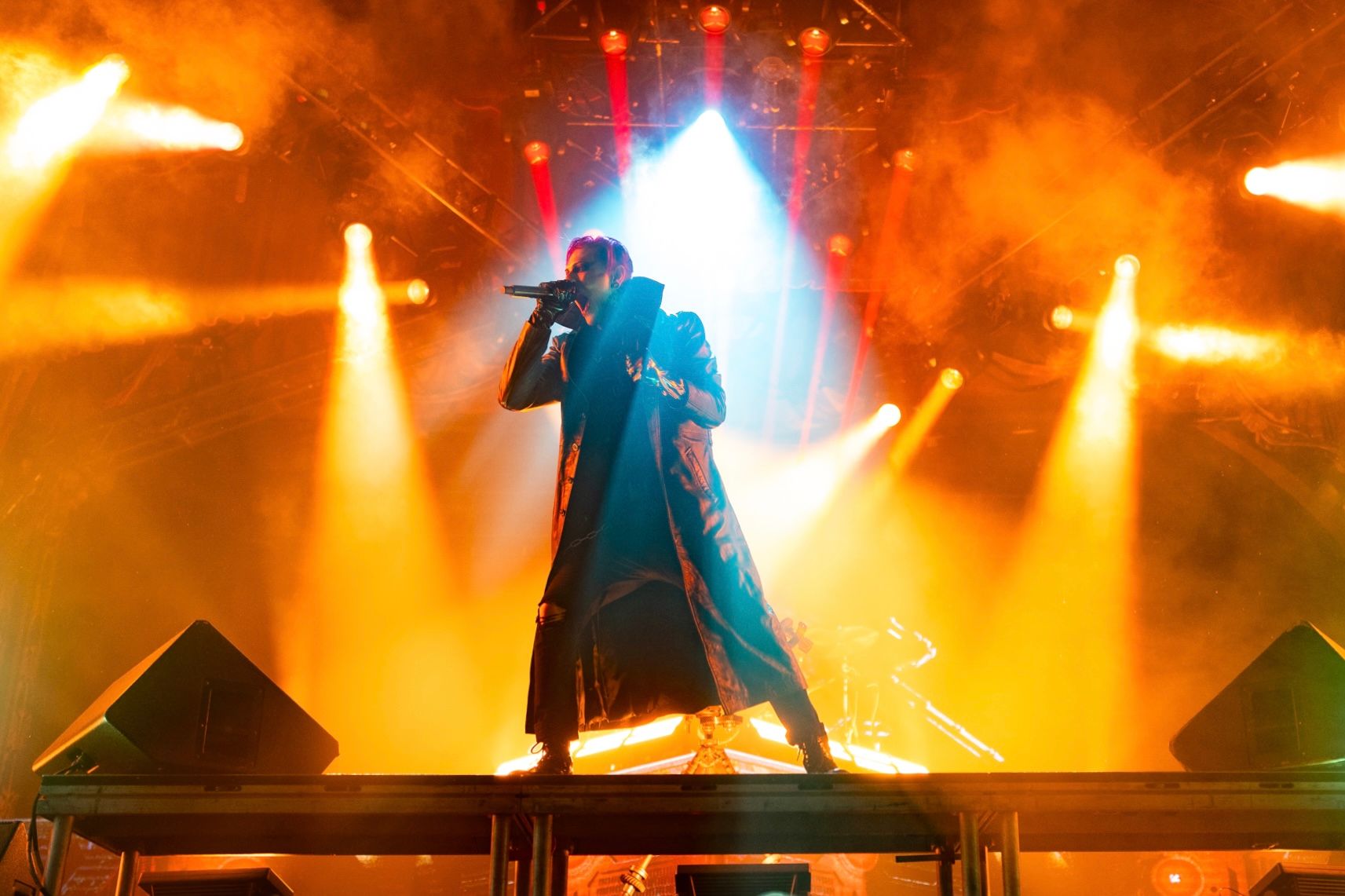 The Touring the End of the World Tour continues through the end of October with select festival dates announced for 2024.
Motionless in White Setlist - Aragon Ballroom, Chicago 10.21.23
Meltdown
Sign of Life
Immaculate Misconception
Thoughts & Prayers
Masterpiece
Headache
Rats
Slaughterhouse
Werewolf
Reincarnate
Another Life
Devil's Night
City Lights
Voices
Not My Type: Dead as Fuck 2
Nothing Ever After
Porcelain
Scoring the End of the World