On a beautiful late summer Wednesday night, August 9th to be exact, I had the opportunity to see the legendary metal band, Pantera perform. Supporting acts were Lamb of God (LoG), along with Child Bite. As I entered the grass parking lot of the Six Flags venue at Darien Lake, I could see a cool backdrop of the amusement park lit up. Lines of vehicles were already parked, chairs, coolers, even grills were the norm as concert goers were pregaming.
There was definitely energy in the air as fans were eager to see the show. Once inside the venue, there was a mix of concert goers young and old dressed in a sea of black t- shirts of various metal bands. Early as it was, there was still a moderate number of fans already on the main floor waiting for the show to begin.
---
Child Bite
Kicking off the show at 7:00 pm was the punk/metal band Child Bite. Formed back in 2005 in Detroit, Michigan, they came ready to play. Playing a 30 minute set of high energy music, they got the crowd pumped up for the rest of the show. The band had a playful, not-so-serious vibe but were excellent musicians and engaged with the fans throughout their set. Child Bite were the perfect band to set the tone for what was yet to come!
Shawn Knight – vocals
Sean Clancy – bass
Jeremy Waun – guitar
Jeff Porter – drums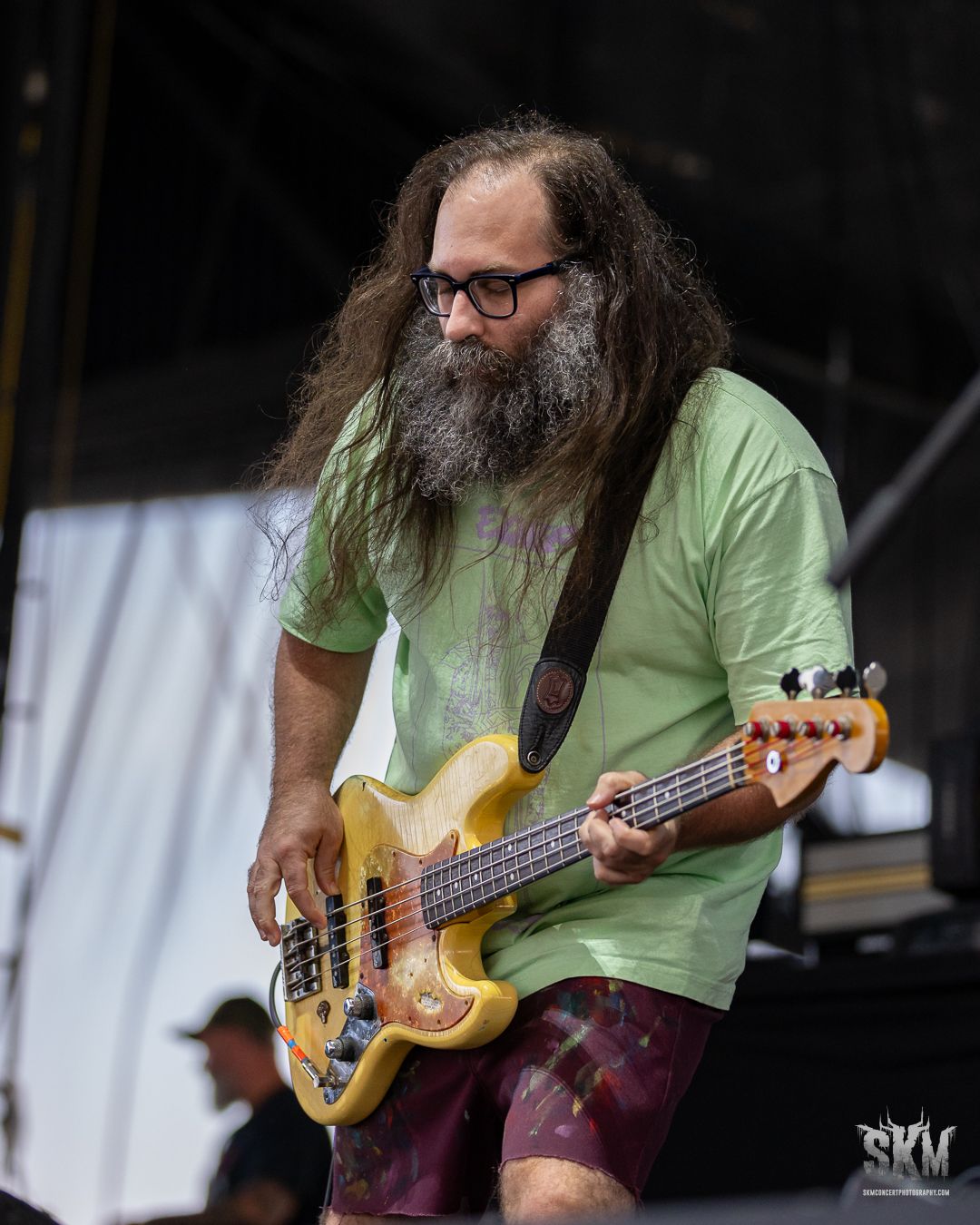 ---
Lamb of God
Taking the stage next at 7:50 pm was Lamb of God. Formed in Richmond, Virginia in 1994, the band is no stranger to a big production. With a large colorful backdrop and pyrotechnics, the band had a big stage presence. Frontman Randy Blythe was captivating as he would swing his microphone around and then suddenly stop, while his eyes would pierce the crowd. He asked the fans, "Who have seen us before or is this your first time seeing LoG?" It was a split crowd that responded. With his growling voice and high energy, the band also matched it with their own intense performance. Thunderous drums and intricate guitar and bass were present throughout the band's 10 song set. Near the close of the performance Blythe asked the audience in a low tone, "Serious question..are you waiting to hear some Pantera songs"? The fans cheer. He then yells," Are you F**cking ready to hear some Pantera songs"? A frenzied reply was heard back from the fans! Sadly, there wasn't an encore performance from LoG but the audience was now seriously primed and pumped up to see the headliner play.
Lamb of God are:
Randy Blythe – vocals
John Campbell - bass
Mark Morton – lead guitar
Willie Adler – rhythm guitar
Art Cruz – drums
SETLIST: Memento Mori, Walk With Me in Hell, Resurrection Man, Now You've Got Something to Die For, Ruin, Ditch, Omens, Contractor, Laid to Rest, Redneck per: setlist.fm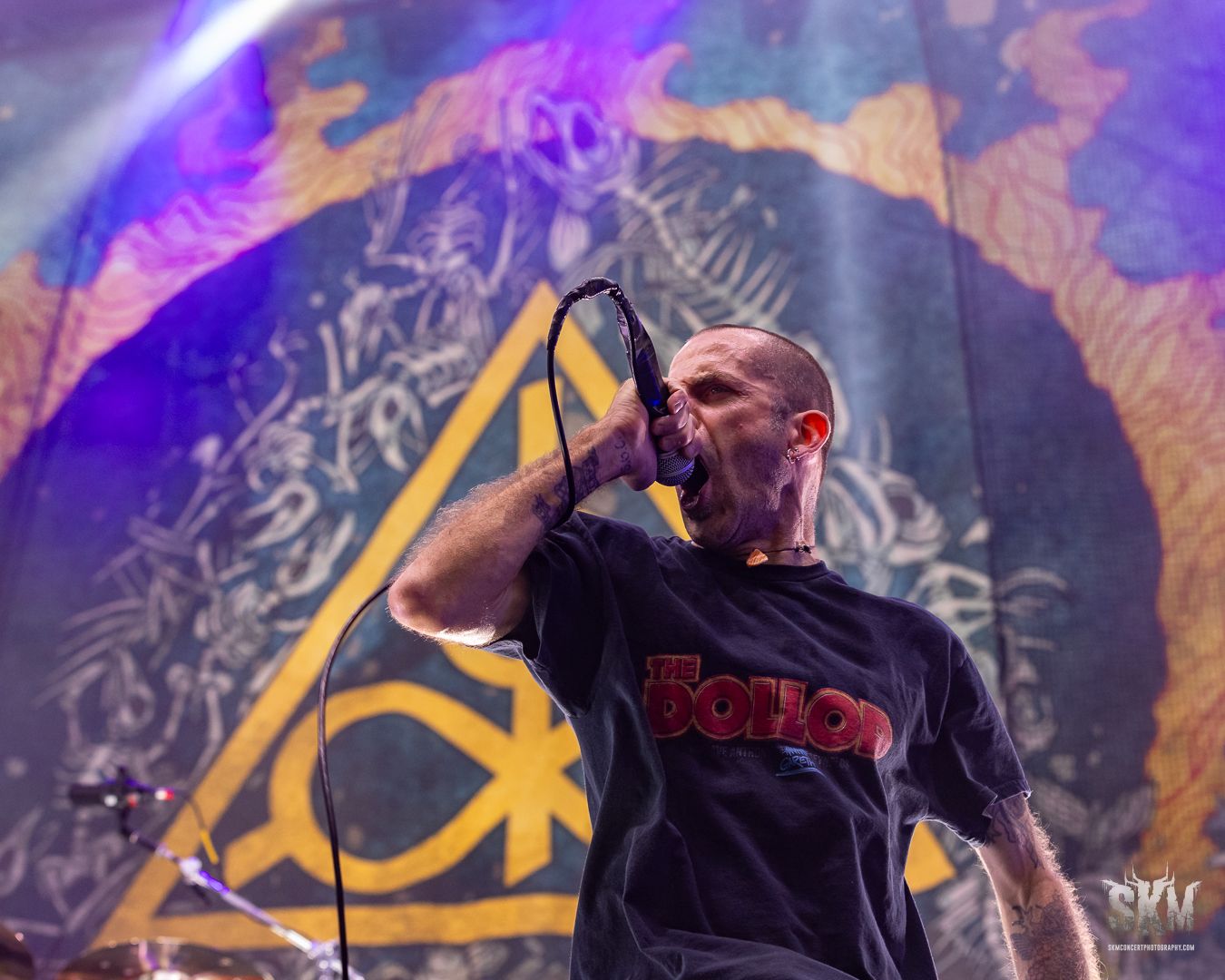 ---
Pantera
The fans at the now packed venue were on their feet in anticipation, excited to see the curtain drop.Taking the stage at 9:15 pm to a tremendous applause was the legendary Pantera. After a more than 20 year absence from touring and the passing of two founding band members, this was a very anticipated show.The reincarnation of Pantera includes long standing members; Phil Anselmo - vocals, Rex Brown - bass, with touring members, Zakk Wylde(Black Label Society/ Ozzy Osbourne) - guitar and Charlie Benante(Anthrax) on drums. One thing that was very clear is that the band played homage to the fallen founding band members, brothers Dimebag Darrell and Vinnie Paul. From portraits on two bass drums of Benante's monstrous quad bass drum kit, to the vest that Wylde wore with patches of St. Dime and St. Vinnie and a video playing with clips of the brothers through the years. It seemed as if the two were still very close by in spirit. Phil Anselmo's mighty stage presence was felt with his powerful growling voice and gritty performance. It was really cool to see, he would often just stop with arms held high in the air as if he was soaking the energy and memory of the moment. Rex Brown's intricate bass work was exceptional, he wasn't flashy on stage but he made that bass do some awesome things. As for newcomers Zakk Wyld and Charlie Benante, they did an outstanding job of keeping close to the original sound but adding just enough of themselves to the song. The band played a 15 song set for an hour and thirty minutes.The stage show was very impressive, from a giant flaming Pantera sign to a dazzling light show, this was one to remember. One of two stand out moments for me was a tribute to their fallen brothers, playing a cover of Black Sabbath's "Planet Caravan." The other was when the entire venue sang along to the well known anthem "Walk." It was monumental to hear the loudness of the fans at an outdoor venue. This show was everything it could have been and I do hope there can be a sort of permanent rebirth of Pantera in the future. If you get the chance to see this lineup, you will leave just as happy as those before you!
Pantera are;
Phil Anselmo – lead vocals
Rex Brown – bass, backing vocals
Zakk Wylde - guitar
Charlie Benante - drums
SETLIST: Regular People (Conceit) - from tape, In Heaven (Lady in the Radiator Song) - from tape (Peter Ivers & David Lynch song), A New Level, Mouth for War, Strength Beyond Strength, Becoming, I'm Broken, Suicide Note Pt. II, 5 Minutes Alone, This Love, Fucking Hostile, Cemetery Gates from tape, Planet Caravan (Black Sabbath cover), Walk (with Child Bite), Domination / Hollow, Cowboys From Hell, Encore: Slaughtered, Revolution Is My Name, How Soon Is Now? (The Smiths song) per: setlist.fm