Rina Sawayama finally brings the Hold The Girl: Reloaded tour to Toronto. The Japanese-British singer is on the rise and someone to keep a sharp eye out for in the music industry. With her first EP, Rina, which came out in 2017, in just six years, Rina Sawayama has managed to secure features with artists such as Charli XCX and Lady Gaga, as well as jumping on the big screen in the movie John Wick 4. The openers before Rina that took to the stage at the History concert venue in Toronto were Disko Cowboy, a DJ and producer from Texas, and Magdalena Bay, a synth-pop duo from Florida.
---
Disko Cowboy took the stage wearing an orange blazer and matching cowboy hat. His set opened, leaving no time to waste with any build-ups, and went straight into the heavy bass-rich drops. Pounding electronic songs provoked the crowd, getting them dancing and singing to popular songs he remixed together. Disko Cowboy's mix included songs from multiple decades, like ABBA's "Gimmie, Gimmie, Gimmie," from the 70s to Tiësto & Bebe Rexha's "I'm Good," from today's hits. Not to mention a great nod to the 90s and current trending movie Barbie, mixing in Aqua's "Barbie Girl." As great of a set Disko Cowboy put on for the audience at History, it ended mid-song and felt abrupt as he said a quick thank you and ran off stage.
---
Half an hour after Disko Cowboy's performance, Magdalena Bay came out on stage to perform their mellow electronic songs. Opening with their song "You Lose!" the duo wasted no time getting into the groove of their set. The duo's vocalist, Mica Tenenbaum, swayed around, singing and dancing, gracefully moving to the drum of the opening song. As the set progressed, Magdalena Bay's producer Matthew Lewin showed off his impeccable skills, shredding solos on his guitar and playing impressive fast-paced melodies on his keyboard. When Matthew started slapping notes on his bass, it left me in a state of amazement, as I don't remember a bass being so powerful I could feel the soundwaves bouncing through my chest.
Midway through the set, Mica picked up her white keytar, dancing her way across the stage, playing out chords and matching melodies with Matthew on his guitar. One thing I always love about performances is when an artist brings out a keytar. From my personal experience, this isn't something I have seen a lot of artists use on stage. As the duo continued, there was no lull or pause in their work; they continued wowing the crowd and getting them grooving to every beat. The pair closed their set out with their song "The Beginning." The lyrics "Sit back, enjoy the show" echoed from Mica as Matthew played one last keyboard solo with an 80s-style synth, and with a bow, they thanked the crowd and exited the stage in preparation for Rina Sawayama.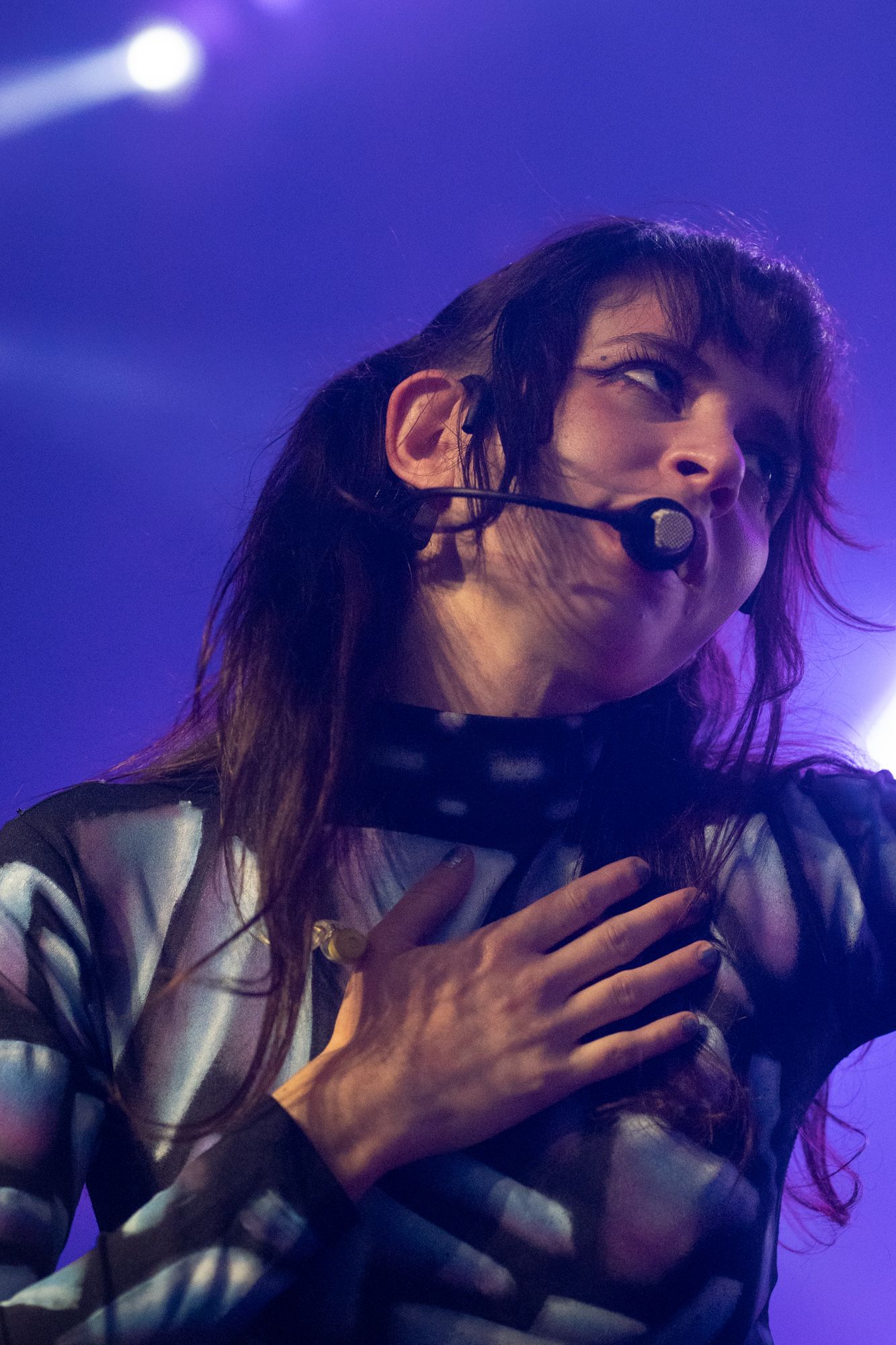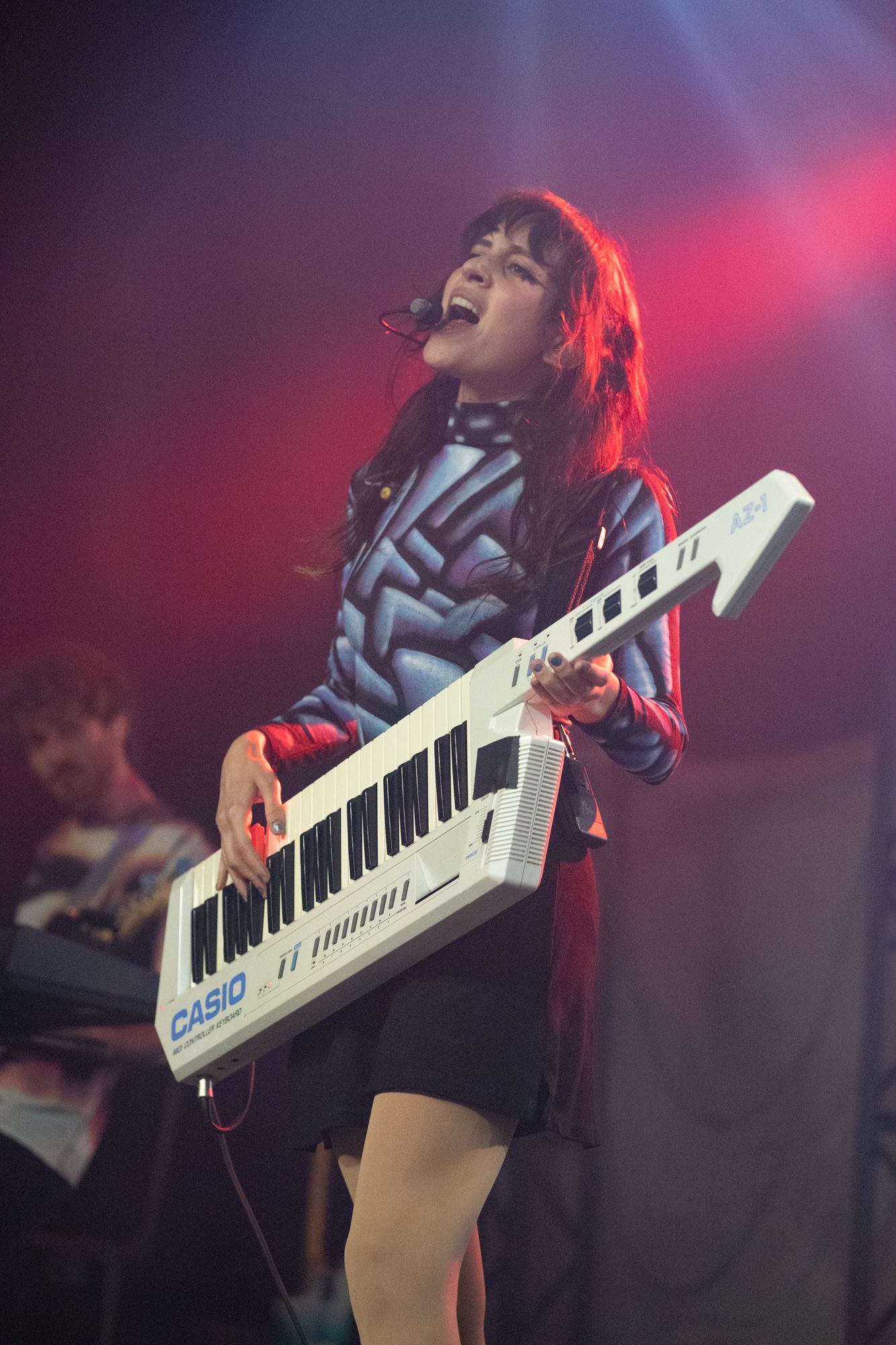 ---
The stage was dark; you could only see the silhouette of Rina Sawayama as she came out on stage, as a very hypnotizing introduction video started playing on the backdrop screen. The video ended, and Rina began singing the intro to her opening song, "Hold the Girl." Standing on stage, Rina wore a white dress, the top adorned with belts and many buttons. Similar to the "Hold the Girl" music video, where Rina is trying to escape a house but somehow always ends up back in the room she started in, she reenacts the element of escapism with a perplexed look on her face as her backup dancers keep pulling her back. The first act continued, lights flashing to match the storm clouds and lightning on the backdrop, and a surprise to the crowd as Rina rips off the bottom part of her dress to reveal a different variant to this outfit. The first act finishes with the song "Hurricanes" as Rina slips away, leading into the first interlude of the night.
Once the interlude concludes, Rina's backup dancers return to the stage, the lights flashing incredibly fast, making their dance moves look like they were from a Tim Burton stop-motion film. They danced in tandem as solid drumbeats punched the air. Rina returned on stage dressed in a black latex outfit and went straight into her song "Dynasty," which, among my friends, is a definite favorite. Moving on from the melancholy stormy vibe of the first act, we transition to a darker theme, lit up by red lights; the second act includes heavier sounding songs like "Akasaka Sad," "STFU!" and personally my favorite piece of hers, "Frankenstein."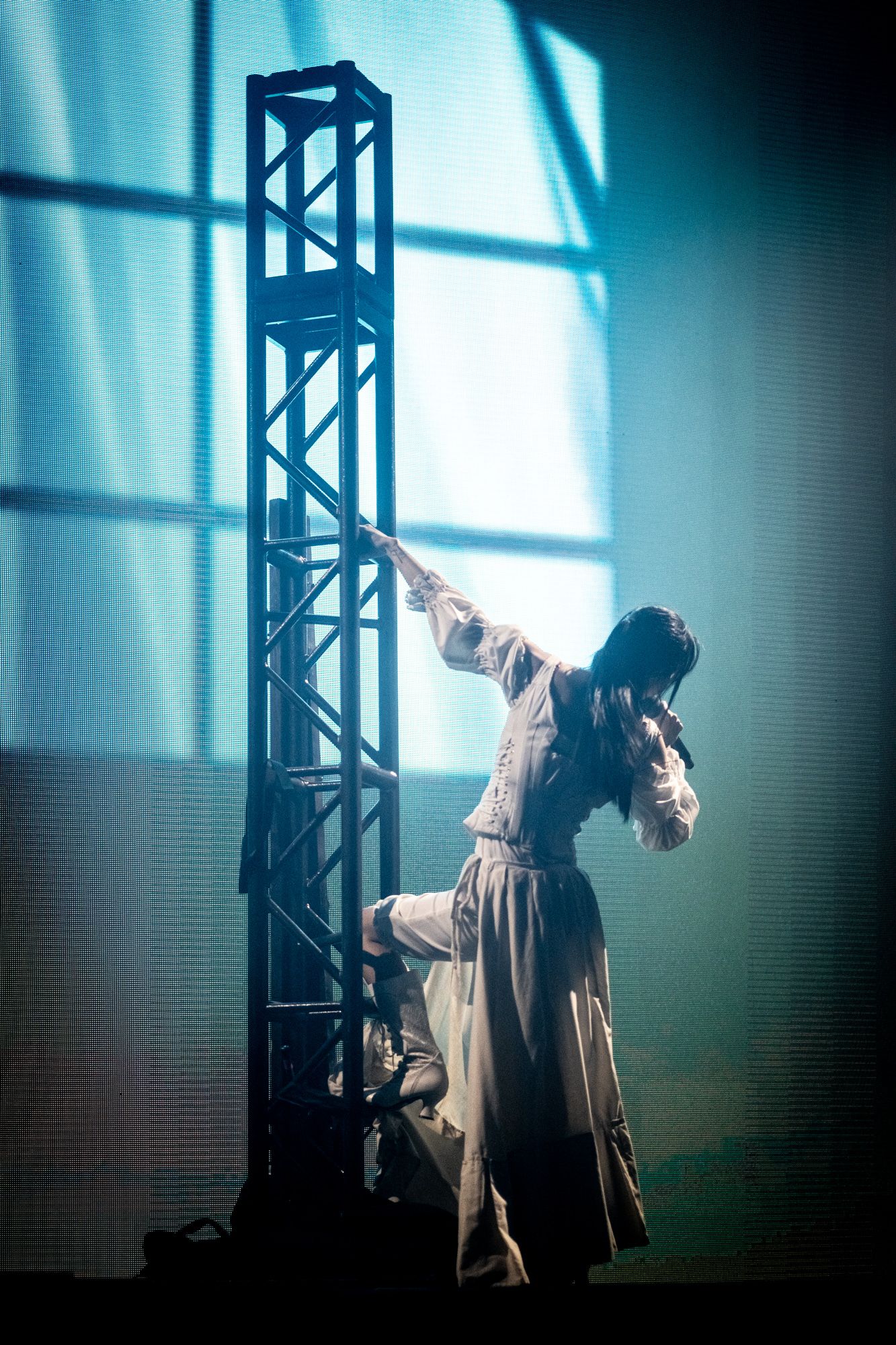 Each act seemed to envision a different Western theme as the show progressed. The backdrops show old oil mines, to a late 1800s steam locomotive moving across the screen. With a third costume change into jeans and an oversized button-up shirt, Rina moved into more toned-back songs like "Bad Friend" and "Send My Love to John." Before singing "Send My Love to John," Rina took a moment to talk to the crowd, mentioning how she takes pride in putting on a show for fans and that wherever she is in the world, she wants to make people happy.
As we started nearing the final songs, Rina performed her more popular tracks like "Tokyo Love Hotel" and "Lucid," both of which are from her 2020 album "Sawayama." With a surprise to the crowd, still standing in the jeans and white button-up, both of her backup dancers grabbed her clothes, ripping them off to reveal a sparkled red suit. Then Rina added a translucent red cape to the outfit and picked up a cowboy-style whip; from there, Rina went straight into her song "XS." Rina was about to sing her last song when she started riling up the crowd, keeping their hype at an all-time high as she headed into the show's finale.
She sat in a chair while saloon-style music played, and her name flashed on the backdrop spelled out in Edison-style lightbulbs. She looked at her dancers and said, "I thought we said we weren't playing this song in Canada because we don't need it to rile up the crowd." She grinned as the audience screamed louder, and after the teasing, she put on a red cowboy hat and finished the show with her song "This Hell." Once the song was finished, Rina played one last game with the crowd, dividing the floor in two to see which side could be the loudest. With an even tie, Rina thanked her team and the crowd closing off an incredible performance at her most recent stop in Toronto.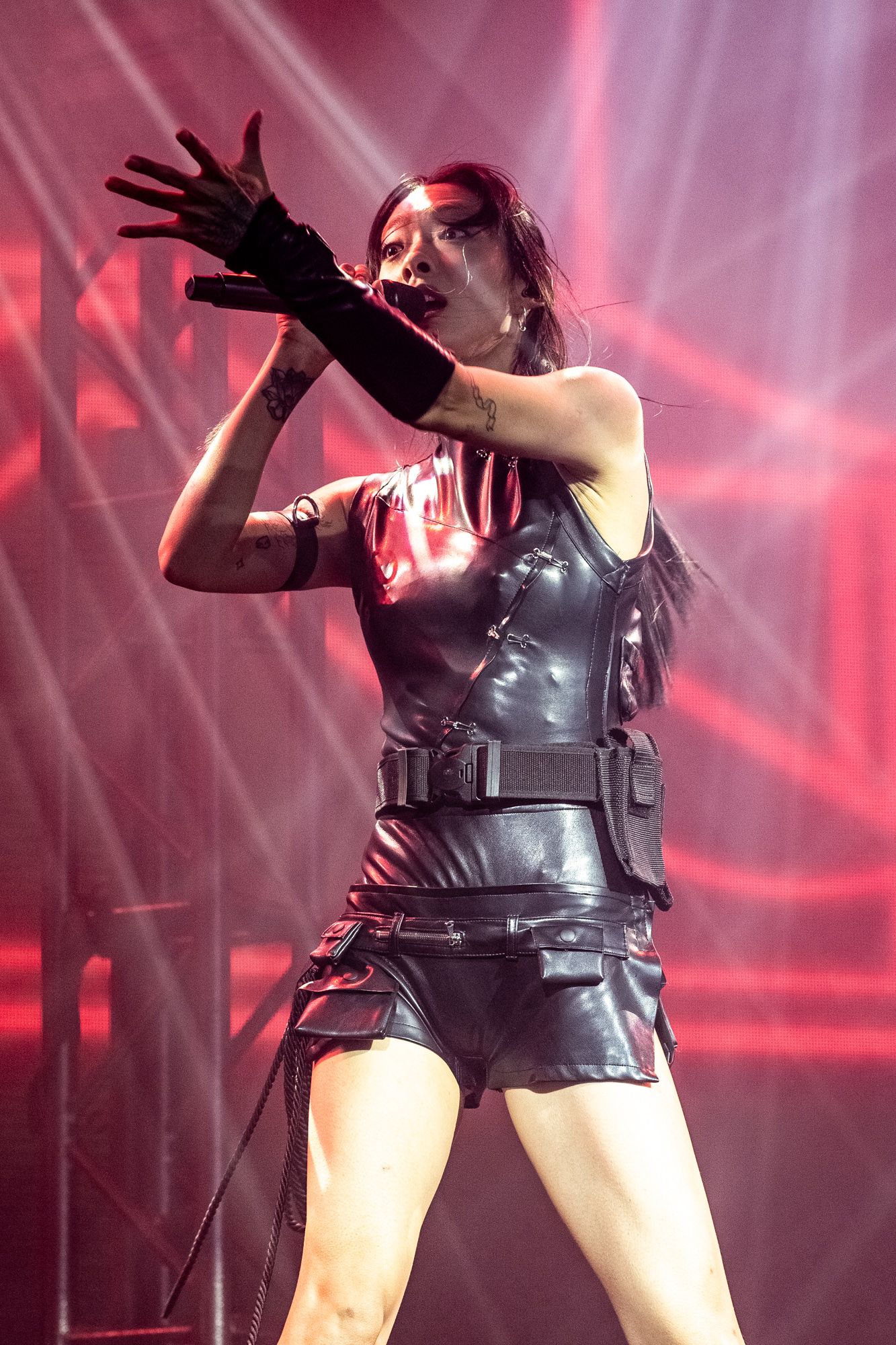 ---
If you're interested in learning more about Disko Cowboy, Magdalena Bay, and Rina Sawayama, you can find out more about them and their work below:
Disko Cowboy:
Magdalena Bay:
Rina Sawayama: