by Jason Gonzales
The sun had just set over Snapdragon Stadium and the air was charged with anticipation. The stage was set for an unforgettable night as the Red Hot Chili Peppers took the spotlight on their global tour in support of their chart-topping albums, "Unlimited Love" and "Return of the Dream Canteen." The show kicked off with the build of an intro jam lead by Flea and John Frusciante, prepping the crowd for an unforgettable night. Hits like "Can't Stop" and "The Zephyr Song" resonated through the stadium, causing an eruption of cheers and lyric-chanting. Between songs, Flea and Anthony Kiedis shared a lighthearted moment, reminiscing about their first encounter with Joe Strummer from The Clash. Their banter was humorous as both admitted their memories weren't as good as they used to be, highlighting the camaraderie and genuine friendship that has sustained the band throughout their career.
But it wasn't only the music that captivated the audience; it was the mesmerizing visuals that accompanied each performance. Psychedelic colors blended and morphed, transporting us into a realm where sound and sight merged. It was as if the very essence of the music materialized before our eyes, creating awe-inspiring visuals reminiscent of a kaleidoscopic journey of the mind. As the setlist progressed, the band's energy showed no signs of waning. Even Kiedis, donning surgical boot for a recent lower leg injury, defied his physical setback, dancing and leaping across the stage with unrivaled energy.The crowd was treated to powerful renditions of fan favorites like "By the Way," which incited a collective eruption of hype and unbridled enthusiasm.
The atmosphere in Snapdragon Stadium was electric, an eclectic mix of devoted fans from all walks of life, young and old, united by their love for the Red Hot Chili Peppers. Adding an extra layer of excitement, the Lakers' presence was also felt. During a technical difficulty, Flea seized the opportunity to celebrate the Lakers' victory over the Warriors in a game happening simultaneously during the show and switched to a purple and yellow Lakers-themed bass. Chad Smith even rocked a Lakers jumpsuit. Much to the delight of the crowd, who reveled in the collectivism, the fusion of music and sports created an unspoken bond that permeated the air.
As the final notes of "Give It Away" reverberated through the stadium, the crowd was left buzzing with a mixture of euphoria and longing. The Red Hot Chili Peppers had delivered a performance that transcended mere entertainment; it was a collective experience of music, camaraderie, and uncontainable energy. In their triumphant return to the stage, the Red Hot Chili Peppers reminded us why they are hailed as one of the greatest rock bands of our time. With their infectious energy, timeless hits, and mind-bending visuals, they created a night that will forever linger in our hearts as a testament to the power of music to unite and inspire.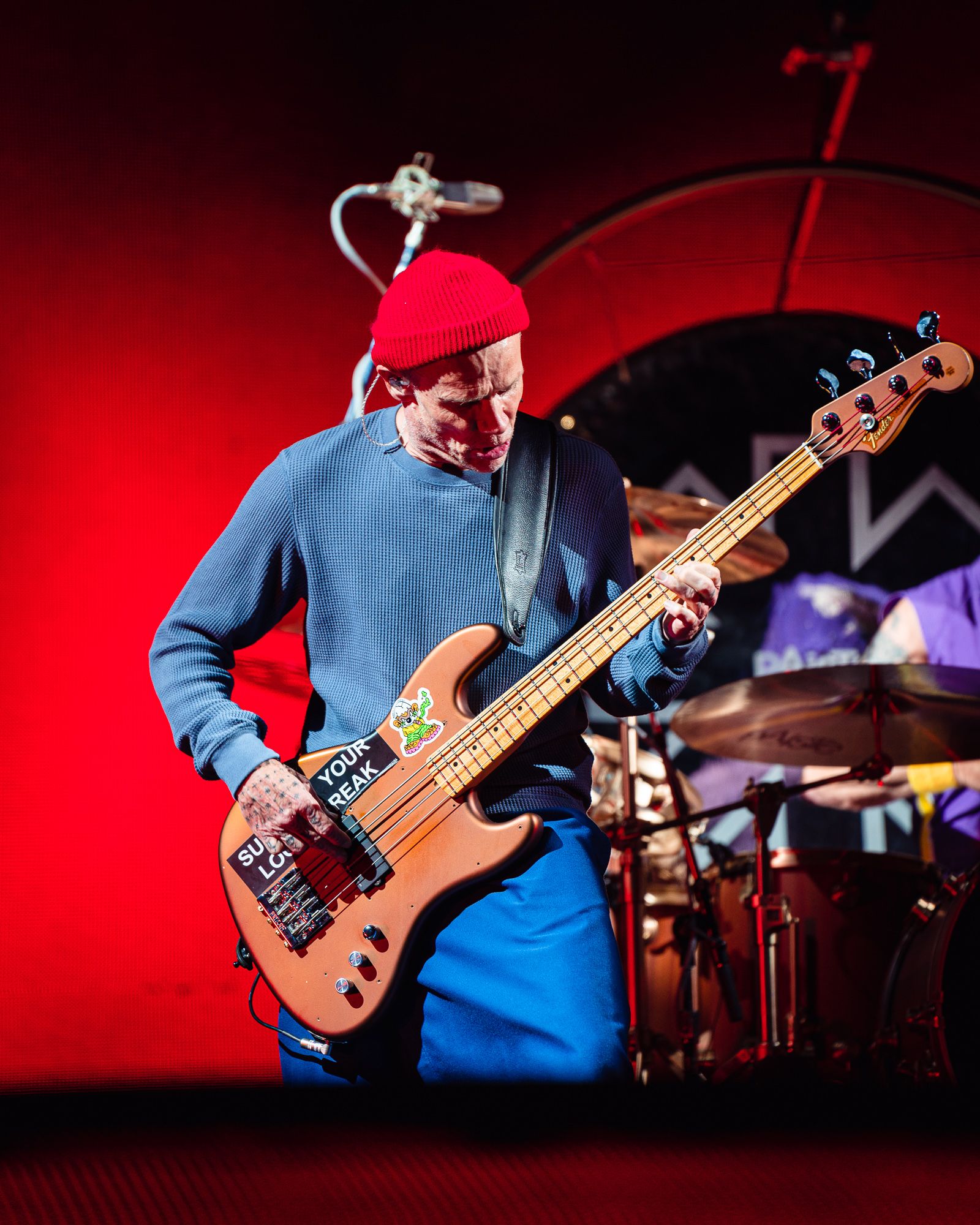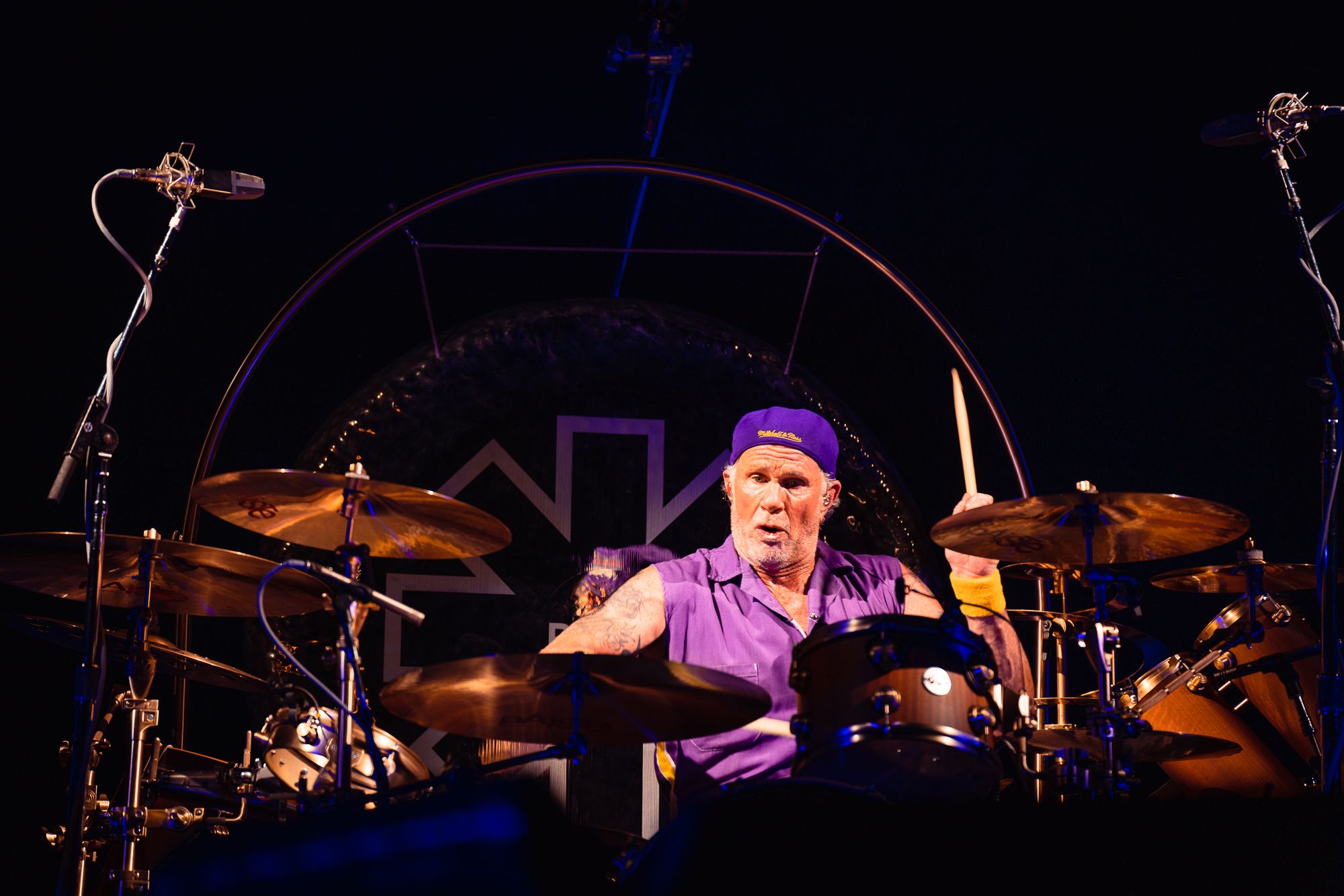 Setlist:
Intro Jam
Can't Stop
The Zephyr Song
Dani California
Aquatic Mouth Dance
Danny's Song
(Loggins & Messina cover) (John solo)
Otherside
Blood Sugar Sex Magik
Right on Time
("London Calling" by The Clash intro)
Tippa My Tongue
Soul to Squeeze
Eddie
Hard to Concentrate
Carry Me Home
Californication
Black Summer
(preceded by a tease of "Break On Through" by The Doors
By the Way
Encore:
I Could Have Lied
Give It Away