"I told y'all suckers! I told y'all suckers! I told y'all on RTJ1! Then I told ya again on RTJ2! And you still ain't believe me. So here we go, RTJ3!"
- Killer Mike, 'Down'
If there was a pitch-perfect call-and-response to open a show with, something that really set the tone for the rest of the night, it was pulled off on Friday night byRun The Jewels (rap tag team Killer Mike and El-P).
"This is spiritual warfare that you have been dealing with" boomed an overly stuffy and uptight male voice. "This is not a fight that you have been dealing with flesh and blood but this is a fight against principalities and evil doers and unclean spirits."
"RTJ3, motherfuckers."
RTJ3, motherfuckers indeed. For ten years now, RTJ have been standing up to the nameless faceless overlords in corporate and political America and not only giving them the finger, but doing so with a wink, a smile, and an absolutely eviscerating verse or three. And in celebration of the last decade where we have been spoiled with four RTJ full-length albums, the duo planned out a traveling party worth the ten year wait: four cities, four nights in each city, performing their four albums front to back, one each night.
It's not much of a surprise that Chicago joined NYC, Atlanta, and Los Angeles as one of the cities getting a RTJX stop. RTJ has a long history in this city and has checked almost every major box that a live group can in their short 10 year career: They've played Lollapalooza twice, Riot Fest twice, and Pitchfork once. They've played the Metro and the Aragon and the United Center. Selling out four straight nights at Chicago's Salt Shed was no problem for the duo.
Friday was night three, which meant RTJ3 (plus a bonus set of additional hits) was on deck. And while the Run The Jewels X tour is celebrating their decade of making music, it's only been seven years since the release of RTJ3. And while three years doesn't seem like a long enough time to be drawing a line in between the two, there was a giant shift in American culture and politics that happened in late 2016, just weeks prior to the December release of the album. And while Killer Mike and El-P had no idea during the writing and recording of the album who was going to win the Presidential election that year, the dangerous rise in the political climate brought on by far-right hate and fearmongering as well as the continued abuse of force by police (specifically against people of color) was certainly in the back of the duo's mind, or at the very least on their televisions, while RTJ3 was being created.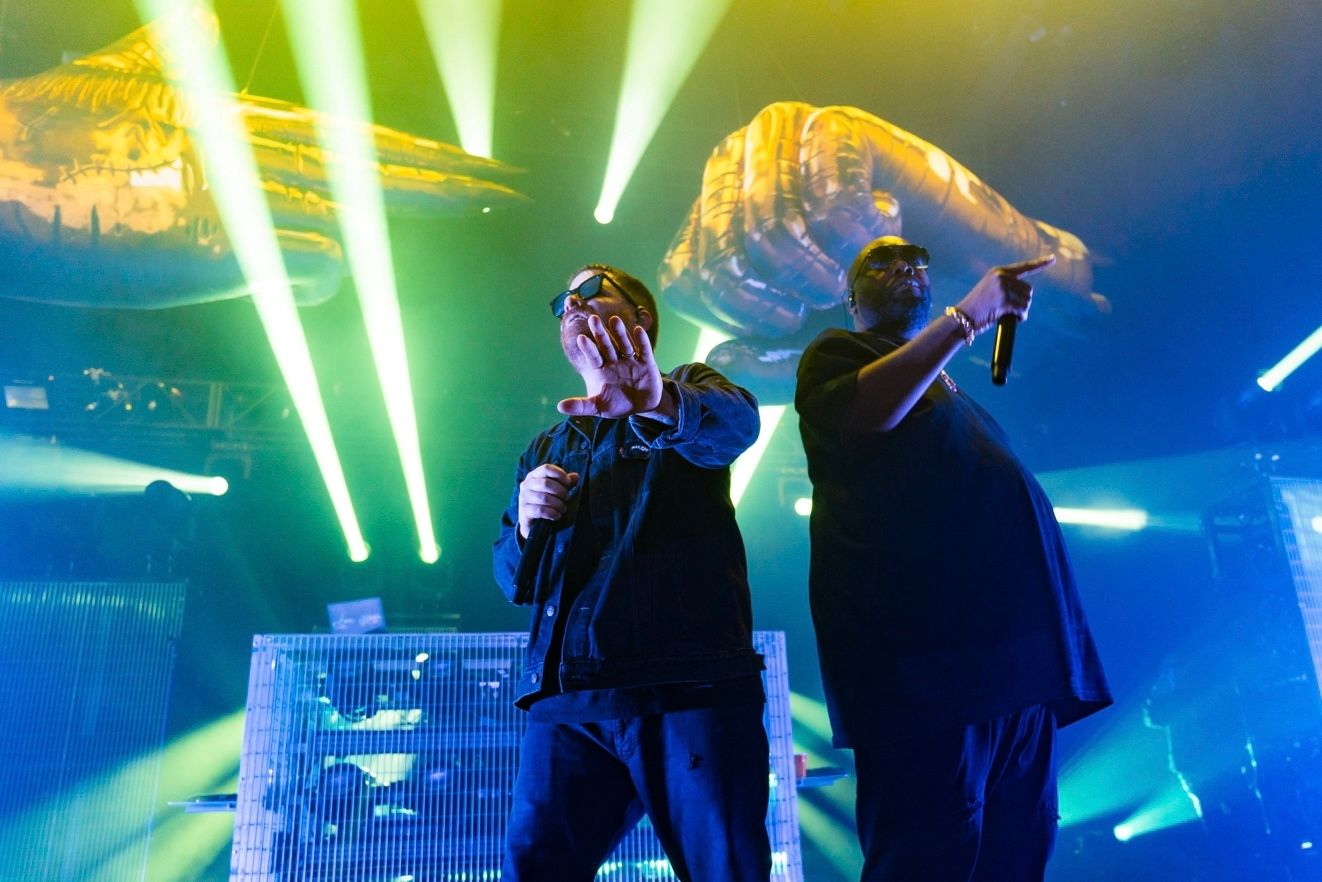 RTJ3 has aged incredibly well over the last seven years, and for the most part, that's a positive thing. Tracks like the evening's opener 'Talk To Me' and its follow up 'Legend Has It' show the duo at the top of their game, using razor-sharp wordplay and flow to build themselves up one minute ("RT & J/We the new PB & J", "I move in a world of conspiracies/Obey no rules, I'm doing me"), only to do a complete 180 and start addressing real shit happening now ("Born Black, that's dead on arrival/My job is to fight for survival/In spite of these #AllLivesMatter-ass white folk"). And while anyone that listened to the lead single off RTJ2 "Close Your Eyes (And Count to Fuck)" knows that RTJ always had a socially conscious slant, the release of RTJ3 took things to another level. And with tracks having titles like "A Report to the Shareholders/Kill Your Masters", it's not like Killer Mike and El-P were trying to be subtle. And while both Mike and El brought their fair share of positive vibes ("Me and Mike, we just think alike/We can't stop high-fivin'!"), absurd stoners-sitting-in-a-circle questions, ("You think Baby Jesus killed Hitler just so I'd whisper?"), and straight up bravado (the chorus to 'Panther Like a Panther' is multiple shouts of "I'M THE SHIT, BITCH!"), there's an edge and seriousness to songs like 'Everybody Stay Calm' and 'Don't Get Captured' that wasn't present in their two previous releases.
The only aspect that hasn't aged well over the last seven years is the fact that a lot of the things RTJ were railing against in 2016 (discrimination, profiling, violence against minorities, inequality, the list goes on) are not only still problems today, but might be worse problems now than they were then. And while that might be why the songs off RTJ3 can be delivered just as powerfully and hit just as hard as they ever have, in a way it's unfortunate how relevant they continue to be without a lot of clear solutions in sight.
But that doesn't excuse any of us to give up. Far from it. In moving the opening track of RTJ3 ('Down') from the beginning of their album performance to the end, RTJ made sure to end their album play set on a note of positivity, but also reminding us that we have to keep fighting those evil-doers with unclean spirits every step of the way. Killer Mike leads off the song acknowledging how far his fight has taken him, "I hope with the highest of hopes/That I never have to go back to the trap/and my days of dealing with dope" before pivoting to reminding us all about the chilling choice it seems we're constantly having to choose between in the current political climate: "ballot or bullet, you better use one".
Closing out the evening with an encore that included three songs off each of RTJ2 and RTJ4, the duo leaned even more into serious territory, with the aforementioned "Close Your Eyes..." as well as "Walking in the Snow" and "a few words for the firing squad (radiation) covering a lot of somber ground.
This isn't to say that Friday night's show was a downer or that the serious material they touched on overshadowed the absolute party they threw. Far from it. Whether being reminded to be socially and politically active or being (graphically) warned by El-P that he might "spill a pound of his kids on your couch", the 3,600 fans in attendance shouted back every word of every line, with eager fists and guns in the air the entire night.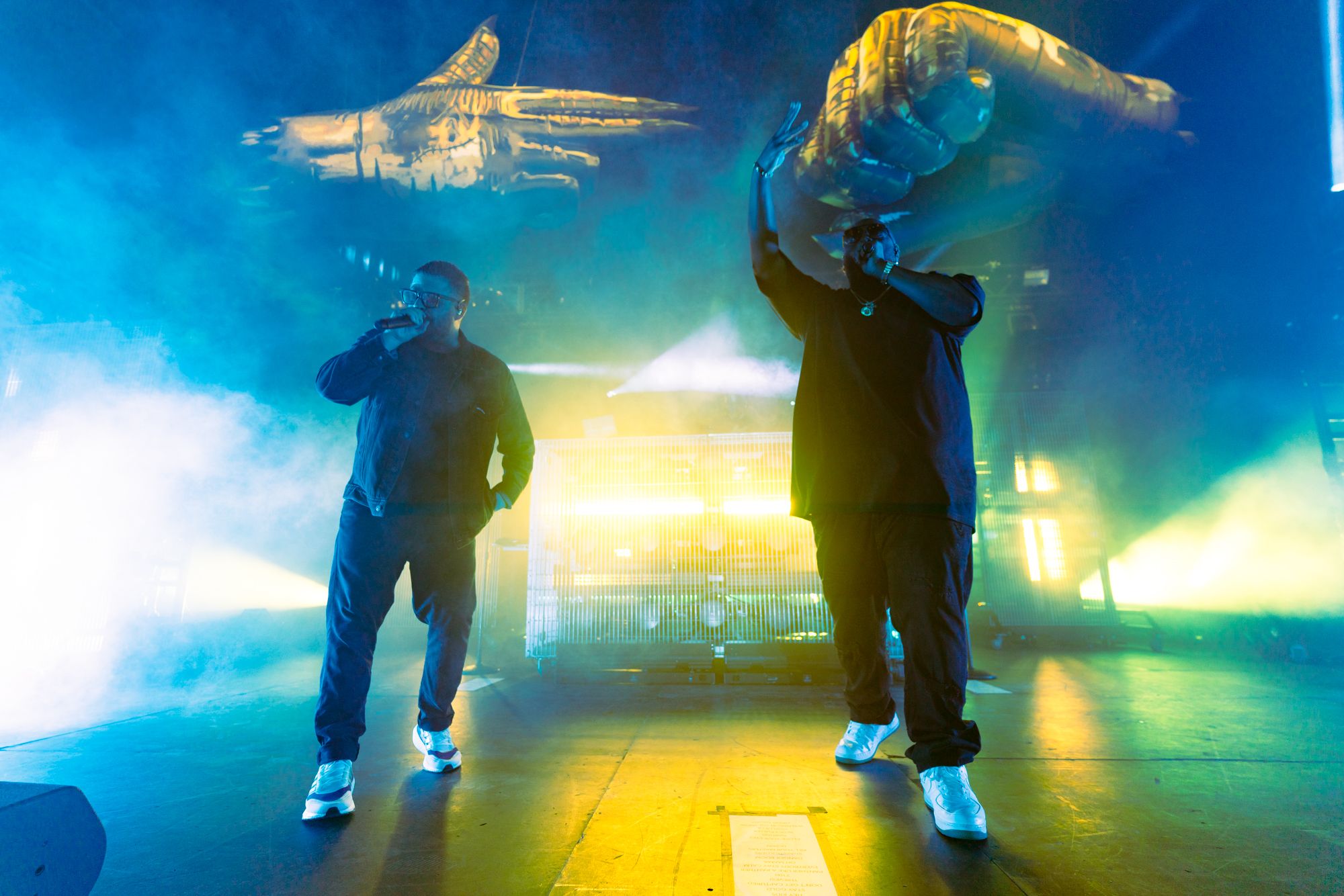 The RTJX Tour continues in Atlanta before finishing in Los Angeles October 14.
Run The Jewels Setlist - RTJX Night 3 - Salt Shed, Chicago 9.29.23
Talk To Me
Legend Has It
Call Ticketron
Hey Kids (Bumaye)
Stay Gold
Don't Get Captured
Thieves! (Screamed the Ghost)
2100
Panther Like a Panther
Everybody Stay Calm
Oh Mama
Thursday in the Danger Room
A Report to the Shareholders
Kill Your Masters
Down
Close Your Eyes (And Count To Fuck)
Oh My Darling Don't Cry
Blockbuster Night Part 1
ooh la la
walking in the snow
a few words for the firing squad (radiation)