by Melanie Bryan
The massive success of the first Trinity of Terror, a triple-headliner tour featuring some of the biggest names in the scene, has led to a second and even a third leg. Part Two is currently raging it's way across the US, and I got to attend the Asheville, NC date this past Sunday.
---
ICE NINE KILLS
The first headliner was none other than the kings of horror, Ice Nine Kills. I'd had the opportunity to photograph them a couple of times before so I knew that I was in for quite a show, but it was clear that they had perfected their craft in the time since that last show I had attended. Vocalist Spencer Charnas was a literal force of nature on stage as they began telling the tales of "Horrorwood".
The two latest albums from Ice Nine — The Silver Scream and The Silver Scream 2: Welcome to Horrowood — are largely based on popular horror films. Some examples include American Psycho, A Nightmare on Elm Street, Friday the 13th, The Crow, and The Texas Chain Saw Massacre. They have interwoven stories of death and gore into an irresistible combination of catchy hooks and heavy breakdowns.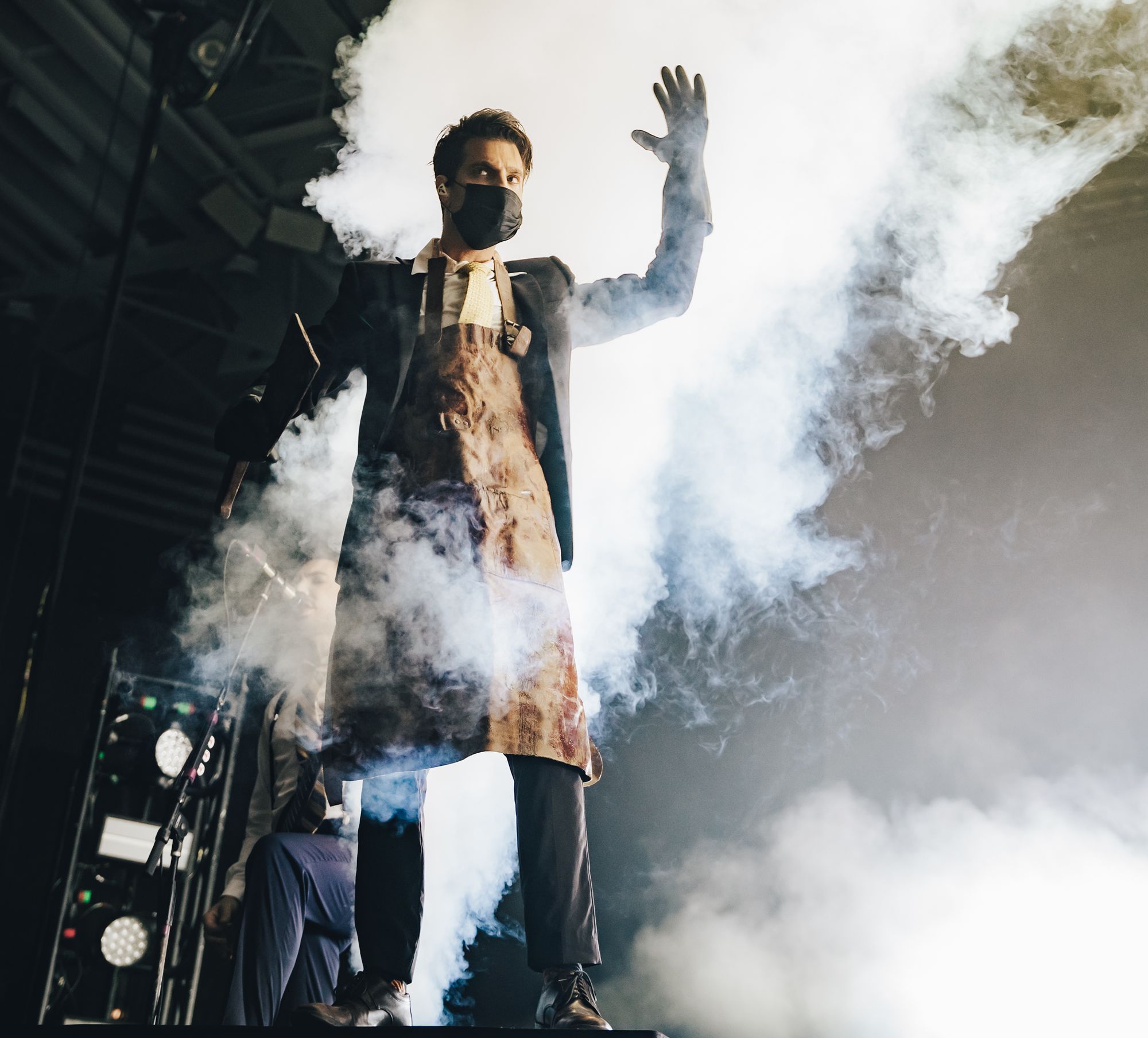 Ice Nine Kills is: Spencer Charnas (vocals), Dan Sugarman (lead guitar), Ricky Armellino (rhythm guitar), Patrick Galante (drums), and Joe Occhiuti (bass).
---
MOTIONLESS IN WHITE
I honestly didn't know much about Motionless In White before they took the stage. I knew the name, of course, and I knew enough to know that I would probably like them, but I'd never sat down and listened to their songs. I was wrong about liking them, though…I absolutely loved them. Their performance absolutely blew me away and left me wanting more! I was instantly hooked on the relentlessly heavy music, but pure raw emotion in Chris's vocals. It was like I could feel every lyric. My particular favorites upon first listen were:
"But I hate that it seems you were never enough, We were broken and bleeding but never gave up. And I hate that I made you the enemy, And I hate that your heart was the casualty. Now I hate that I need you…" ("Another Life")
"So how do I apologize, and put the tears back in your eyes?…" ("Masterpiece")
The crowd couldn't get enough, either. During a brief pause in the set, they began chanting in unison, "Motionless! Motionless! Motionless!". To which Chris responded, without hestitation, with "Asheville! Asheville! Asheville!…shut the fuck up!". Most of the crowd laughed, but one girl responded with, "fuck you!" He laughed and asked if she was really scolding him like his mother. I spoke with the girl afterward and it was the highlight of her evening.
At the close of their set, Chris made sure to mention that at this show, and any other shows that we attend, always remember that if someone goes down and doesn't get back up, to let them know. And then said, "We love you guys! Enjoy Black Veil Brides! We are Motionless In White, and we are eternally yours…" as they launched into their final song, "Eternally Yours".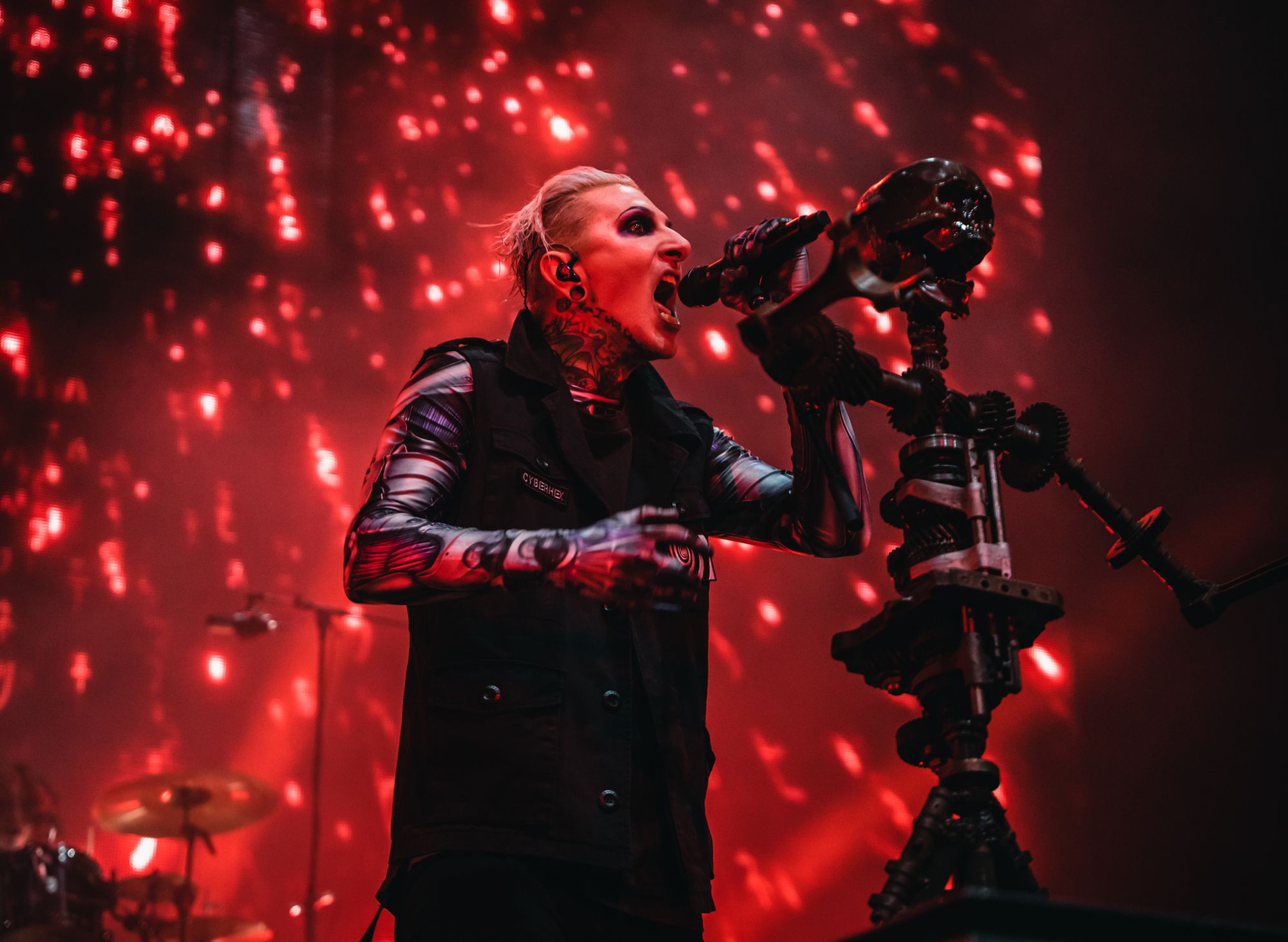 Motionless In White is: Chris "Motionless" (Cerulli) (lead vocals), Justin Morrow (bass), Vinny Mauro (drums), Ricky Olson (rhythm guitar), and Ryan Sitkowski (lead guitar).
---
BLACK VEIL BRIDES
Last, but certainly not least, the final headliner of the night was the one and only Black Veil Brides. You can't even begin to discuss post-hardcore, metalcore, or gothic rock without mentioning BVB.
Formed in 2006 by frontman, lead vocalist, and scene icon Andy Biersack, BVB has never been afraid to stand out. Known for their all-black attire, jewelry, studded clothing, and gothic glam metal appearance, they began making a name for themselves early on.
BVB have been consistently putting out their own unique blend of metal ever since. With 6 studio albums, 3 EP's, and countless singles under their belt, they performed a well varied set of their discography. Their energy was indescribably off-the-charts and their stage presence is like nothing you've ever seen.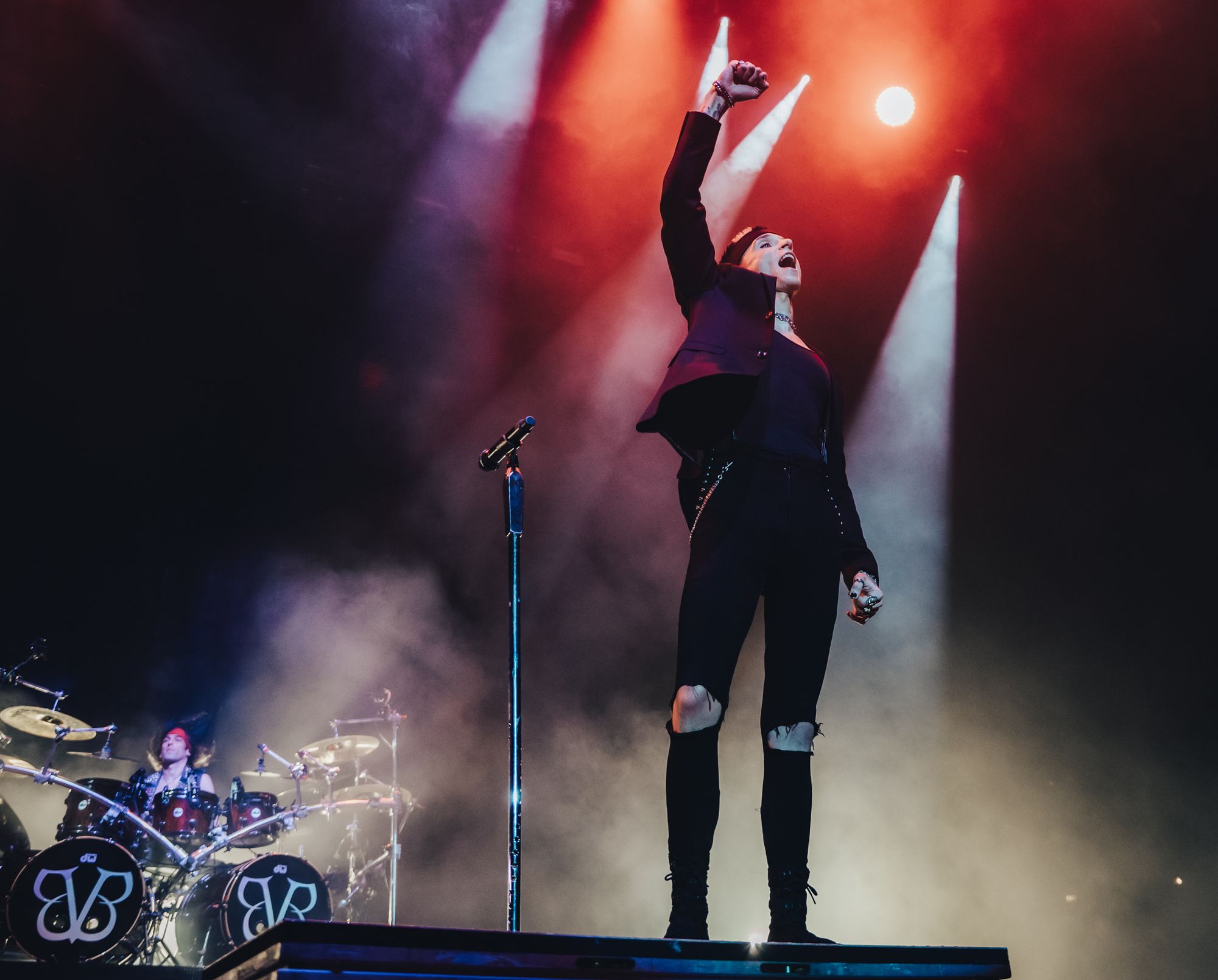 Black Veil Brides are: Andy "Black" (Biersack), Jinxx, Lonny Eagleton, Jake Pitts, and Christian Coma.
---
I have attended a lot of shows in my lifetime, and I can say with absolute sincerity that the Trinity of Terror is undoubtedly one of the best shows I have ever witnessed. Each band is an absolute master at their craft and phenomenal performers. You do not want to sleep on this tour, or on any of these bands!
UPCOMING TRINITY OF TERROR DATES:
TRINITY OF TERROR: PART TWO
TUE, SEP 13 Milwaukee, WI
WED, SEP 14 Sterling Heights, MI
FRI, SEP 16 Bonner Springs, KS
SAT, SEP 17 Saint Charles, MO
SUN, SEP 18 Cincinnati, OH
TRINITY OF TERROR: PART THREE
MON, OCT 31 El Paso, TX
TUE, NOV 1 Lubbock, TX
SAT, NOV 5 Charleston, WV
MON, NOV 7 Biloxi, MS
TUE, NOV 8 Houston, TX
THU, NOV 10 Peoria, IL
FRI, NOV 11 Cedar Rapids, IA
SAT, NOV 12 Minneapolis, MN
SUN, NOV 13 Gary, IN
TUE, NOV 15 Baltimore, MD
THU, NOV 17 Lowell, MA
FRI, NOV 18 Albany, NY
SAT, NOV 19 Toronto, ON
MON, NOV 21 Laval, QC
TUE, NOV 22 Rochester, NY
WED, NOV 23 New York, NY
SAT, NOV 26 Orlando, FL
SUN, NOV 27 Boca Raton, FL
TUE, NOV 29 Corbin, KY
SUN, DEC 11 Portland, OR
MON, DEC 12 Seattle, WA