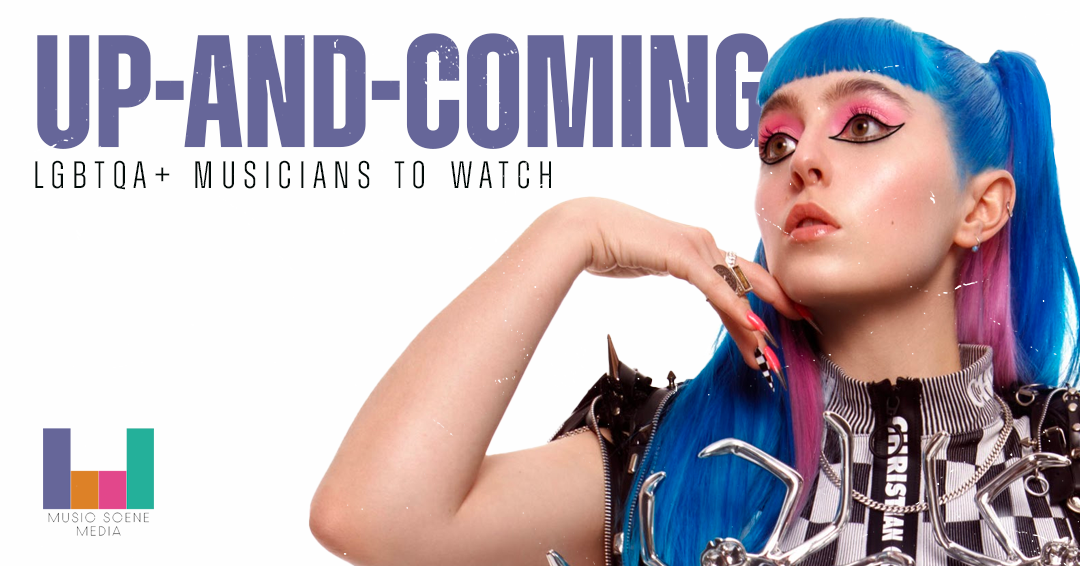 Pride Month, celebrated in June to honor the 1969 Stonewall riots, is dedicated to the celebration, commemoration, promotion of equality, and increased visibility of members of the LGBTQA+ community. It's no secret that the music scene is where many members of the community first feel safe expressing themselves. And with so many beautifully gifted LGBTQA+ artists active in the scene, we here at Music Scene Media wanted to uplift and showcase the talent of up-and-coming musicians in the community.
---
CAVETOWN
Cavetown is an English singer/songwriter that blends indie pop/rock with folk elements to create a uniquely mellow sound. Coming out as transgender in September 2020, Cavetown's pronouns are he/they. They're also on both the aromantic and asexual spectrums, stating on his social media, "For me, it's very rare and I often struggle to relate to people who feel attraction, so I feel comfortable in defining myself as on the ace/aro spectrums."
---
MITSKI
Mitski Miyawaki, popularly known by the mononym Mitski, pairs her soulful voice with a blend of indie pop and folk rock instrumentals to create soothing, ethereal music. The self-described "half Japanese, half American but not fully either" singer/songwriter has never officially labeled her sexuality. However, her lyrics touching on unrequited love, secret relationships, and various other queer-coded topics, featuring on Allie X's sapphic love song "Susie Save Your Love," and lack of confirmation or refutation have led many to believe Mistki to be some form of multisexual.
---
ELLIOT LEE
Elliot Lee is a non-binary, Brooklyn-based alternative/indie musician. Sonically combining dark pop melodies with electronic-rock undertones, Lee uses their candid lyrics to serve "as a voice for the voiceless." The above song, "Easy To Be You," was just released this month, specifically for Pride. The lyrics touch on Lee's thoughts, feelings, and struggles with living up to specific gender norms to fit into people's expectations of them and who they should be.
---
BRONZE AVERY
Born Gabriel Brown, Bronze Avery is an openly gay pop singer/songwriter based in LA. Originally from Orlando, Florida, and a formally frequent patron of Pulse Nightclub, the June 12, 2016 tragedy heavily influenced him as an LGBTQA+ artist. Though he refrained from discussing his sexuality early on in his career, Bronze Avery has since embraced incorporating queer topics into his music, telling Gay Times, "I think it's important to discuss our perspectives as much as possible, like gay sex and dancing with a guy at the club – it should be normalized, so I try to inject it into my songs when I have an opportunity to do so."
---
HAYLEY KIYOKO
Being a singer, dancer, and actress, pop musician Hayley Kiyoko is definitely a triple threat. She's also a lesbian and has known she was attracted to girls since she was six years old. Though she came out to her parents in sixth grade, it took Kiyoko a little more time to feel comfortable doing so publicly. But ever since, she's been an extremely vocal advocate for the LGBTQA+ community, and has even been dubbed "Lesbian Jesus" by fans.
---
RYAN CASSATA
Ryan Cassata is a transgender singer/songwriter who takes indie rock and blends it with a classic alternative sound, creating music that is sonically unique with a hint of nostalgia. He's also been extremely open about his transition, traveling to high schools all over the country to tell his story and speak on topics such as gender dysphoria and bullying. In 2013, Cassata was even the first openly transgender musician to ever play Warped Tour after winning a date through the Ernie Ball Battle of the Bands online.
---
SEEYOUSPACECOWBOY
SeeYouSpaceCowboy is a metalcoreband who got their name from the end title cards of the 1998 anime Cowboy Bebop. Consisting of siblings Connie and Ethan Sgarbossa, Taylor Allen, Timmy Moreno, and AJ Tartol, SeeYouSpaceCowboy is female-fronted, with vocalist Connie Sgarbossa being a proud transwoman. The hardcore punk band has always been a huge advocate for LGBTQA+ representation, anti-racism, anti-capitalism, and more, and even hope to one day bring a zine library on tour with them to help spread awareness.
---
SHEA DIAMOND
Shea Diamond is a soulful R&B singer whose music includes elements of blues, rock, hip-hop, and folk. Shea Diamond knew early on in life that she identified as a woman, but still felt pressured to act masculine growing up. She uses her music to express all the trials and tribulations she's faced as a Black transwoman and spread awareness of these struggles that transwomen, particularly transwomen of color, have to go through.
---
TATE LOGAN
Tate Logan is a punk/alternative singer whose musical influence ranges everywhere from 00s pop-punk to modern hyperpop. As a transman himself, Logan has always been a huge advocate for the LGBTQA+ community. He's worked hard to build a community where fans feel safe to be themselves. Logan looks to be part of the trans representation he never got in the alternative scene growing up, hoping his story and journey will help and encourage others.
---
MUNA
MUNA is an American pop band that consists of guitarists Josette Maskin and Naomi McPherson, and vocalist/synth bassist Katie Gavin. Many genres have been used to describe their sound, from indie pop to dark pop to electropop. But whatever label is used for their music, one label is for sure regarding the band; all three members identify as queer, with McPherson also being non-binary. While initially cautious about being labeled a "queer band," MUNA has since embraced it as an opportunity to inspire others to be comfortable and proud of their identities.
---
GRAPHIC BY CONNOR HANNAN
ARTICLE BY TAYLOR DAKOTA