Since 2014, All Things Go has been a standout in the festival scene. Originally located at Union Market in Washington, DC, the event moved their home to Merriweather Post Pavilion in Columbia, MD, starting in 2021, and has flourished ever since. Past years' lineup included favorites across the indie, pop, and alternative genres, with an emphasis on diversity and championing female and non-binary artists - consistently receiving highest ratings on the Instagram account "Book More Women. "
Formerly known as the All Things Go Fall Classic, the event is a highlight of the fall for many East Coast concertgoers. This year, the festival will take place on September 30-October 1, and the stacked lineup includes headliners Maggie Rogers, boygenius, and Lana Del Rey; favorites such MUNA, Mt. Joy, and Carly Rae Jepsen; recent breakouts Ethel Cain, Tommy Lefroy, and Ella Jane; undercard acts Vacations, Jensen McRae, and Juliana Madrid; alongside a plethora of other tactfully curated artists.
Though the entire lineup is almost too good to be true, here is a run-down of some of the artists we are most excited to see this year:
---
Maggie Rogers
Rogers made her breakout into the mainstream in 2016, when a video of an NYU masterclass with Pharrel that she attended went viral due to the latter's intensely emotional reaction to her song "Alaska." Since then, she has released two full-length records, Heart It in a Past Life (2019) and Surrender (2022). Rogers hasn't slowed down one bit in recent years; the songs of Surrender surfaced while she was in the midst of attending graduate school at Harvard, and the artist has said her third LP is already on the way. All Things Go arrives at the end of a summer and early fall run of North American shows, the setlist for which will include music old, new, and unreleased, according to Rogers - and we cannot wait for new material from her, regardless of when we end up hearing it.
*Standout Songs: "Shatter," "Retrograde," and "Satellite."
---
Ethel Cain
Hayden Anhedönia, better known by her stage name Ethel Cain, has quickly climbed the ranks in the world of ethereal vocalists. Her inspiration from Florence Welch is easily heard in her devastatingly gorgeous voice and delivery of her equally haunting lyrics. Preacher's Daughter was perhaps the most unique release of 2022; the concept album tells the tale of the fictional character Ethel Cain, and her tragic story entangled with religion, trauma, crime, and her ultimate and untimely demise at the hands of a lover. Cain has since toured with the likes of Florence and the Machine and Caroline Polachek, but with her incredibly unique and at times startlingly blunt approach to storytelling, we soon expect her to be selling out venues all on her own.
*Standout Songs: "Strangers," "A House in Nebraska," and "Thoroughfare."
---
Ella Jane
In a funny sort of way, we have The Great Gatsby to thank for Ella Jane's irresistibly catchy indie pop. The singer-songwriter took the internet - TikTok specifically - by storm with her song "Nothing Else I Could Do," which was originally written as a final project for a high school English class based on the aforementioned novel. Hailing from a family of musicians, it seems she was destined to create the glimmering, shimmering songs we've heard on her 2021 EP THIS IS NOT WHAT IT LOOKS LIKE! and her 2022 full-length debut Marginalia. With a knack for clever lyricism wrapped in lush production and soaring synthesizers, we're excited to see this new favorite bring her layered sounds to life on stage.
*Standout Songs: "bored&blind," "AUGUST IS A FEVER," and "Party Trick."
---
Arlo Parks
Arlo Parks' silky smooth blend of folk, pop, and R&B has woven its way through the airwaves almost as seamlessly as the singer's effortless and soothing vocals sit perfectly within her sonic universe. With a delicate yet reassuring tone and a touch of an English lilt, Parks made her first appearances in Europe in the late 2010s alongside the release of EPs Super Sad Generation (2019) and Sophie (2019), followed by a North American debut and LPs Collapsed in Sunbeams (2021) and My Soft Machine (2023). Having opened for artists such as Harry Styles, Clairo, and Billie Eilish, there is something for everyone to be found in her music; with her earnest words and thoughtful imagery, nestled within the threads of production so cozy and warm from its first notes, it's hard not to be drawn into Park's embrace.
*Standout Songs: "Eugene," "Caroline," and "Devotion."
---
Meet Me At The Altar
MM@TA are among the newer members of the Fueled By Ramen roster, and they certainly have earned their spot in the company of pop punk and alt rock giants such as Fall Out Boy and Twenty One Pilots. Singer Edith Victoria, guitarist Téa Campbell, and drummer Ada Juarez formed the band in 2015 after meeting on the internet - a true testament to the modern age and the power of remote communication, something we've all become quite comfortable (perhaps too comfortable) with over the past few years. They rose to the public eye in the early 2020s and have steadily built a devout fanbase, landing opening slots for bands such as MUNA and 5 Seconds of Summer. Often compared to Paramore, it is truly a breath of fresh air to see a band full of women take the pop punk scene by storm, a space that has long been dominated by men. Their seemingly endless energy, bright and bold attitude, and perfectly angsty lyrics - all backed by that ideal electric guitar tone we all know and love - are just what the genre has been needing, and their future is looking as bright as singer Edith's signature dyed hair.
*Standout Songs: "T.M.I.," "Note To Self," and "Hit Like A Girl."
---
All in all, All Things Go has the makings of the most coveted festivals of 2023. With a lineup that only gets better with each glance and an equally fantastic philosophy behind the scenes, it's bound to be the best weekend of the year for those who are lucky enough to attend.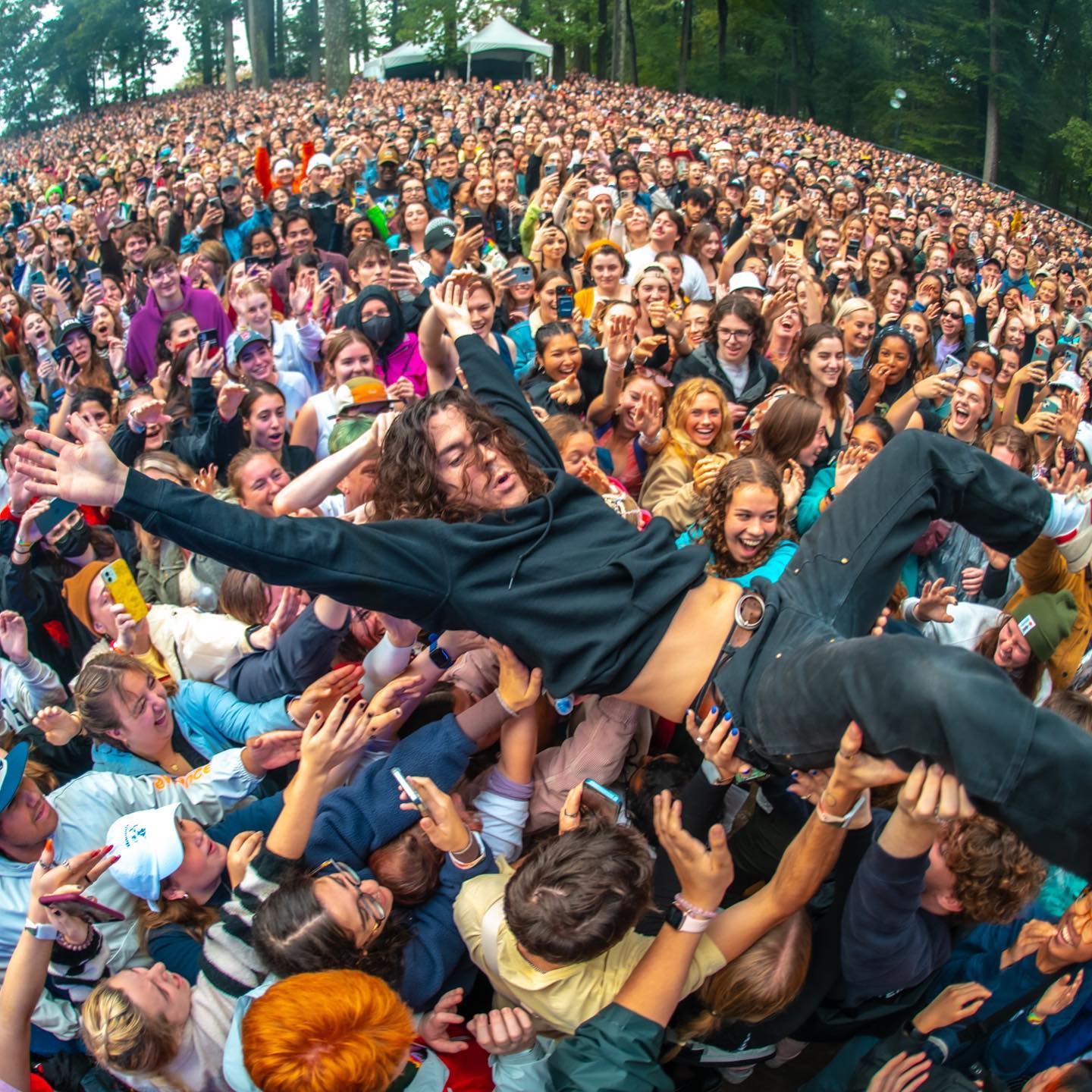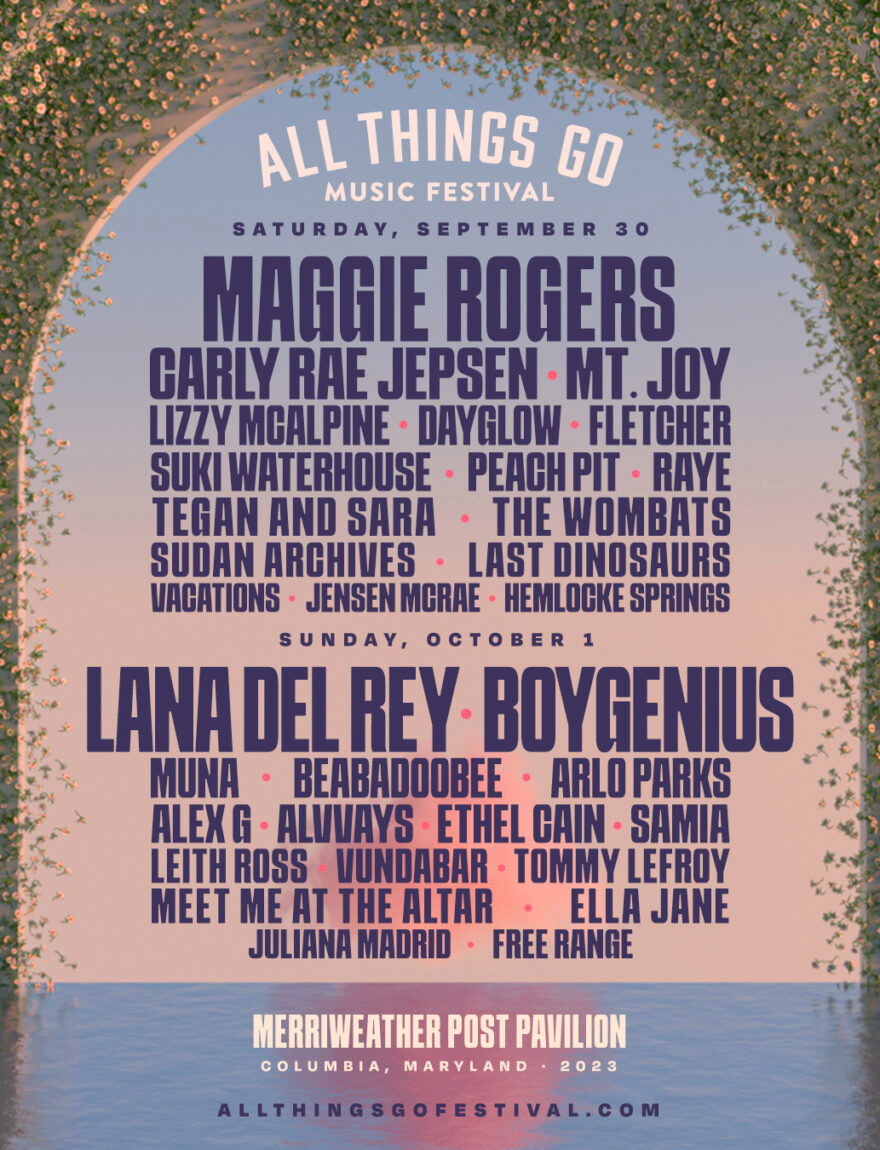 *PHOTOS: ALL THINGS GO FESTIVAL FACEBOOK PAGE