To fans of Andrew McMahon, 11/11 is more than a palindrome, a wish, or Veteran's Day. Every year, fans from all across the country travel to gather in different locations for the annual Dear Jack Foundation Benefit Concert, which funds most of the nonprofit's programs for the following year.
Those who have followed McMahon's career for any length of time are familiar with his story that goes far beyond the music. In 2005, the musician was diagnosed with Acute Lymphocytic Leukemia at the age of 22; he had just wrapped up his high school band Something Corporate and was getting ready to launch the next chapter of his career, Jack's Mannequin. His treatment and recovery were filled with a number of coincidences that can only be attributed to something like serendipity, or fate. The first Jack's Mannequin record, Everything in Transit, was released into the world on August 23, 2005 - the same day McMahon received a life saving stem cell transplant from his sister Katie. Additionally, the Jack for which the band and eventually the foundation was named after was a childhood survivor of the very same cancer Andrew would be afflicted with so many years later. While McMahon survived his illness, the fallout that followed was a beast of its own, and he was left with little tools to cope with the emotional rollercoaster he and his wife Kelly would endure for years to come. Thus, the Dear Jack Foundation was formed in 2006 to provide psychosocial support to adolescent and young adult (AYA) cancer patients and survivors, but even more importantly - to their caregivers. The AYA community is historically overlooked and underfunded, though they need the most support facing a diagnosis during the most pivotal moments of their lives - graduations, marriages, career defining moves, and more. Moreso, their significant others are left with a burden they never signed up to carry, and yet generally receive the least care and concern themselves.
The foundation has grown immensely since its inception seventeen years ago, growing a robust staff and from an annual fundraising goal of $72,000 - a dollar for every AYA diagnosed with cancer every year - to a whopping $250,000. This year, they blew past that goal, with the final tally sitting somewhere closer to $350,000, in large part due to the devoted community of fans new and old alike who rallied around McMahon during his illness and continue to champion his cause over a decade and a half later. They've developed two programs; the LifeList, a wish granting program for those currently in active treatment; and Breathe Now, a wellness retreat designed specifically for couples to reconnect and redefine their relationship in the precarious years following remission. In board chair and interim executive director Steve Mitzel's own words, "we are blessed to have fundraisers consistently and generously raise money for the Dear Jack Foundation. Many of them have a deep personal connection to a loved one that has been impacted by cancer and they understand by donating they are helping our programs make a difference in the lives of our program participants. For others, they donate because of Andrew McMahon's deep commitment to being a change agent in the adolescent and young adult cancer community."
Originally, the annual benefit concert was held only on 11/11 - a nod to the lengthy Something Corporate tune "Konstantine," which makes a reference to 11:11 on the clock, and is usually the only day of the year McMahon performs the song. In the last few years, the festivities have grown to include several days before, and this year the benefit weekend was the most packed it has ever been. On November 9, 30 lucky individuals attended an exclusive and upscale wine and dine event with McMahon and the Dear Jack board members. November 10 included a showing of the Dear Jack documentary detailing Andrew's journey through his cancer, as well as the extra special VIP night concert. A favorite of the weekend for many, VIP night included testimonies from current and past program recipients of the foundation, which this year included Ashley and Ryan, a couple who have been fans of McMahon's music since the early 2000s and went on a Breathe Now retreat after Ashley received a breast cancer diagnosis; Nechie, who is in active treatment and found the community and family she needed to keep her going through treatment after the passing of her father; and Brandon, a musician and Leukemia survivor who performed at last year's 11/10 event as part of a LifeList wish. This was followed by an intimate acoustic performance from McMahon, who made sure to take every opportunity to express his immense gratitude for the community that has allowed the foundation to blossom. The morning of 11/11 featured a brunch with Dear Jack staff, McMahon and his band, and a room full of fundraisers, all before the main event - the 14th annual benefit concert.
The benefit travels every year, this time taking place at Stubb's in Austin, Texas, as part of Andrew McMahon in the Wilderness' New Friends tour in support of his recent record Tilt at the Wind No More. While it is a tour stop, the benefit is far from a regular concert. The Dear Jack staff graced the stage regularly with updates on their fundraising numbers, which had surpassed their goal long before the concert even began.
---
Wildermiss began the night of music with a half hour opening set; perfect for fans of Paramore or Halsey, the band embodies the perfect blend of upbeat indie pop with songs like "Choice" and "Identify It!" juxtaposed with the moodier, gloomier tones heard in "New Year's" and "W.I.F.I." Singer Emma Cole stunned the audience with a particularly breathtaking vocal performance on "Gettin' Old Rock & Roll" while guitarist Joshua Hester and drummer Caleb Thoernke got to shine on the track "This Isn't How The Story Ends."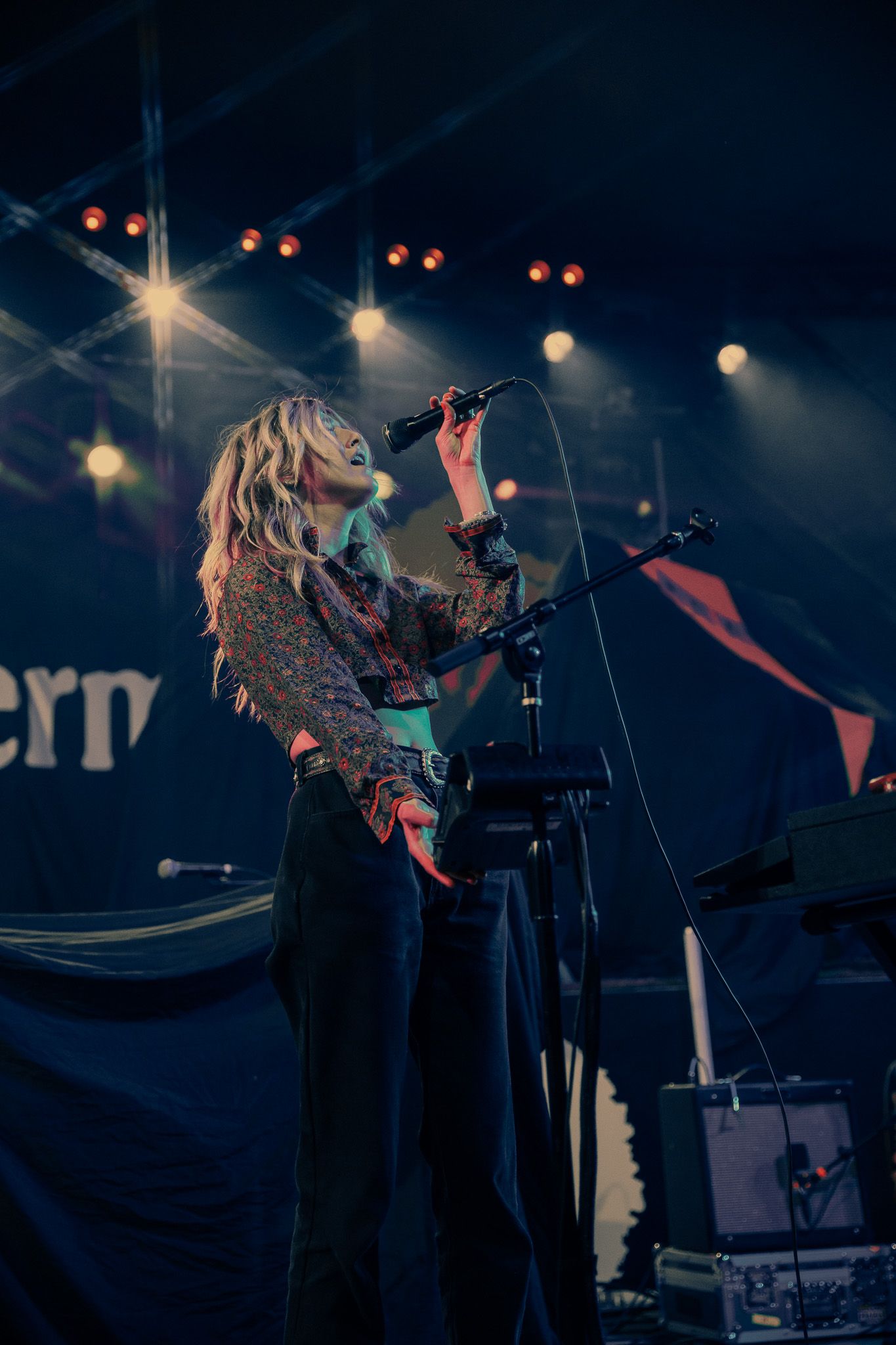 ---
Michigander took the stage next, and Jason Singer's effortlessly cool, calm, and collected demeanor - highlighted with a pair of sunglasses, worn at night of course - quickly caught the audience's attention. Singer and his band performed songs from his newest EP It Will Never Be The Same, such as "In My Head," "Superglue," and "The Other Way." Guitarist Jake Lemond treated the crowd to more than a few guitar solos powered by his seemingly endless energy. Singer took a moment to express his love of Austin, and the people there - even mentioning that his rider request for a signed poster of DJ Khaled had miraculously been met by the venue staff. The band closed their set with "Let Down," joking that they're contractually obligated to warm the audience's voices up for McMahon's set, making the sing-along tune the perfect closer.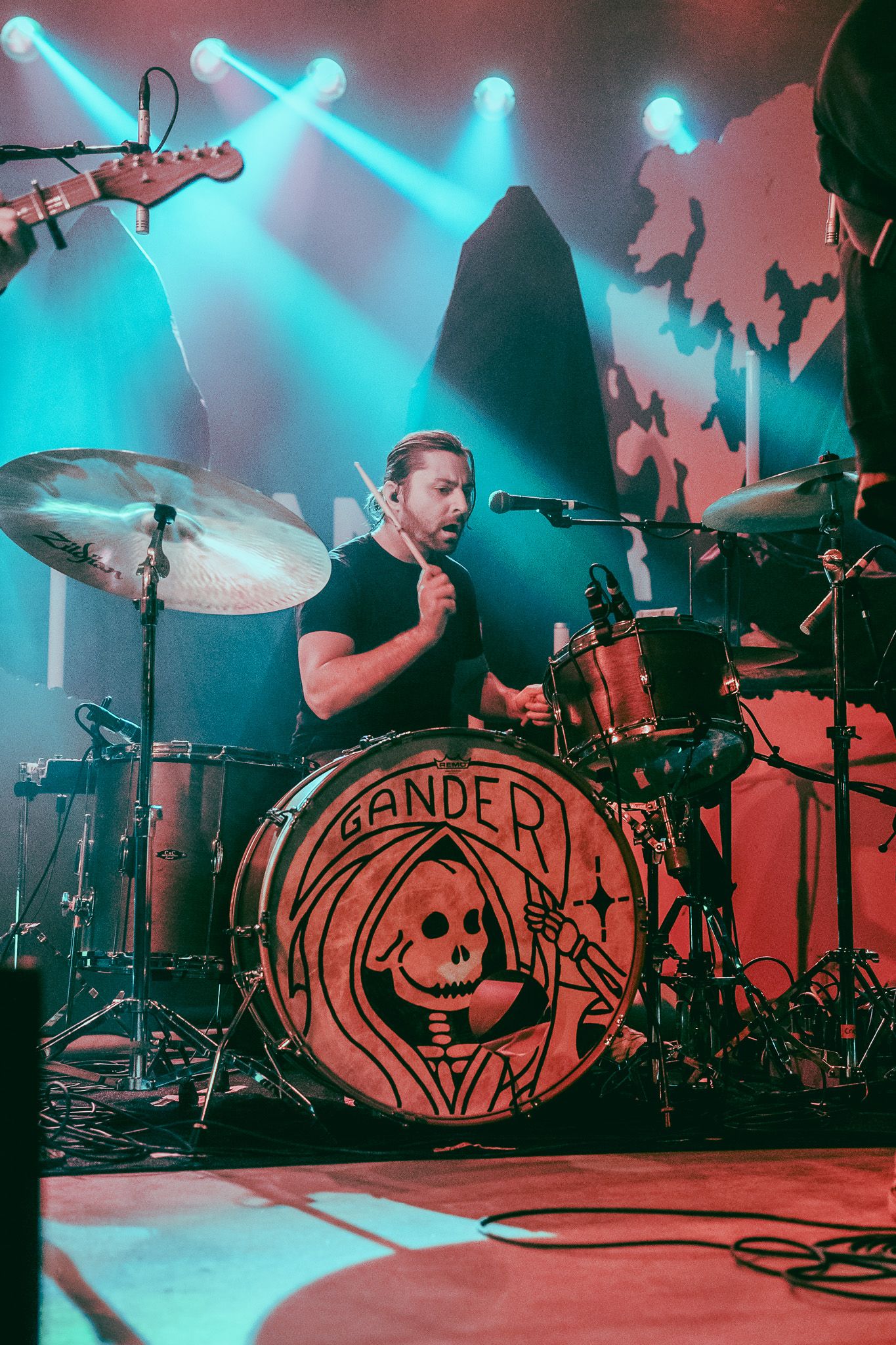 ---
Interim executive director Steve Mitzel then appeared on stage to give an update of the latest fundraising tally, sitting around a staggering $330,000. He also introduced Ryan and Ashley, who were invited on stage to tell their story to an even larger audience; Ashley spoke of how Andrew's music spoke to her as an angsty teen and had been the soundtrack to her life as well as her husband's, and how fulfilling and full circle it felt to be sharing her story on stage - one of the positives to come out of her cancer diagnosis. The two then excitedly announced that Andrew McMahon in the Wilderness would take the stage next.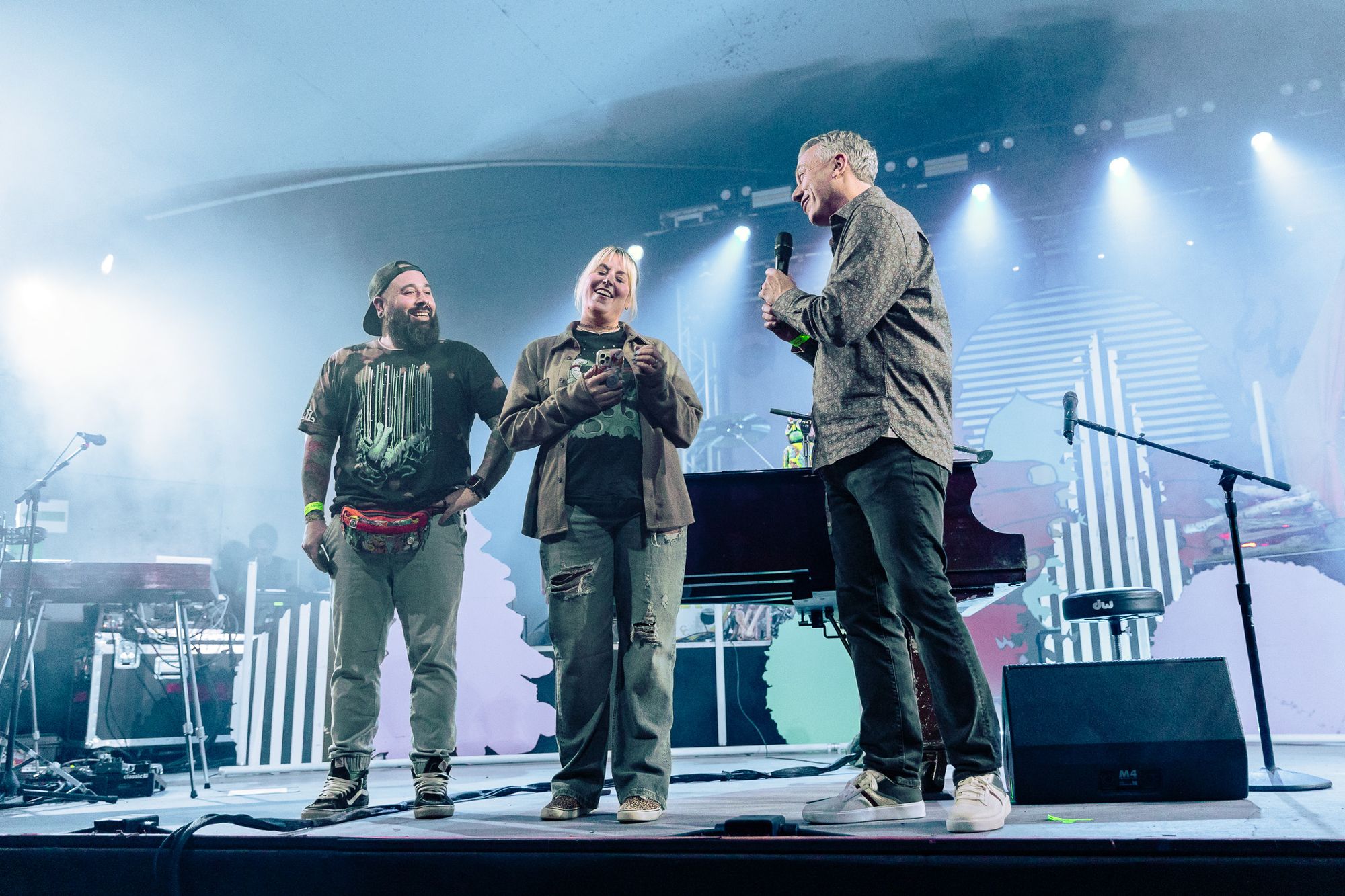 ---
And that he did - well, eventually. McMahon began the show from the back of the audience, slowly making his way towards the stage while cranking a music box and singing "Nobody Tells You When You're Young." Having been in the music business and touring for so long, McMahon has become a master and keeping things interesting; this time around, his stage took the form of a campsite, an ode to his fan club Camp Wilderness. McMahon and his band would serve as counselors for the night, and thankfully the weather was looking great with clear skies, perfect for the recent single "Stars." One of the camp's friendly critters, Bones, a mechanical dog skeleton, joined in with some joyful howls on "Fire Escape," followed by "Halls" and "Lying On The Hood of Your Car."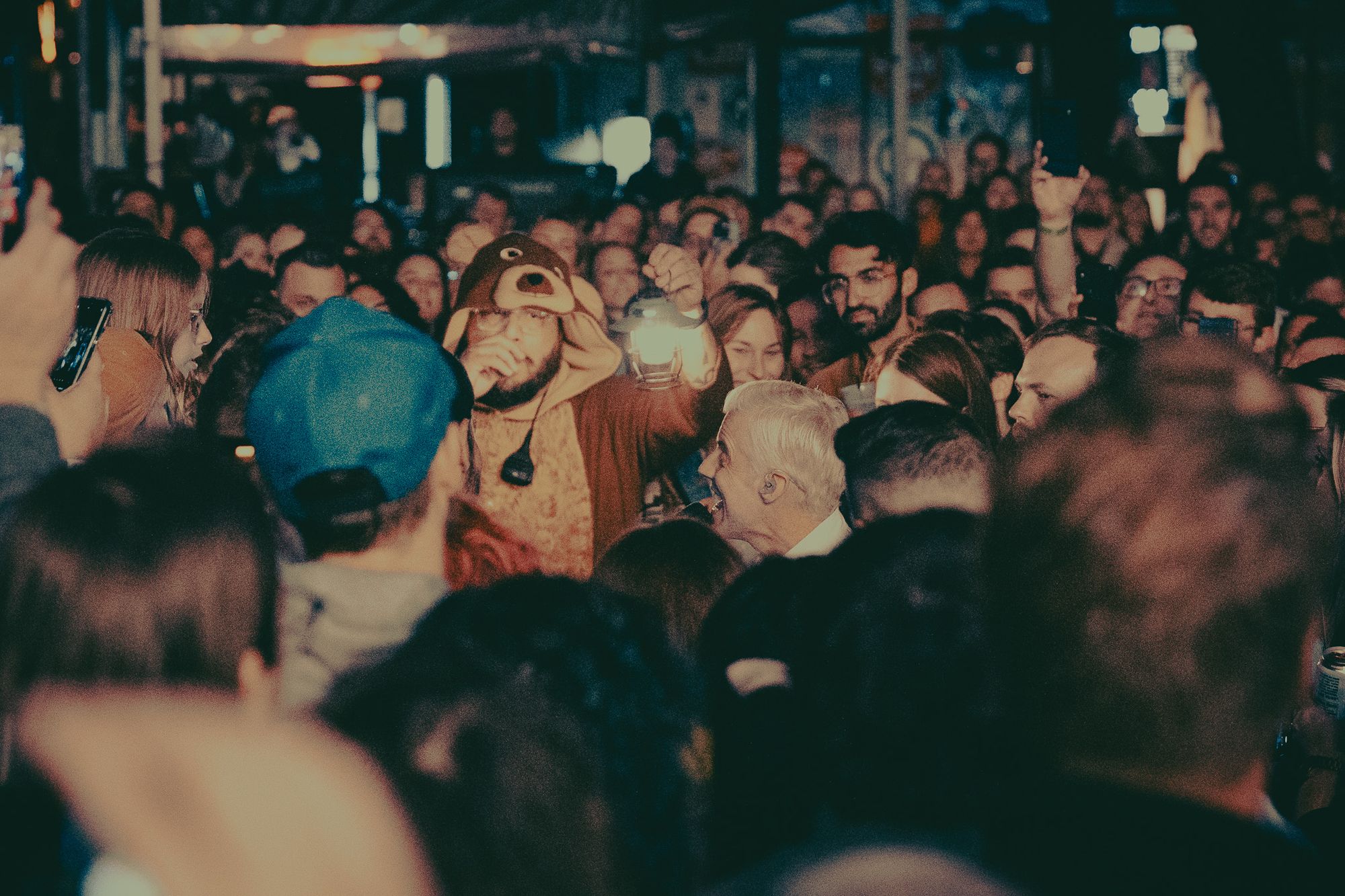 Counselor McMahon then announced to his campers to be careful of some "wild party animals" jumping off the high dive into the lake - promptly followed by a performance of the song "High Dive." Bones reprised his part for "Hurricane," a Something Corporate song that McMahon didn't write himself, but has recently found joy in performing live again. He followed this up with another rarer treat, "Something Wild," a song co-written with violinist Lindsey Stirling for the Disney remake of Pete's Dragon. Though the band didn't have a violinist with them that night, McMahon had badgered guitarist Bobby "Oxblood" Anderson into learning the complex string part and solo on guitar, giving the song an entirely new sound. In keeping with the title of the tour, "New Friends," McMahon held an Instagram contest for one lucky attendee to join him on stage every night for a karaoke song of their choice; tonight's winner Amanda crushed her chance to sing on the Jack's Mannequin track "Bruised."
Another announcement from Counselor McMahon warned the campers of some incoming rough weather; the band then reappeared on stage, this time wearing ponchos and with a backing track of a faux rainstorm, to perform a few of McMahon's plethora of rain-themed songs; this included "Rainy Girl" acoustic followed by "Smoke and Ribbons," and then "Cecilia and the Satellite." Bones once again reprised his role, howling an intro to the next song - the moment many had waited eagerly for all night, the ten-minute-long, once yearly performance of the behemoth song "Konstantine." Austin local and Something Corporate drummer Brian Ireland joined the band for the song, which, serendipitously, began at exactly 11:11 PM. Ireland stayed for "I Woke Up in a Car" before Wilderness drummer Jay McMillan return to the stage for the crowd pleaser "Dark Blue."
Cricked filled the silence during the encore break, keeping campers anxiously awaiting the last few songs of the evening. Counselor McMahon returned to say he thought it would be fun to invited some new friends to the campfire to roast some marshmallows, and Wildermiss and Michigander joined him to perform the song, alongside the Dear Jack Foundation staff dressed up in animal onesies. They took turns pelting the audience with marshmallows before McMahon took one last opportunity to thank the staff for all they do, and announcing that next year's benefit would take place on a cruise with all three of McMahon's bands performing. To close out the night, the band performed "La La Lie," an ode to friendship that fittingly saw a handful of lucky raffle winners join the band on stage. Before the night was over, McMahon took his signature inflatable duck crowd surf to take a shot at the bar, just as the skies opened up and started to rain. Though attendees left camp a bit damp, the warm fuzzy feeling from a night spent with good music, friends new and old, and raising money for an incredibly worthwhile cause overshadowed the rain. Tomorrow, concertgoers would return to homes across the country - from California to New York, Arizona to Pennsylvania, and beyond - left to bask in the joy until next year's benefit.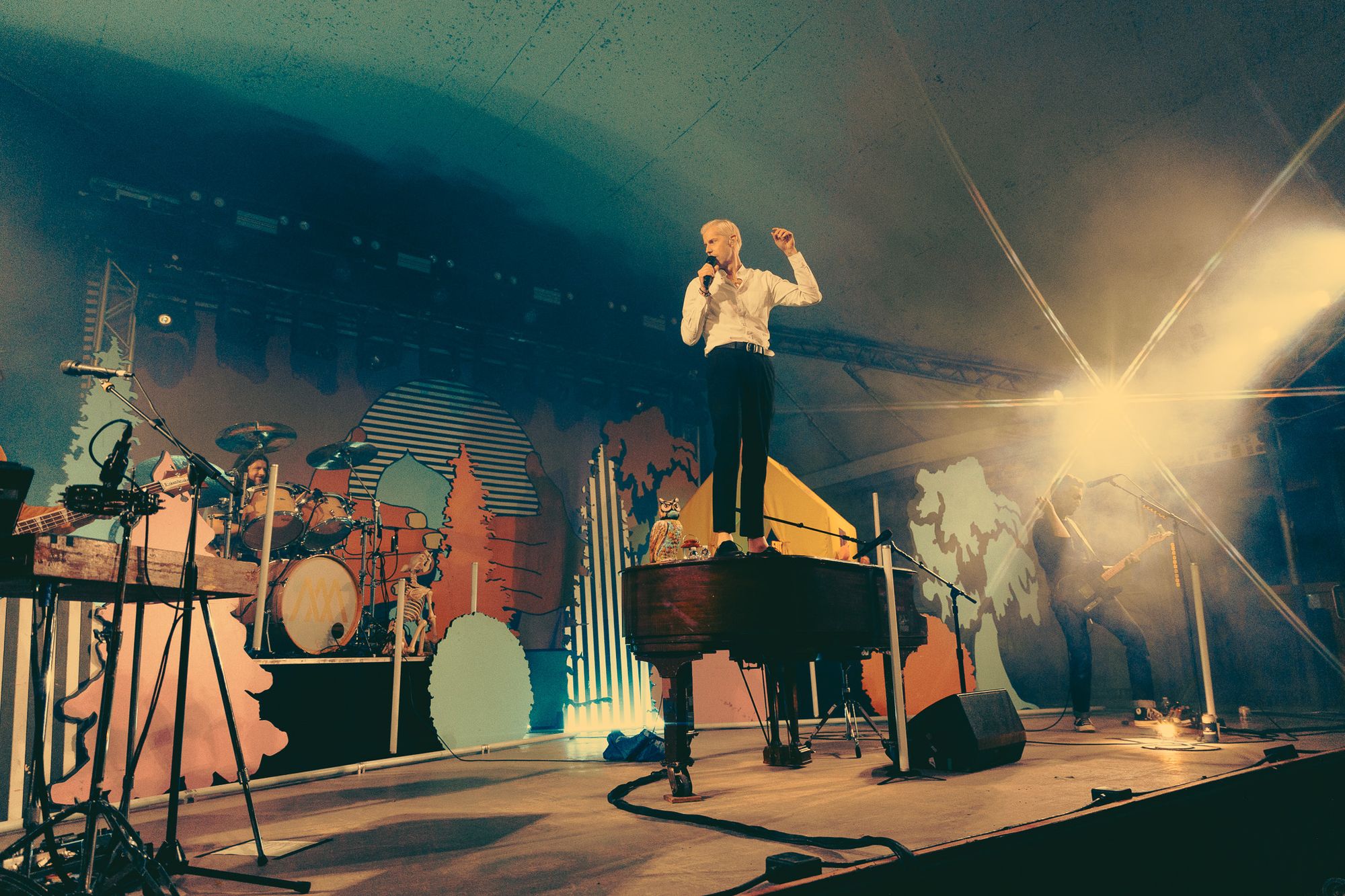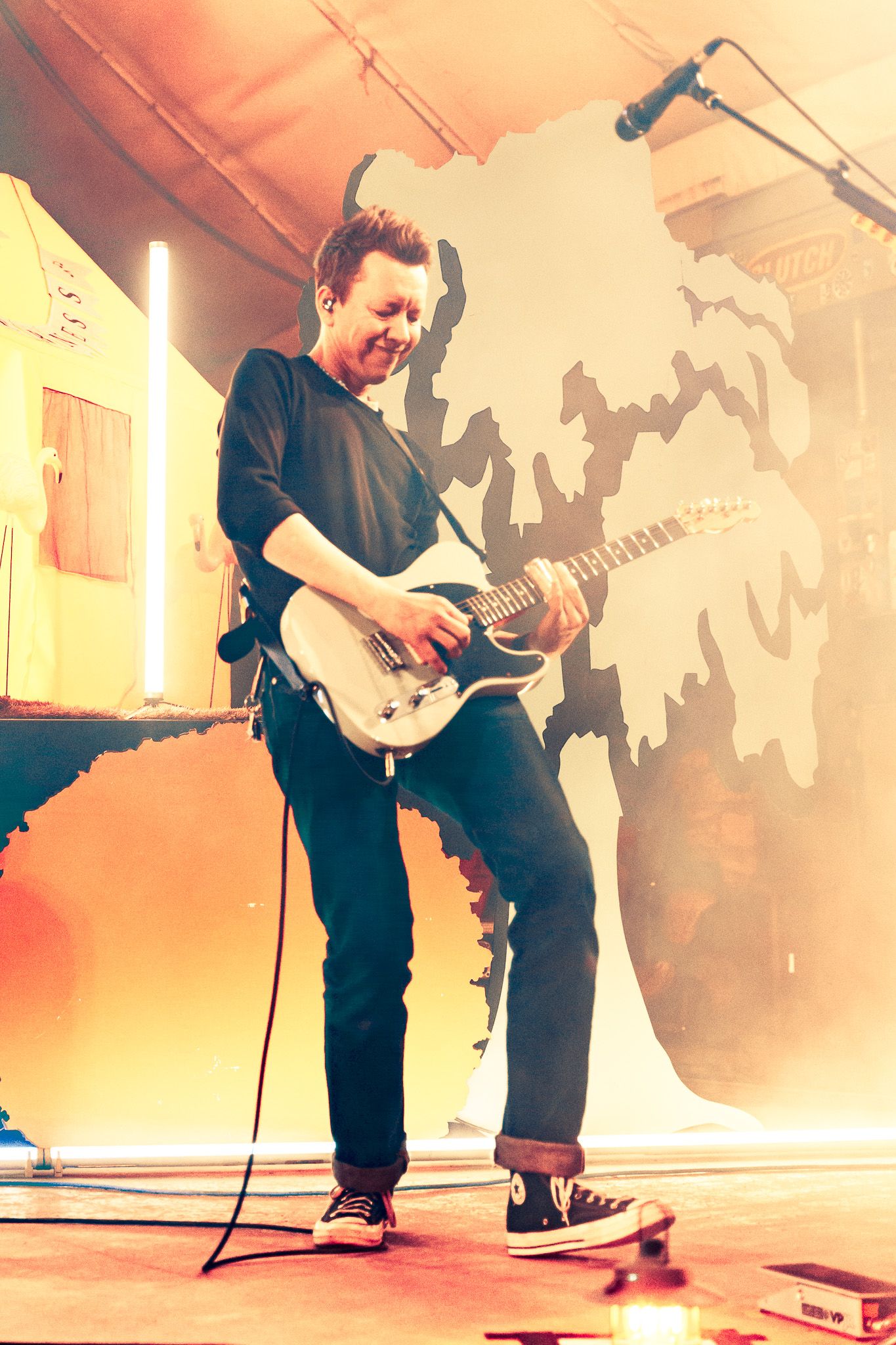 Learn more about and support the Dear Jack Foundation here.
Learn more about the 2024 Dear Jack Benefit, Andrew McMahon's Holiday From Real Cruise, here.