For two bands who've got a good amount of overlap in their fanbase, there are a whole lot of differences between them. Some of them stylistic, some of them entirely arbitrary and completely made up by me. Which I will now go into detail about right now. If that's not the lede that finally nabs me that elusive Pulitzer, what are we even doing here?
When it comes to Jimmy Eat World, you couldn't find much of a bigger fan than myself. No, I can't claim that I go all the way back to Static Prevails. I didn't have my favorite Clarity lyric tattooed on my arm. Like millions of others, my introduction to the band was 2001's Bleed American, whose two singles 'The Middle' and 'Sweetness' dominated the radio so much that year that I swear they were the official band of Waking Me Up in the Morning Via Clock Radio Alarm my entire freshman year of college. But as far as the various ways you could start your morning go, there were certainly worse ways to do so than a straight hit of emo-pop that would stick in your head through dinner. But one of the reasons that Bleed American never left my CD player that school year is that they balanced out that pop sound with the ability to absolutely rock. Don't forget that before 'The Middle' and 'Sweetness', the lead single was 'Bleed American', a snarling, crunchy rock song that mixed the band's ability to harmonize with a gritty set of lyrics and punishing guitars. Buried on the second half of the album was 'Get it Faster', a slow, moody dirge of a song that alternates between a sinister metronome and a chorus musing on the advantages of cheating to get what you want. Whatever you were in the mood for, Jimmy Eat World is able to pull off and pull off in spades. From that point on, I consumed every album they put out in addition to eventually consuming their back catalog.
On the flip side, my exposure to Manchester Orchestra prior to this show was quite limited. I never got into them during any of my college years (mostly because they didn't put out their first album until over a year after I graduated). I could have seen them at Riot Fest in 2019 had they not been scheduled opposite Rise Against. Nothing against them specifically. They were just one of those bands that I always heard a lot about but didn't get around to. Known for their own broody, emotionally charged brand of indie rock, they seemed to be the perfect stylistic foil to the shrink wrap of smile-inducing positivity most Jimmy Eat World songs come wrapped up in.
With both bands making a stop at Chicago's 'still has that new venue smell' Salt Shed on the Amplified Echoes tour, it was my chance to see if both bands' contrasts would compliment each other (like a milkshake and French fries) rather than repel (like a milkshake and...I don't know. Ketchup?).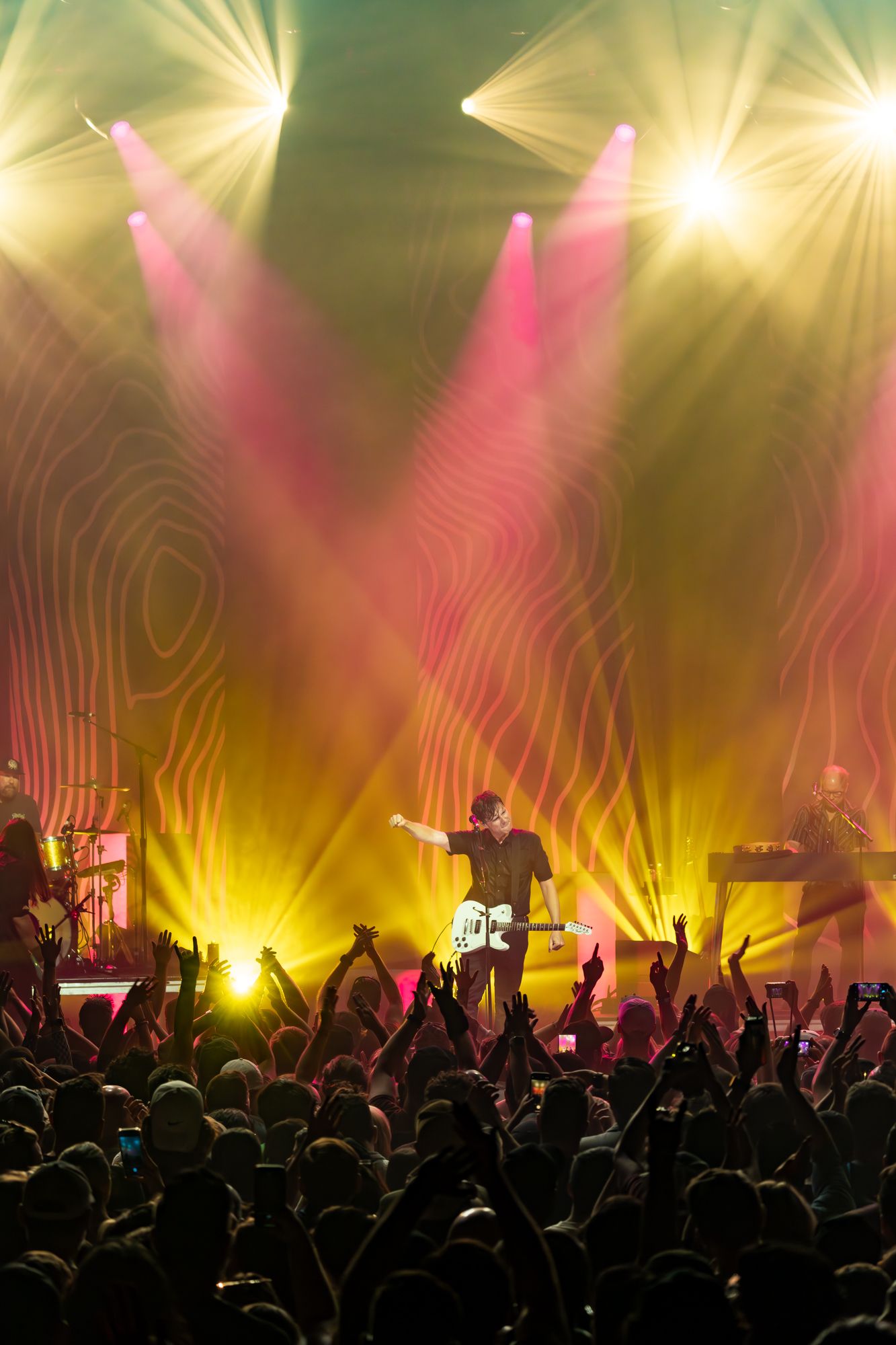 The first time I saw Jimmy Eat World live, they were opening up for Green Day on their American Idiot tour. It's odd for me to think back now and imagine them opening for anyone after the success of Bleed American, but it's true. While their 2004 follow up Futures was an extremely worthy successor, it didn't come anywhere close to the impossible bar that Bleed American set while at the same time, American Idiot was the hottest thing in eyeliner and Green Day's giant-sized 21 song setlist meant that Jimmy Eat World got a whopping FIVE songs total that night. Almost 18 years ago to the day of Wednesday night's Salt Shed show, I can still remember some very specific details. There was an accident on the 90 right near Allstate Arena and the resulting traffic jam made a significant number of that night's show late to arrive. Add to that the fact that Green Day was now pulling in 13-17 year olds dressed in head to toe black (remember, they had to do something before The Black Parade) that probably couldn't care less about a band whose biggest album to that point had come out while they were in grade school.
None of that mattered. Five song set? Semi-engaged audience? That didn't matter one single bit to singer/guitarist Jim Adkins and the rest of the band. They ripped through their abbreviated set with the energy and intensity of a band playing to 100,000 people. It didn't matter if you were there to see them or not...they demanded your attention. I still remember them pounding their way into the first chorus during 'Pain', with each drum hit feeling like a gunshot that turned every head in the room and kept that grip on everyone in attendance and didn't let go even after the band left the stage.
It's been almost two decades since that night and I'll be damned if the band I saw onstage wasn't that exact same band from late summer 2005 that stepped right out of a time machine. They look exactly the same. They sound exactly as perfect as they always have. Hell, they might have more energy onstage now than they ever have, Father Time be damned. Playing into the theme of opposites that I totally made up for the sake of this review, they kicked off their set with 'Congratulations' one of their newest songs (off 2019's Surviving) before whiplashing back to 'Bleed American' and 'Sweetness'. And you know that when a band's catalog is so deep that they can play two of their biggest hits in the first handful of songs, you're going to be in for a very good time.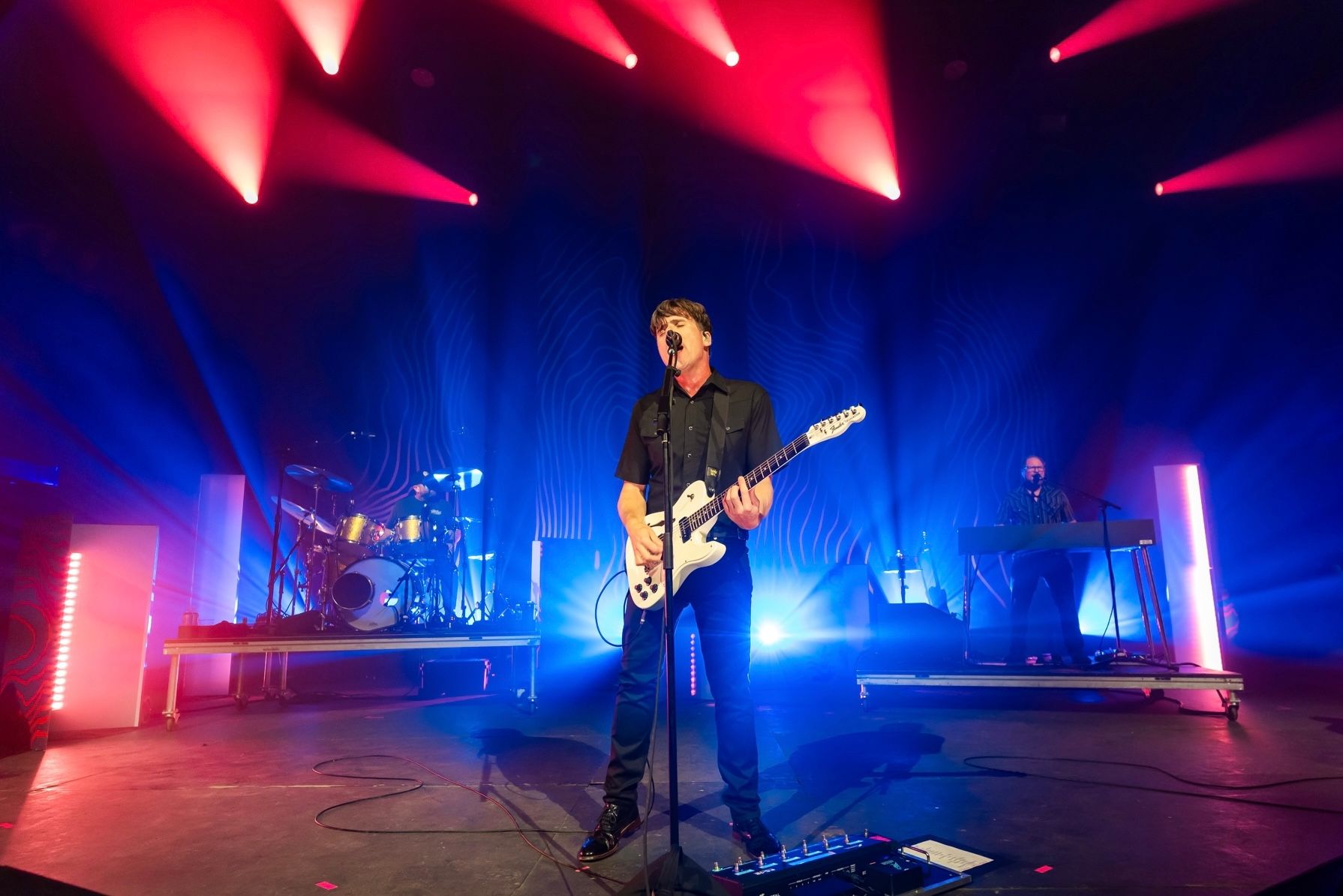 Adkins and the rest of the band (guitarist/backing vocalist Tom Linton, bassist Rick Burch, and drummer Zach Lind) did not disappoint, as they took the sold out Salt Shed crowd through a rollicking good time spanning their entire body of work, from recent singles like 'Something Loud' to long-time fan favorites 'Lucky Denver Mint' and 'For Me This Is Heaven'. Remarking several times throughout the evening how impressed he was with the crowd's energy, the sound of 3,600 fans singing every word of every song back was loud enough that Adkins threw vocal duties back to the audience, letting them step in and finish multiple choruses as the evening went on.
One of the reasons that Jimmy Eat World is still around 30 years after forming when so many of their contemporaries have long gone is that they're genuine dudes. Lots of talented musicians can sing emo songs about the realities of everyday life through the eyes of a nice dude, but fans can sniff out when that's nothing more than an act a mile away. Adkins and Burch sharing an inside joke about comically evil laughs several times throughout the night is the kind of authentic dorky earnestness that flows out of Jimmy Eat World and into their songs and live performances that let them connect with their fans on that next level. Combining that with the chops these guys have developed over decades of recording and touring lets them do things like wrap up a hellacious set with a rendition of 'The Middle' so tight and on time you could set your watch by it. They left the stage to a crowd literally begging for more and praying to God it won't be another 18 year gap between seeing them perform live.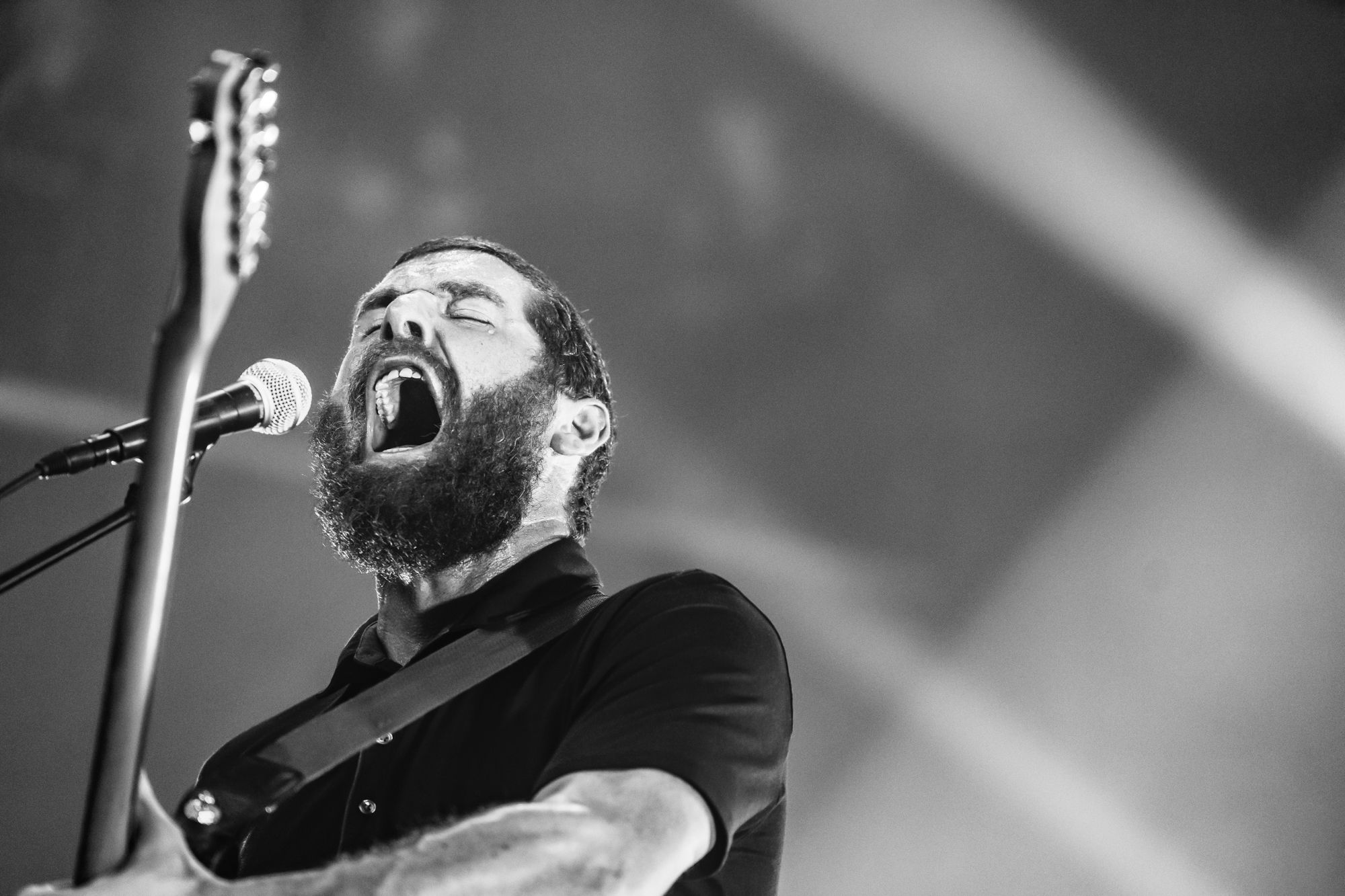 Just because I was unfamiliar with Manchester Orchestra coming into this show doesn't mean I came in a total virgin. Over the days leading up to the show, I sampled some of their top songs off iTunes and the impression I got was...big. This is a band that has a big sound. The more I listened to Manchester Orchestra, the more the thought of them playing to less than 40,000 people didn't make any sense. There's no way that any kind of indoor space could contain the absolutely massive sound that they make. And don't mistake 'big' for 'loud'. While they certainly proved they can rock as loud as anyone during performances of 'Cope' and 'Shake it Out', even their slower, more introspective songs have a sound to them that seems like it goes into your ears and inflates your entire body from the inside. These are songs that sound like they should be narrating the most important times of your life in a way that you had only reserved for Explosions in the Sky up until now.
And the biggest reason for that monolithic sound is singer/songwriter/guitarist Andy Hull. Where Jim Adkins has a voice that just sounds like a smile, Hull is the opposite, with a piercing, powerful sound that absolutely raises their live performances of songs like 'The Maze', 'The Gold', or the evening's closer 'The Silence' to the epic heights that few other bands can reach. By the time Hull and the rest of the band (lead guitarist Robert McDowell, bassist Andy Prince and drummer Tim Very) left the stage after tearing through an epic 14 song set, they left the sellout audience of almost four thousand with a feeling of disorientation in some ways. The energy felt like everyone needed a second to process everything they had just felt over the last hour plus, like the heavy silence of a movie theater before excitedly diving into what your favorite parts were with your friends as soon as you set foot out the door.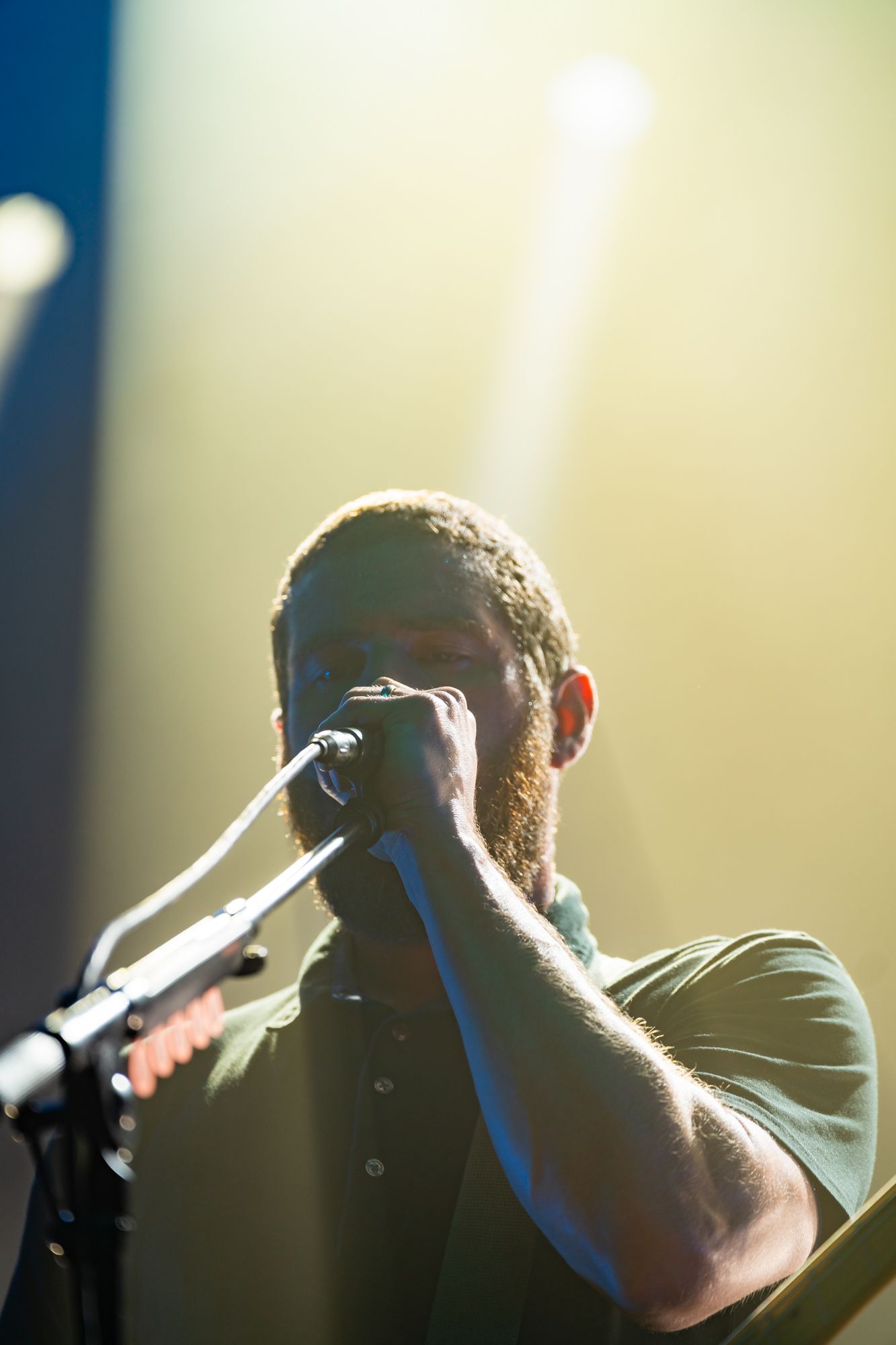 It's a commonly held belief that you should get wiser as you get older. It's always good when you can have a tangible marker that you're continuing to do just that. Sometimes it's wise to recognize something special younger in life and holding onto that thing for as long as you can, like me with Jimmy Eat World. On the opposite side of the coin, it's also pretty wise to open yourself up to new musical experiences and having your mind absolutely blown. Turns out, it's also wise to brag and call yourself wise in an article that you yourself is writing because there's no one that can stop you. 'Well I can just stop reading," you might chuckle to yourself. Joke's on you. You've already read the whole thing.
One last thing - be wise like me and don't miss this tour when it comes through your town. Jimmy Eat World and Manchester Orchestra continue the Amplified Echoes tour through August 26.
Jimmy Eat World Setlist - The Salt Shed, 8.16.23
Congratulations
Bleed American
Sweetness
Something Loud
For Me This Is Heaven
Kill
Just Tonight...
555
Lucky Denver Mint
A Praise Chorus
Place Your Debts
Work
Hear You Me
Pain
23
The Middle
Manchester Orchestra Setlist - The Salt Shed, 8.16.23
Pride
Keel Timing
Bed Head
I Can Barely Breathe
Pale Black Eye
The Way
Simple Math
I Can Feel a Hot One
Cope
The Maze
The Gold
Shake It Out
Dinosaur
The Silence