by Matt Benton
The Rock Resurrection Tour has been going on for about a month now and on the 15th of March, the tour finally made the stop in Dallas, TX at The Factory in Deep Ellum. Thankfully the weather was staying nice and pleasant as co-headliners Skillet & Theory of a Deadman, and opening act Saint Asonia, loaded in for an amazing night of rock and roll. With over 2,000 tickets sold, every fan in attendance could look forward to a night to remember, regardless of their age.
---
Saint Asonia kicked off the night and set the bar extremely high for the co-headliners. While front-man Adam Gontier has been flawlessly doing this since about 1997, this current project has only been around for about 7 years. Even in those 7 years, I saw plenty of fans in the crowd singing every word right back to the band without missing a beat. As someone who grew up listening to Gontier's other project, Three Days Grace, it was almost therapeutic watching him and the band preform. Especially when they kicked out classics like "Never Too Late", "I Hate Everything About You", & their collab with Apocalyptica, "I Don't Care". One of the most memorable things during the set that I noticed was the amount of young kids going absolutely mental to the songs. I saw kids as young as 5 and 6 just headbanging and moshing with their parents. It made me remember what the rock and metal scene is all about.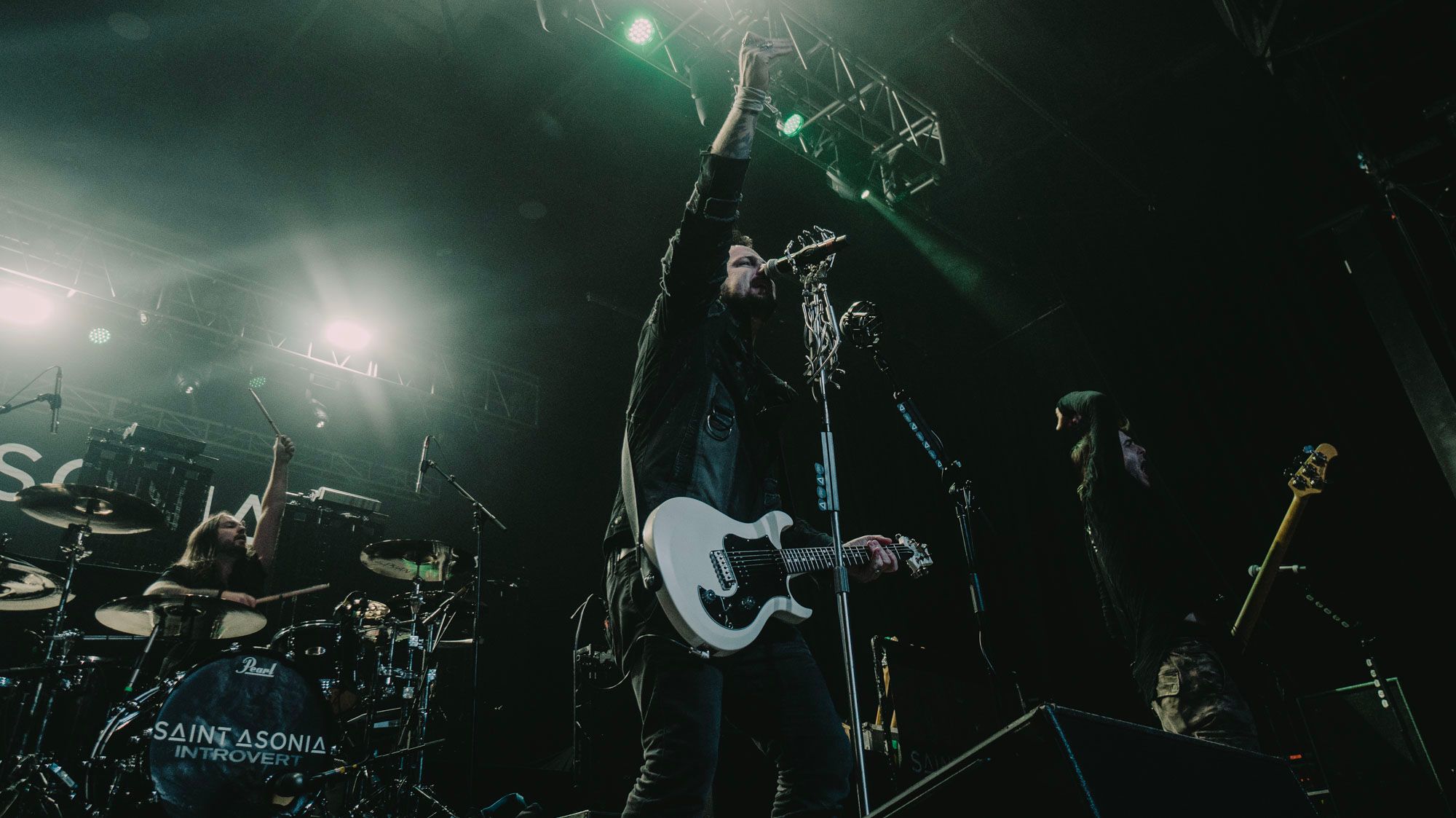 ---
Skillet took the stage next and what a stage set-up the band had. Complete with CO2, amazing lights, and an LED backdrop that correlated to the song playing. It was all just as perfect as perfect can be. Mentioned earlier was how intense fans were going for Saint Asonia, but that was nothing in comparison to the level of chaos that came to be as Skillet took the stage. Rocking stages since 1996, Skillet has a hardcore following of fans and I think they were all in Dallas that night. John Cooper (lead vocals and bass) had a hold and command of the crowd that was just astounding. All while Korey Cooper (guitar, backing vocals) and Jen Ledger (drums, vocals) blew me off my feet. I've never seen anyone go that crazy on stage and not miss a beat while playing. Both Coopers were jumping, moving, headbanging, running around, while executing vocals and chords like it came as easy as breathing. All the applause and credit to Ledger who not only was a unit behind the drumkit, but also belted out some of the crispiest vocals I've ever heard. Lest we forget Seth Morrison (lead guitar) who did not miss a beat the entire night. I'd have to give the top 3 moments of the set to the guitar and drum solo right before "Psycho In My Head", "Finish Line" with a surprise feature from Gontier, and, everyone's favorite song, "Monster".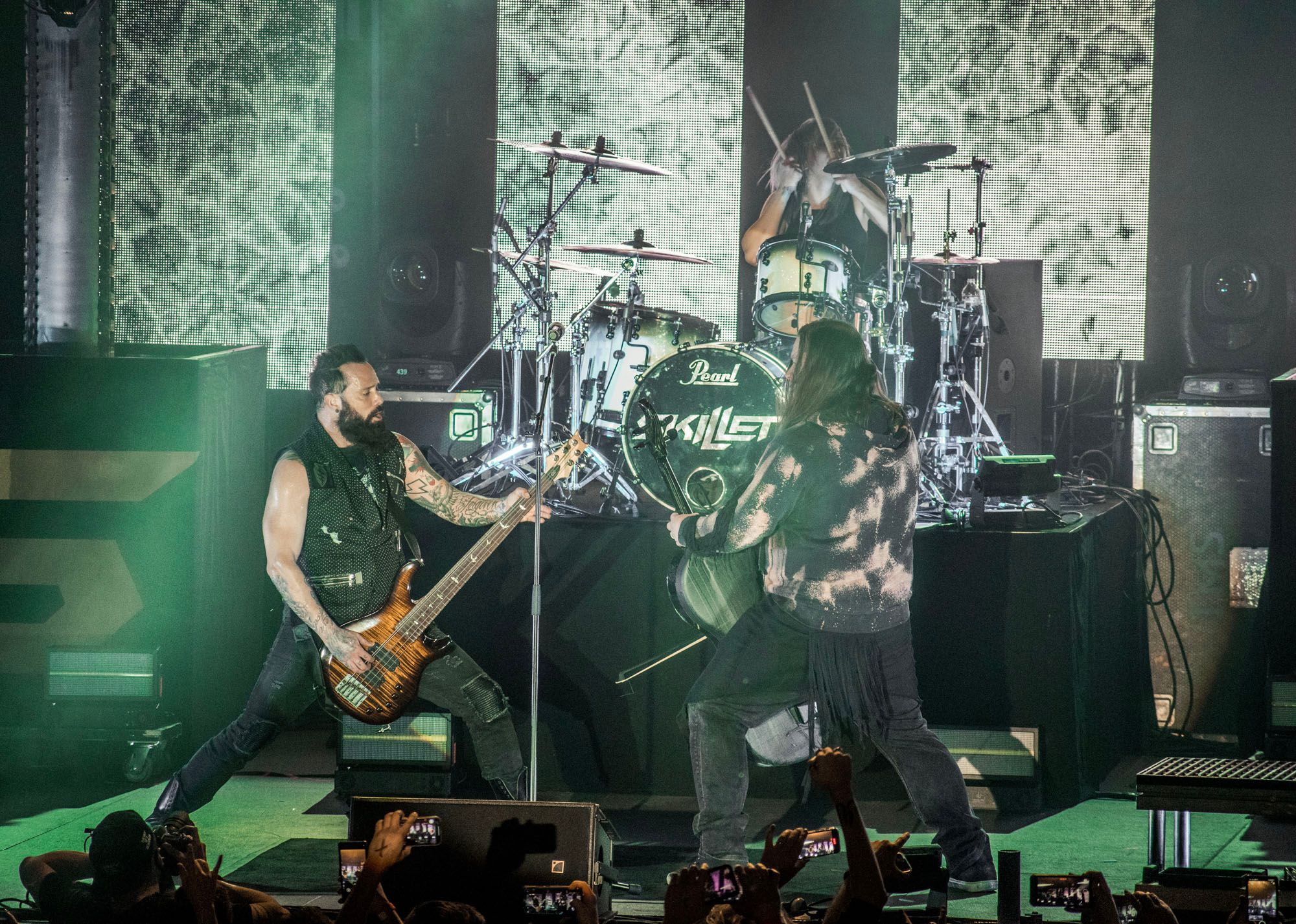 ---
Setlist (according to Setlist.fm)
Feel Invincible
Rise
Surviving the Game
Legendary
Awake and Alive
Hero
Not Gonna Die
Whispers in the Dark
Psycho In My Head (preceded by guitar and drum solo)
Comatose
Finish Line (with Adam Gontier)
Monster
Rebirthing
The Resistance
---
Closing out the night was Theory of a Deadman. The band had the entire crowd in a singalong as their walk up music was Sweet Caroline by Neil Diamond. I'm pretty sure the crowd was singing it louder than the speakers in the venue. It was my first time seeing the band and while I was absolutely exhausted from rocking out all night so far, the way the crowd was moving and jumping, you would have thought the show just started. Joey Dandeneau (drums) took the stage first and fans erupted into an applause that was almost deafening. Immediately after Dandeneau, Dean Back (bass) & Dave Brenner (guitar) took the stage, and unsurprisingly, even more applause from the crowd. Finally, Tyler Connolly (vocals and guitar) came out with a guitar with a beautiful metallic and reflective finish which shined the spot light back onto members of the audience. You could tell this band has been masters of the stage with the practice they've had starting in 1999. I think the most astounding part was that a majority of the fans in the audience were definitely not born for at least a decade after the band started, but they knew every single word. Watching parents and children sing a long to songs like "Bitch Came Back", "History of Violence", and, my personal favorite, "Two of Us (Stuck)", was a sight to behold. The entire band was an absolute machine that kept the entire crowd's attention of the entire set up until the very end.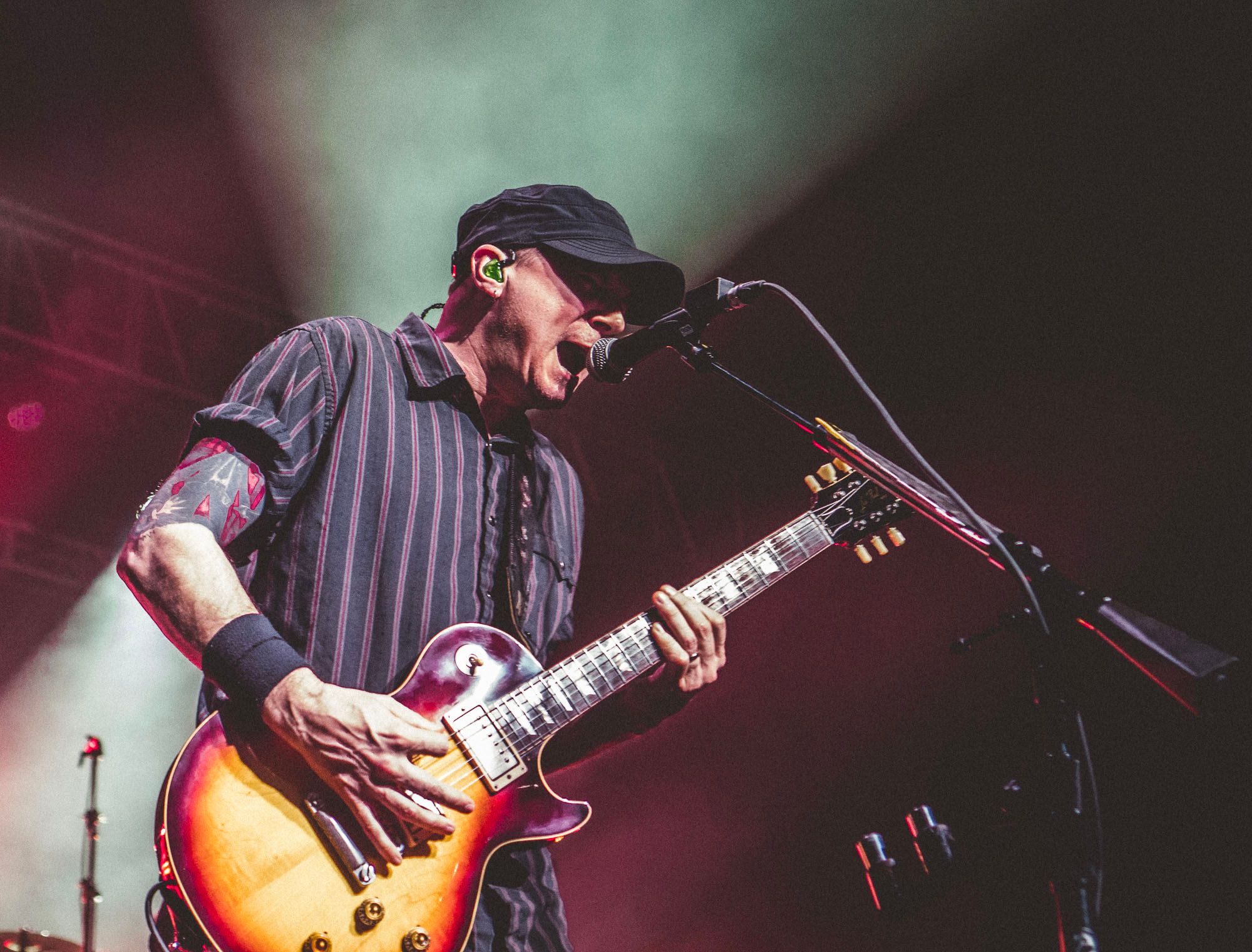 Setlist (according to Setlist.fm)
Dinosaur
Bitch Came Back
Two of Us (Stuck)
Not Meant to Be
Lowlife
History of Violence
Hurricane
Wicked Game (Chris Isaak cover)
Ambulance
Friends in Low Places (Garth Brooks cover)
Angel
Hate My Life
Rx (Medicate)
Bad Girlfriend (with snippets of Paradise City, and Walk)
By the time this article is out, there will be about 6 more shows on the Rock Resurrection Tour. Do not miss out because this tour has a line-up to truly make memories for every fan.