by Chloe Sarmiento
After performing at Coachella weekend one, the pop band trio, MUNA, kicked off their headlining 'Life's So Fun' tour in Seattle.
The band consists of members, Katie Gavin, Josette Maskin, and Naomi McPherson, who all met during their time at The University of Southern California. Their music is characterized by its thoughtfully reflective and emotionally raw lyrics, as well as the ability to blend electronic and pop influences. They are best known by their hit song, "Silk Chiffon." However, if that's the only song you know by them, then you are missing out.
Last year, the indie-pop group released their third album, which skyrocketed their work back onto the music scene and gained a cult following from fans across the world. The band is constantly providing their fans with live music, as they are currently making stops at Coachella and opening for Taylor Swift.
MUNA has sold out a majority of their shows for this tour and Seattle was no exception. The 1,800 capacity showroom filled up with ease and fans were clearly buzzing with excitement to see their favorite band.
Promptly at around 9 p.m., MUNA came out playing one of their fan-favorite hits, "What I Want," an unapologetically maximalist and queer anthem. The atmosphere in the venue was almost physically filled with genuine happiness as the fans immediately began to sing along with the band.
The setlist also consisted of countless other hits, including "Kind Of Girl," "I Know A Place," and their latest single, "One That Got Away."
Not only did the band look stunning, but they sounded just as good. Gavin's voice seems like it was made for pop music, as she is effortlessly able to belt out vocals that blend seamlessly with the rest of the band's instrumentals. Speaking of blending and cohesion, the band's chemistry is off the charts, and it is clear that their friendship runs deeper than music, which is what makes them such captivating entertainers on stage.
With this being my second time seeing them live, I'm picking up on the theme that, MUNA concerts are shown to be welcoming and comforting spaces that unite all individuals, even if it's only for a couple of hours. The atmosphere felt unlike any other concert, and there was an almost innate sense of community placed within the concert-goers. MUNA live shows only further demonstrate that music is able to transform and build connections while being a universal cultural touchstone.
A notable part of the concert was hearing "Runner's High." I was unfamiliar with the song prior to the show, but hearing Maskin shred on the guitar during the song instantly made me add it to my Spotify library. Even though I've been streaming MUNA since the concert ended, nothing has been able to emulate the immense happiness that I felt when hearing the music live.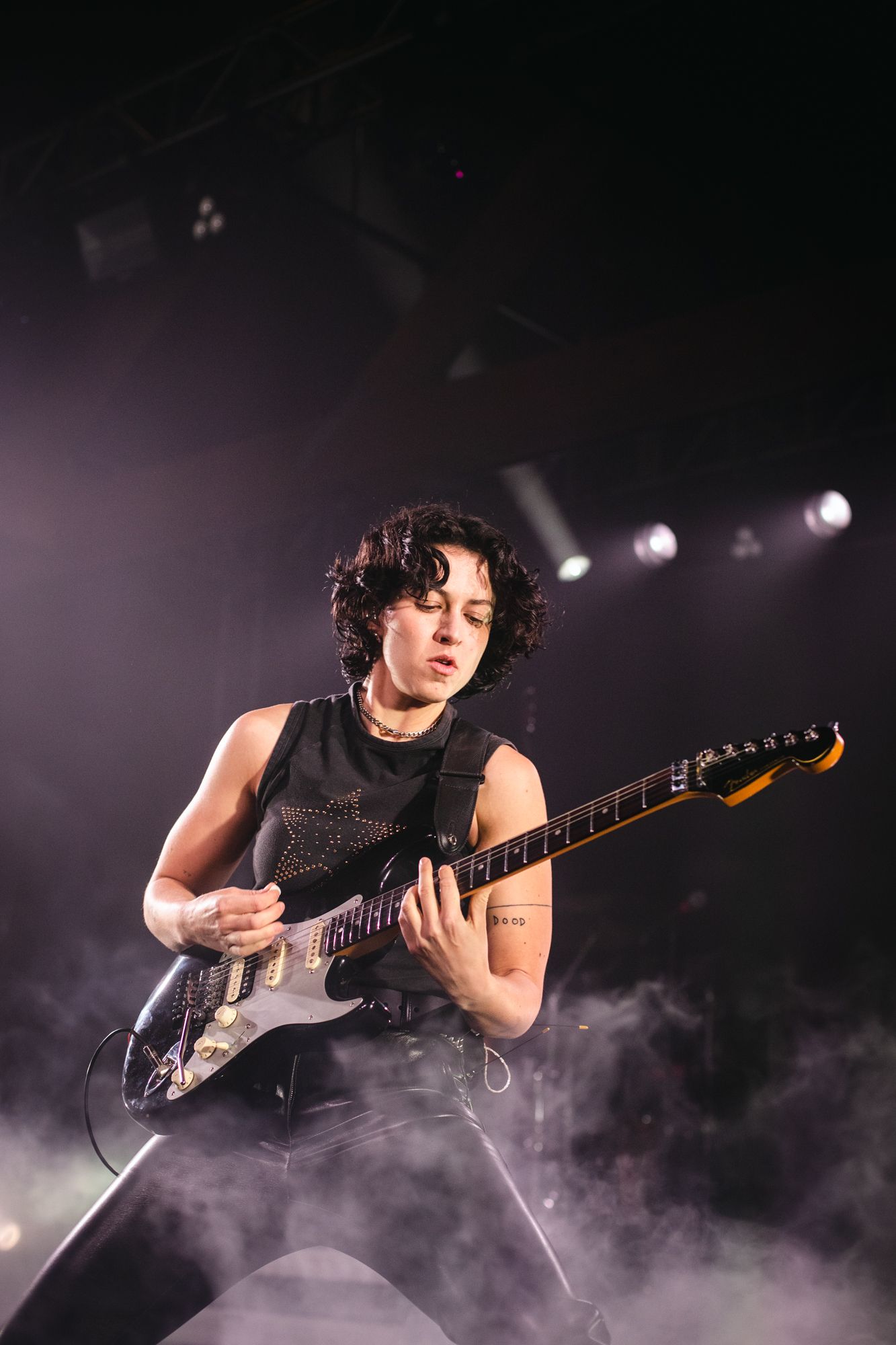 The entire set was nothing short of high-energy and the band proved themselves to be a powerful force in the music industry. In a two-way relationship, MUNA confidently gave their best, and fans fed off of the band's infectious spirit, making the concert memorable for all.
Whether you're a pop music fan or not, it is unanimously decided that MUNA shows are special and create a safe space for every single person in the crowd. This band is only continuing to grow larger, so be sure to catch them before they start selling out arenas on their own.
FOLLOW MUNA